Outrigger Zone (or Ozone) Program
At Diveplanit, we like to feature initiatives that are about protecting and preserving the health of our oceans for future generations.
One such initiative is the Outrigger Resorts Global Conservation Initiative to Protect Coral Reefs: launched on World Oceans Day in June 2015 it has the goal of planting and growing an entire football field worth of coral by 2025.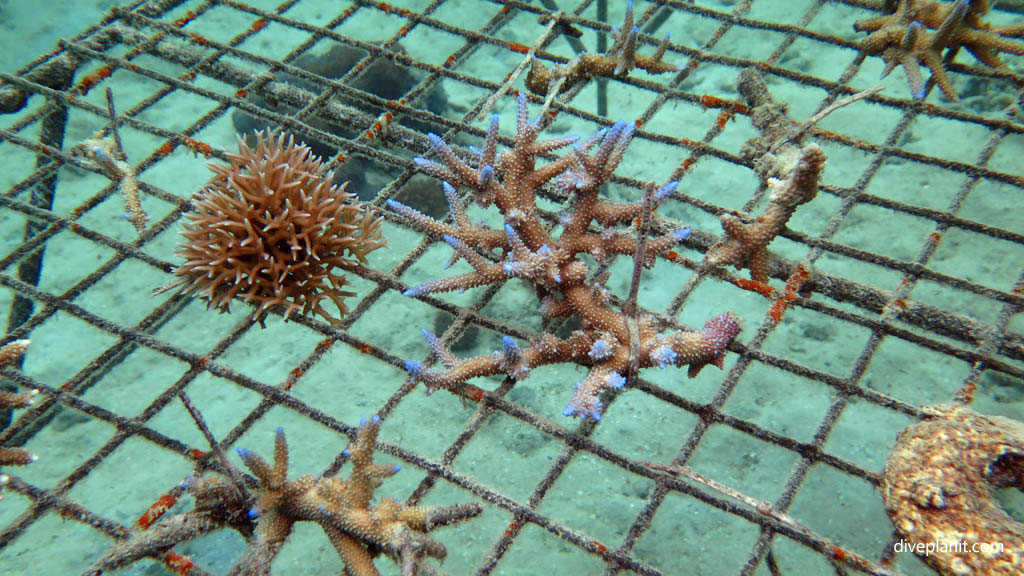 The OZONE program is activated at each of the nine beachfront Outrigger Resorts through various local partnerships with government, private industry, and conservation organisations, with year-round efforts to protect the environment and educate guests on how they can contribute.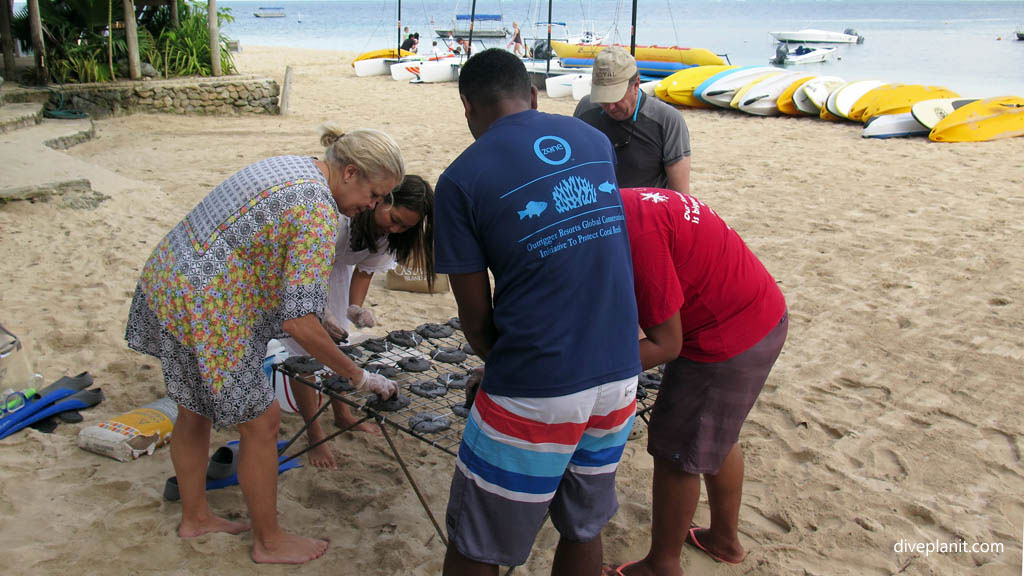 At Castaway Island in Fiji guests can participate in the Mamanuca Environment Society (MES) coral planting program, which replants living coral in reef systems around the island that may be suffering. MES is a cooperative effort between the government and private industry as they work to monitor and maintain the health of Fiji's surrounding marine ecosystems while also engaging the local community and visitors in ocean conservation.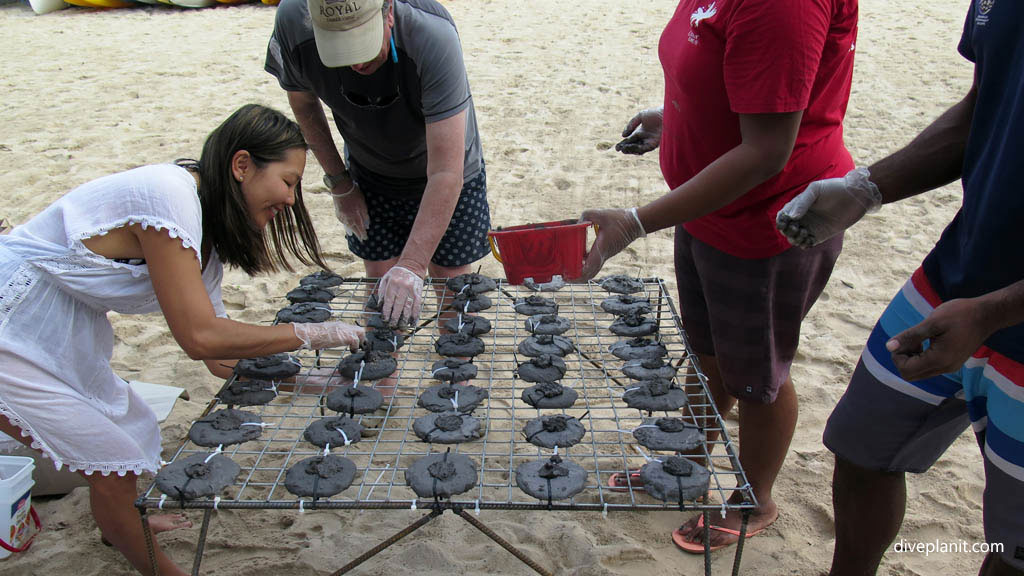 So at Castaway, before your diving day starts, you can help plant roughly 1 sq metre of 40 coral seedlings. The team from MES/Ozone arrive with 'doughnuts' which are attached to a steel frame table with plastic ties. These are then filled with fresh 'cement' and the table is taken down to the water's edge where a 'head' of staghorn is waiting in a bucket in the water.
It feels really bad breaking the coral to make it into little seedlings – but ultimately it's for the greater good. The seedlings are planted into the cement and can only be handled by the base – otherwise they'll be damaged. So it's quite fiddly and having a few people work simultaneously gets the job done as quickly as possible.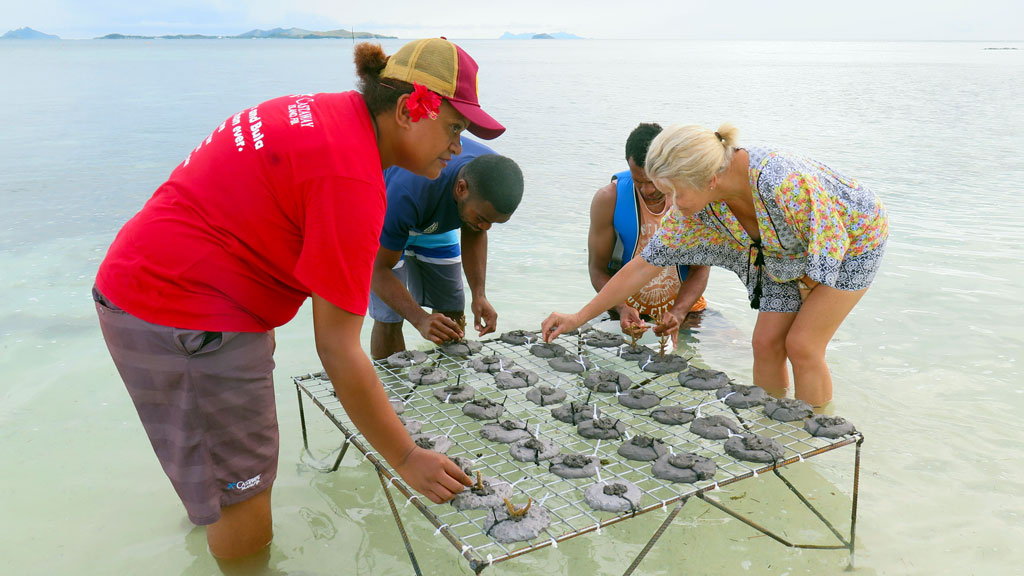 Obviously the idea is to get the seedlings planted, get the cement dry enough and get the whole table into its final location as quickly as possible – and certainly before the sun gets too high – or the dive boat departs! The coral used is mainly staghorn – the fastest growing coral – from a place where it is abundant, and the table is located in a mild current where coral has previously been known to grow well.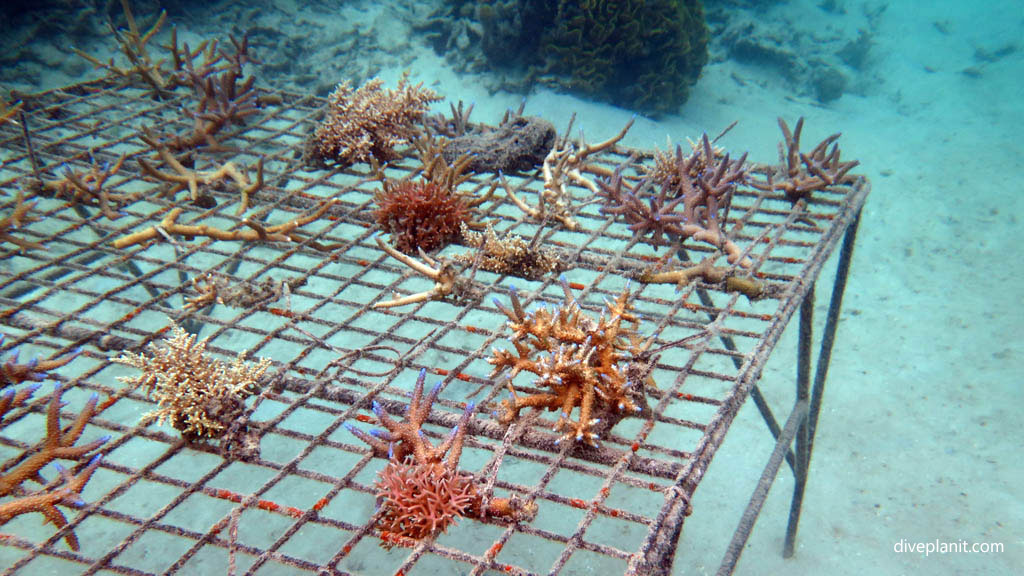 Afterwards we go for a snorkel to see how previous plantings are coming along. Staghorn can grow at up to 10 cm per year in the best conditions. The team from MES/Ozone are still experimenting with different locations to find the best spots for their little seedlings to thrive. They also have a collection of giant clams which are kept safely under lock and key whilst they grow.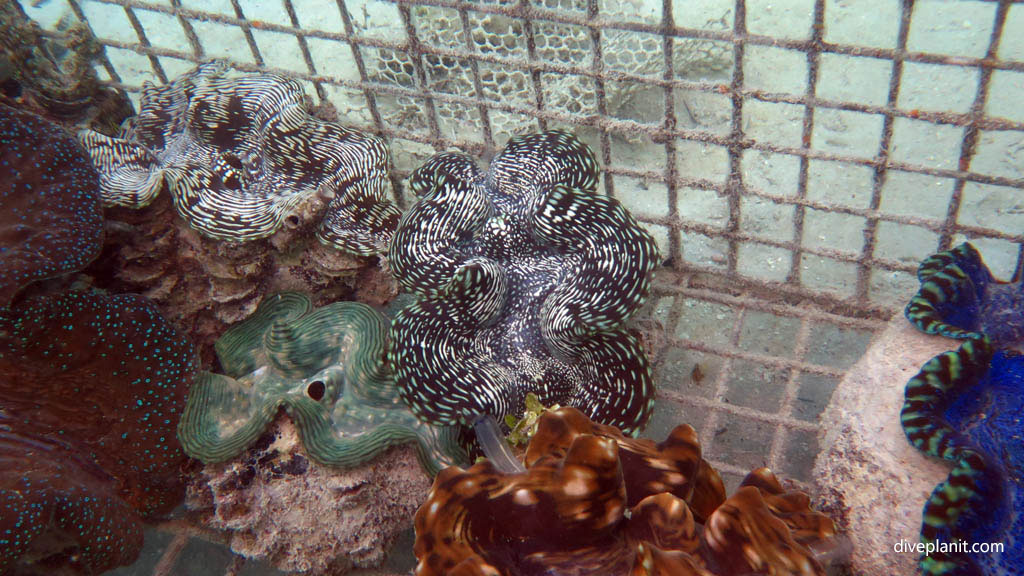 Growing coral is a long term project, but the more we plant now, the more we'll have in 2025 when we'll probably be needing it most. So, if you're looking for a resort that offers great diving – and giving a little back to the environment – choose an Outrigger Resort like Castaway.
If you liked this post, you might also like Is that Eco Dive Resort really a sustainable dive centre?