Make 2020 the year you start ticking off those Bucket List Dive Destinations with our comprehensive guide to the world's best dives – from the 'Big Stuff' of Galapagos and Socorro to the wrecks of Truk and Bikini Atoll, and world's most exciting aggregations.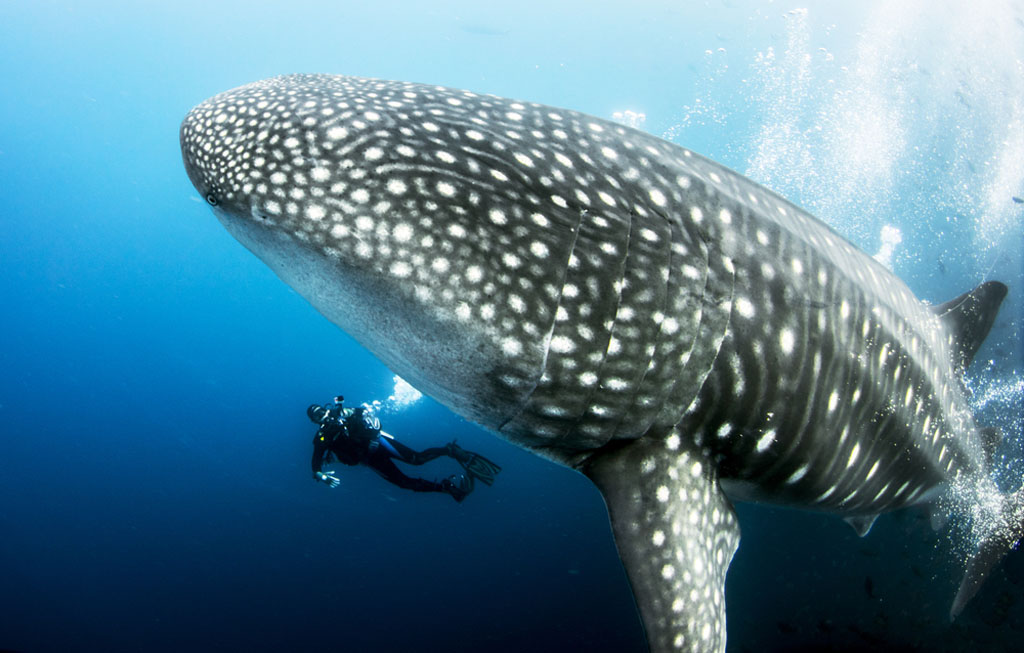 Galapagos
Of course, Galapagos. This remote volcanic archipelago is considered one of the world's foremost destinations for wildlife-viewing, above and below water. There are fantastic dives on many of the islands, with stand outs like Darwin Island where there are often huge schools of pelagic species including hammerhead and Galapagos sharks.
Top Tips. Book early on the Humboldt Explorer and save US $700 and look out for New Year Specials on the Galapagos Master for savings up to 30%.
Socorro
The capital of Big Stuff, off the coast of Mexico. The main attraction of diving Socorro Island, is the population of giant oceanic manta rays that come regularly to the island's cleaning stations from November through to June, schooling hammerheads from April to June and whale sharks are frequently sighted in June and November. If you're very lucky (like the diver who shot the above video), you'll see all three.
Top Tip: Solmar V often has last minute specials, with savings between 15 to 30%.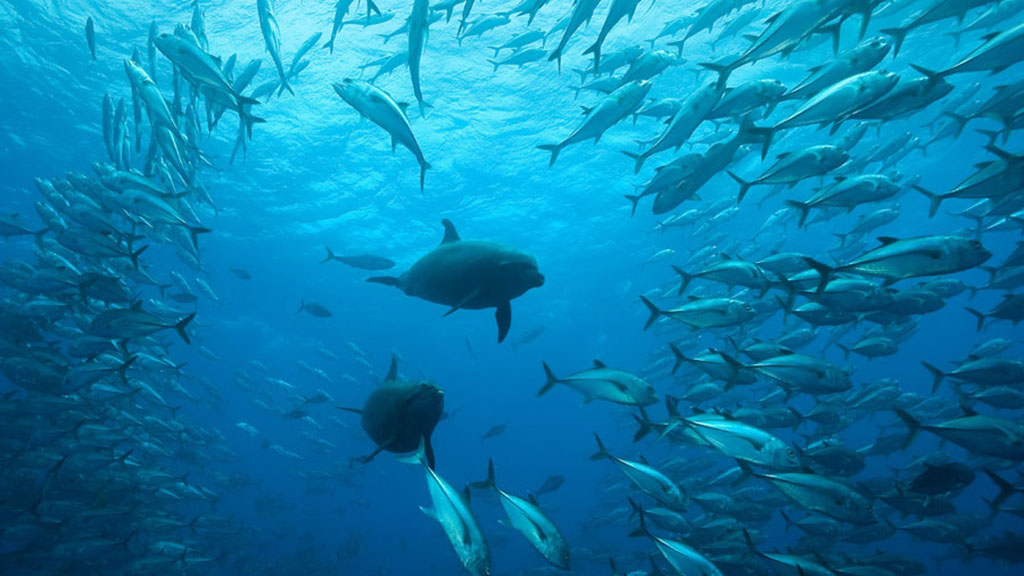 Cocos Island
Shark City. Cocos is like one enormous cleaning station, that attracts large schools of hammerhead and other shark species as well as many other pelagics including barracuda, giant trevally and Jacks. Oceanic manta rays and whale sharks are also known to feed in the nutrient-rich waters.
Top Tip: The Aggressor fleet has two liveaboards in Cocos, the Okeanos I and Okeanos II, with a couple of trips in February and April falling into their 'Explore The World' 25% Sale. Watch out also for last minute specials on the Undersea Hunter.
Palau
The world's first shark sanctuary, the vast majority of Palau's waters are fully protected, so you can expect to see lots of pelagic action with reef sharks, mantas, and large schools of barracuda, snapper, Jacks and bumphead parrot fish, making it a firm favourite for divers and one of the world's best dives.
Top Tip: Every new moon in Palau, THOUSANDS of bumphead parrot fish aggregate to spawn. Fish n Fins Dive Centre has been taking divers to see this amazing event for many years on their luxury liveaboard Ocean Hunter III. Plus – watch out for New Years Specials on the Palau Siren, with discounts between 20 to 30%.
The Maldives
Another shark and manta haven, the Maldives has a year-round resident population of whale sharks in the south, the world's largest aggregation on nurse sharks in the central atolls and in the north, hundreds of mantas aggregate between June and December in Hanifaru Bay.
Top Tip: MV Sheena sometimes has last minute specials with savings up to 30%. For a cheaper resort-based option in the Maldives, choose one of the local island resorts, such as Fulidhoo Dive Resort or Liquid Salt Divers at Aveyla in Baa Atoll.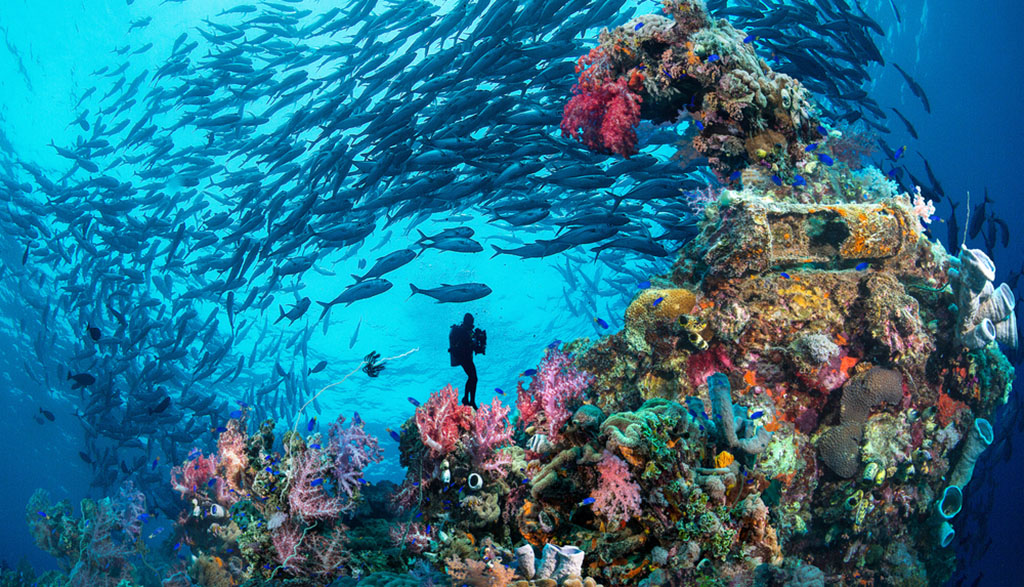 Truk Lagoon
Arguably the best wreck diving in the world – the density of WWII wrecks is unmatched. Truk Lagoon is known as 'biggest graveyard of ships in the world' and diving Truk Lagoon, divers get to dive on over 45 ships, including armed cargo ships, huge tankers, small destroyers and a submarine.
Top Tip: Join Nigel Marsh in May and combine your lust for rust with photography tutorials. Look out for New Year Specials on the Truk Master Liveaboard.
Bikini Atoll
Only open to divers for a few months each year, this former U.S. nuclear testing site, where not less than 23 atomic bombs were tested at Bikini Atoll, offers divers a unique selection of shipwrecks consisting of war battleships, cruisers, and an aircraft carrier.
Top Tip: Book early and get yourself some tech dive training – the Truk Master does trips to Bikini Atoll between May and October, but they are booked out sometimes years in advance. Most wrecks are deep – 40 to 50 metres, so some tech training is required.
Raja Ampat
Every marine life-lovers mecca, the biodiverse centre of the world, Raja Ampat breaks records for biodiversity of all types of species from coral to fish, home to 540 types of corals, more than 1,000 types of coral fish and 700 types of molluscs.
Top Tip: Look out for New Year Specials on the Indo Siren and the Indo Aggressor – with savings up to US $700 on the Indo Aggressor. For a resort-based option, Raja 4 Divers has Under 30 Weeks, with 50% off 2-week stays in June.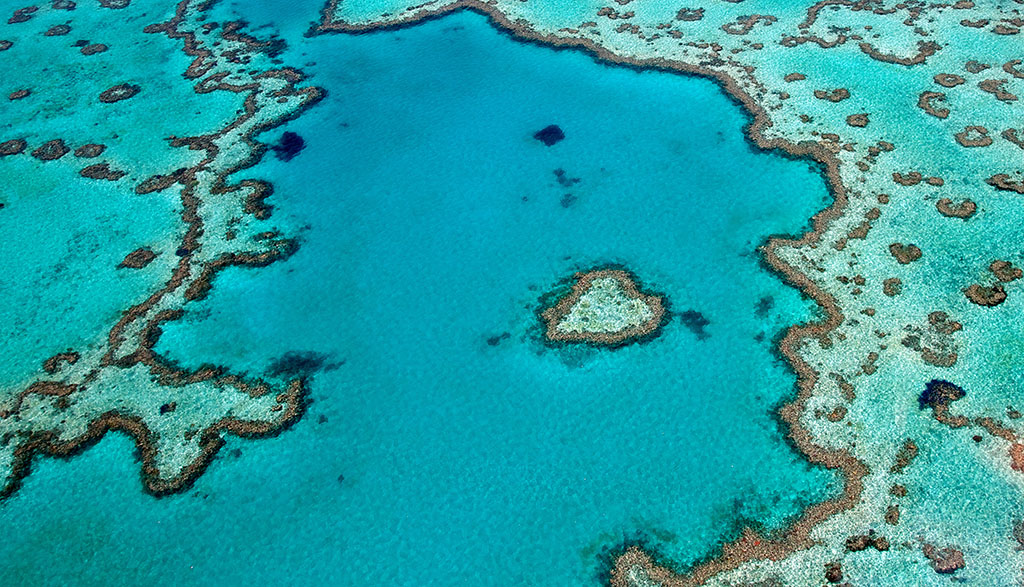 The Great Barrier Reef
Still high on every diver's Bucket List the world over, the world's most famous reef is still one of the world's best dives.
Top Tip: Both Mike Ball Dive Expeditions and Spirit of Freedom liveaboards have last minute specials, but the popular Far North Expeditions sell out very quickly.