Overview
The S/Y Indo Siren is a 40m (131ft) long schooner which offers a lot of space. She was built in Sulawesi, and like the other Siren yachts is a traditional 'Phinisi' handcrafted from ironwood and teak. The Indo Siren offers 10-night excursions in Komodo and Raja Ampat. Additionally, 12 and 14-night relocation cruises are scheduled between the two destinations.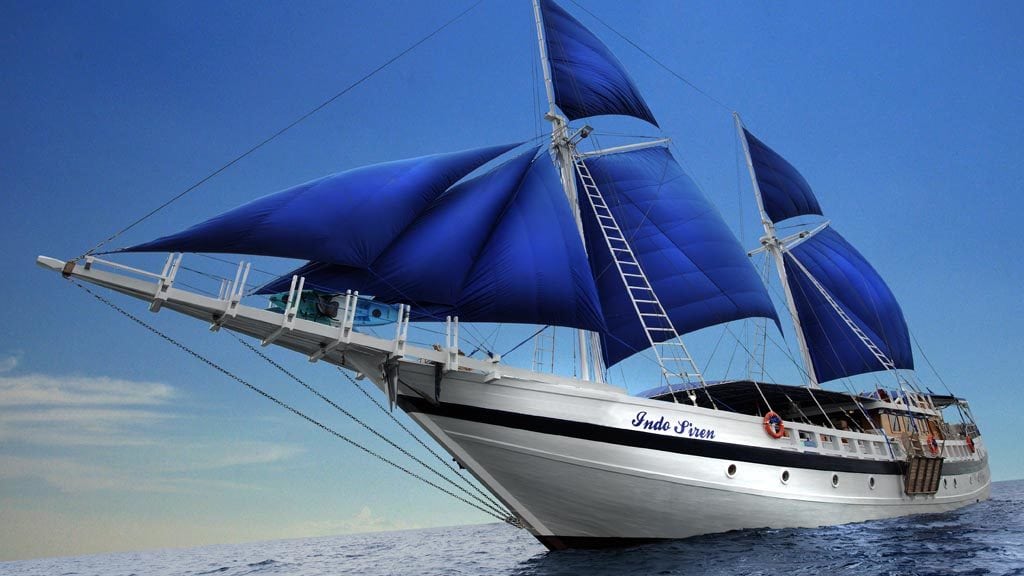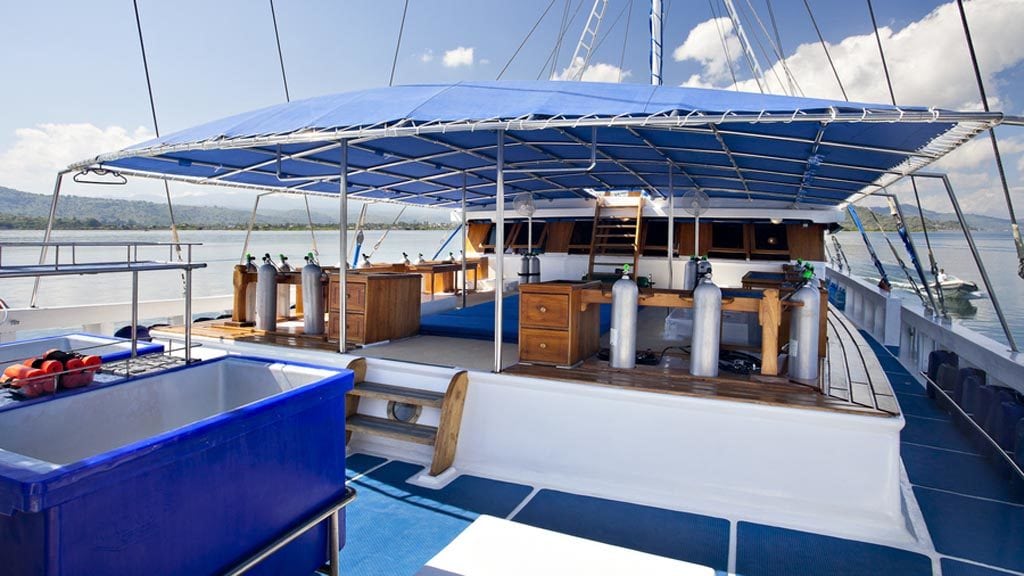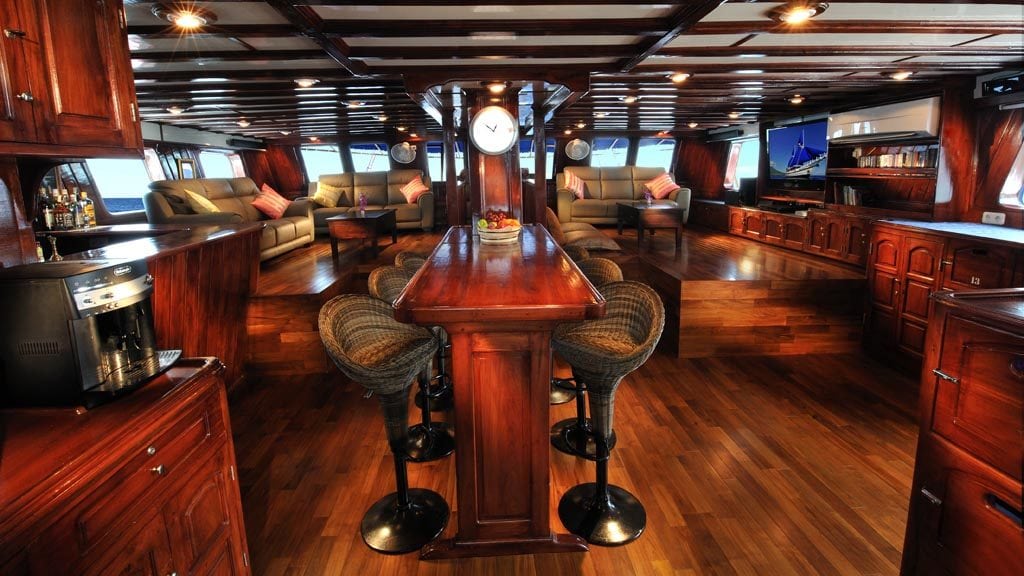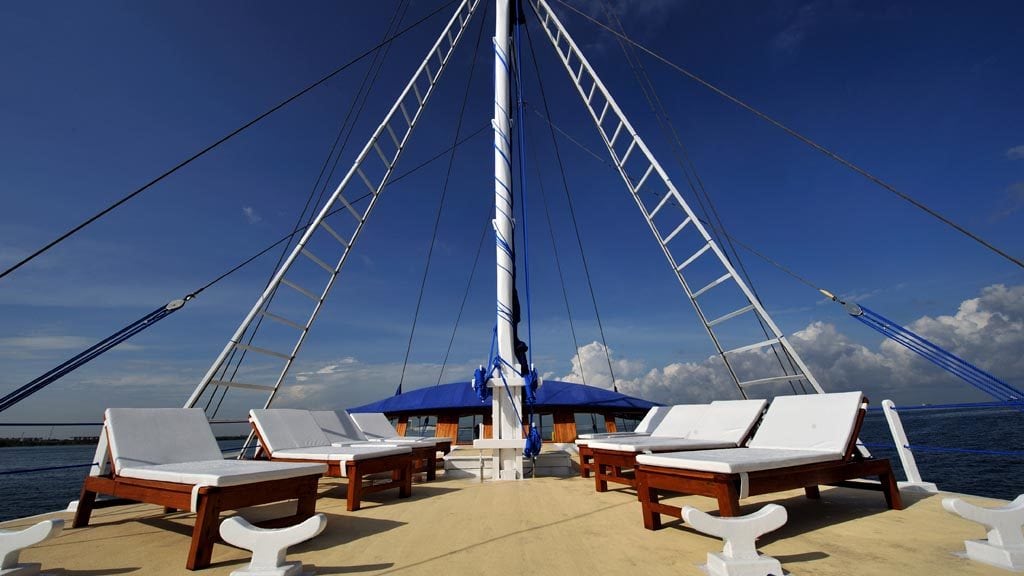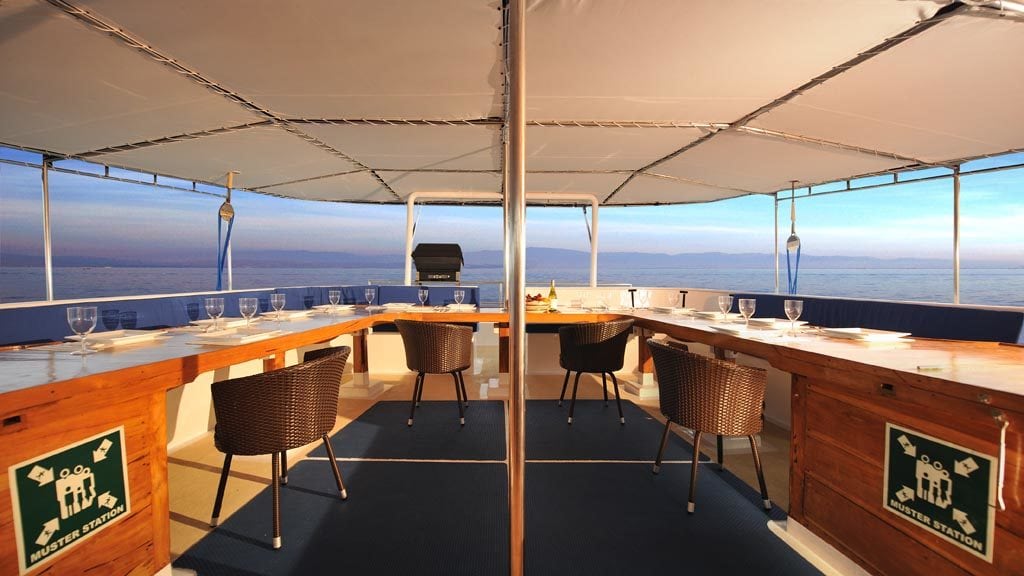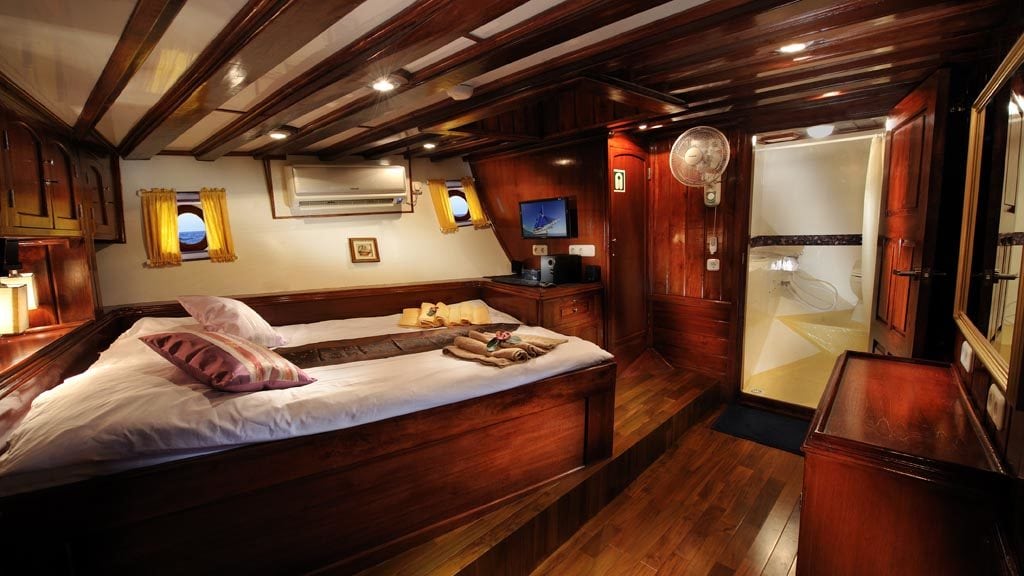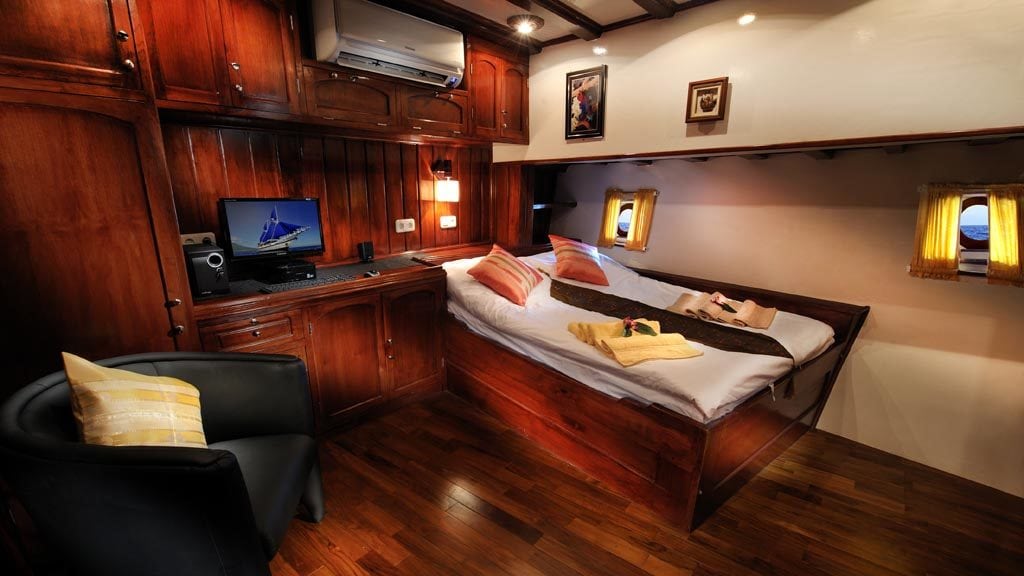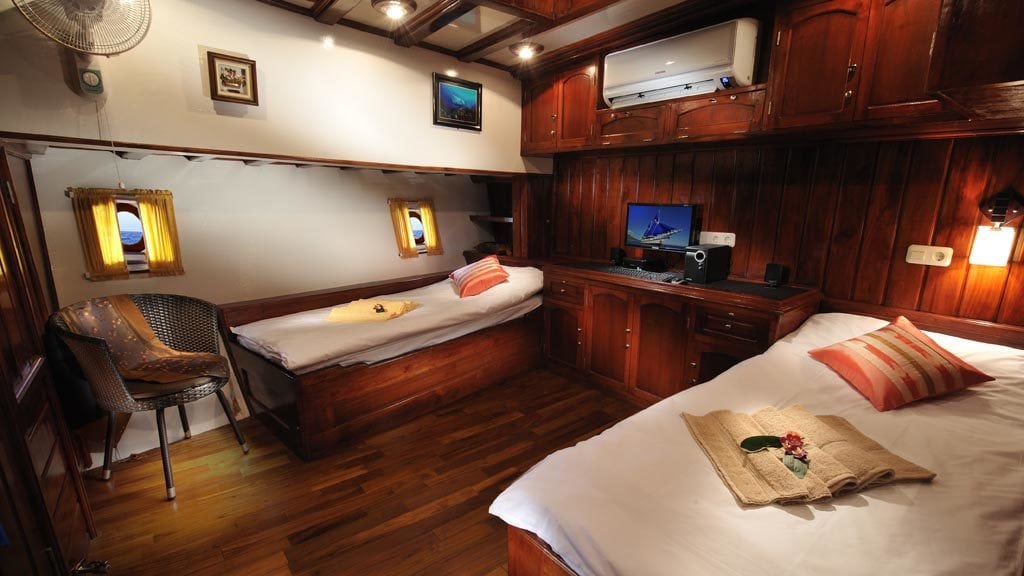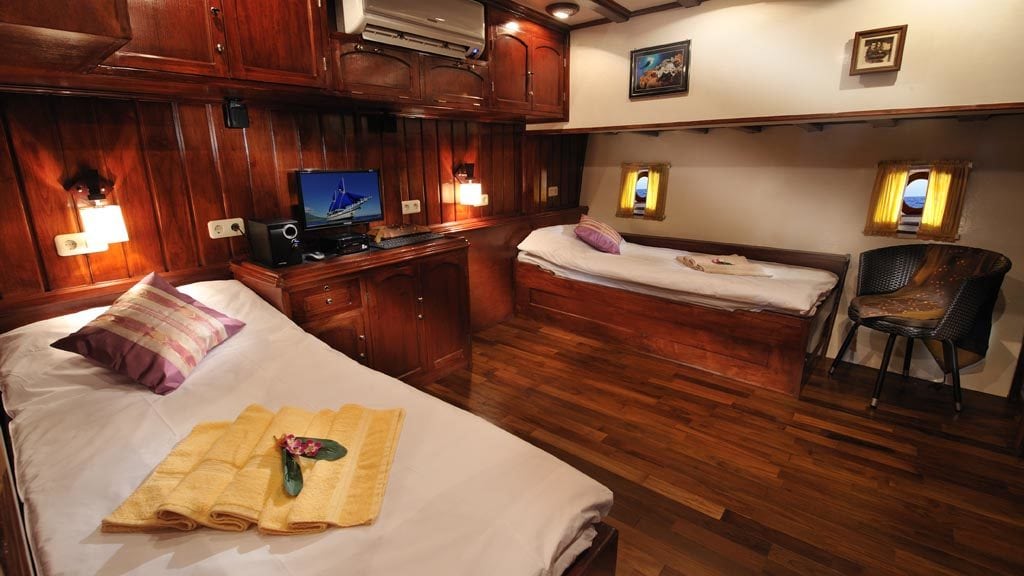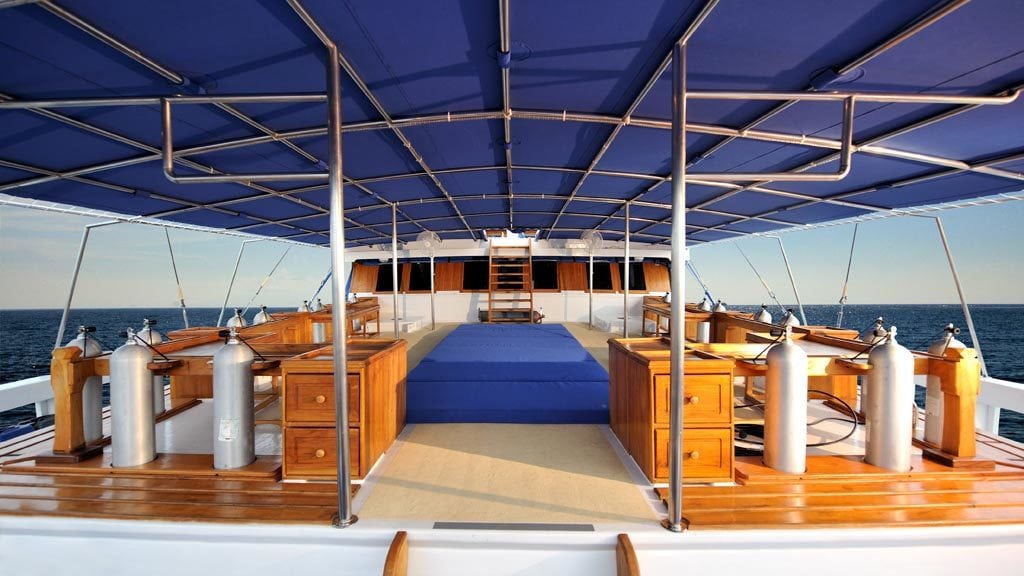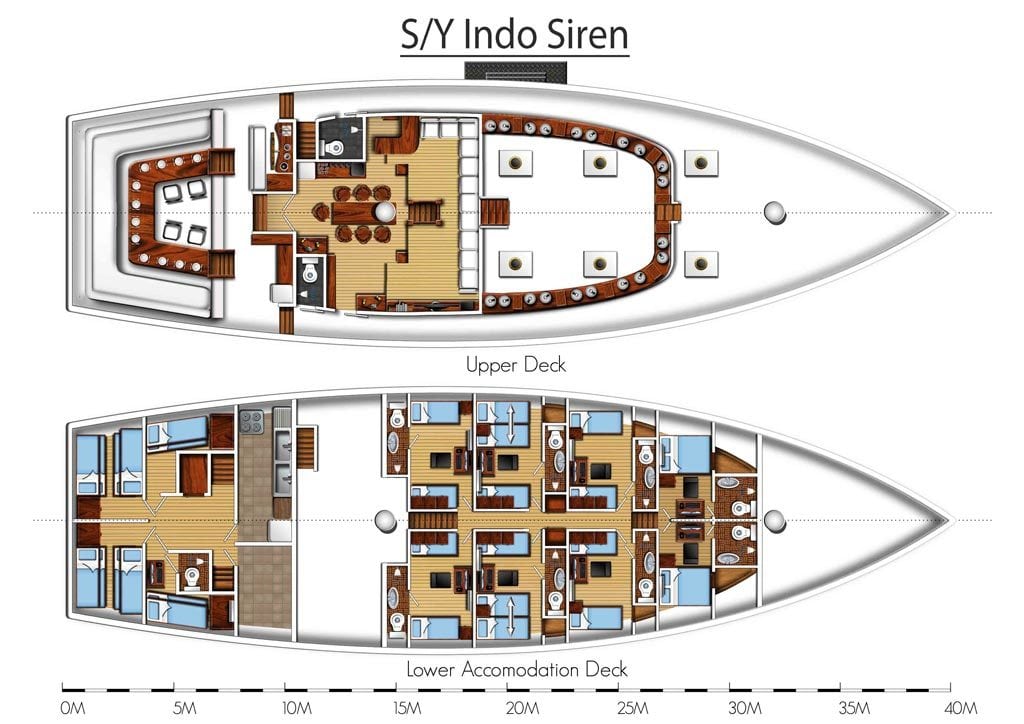 Accommodation
Up to 16 guests are welcome aboard each trip and there is abundant space for all guests. The cabins offer flexibility and can be used as a twin or double bedded rooms. Indo Siren has 8 large air-conditioned cabins each with their own en suite bathroom. Each cabin is fitted with multiple power sources to facilitate the needs of digital photography. All cabins are lavished with luxury extra's including bathrobes, hair dryers, towels, individually controlled mood lighting and individual controls for your air-conditioning unit. Each cabin has a porthole.
Features
The Indo Siren has a large air-conditioned saloon with bar, coffee machine, entertainment system with music and movies, small library and cosy sitting area. The dining area in the saloon is very spacious. In the outer area is a semi-circular dining table where guests can enjoy the delicious Asian and European food served in buffet style. You find a nice shady resting area at the bow of the vessel and on top of the salon is a sundeck with lounge chairs. They also have sea kayaks available and for an additional fee laundry and massage service.
Location
Departure port varies with the itinerary.
What to expect
Diving is offered in small groups of up to 6 divers, but of course, guests are welcome to dive in buddy pairs if they prefer. Dive time is usually limited to 1 hour. Up to 4 dives are offered per full dive day (3-day dives and either a sunset or a night dive). Indo Siren has 2 high-powered Zodiacs used as tenders. The dive deck offers lots of space for all divers and a designated area for underwater photographers and videographers. Charging points for cameras and batteries and a purpose-built basin to wash camera is available. Each cabin has its own PC where you can download your photos.
All Siren fleet liveaboards have tanks that can take either DIN or Yoke regulator.
Nitrox is available on board the vessel and Nitrox courses are offered as well.
The Siren Fleet is rebreather friendly, so Poseidon rebreather courses are available, as is rental gear.
Komodo & Sunda Islands: The dive sites around Komodo are among the best in Indonesia. The strong currents create nutrient-rich waters, making the area very interesting for experienced divers. An incredible diversity and variety of reef structures can be found. Hard coral gardens, cliffs overgrown with soft corals, and particularly the slightly cooler water around Rinca guarantee an underwater world where every dive is different.
Raja Ampat: The reefs of Raja Ampat are just as varied as the marine life. There are vertical walls, reef flats, slopes, seamounts, mucky mangroves, lagoons and pinnacles. The reefs are in pristine condition with miles of perfect hard corals and many varied colourful species of soft corals.
The diving is predominantly drift diving due to the moderate prevalent currents in the area which provide nutrients for the myriad fish and coral. Currents average at 'moderate' but can vary from none to 'very strong'. Due to these currents and the number of wrecks, Irian Jaya is not really considered a destination for absolute beginners, rather for divers with a few dives under their weight belts looking to get away from the crowds.
Staying Connected
Many of the Indo Siren trips are in remote locations and even phone service is intermittent at best. Therefore, no Internet service is provided on board Siren Fleet yachts. Most cell or mobile phones which have 'roaming' will function during the cruise, however, service signal strength can be very weak and some areas of your cruise may not be covered at all.
You should know…
Crew tips are accepted in cash only. All major currencies are accepted and appreciated.
We think…
The Indo Siren another comfortable liveaboard which reflects the high standard of the company. This vessel is one of our top recommendations. The Indo Siren offers great diving in style and a huge variety of schedules!
Trip dates & Availability



Indo Siren - Inclusions, Exclusions and Extras
Included
Accommodation in a double/twin cabin, all meals, snacks, coffee, tea, water, soft drinks, fruit juice & local beer, diving (up to 4 dives per full dive day; 3 day dives and either a sunset or a night dive), tanks, weights, air & Nitrox fills, essential dive equipment (BCD, reg, 3mm shorty wetsuit, mask & fins)
Single cabin surcharge 100% - "Premier Package" includes: sole use of cabin, one complimentary massage, one bottle of wine to be consumed during trip. Marine Park, port fees, taxes and any fuel surcharges will be paid by WWDS.
Raja Ampat itineraries - transfers in Sorong included
Komodo itineraries - transfers in Bima included
Excluded
AUD
USD
Komodo National Park fees (10 nights)
155
USD
|
155
Raja Ampat National Park fees (10 or 14 nights)
130
USD
|
130
Optional Extras
Dive computer rental (per day)
6
USD
|
6
Underwater Torch rental (per day)
6
USD
|
6
Important Information
This liveaboard's prices are in USD. The AUD prices shown are based on the current exchange rate. The price paid in AUD will be based on the actual exchange rate at the time any payments are made.
For snorkelers the same cruise price applies as for divers - "Non-diver Package" includes: one complimentary (non-refundable) massage per day, one bottle of wine to be consumed during trip.
Special payment and cancellation terms apply for this operator.
Note: Celebrity hosted cruises may attract a surcharge
Pricing / availability enquiry