After the infamous 'Mutiny on the Bounty' in 1789, Lieutenant William Bligh and his loyal followers were cast adrift in a 7m long launch. In a remarkable feat of seamanship they sailed the small craft 6500km to Timor, but the most dangerous part of the voyage was the first European journey through the Fiji Islands, through what is today known as Bligh Water.
The journey through this stretch of water, between the two main islands of Vitu Levu and Vanua Levu, wasn't dangerous because of strong currents or rough seas, it was dangerous because these men were worried about being eaten. At the time the Fijians had a reputation for being savage cannibals, so Bligh and his men quickly sailed through the area. Today Fijians are known as some of the friendliest and most welcoming people on earth, and the Bligh Water is now famous for having some of the richest coral reefs in the South Pacific.
Divers can explore Bligh Water on a liveaboard vessel, with the fabulous 36m long motorsailer Nai'a offering 7 and 10 day trips. Not having that much time we dived this area with one of the land based operators Volivoli Beach Resort based at Rakiraki, on a special trip organised by Tourism Fiji.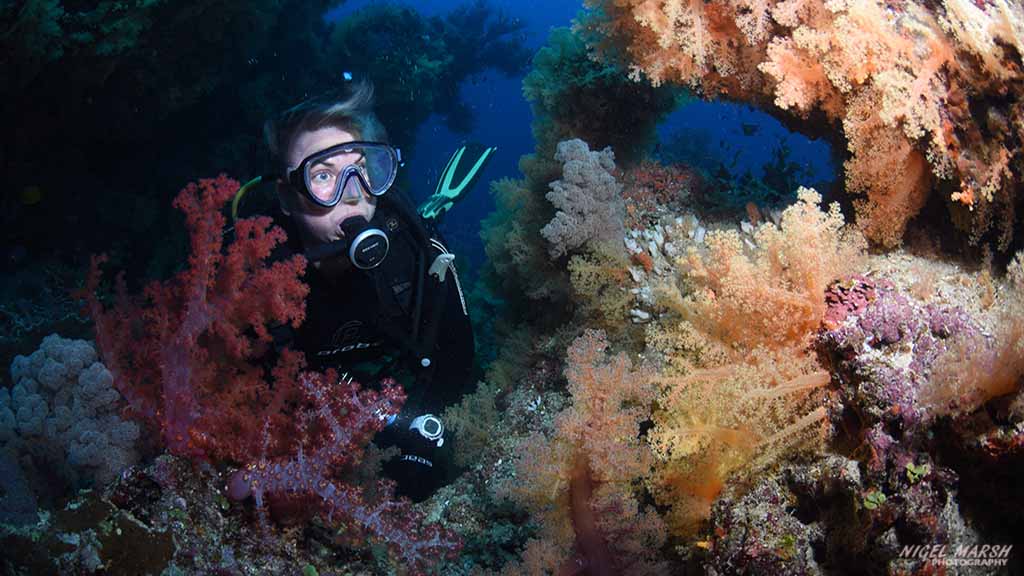 Our first stop was Volivoli Beach Resort, which has recently been rebuilt after suffering extensive damage from Cyclone Winston in 2016. This wonderful resort has spacious bure villas spread around a hill with incredible ocean views, plus a great dive operation run by Ra Divers.
After checking into our comfortable room we quickly got our dive gear together to join Ra Divers on the afternoon dive to Golden Dreams. This is one of their inshore sites, on Sailstone Reef, and only 20 minutes from the resort. It may have been close to shore but the corals at this site were just exquisite – radiant soft corals, large gorgonians and gorgeous whip corals. This site is a series of coral heads rising from 25m. Home to abundant fish and reef sharks, we were most impressed with the macro life, including several nudibranchs and a good population of both ornate and robust ghost pipefish.
Ra Divers have around 50 dive sites they visit and the next day we got to explore some of their best sites in the Vatu-i-Ra Passage, an hour away from the resort. The first was Mellow Yellow, a site with two large bommies covered in incredible corals. It was hard to know where to point the camera as the soft corals, gorgonians and whip corals were competing for our attention. If that wasn't enough there were also reef sharks, trevally, sweetlips and angelfish.
Our next dive at Chile was just as colourful, with this collection of pinnacles also decorated with fabulous fans and soft corals. This site also had numerous small caves, but you couldn't swim into them because most were packed with gorgonians.
After lunch we relocated a few kilometres to Wananavu Beach Resort. This resort has more traditional style bures set in a very picturesque garden. We barely got time to settle into our lovely bure before it was time for the afternoon dive at Amazing Maze.
This site really lived up to its name, a maze of gutters, caves and swim-throughs cutting through a group of bommies. Once again the corals were magnificent.
The next day we dived two sites on Midway Reef with Dive Wananavu. The first was Rob's Rock, a group of bommies covered in lovely corals. And while the corals were wonderful, it was the fish life that most impressed. Exploring this site we encountered schools of barracuda, trevally, fusiliers and surgeonfish, plus a huge Maori wrasse, whitetip reef sharks and several grey reef sharks. We found the top of one bommie covered in a dense shoal of baitfish, with the cloud of small fish remarkable to watch as it swirled around the corals.
The next dive at Wheatfield had almost as many fish. This towering pinnacle is coated in soft corals, gorgonians, sponges and sea whips. But we spent most of the dive on a smaller side bommie watching schools of bannerfish, fusiliers, barracuda and several grey reef sharks.
Our brief stay at Bligh Water only whet our appetite for the incredible diving in this area. And unlike Lieutenant William Bligh, we were very reluctant to leave these rich waters, but know we will return to explore more of these bountiful waters.
This post is co-written by Nigel and Helen Rose, Nigel's partner and patient underwater model.
If you liked this post you may also like:
Vatu-I-Ra has Fiji's best named sites: Purple Haze, Black Magic, Yellow Mellow