Introduction
Beqa Lagoon is the world renowned home of the Shark Dive, and all three dive centres in this area offer phenomenal shark diving experiences. Choose from the Shark Dive at The Bistro or the Big Fish Experience where you can see Tigers at the Cathedral with Beqa Lagoon Resort.
Have a look on earth view in Google maps, and you'll see just how big the reef around the lagoon is. Its 144 km of coral reef is formed around an extinct volcano crater. There are about 30 odd dive sites found all along the reef, and some in the middle of the lagoon – including a wreck – all within an easy boat trip from the resorts – each of which have their own jetties adjacent the resort.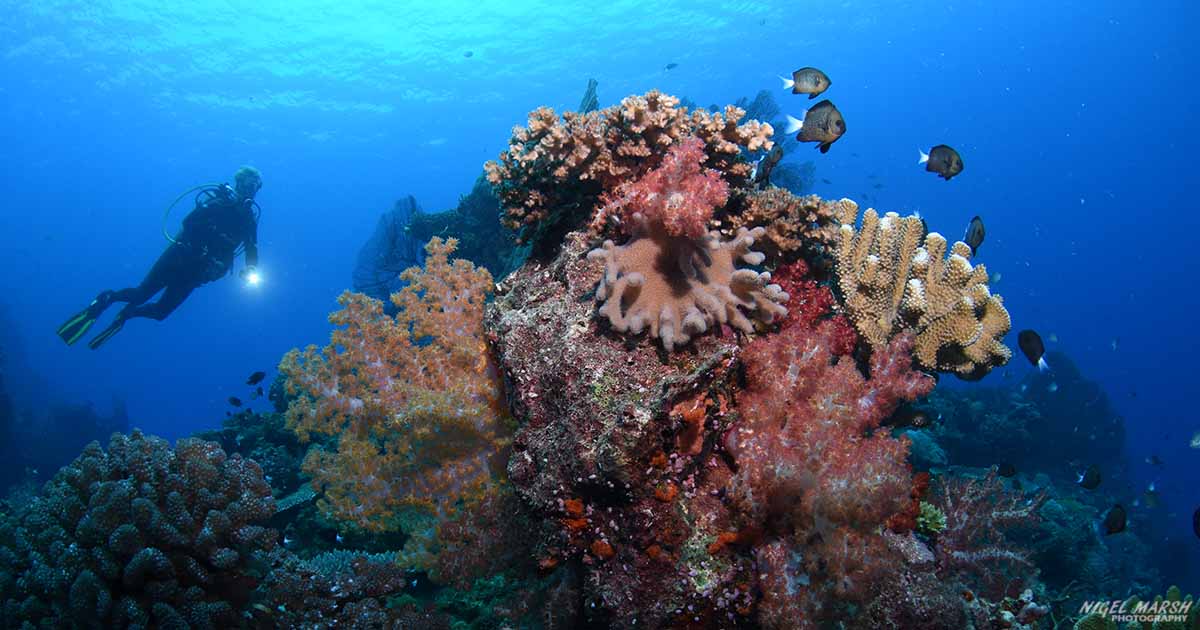 You will find everything from carpets of anemones, to clusters of coral heads, walls to wrecks, and a few hundred species of fish from tiger sharks to clown triggers.
Many divers come for the unique Shark Dive experience, but you'd be crazy to book for anything less than a week if you want to do justice to the diverse dive sites on offer.
Pacific Harbour is also base camp for many of the country's most exciting activities, including white-water rafting through a breathtaking gorge, world-class surfing, and idyllic waterfall tours.
Location
Access to Beqa Lagoon is at Pacific Harbour, on the south coast of Viti Levu, about a 2½ hour scenic drive on the Queens Highway from Nadi, and about 30 minutes from Suva.
Aquatrek Beqa
Aqua-Trek Beqa is a PADI Dive Centre located in the grounds of Club Oceanus Resort, a hip new waterfront property. Aqua-Trek provides dive services to guests staying at any of the local hotels and resorts on the main island of Viti Levu. Daily dives to Beqa Lagoon are offered as well as a full spectrum of PADI courses from Discover Scuba up to the Divemaster level.
There are more than 20 excellent dive sites within a short boat ride from Pacific Harbour, and their 33-foot custom-built dive vessel will carry you to them in comfort and style. Aqua-Sport is one of the fasted vessels in the area. That means less time traveling and more time relaxing and having fun!
Beqa Adventure Divers ('BAD')
Beqa Adventure Divers is a PADI Dive resort offering some of the best shark diving the world has to offer. Their modern dive centre, located at Lagoon Resort in Pacific Harbour, fuses Fijian hospitality with world class diving facilities. The incredible shark diving, and reef and wreck dive sites of Beqa Lagoon are but a short boat ride from their jetty.
Beqa Lagoon Resort
Beqa Lagoon diving has its own private Shark Dive known as the 'Big Fish Encounter', a dive that teases you with huge groupers, bait balls of massive Trevally, and the chance of being up close and personal with nine different species of sharks.
Beqa Lagoon Resort is a PADI 5 Star Resort offering everything from entry level Discover Scuba Diving right up to professional courses such as PADI Assistant Instructor. They also offer PADI specialty courses such as Enriched Air Nitrox, so that after a day's training you'll be able to take advantage of the Nitrox available on any dive. You can read more about them via the link below.
Dive Centres
Dive Resorts
Dive Sites
The shark diving in Beqa Lagoon is among Fiji's most renowned marine experience. Silvertips, grey reef, whitetip reef, blacktip reef, sicklefin lemons, and tawny nurse sharks, as well as large bull and occasional tiger sharks, come to feed on the fish bait provided at a depth of 25 to 30m on the reef ledge while divers observe from a safe distance. The sites in Beqa are long established and very well managed. Points to note: because of the depth, all divers must be certified, and the shark dives don't happen every day – but that's not a problem as there are dozens of other great dive sites available around the Lagoon.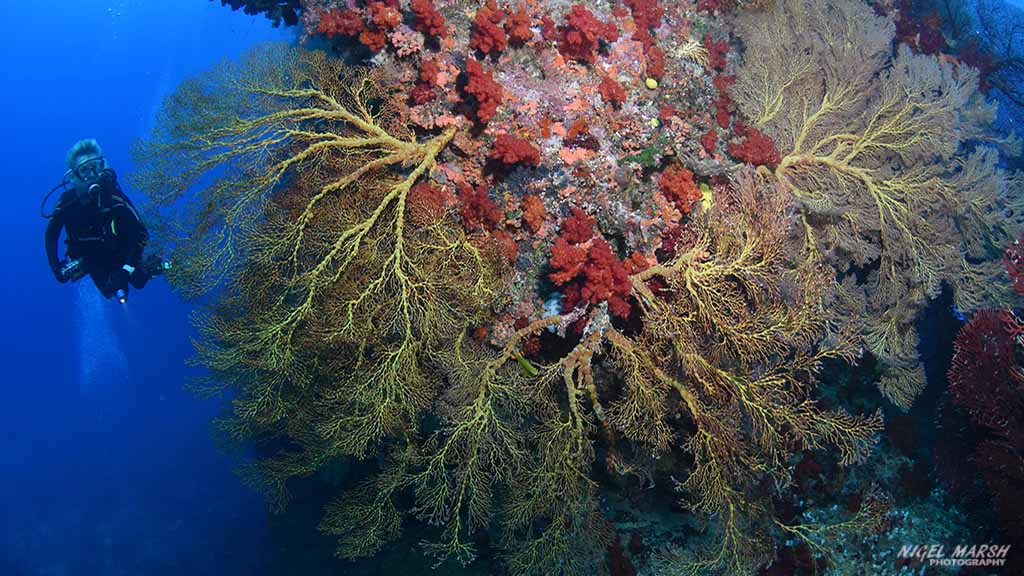 There's excellent wreck-diving at four purpose-sunk Taiwanese trawlers, each roughly 33m long. The first was sunk in the late-1990s. The wrecks are home to schools of barracuda, pipefish, a giant camouflaging frogfish, stonefish, lionfish, leaf scorpion fish, and moray eels.
Soft coral dives take place at more than 20 sites around Pacific Harbour. Highlights here include large pinnacle clusters, which give divers the impression of walking between buildings, and the rare blue ribbon eel.
Dive Sites
Where to Stay
Uprising Beach Resort
This 3-star resort offers Beachfront Bures just 18m from the surf, which sleep up to seven, Standard Bures which sleep up to four and include outdoor showers, and the 20-bed dorm-bure which includes a towel and modern bathroom facilities. The restaurant serves hearty portions from an eclectic menu. A two-course Continental breakfast and free Internet WiFi are big pluses. Uprising Beach Resort is an excellent choice for the young and young at heart.
Club Oceanus
Club Oceanus Resort, set next to Pearl South Pacific Championship Golf Course, is 60 km from Nausori airport. The budget property features 11 air-conditioned rooms. The Standard Studio has sleeping arrangements for 3 persons and the King Studio features 1 King-size bed. Each guest room includes air conditioning, a balcony and ironing facilities. Some rooms have a river view. The kitchen is fitted with an electric kettle, tea and coffee making equipment and a fridge. Guests are invited to the on-site Brizos restaurant to indulge in culinary delights. The bar's menu offers various types of coffee and tea. Also, this resort has a patio and a shared lounge on the premises.
The Pearl
The Pearl Resort is an elegant, sun-drenched resort perfectly located in Pacific Harbour between Suva and Nadi. The Resort is an idyllic escape with chic accommodation, exquisite cuisine, adventure and relaxation. Just some of the features on offer include an 18 hole golf course, swimming pool with swim-up bar, The Pearl Spa, white water rafting, game fishing, world famous shark diving, snorkeling, jet ski safari and surfing at Frigates Passage. Choose from four stylish accommodation options to set the perfect mood for your holiday. The bright and airy room types include the panoramic Ocean View, modern Marina View or tropical Garden View in either Queen or Twin configuration, or indulge in one of the six lavish Penthouse Suites with King size bed and comfortable lounge room with dining area and over-sized sofas.
Other Activities
Pacific Harbour is base camp for many of the country's most exciting activities, including white-water rafting through a breathtaking gorge, world-class surfing, and idyllic waterfall tours. Here are just a couple of examples. Those listed under the Coral Coast in Sigatoka  are also doable as day trips.
Upper Navua River Rafting
Spend a full day deep in Fiji's tropical highlands: the Upper Navua River cuts an emerald ribbon through black, volcanic gorges. Set out for a rafting adventure down this pristine waterway, tackling Class II and III rapids and floating through tranquil stretches to take in the surrounding jungle scenery.
(Lower) Navua River Village Day Tour
A combination of full day cultural tour and cruisey river rafting down the lower, shallower end of the River Navua.
Rainforest Zipline Adventure
Under the supervision of trained guides, soar down 16 different zip-lines through the treetops high above the jungle canopy.
Arts Village
Arts Village Fiji's largest-scale cultural attraction includes performances, restaurants, and a shopping centre.
Around the Resorts
Around the resort there are invariably no end of water sports, spa treatments and increasing – a cooking class. For those who enjoy Kokoda, you can join a class to see how it's made, including the tricky bit with the coconut – for those of us who have almost forgotten that coconut milk doesn't just come in cans!
And, it wouldn't be Fiji if there wasn't a Lomo (feast) and Meke (dance performance) once each week – make sure you don't miss it.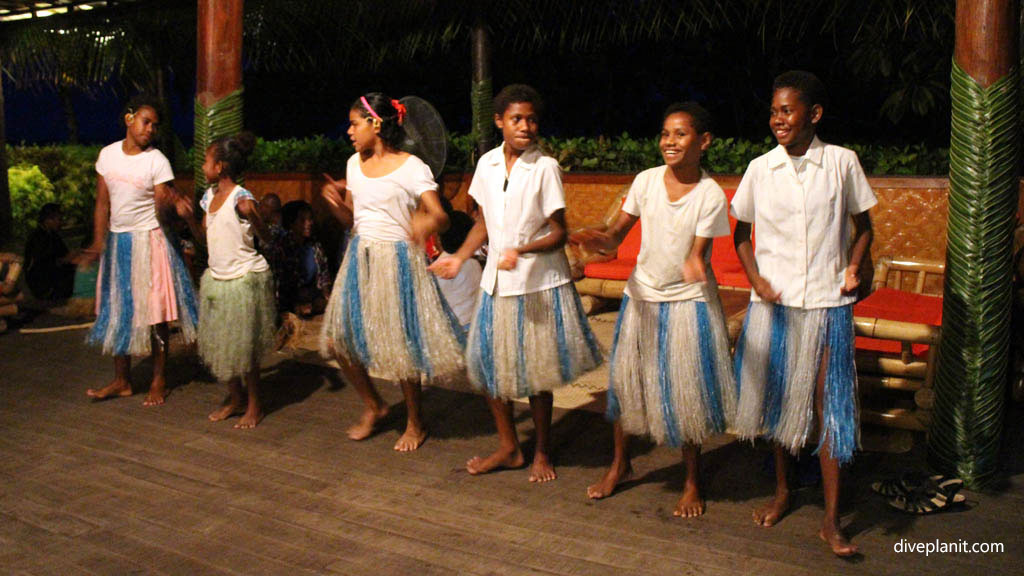 Getting There
Nadi is the international airport on Fiji, and Pacific Harbour is about a 2½ hour scenic drive on the Queens Highway along the southern coast of Viti Levu. Though Suva is only about a 30 minute drive away, at the time of writing, the domestic connection does not work out much better than a road transfer from Nadi.
The Beqa Lagoon Resort (and the Lalati Resort & Spa) is a 30 minute boat ride across the lagoon from Pacific Harbour, and as the Beqa Lagoon reef practically abuts the mainland's Rovodrau Bay reef, the transfer is pretty smooth. Check with the resorts, the transfer can be included as part of a package but tends not to run 'after hours'.
Pricing / availability enquiry