Introduction
Location
Accommodation
Diving
Dive Sites
Pricing & Schedules
Enquire Now
Beqa Adventure Divers is a PADI Dive resort specializing in shark diving. The dive centre is located at Lagoon Resort in Pacific Harbour and is ideally suited to whisk you out to the shark diving, reefs and wrecks of Beqa Lagoon in a matter of minutes, with a free courtesy shuttle from anywhere in Pacific Harbour.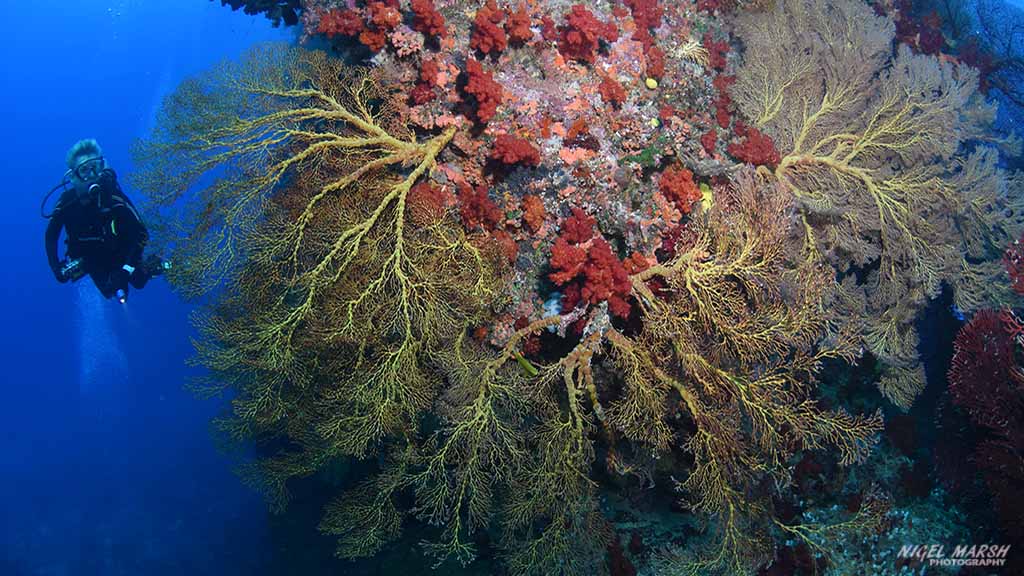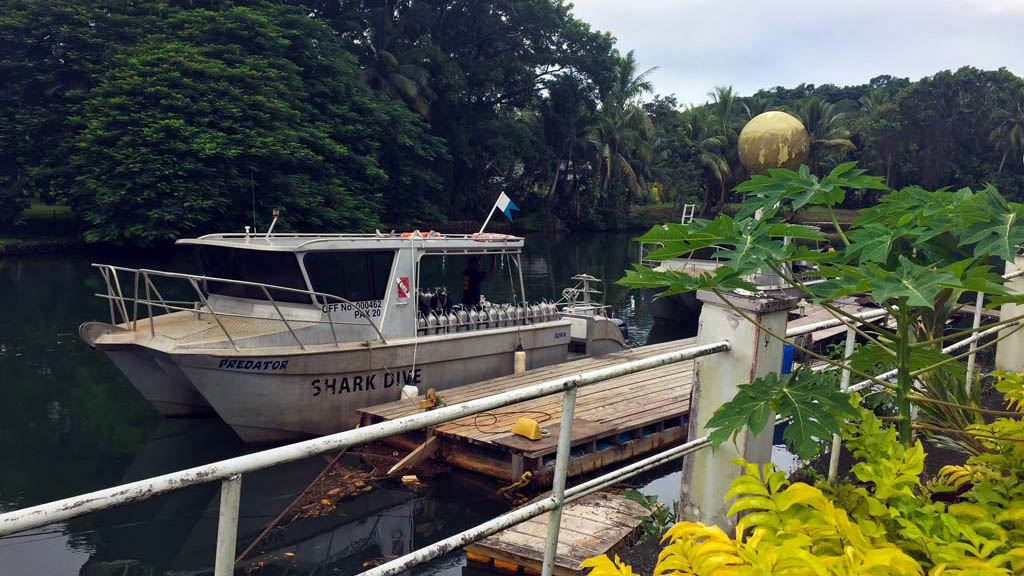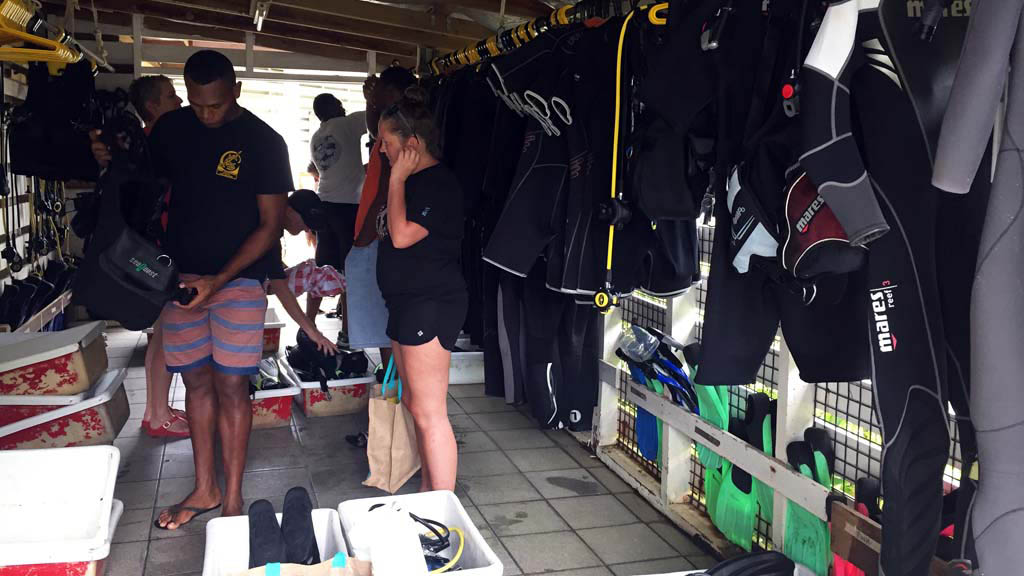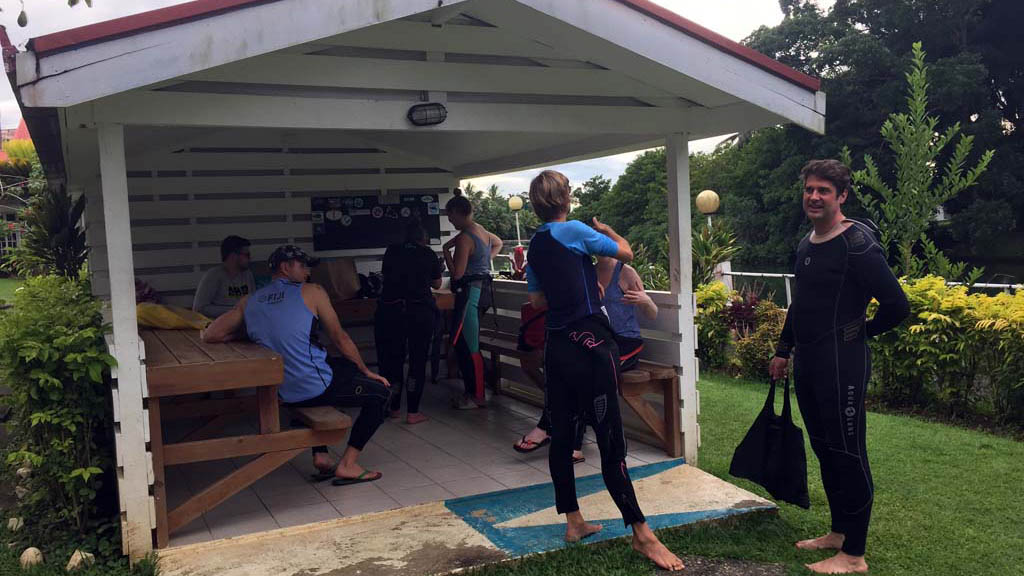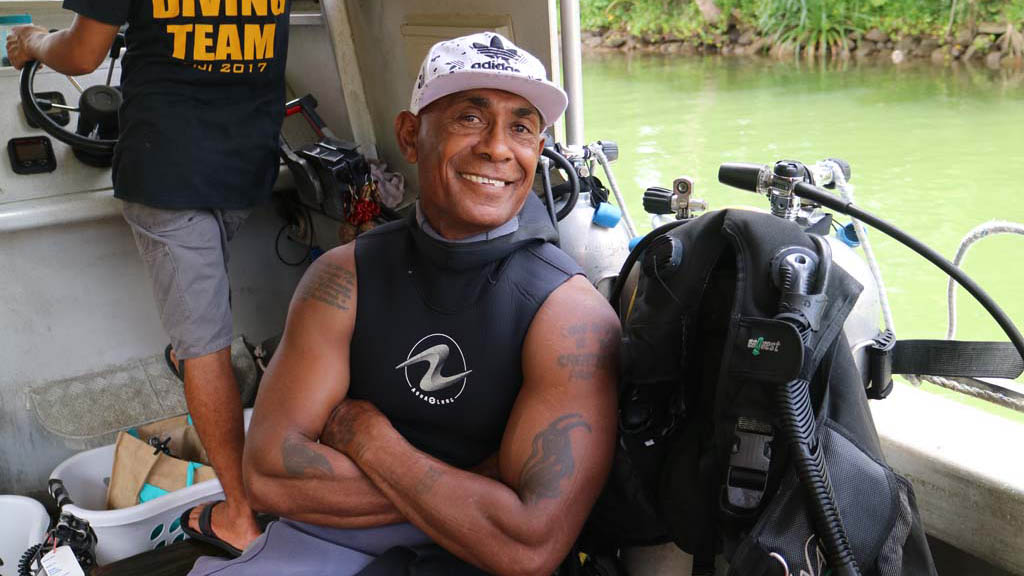 On the fringes of Beqa Lagoon, Shark Reef Marine Reserve was created to study the resident shark population and in turn aid in the long-term conservation of sharks worldwide. It is here, within Shark Reef Marine Reserve, that The Shark Dive takes place. B.A.D.'s stewardship of Shark Reef is not limited to the Sharks alone but extends to protecting all of its inhabitants, with considerable resources invested to document fish life and the long-term effects of their conservation efforts.
Beqa Lagoon is also a hot spot for soft coral, with some beautiful reef dives sites including Pearl Rock, Fantasy 1 and 2, Glory Hole, Seven Sisters, and Million Dollar Point. There are also several wrecks, including an old trawler at Carpet Cove and another at Johns Tunnel.
Dive and accommodation packages are available on enquiry at nearby Club Oceanus Resort, Uprising Resort and The Pearl Resort.
Beqa Adventure Divers are located in Pacific Harbour, Beqa Lagoon, Fiji.
The Pearl Resort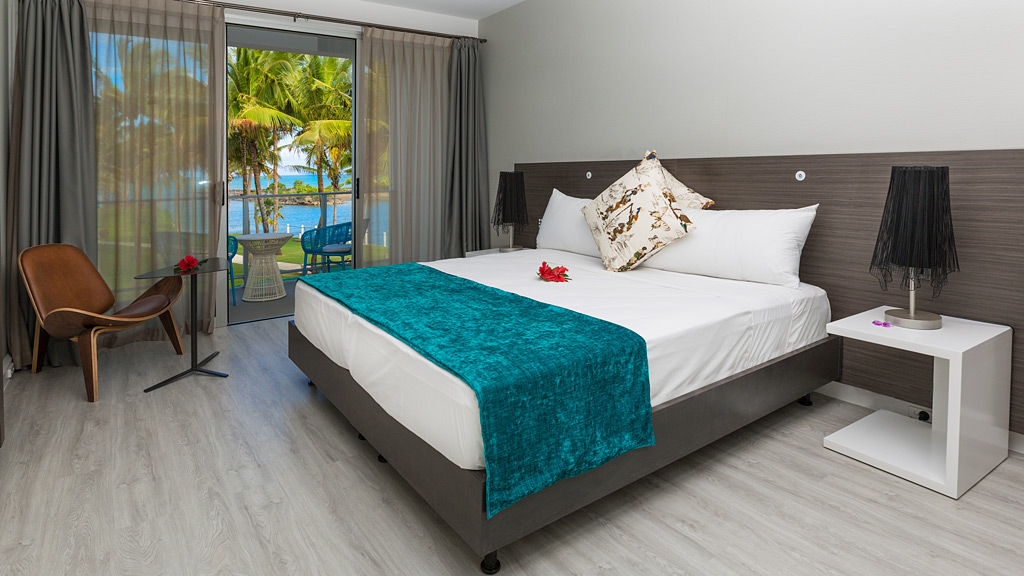 The Pearl Resort is an elegant, sun-drenched resort perfectly located in Pacific Harbour between Suva and Nadi. The Resort is an idyllic escape with chic accommodation, exquisite cuisine, adventure and relaxation. Just some of the features on offer include an 18 hole golf course, swimming pool with swim-up bar, The Pearl Spa, white water rafting, game fishing, world-famous shark diving, snorkeling, jet ski safari and surfing at Frigates Passage. Choose from four stylish accommodation options to set the perfect mood for your holiday. The bright and airy room types include the panoramic Ocean View, modern Marina View or tropical Garden View in either Queen or Twin configuration, or indulge in one of the six lavish Penthouse Suites with King size bed and comfortable lounge room with dining area and over-sized sofas.
Uprising Beach Resort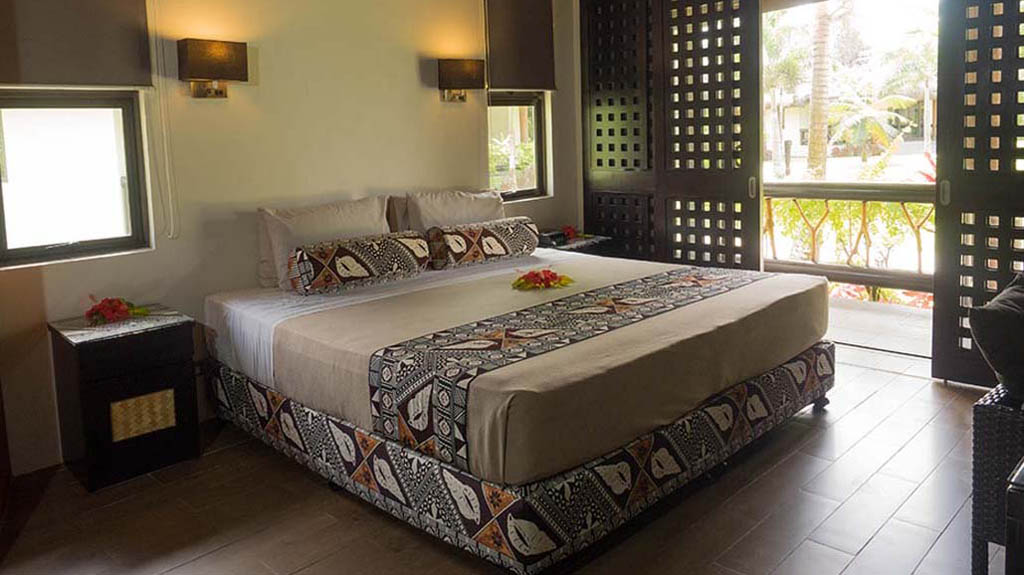 This 3-star resort offers Beachfront Bures just 18m from the surf, which sleep up to seven, Standard Bures which sleep up to four and include outdoor showers, and the 20-bed dorm-bure which includes a towel and modern bathroom facilities. The restaurant serves hearty portions from an eclectic menu. A two-course Continental breakfast and free Internet WiFi are big pluses. Uprising Beach Resort is an excellent choice for the young and young at heart.
Club Oceanus
Club Oceanus Resort, set next to Pearl South Pacific Championship Golf Course, is 60 km from Nausori airport. The budget property features 11 air-conditioned rooms. The Standard Studio has sleeping arrangements for 3 persons and the King Studio features 1 King-size bed. Each guest room includes air conditioning, a balcony and ironing facilities. Some rooms have a river view. The kitchen is fitted with an electric kettle, tea and coffee making equipment and a fridge. Guests are invited to the on-site Brizos restaurant to indulge in culinary delights. The bar's menu offers various types of coffee and tea. Also, this resort has a patio and a shared lounge on the premises.
The Dive Boats are custom built Bladerunner Hydrofoil Catamarans from New Zealand. Built in 2004, they are spacious and equipped with a full complement of safety equipment and modern navigation and communication instruments. The twin hulls and hydrofoil ensure a fast, comfortable and smooth ride in all conditions and eight sealed and pressure-tested compartments make the vessels practically unsinkable. Their minimal draft enables us to drive them to within feet of the reefs and beaches visited.
Imagine a swirling throng of Jacks, Snappers and Groupers. Now throw into the mix up to 8 different species of sharks; Bulls, Tigers, Sicklefin Lemons, Silvertips, Grey Reefs, Whitetip Reefs, Blacktip Reefs, and Tawny Nurses.
The first Shark Dive takes place on a reef ledge next to the drop off into the abyss of Beqa Passage. Here at a depth of 30m, feeders bring in the main attraction; bull sharks. After spending 17 minutes in "The Arena", it's time to head on up to the shallows for the second part of the Shark Dive. Up in "The Den", the smaller shark species, Whitetip Reefs, and Blacktip Reefs can be found circling, completely at ease with the presence of divers.
The second Shark Dive takes place halfway down the reef slope at 16m. 'The Take Out' is where most of the feeding occurs. Often times the Tawny Nurses are the first species to feed before giving way to the Bulls. Silvertips, Sicklefin Lemons, and Grey Reefs come in to feed when the Bulls allow and the dive has a total bottom time of about 35 minutes.
Pricing for Beqa Adventure Divers
DIVING
Valid 1 Apr 2023 - 31 March 2024
AUD
FJD
The Shark Dive: 2-tank dive
Mon, Tues, Thurs, Fri and Saturday mornings
425
FJD
|
425
Beqa Lagoon Soft Coral/Wreck: 2-tank dive
Wednesday & Sunday mornings
Mon, Tues, Thurs and Friday afternoons
400
FJD
|
400
10 Dives (including 2 Shark Dives)
1823
FJD
|
1823
Reef Levy per day
25
FJD
|
25
7-Night/10 Dive Package Staying at The Pearl Resort Pacific Harbour:
7 Nights in a Gardenview Room
10 dives including 2 shark dives
Reef Levy
Full breakfast buffet daily
Free Welcome Drink
Free use of gym and resort activities
Free in-house movies
Return transfers ex-Nadi Airport
3190
FJD
|
3190
Staying at The Pearl Resort - Valid to 31 March 2024
AUD
USD
7 Nights Premium Garden View Room (Double / Twin Share)
543
USD
|
543
7 Nights Premium Garden View Room (Single)
1085
USD
|
1085
7 Nights Premium Ocean View Room (Double / Twin Share)
700
USD
|
700
7 Nights Premium Ocean View Room (Single)
1400
USD
|
1400
Diving prices are in FJD and accommodation prices are in USD. The AUD prices shown are based on the current exchange rate. The price paid in AUD will be based on the actual exchange rate at the time any payments are made.
Diving prices includes tanks, weights, boat, dive guide, Fiji Government taxes.
BUT excludes the FJD 25 per day Shark Reef Marine Reserve Levy paid locally. Accommodation rates include full buffet breakfast daily, welcome drink and cool minted towel on arrival, in room movies, use of snorkelling gear and non motorised sports at the Resort, FJD 50 resort credit per room.
Please use the [Enquire Now] tab to give us your exact requirements and we'll give you the best deal we can.