Introduction
Location
Accommodation
Diving
Pricing
Enquire Now
Sea Explorers at Alona Vida Beach Resort is located in the centre of the white sandy Alona Beach, with access to local dive sites, Cabilao Island and the Marine Reserve of Balicasag Island. The dive shop offers several dive trips a day, and in addition diving courses and equipment rental are available.
Sea Explorers have a very well equipped dive centre on the premises.
Alona Vida Beach Resort has reliable mobile phone reception and WiFi is available within the whole resort – from the rooms in the back all the way to the beach with free WiFi for resort guests.
We think…
This is a very well organized small dive resort under Swiss management. Alona Vida Beach Resort is a great choice for a stay on the beach, right where the action is.
Sea Explorers at Alona Vida Beach Resort is located in the centre of the white sandy Alona Beach.
Alona Beach is reached from Tagbilaran on Bohol Island via a bridge in about 20 minutes by car. Fast ferries connect Cebu (departing Cebu City Pier) with Bohol (arriving Tagbilaran Pier) with Cebu with several departures daily, and taking about two hours.

This small resort features 26 rooms: 21 deluxe rooms with pool or garden view, 4 superior rooms with pool view and 1 family deluxe room with garden view. All rooms are comfortably furnished and equipped with air conditioning, TV, minibar and have a private bathroom with hot & cold water. The 4 superior rooms are located in a two-story building with 2 rooms on the ground floor and 2 rooms on the 1st floor. These rooms have pool views and are bigger in size than the deluxe rooms. The resort features its own swimming pool for house guests.
The resort is home to the Coco Vida Bar and Restaurant whose activities can go until late at night, so be prepared to sleep with closed windows if you don't join the party.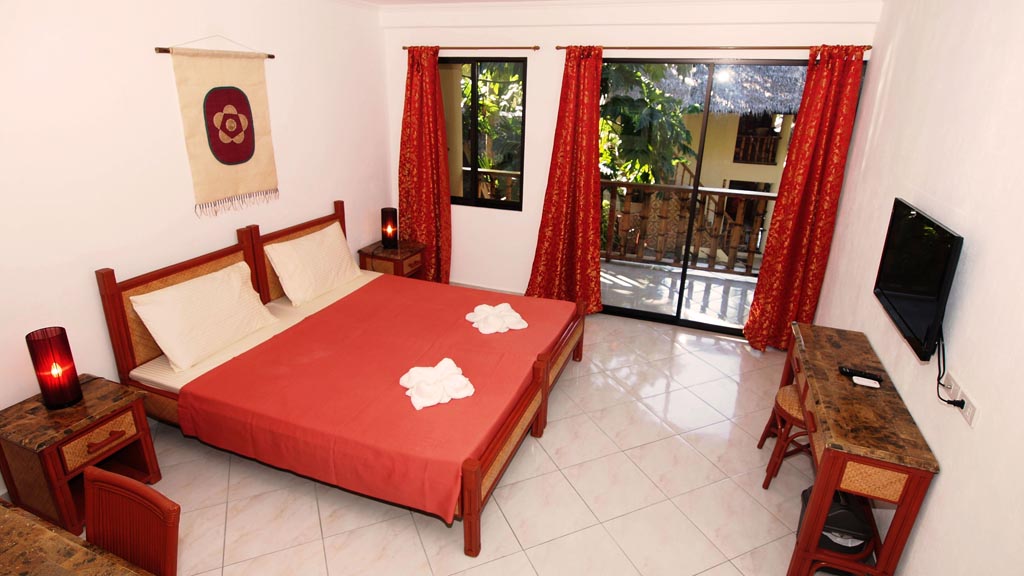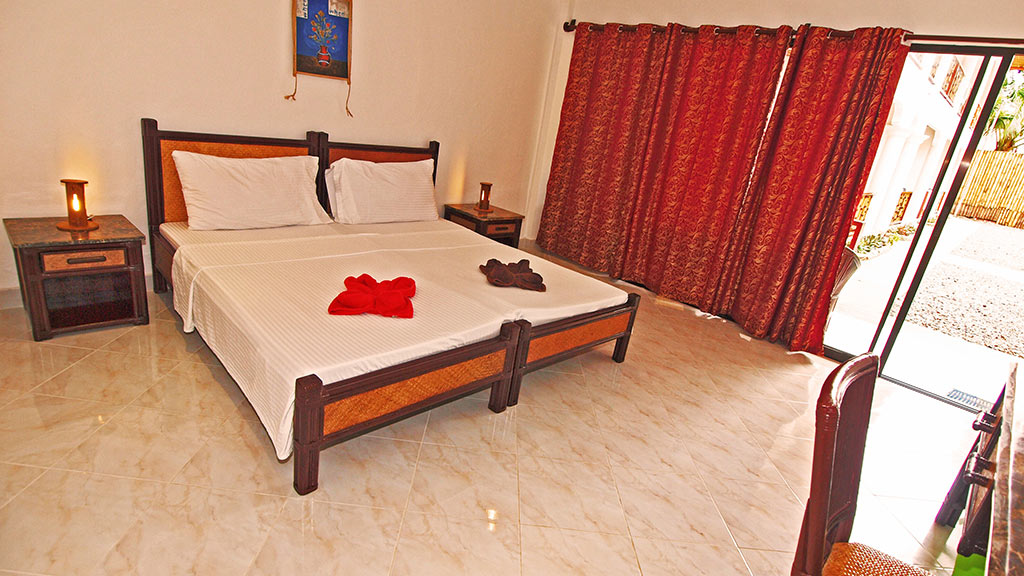 Dive Services
Sea Explorers dive shop offers several dive trips a day and in addition diving courses and equipment rental are available.
The dive shop has a small speed boat and two outrigger boats – the larger at 22m carries up to 12 divers and the smaller at 15m long up to 8. The boats are equipped with emergency kit, DAN Oxygen System and mobile phone. The outriggers have a simple toilet. Sea Explorers offers various departures during the day and night dives every evening. Full day tours to Cabilao Island (minimum 4 people) are also on offer. Note that Balicasag Island is now a marine reserve with a limited number of divers per day.
The well-equipped dive shop has 50+ 12 ltr aluminium tanks with INT and DIN connectors, 12 complete sets of hire equipment and Nitrox is available. Sea Explorers' Swiss manager Felix Sutter is a technical diving instructor and offers Tec Deep and Trimix courses along with rebreather courses.
Dive Area
The dive sites are reached with the outrigger boats in 5 to 50 minutes. The trip to Cabilao Island lasts about 90 minutes. The dives are accompanied by European instructors and very knowledgeable local Filipino dive guides who are intimately familiar with the diving conditions.
The diving is varied with beautiful coral gardens in shallow water. Main attraction, however, are the steep walls with caves, overhangs and crevices. You find beautiful underwater scenery with sea fans, soft corals and feather stars where many colourful nudibranchs, frog fish, snake eels, stone fish and sea snakes have a home.
Highlights are the dive sites around Balicasag Island and Cabilao Island. The area can be dived all year round, with mostly good to very good visibility, and soft to medium currents. The health status of the coral is good to very good, no coral bleaching, and no dynamite fishing.
Pricing for Sea Explorers at Alona Vida Beach Resort
2019-2020
AUD
PHP
7 Nights Deluxe Double room with 10 pre-paid dives

38800
PHP
|
38800
7 Nights Deluxe Single room with 10 pre-paid dives

55600
PHP
|
55600
7 Nights Superior Double room with 10 pre-paid dives

42300
PHP
|
42300
7 Nights Superior Single room with 10 pre-paid dives

62600
PHP
|
62600
Transfer will be by car/van and ferry (if available with business class ticket/s). Fees for excess luggage and porters are NOT included

The dive center is located inside Amorita Resort

Rates include breakfast tanks, weights, guide, boat rides and sanctuary fee for coastal dives at PHP 100

Does NOT include sanctuary fees for Balicasag Island and special day trips

The per person pricing above is indicative only: we show 7 night with 10/12 dive packages at high-end and lower-end rooms (singles & doubles) for the purposes of comparison. We can give you a price (and availability) for any combination of nights/dives you wish to undertake, which will include any discounts due to you as part of that package, and any exclusions, or items payable at the resort. Please use the [Enquire Now] tab to give us your exact requirements and we'll give you the best deal we can.