Introduction
Location
Accommodation
Diving
Dive Sites
Pricing & Schedules
Enquire Now
The Philippines Aggressor is a 40m steel-hulled motor yacht, newly fitted out as a premium dive liveaboard to the highest standards of safety and comfort, and fully equipped with all latest systems & equipment to cruise in comfort in all sea conditions.
With 5 different itineraries offering between 22 and 27 dives each, three classes of accommodation, a generous dive deck and a partially covered sun deck with chaise lounges, hot tub and wet bar, the Philippines Aggressor has to be one of the best ways to enjoy the best dives in the Philippines.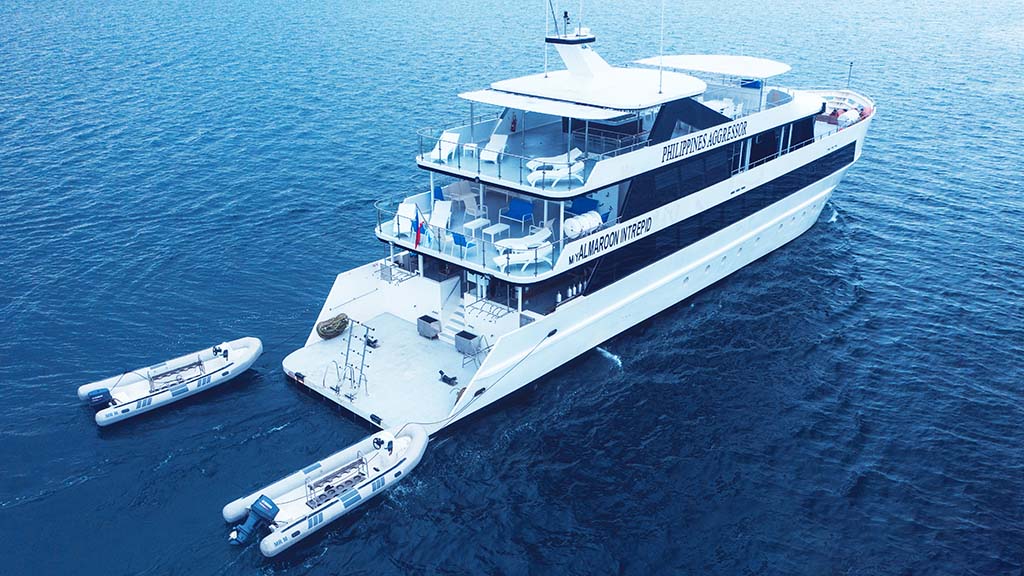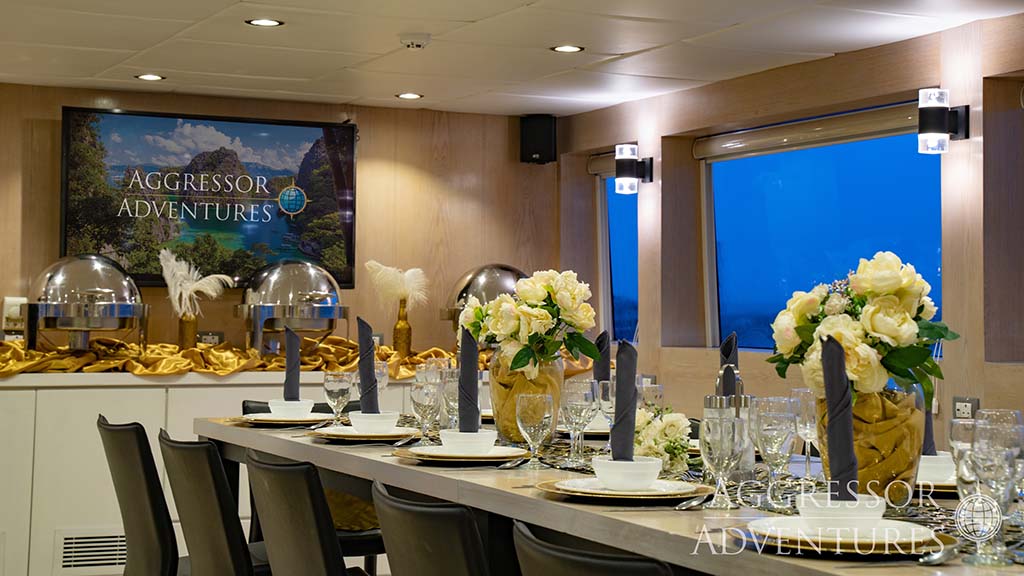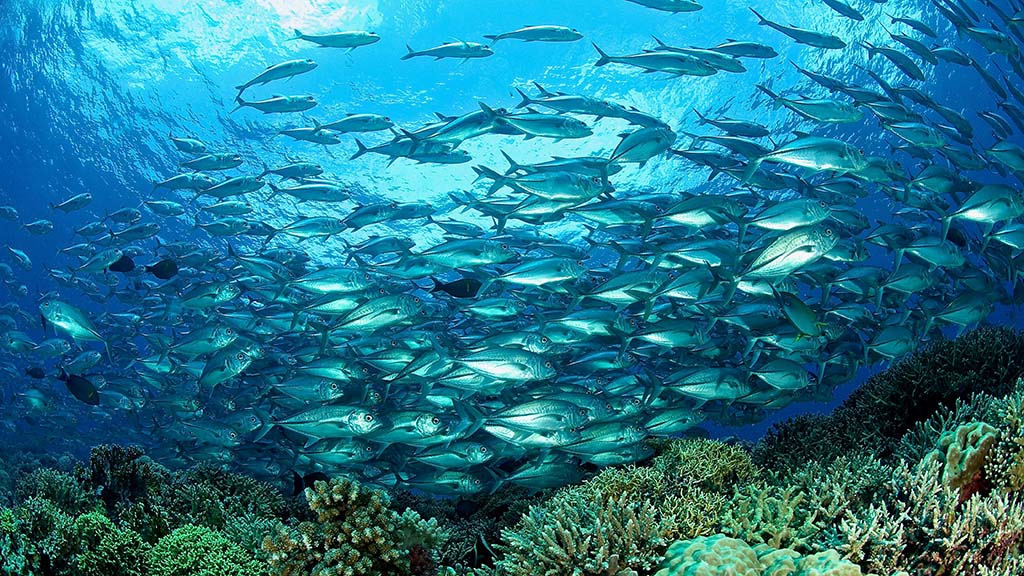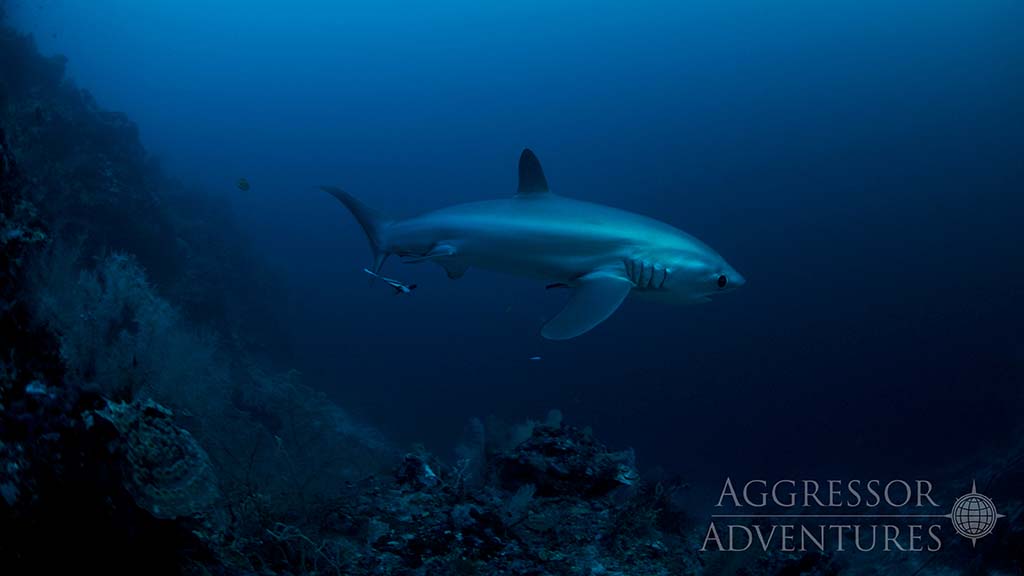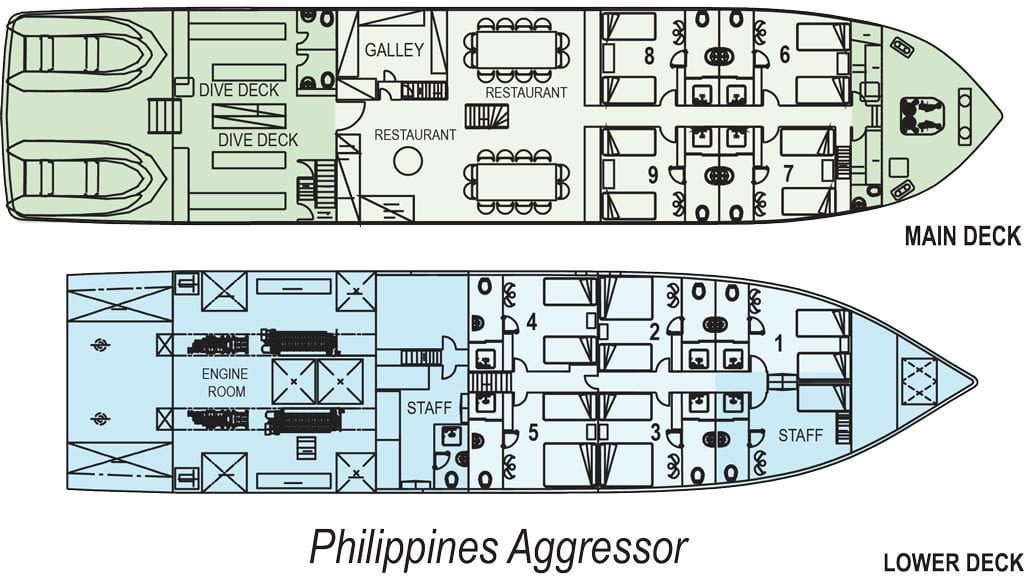 Features
The fully air-conditioned Philippines Aggressor offers multiple relaxation areas including a pleasant saloon lounge with an entertainment center, featuring a TV, stereo player and an assortment of movies and books. It features indoor dining on the main deck and an open-air lounge on the upper deck. The huge partially covered sundeck is used for barbecues, as well as for sunbathing and relaxing in the shade.
The menu aboard is varied and plentiful, with a variety of American feasts, barbecues and local cuisine. You will wake up to fresh fruits, hot entrees, cereals and juices. Lunches are buffet-style, featuring hot soups, homemade breads, salads and sandwiches and/or entrees. Dinners are chef-prepared and served each evening and include salads, vegetables, seafood, beef or chicken with a fresh-made dessert. The beverage selection includes fruit juices, soft drinks, iced water, iced tea, coffee, and a limited selection of local beer and wine, which are complimentary. Due to the high duty charged on liquor, you are allowed to bring your favourite brand.
Staying Connected
There is limited guest internet available onboard for purchase. Satellite phone connection is also available for emergencies. Mobile phone signal strength varies throughout each cruise but is typically stronger when in close proximity to major islands, such as Cebu, Negros or Palawan. Tubbataha has no cell phone coverage. Tip: Leave the mobile (and your boss) in the bottom draw of your desk at home – and truly relax for a while.
We think…
One of the newest refurbished liveaboards in the Philippines, and with five different itineraries to choose from, we are confident that you will have a Philippines liveaboard dive trip of a lifetime aboard the Philippines Aggressor.
The departure and return port vary depending on the trip.
Visayas – North (7 nights): Cebu/Cebu (CEB)
Visayas – Central (Bohol) (7 nights): Cebu/Cebu (CEB)
Visayas – South (7 nights): Cebu (CEB)/Dumaguete (DGT) & Dumaguete/Cebu
Visayas – 360 Itineraries (7 & 10 nights): Cebu/Cebu (CEB)
Tubbataha – (7 nights) Puerto Princesa/Puerto Princesa (PPS)
Guests will be met at the airport on the charter start date by a staff member of the Philippines Liveaboard Aggressor wearing an Aggressor uniform shirt at 4 pm and transferred to the yacht.
It is strongly recommended to arrive at least one day prior to the charter start date and to stay in either a hotel or resort which we can arrange. All guests must be on board by 6 pm for the yacht briefings, dinner then departure for its first night anchorage with the first dive the following morning.
All the Philippines Aggressor cabins have been fitted out with elegant modern fittings. All cabins re ensuite and have individual climate control, a monitor with media player and a hairdryer.
Three upper Balcony Suites have side by side twin beds or king beds, panoramic windows and a private balcony accessible via a full-height sliding glass door.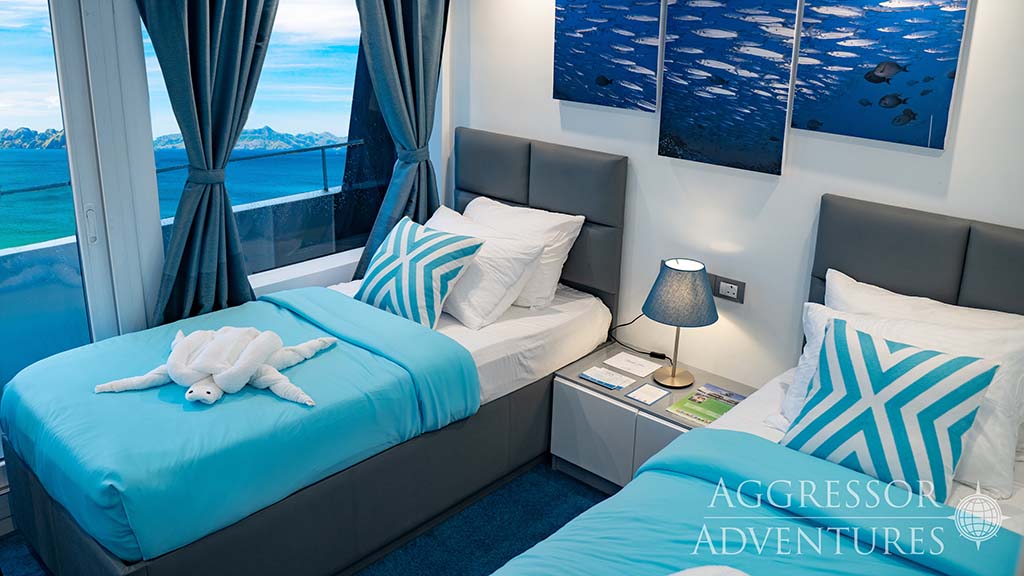 Four Deluxe cabins on the main deck have with side by side twin beds or king beds and also panoramic windows.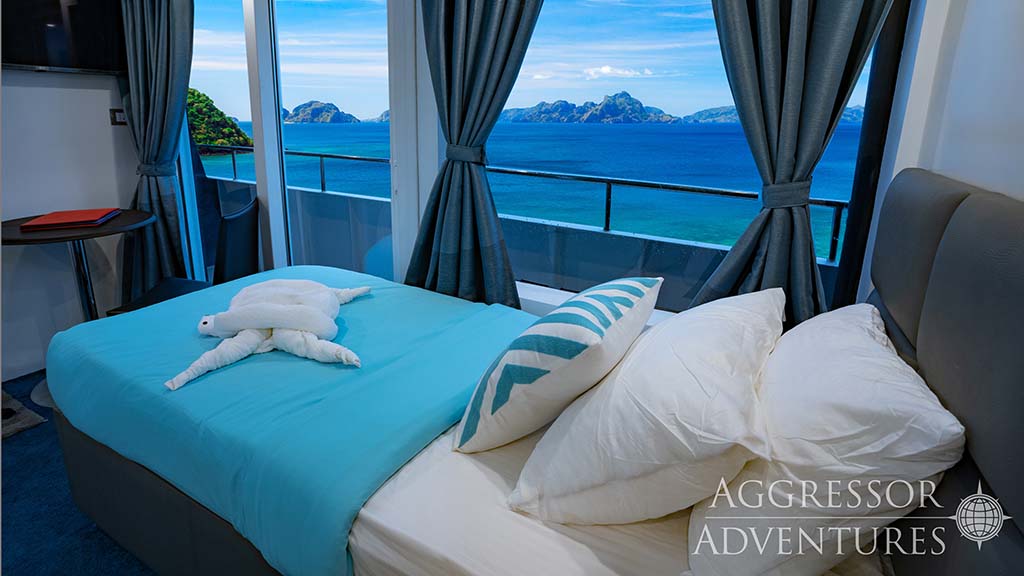 Two cabins on the lower deck have single side by side beds, and porthole windows.
Three cabins on the lower deck are triples with a side by side single and double bed, also with porthole windows.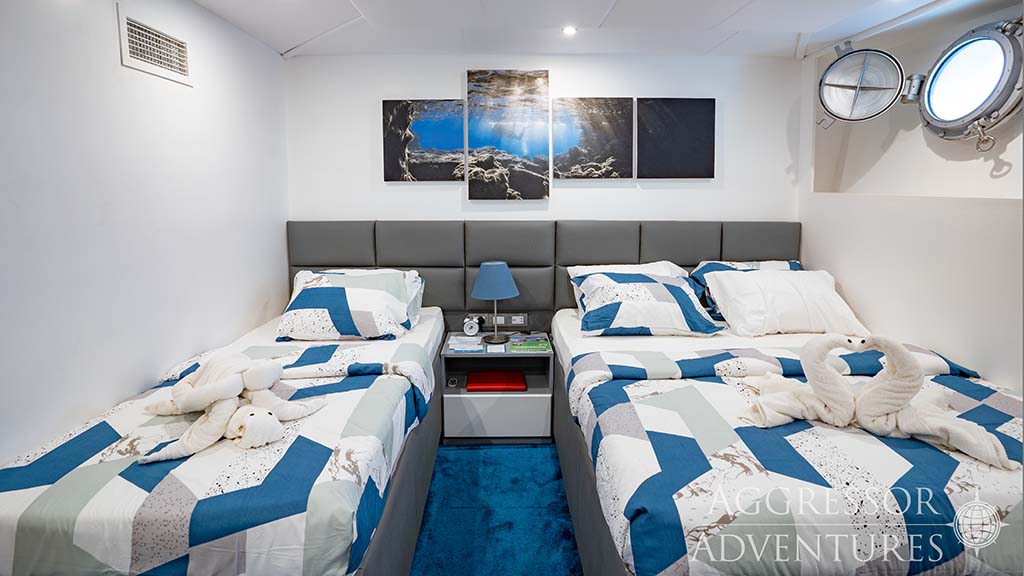 Dive Service
The Philippines Aggressor has a comfortable swim platform with warm freshwater showers, fin storage and water exit ladders. The dive deck is complete with separate rinse tanks and camera table with low pressure air hoses.
Equipment is available for rental and complimentary "loaners" are provided if your equipment malfunctions or is delayed. Weights, weight belts, 80 cu. ft. aluminium tanks with yoke valves are provided, and some DIN adapters are available.
All dives made from either of the two custom built zodiacs for quick access to remote dive sites. Each carry 12 guests and have ladders designed for divers convenience.  There is ample space on board for photography equipment.
As the water temperature ranges from 70-85°F / 21-29°C, depending on the area and time of year, a 3mm wetsuit is recommended. On 7 night charters up to 22 dives are included, and on 10 night charters up to 27 dives. Night dives are also available according to itinerary and conditions.
Dive Areas
Visayas Itineraries: (June – February)
There are 4 different itineraries offered to the areas of the Visayas islands. View maps for more details. Diving in this region for seven or ten nights is home to some of the best scuba diving the Philippines offers. From soft coral covered walls to black sand dives to Thresher sharks, huge schools of sardines, turtles, schools of jacks and whale sharks. On the macro side there is fascinating critters such as waspfish, ghost pipefish and many other unique bottom dwellers, offering lots of diversity.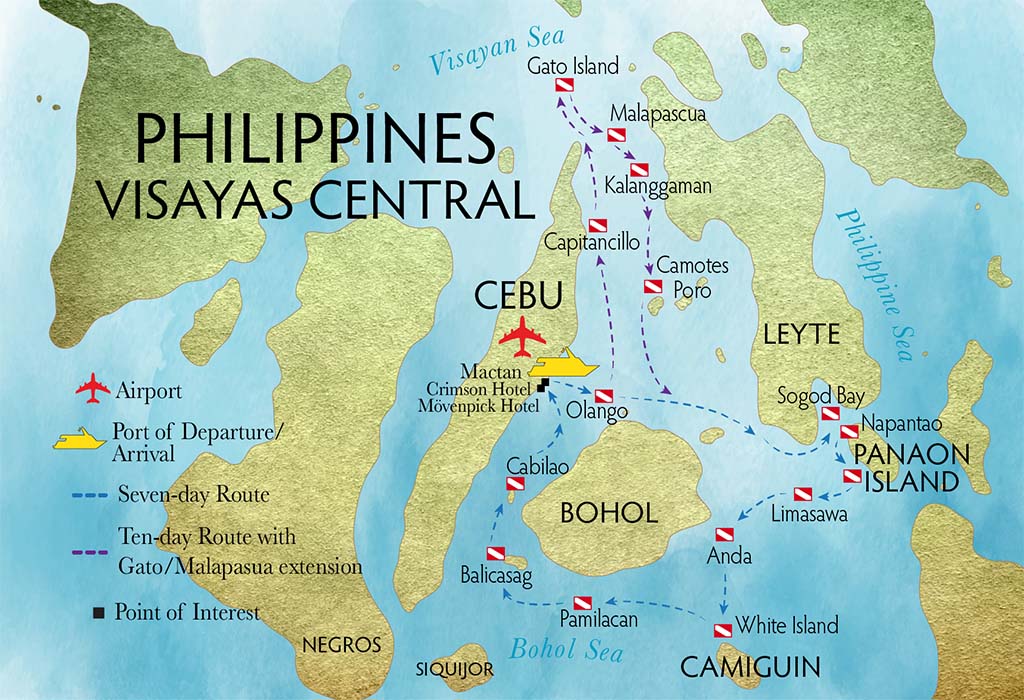 Tubbataha Itinerary: (Mid March – Mid June)
The Tubbataha Reefs National Park is a UNESCO World Heritage Site and a Marine Park – a protected area of the Philippines located in the middle of the Sulu Sea with huge atolls contains no fewer than 600 fish species, 360 coral species, 11 shark species, 13 dolphin and whale species, and 100 bird species. The reefs also serve as a nesting ground for Hawksbill and Green sea turtles.
Scuba diving on a liveaboard in this area of the Philippines for 7 nights offers beautiful reefs with hammerhead sharks, manta rays, Moorish idols, Napoleon wrasse, parrotfish, eels and much more.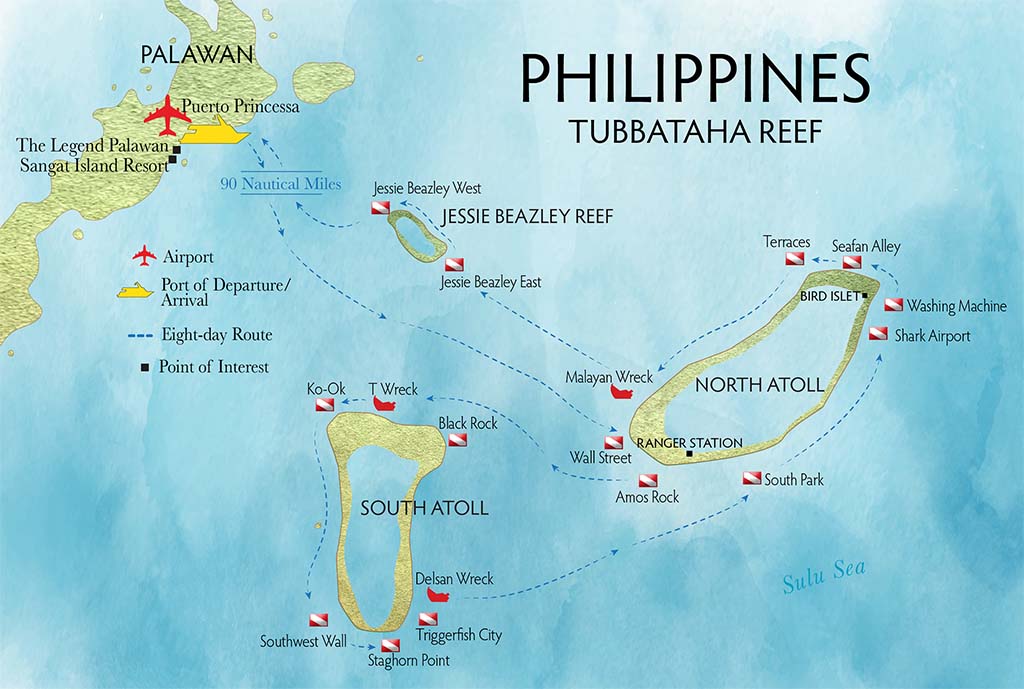 You should know…
On the last diving day, the yacht will return to port in the afternoon.  Dinner will be ashore and staff will recommend restaurants close by.  This is the only meal not included in the price of your trip. The following morning, checkout time is at 8 am, and transportation is provided to the airport after a continental breakfast.
Trip dates & availability
Please see pricing table below the availability panel for inclusions, exclusions, and extras.
Philippines Aggressor - Inclusions, Exclusions and Extras
Included
Accommodation as specified, all meals, snacks, water, coffee, tea & soft drinks, ship to shore transportation, all dives, tanks, weights dive guides.
Single supplement surcharge is 65%
Excluded
AUD
USD
All 10 night itineraries Port & Park Fees
160
USD
|
160
Visayas Port & Park Fee (7 nights)
80
USD
|
80
Tubbataha Port & Park Fee (7 nights)
120
USD
|
120
Oslob Park Fee an additional
30
USD
|
30
Optional Extras
Full set of gear rental excl. wetsuit (10 nights)
260
USD
|
260
Nitrox fills (10 nights)
150
USD
|
150
Extras Payable on board by USD, Visa or MasterCard.
Important Information
This liveaboard's prices are in USD. The AUD prices shown are based on the current exchange rate. The price paid in AUD will be based on the actual exchange rate at the time any payments are made.