Introduction
Location
Diving
Dive Sites
Enquire Now
The owner of Bubbles Below Dive Centre, Onu Hewitt, was born and bred on Aitutaki and has an integral understanding of its culture and tradition. His philosophy is to make the diving experience as relaxed and comfortable as can be. So guests don't have to lug any gear around or even wash it down – that's all part of the friendly Aitutaki service.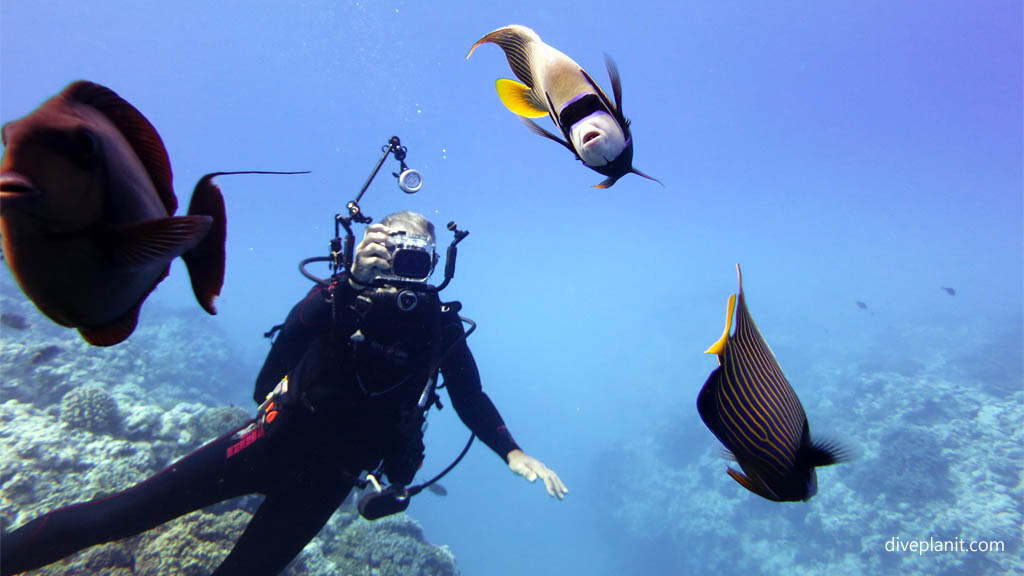 Onu offers the PADI courses Discover Scuba, Open Water and Advanced Open Water, but also double tank dives daily. The Bubbles Below boat holds up to just 5 divers maximum and two crew, with one crew member always on board during the whole period for safety.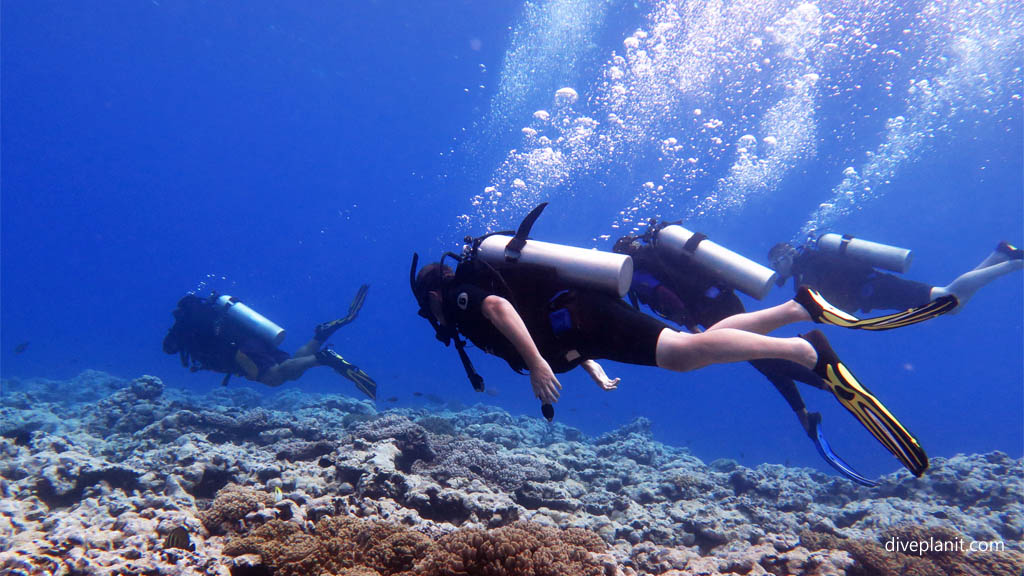 Bubbles Below also has full sets of dive gear for hire in many sizes, so there's no need to take all your gear cross to Aitutaki, especially if you're just going out for one or two days diving.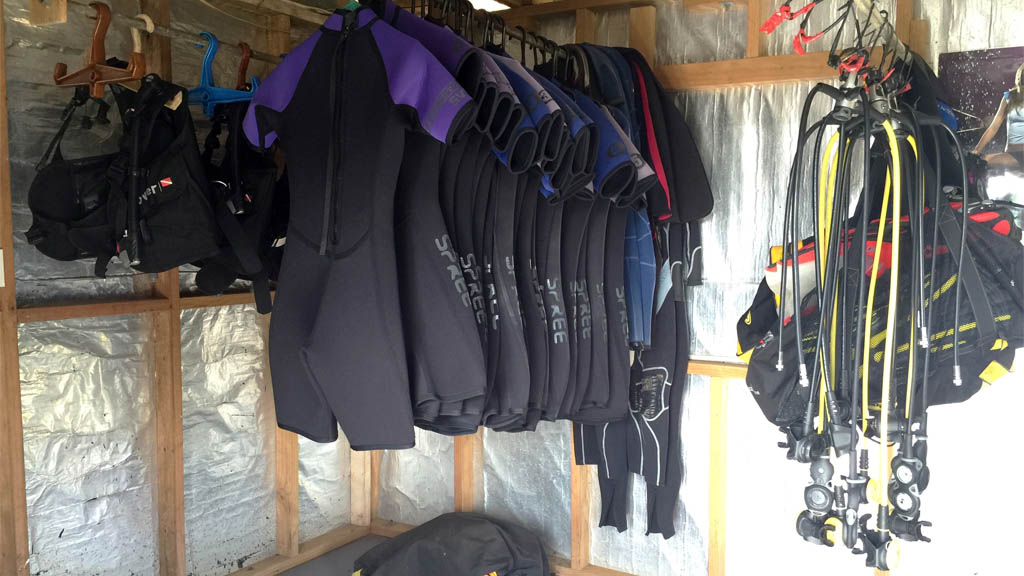 Rates for trips are courses are published on the Bubbles Below website. (Note payment needs to be cash). To enquire about availability simply call Onu on: +682 31 537 or email him: bubblesbelow@aitutaki.net.ck. (Fun fact: Onu translated to English, means 'turtle')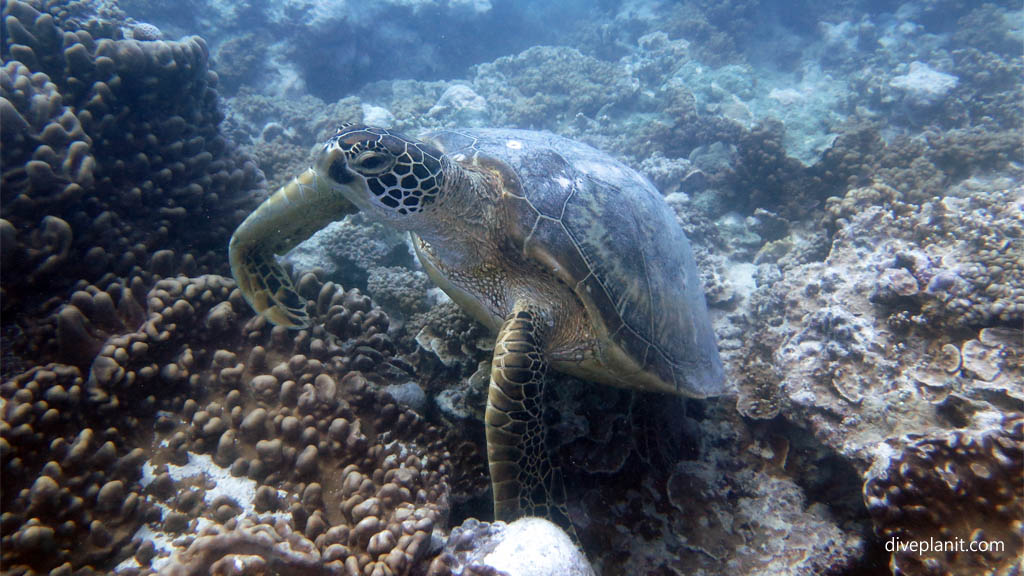 Bubbles Below is located up the hill behind the hospital, though only a five minute drive from the wharf. They collect and drop-off their guests.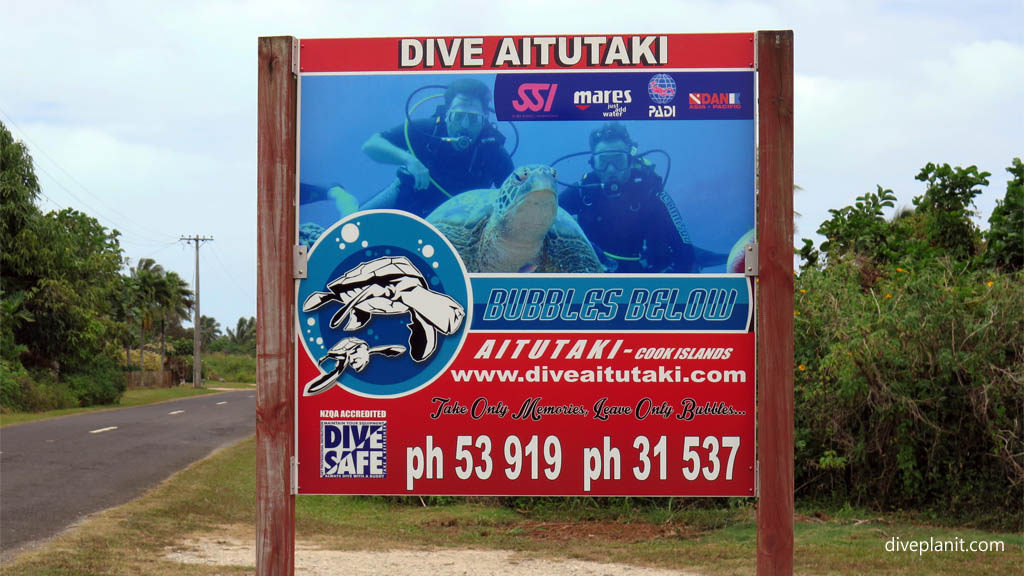 The boat sits on a trailer outside the dive centre, so the easiest way to launch is to get everything into the boat at the shop and then there's no carrying anything at the wharf. Onu gets the first set of tanks all set up on board the boat, whilst we get into our wetsuits.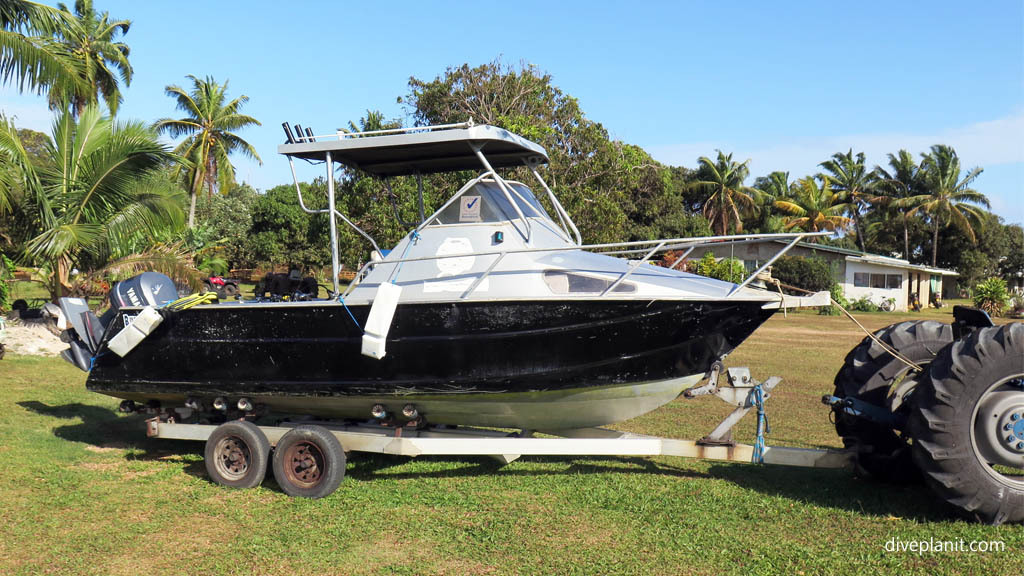 The only other thing you need to take with you on the boat is your water bottle, and a towel to wrap yourself in, for the transfer back to the dive centre.
Then into the truck and down to Arutanga wharf. The boat is quickly launched and before we head out of the channel were given a quick boat safety brief: there is oxygen and lifejackets on board, and most importantly – chocolate chip cookies.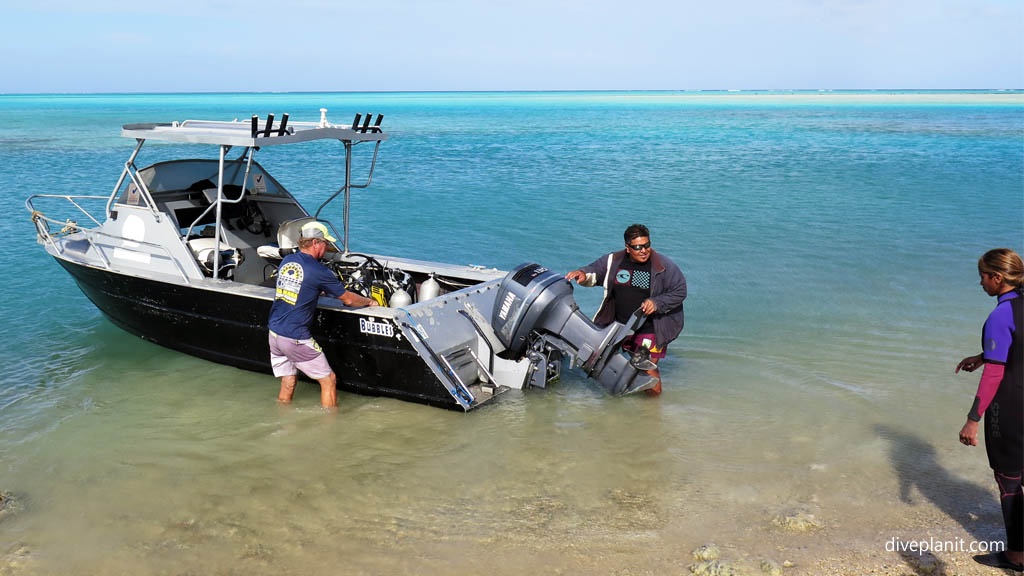 Given the rare weather conditions we were lucky to get out at all, and so it wasn't too much of a surprise that we anchored up, not too far from the end of Arutanga passage entrance. Next comes the dive brief – an explanation of the terrain, and what we should see where, including the advice to keep a look out in the blue for rays.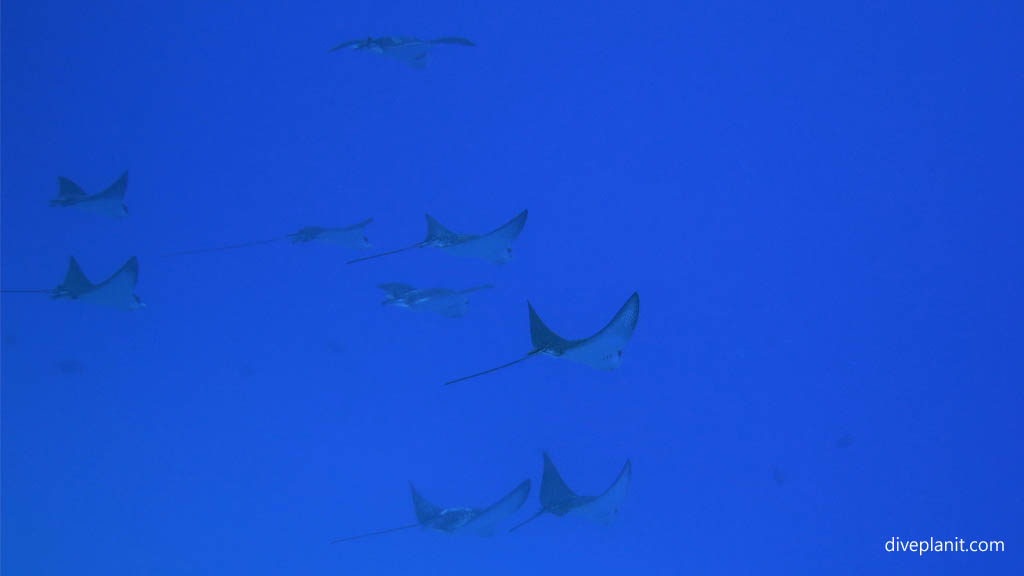 We quickly gear up on the side for backward roll into the aquamarine sea. As soon as we hit the water the fish arrived, as if on cue. Two Emperor Angels, lots of big nose and spotted Unicornfish, and a couple of convict surgeons, and threadfin butterflies – who generally seem much more tolerant of divers than any other type.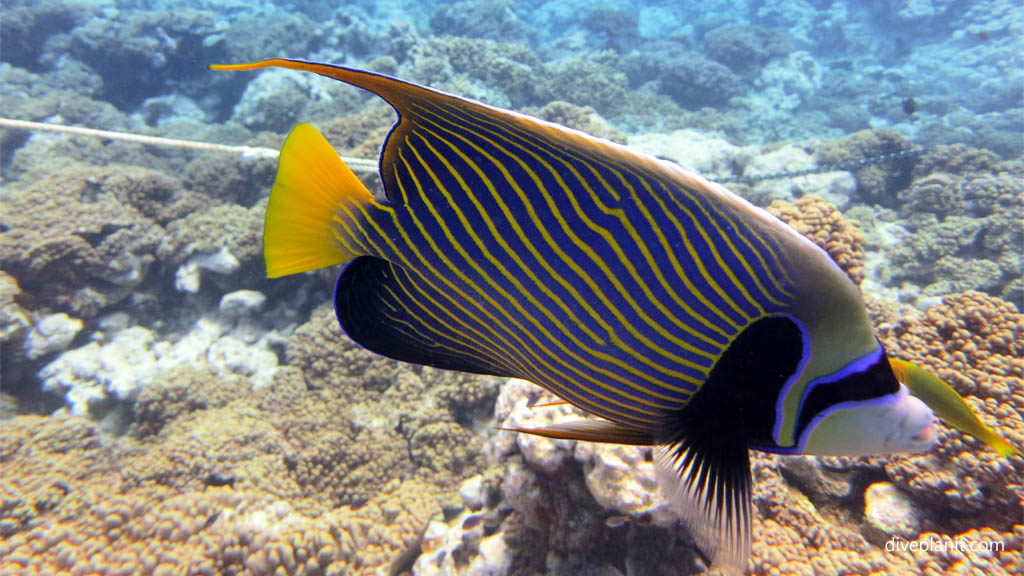 We get lots of inquisitive fish around us while we wait for the other divers to hit the water and then we're off. Onu who knows the territory and takes us to various spots where turtle might be resting, and a set of overhangs were white tip reef sharks were trying to rest.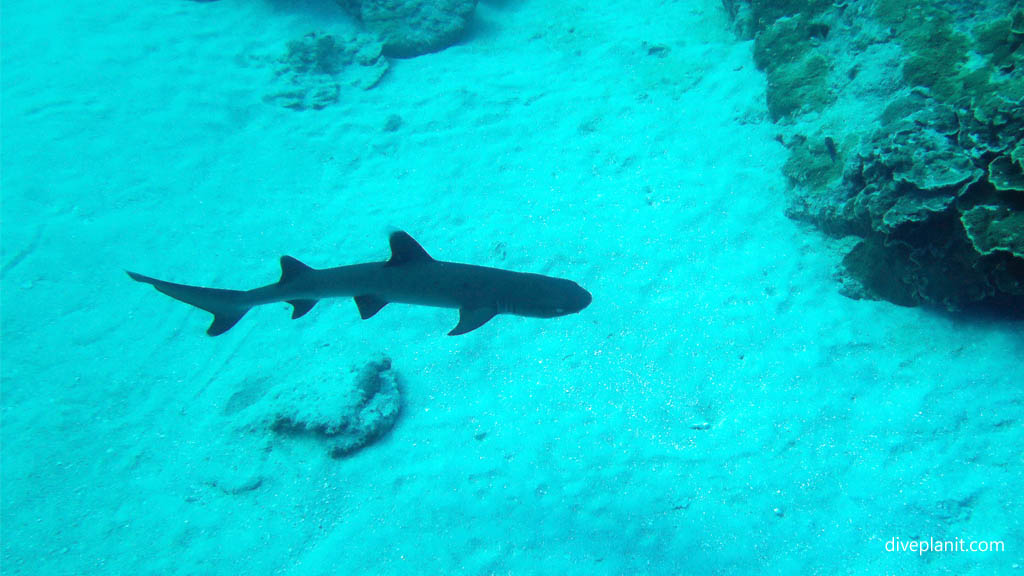 The hard coral landscape looks quite sparse almost barren first, but just because it isn't colourful doesn't mean it's not alive with marine life. During the dive we spot a peacock and surge wrasse, a number of different butterflyfish, including my first ever sighting of a Fourspot, plus a number of Napoleon wrasse, one I swear must have been at least 100 pounds, just hanging on the edge of photographic vision.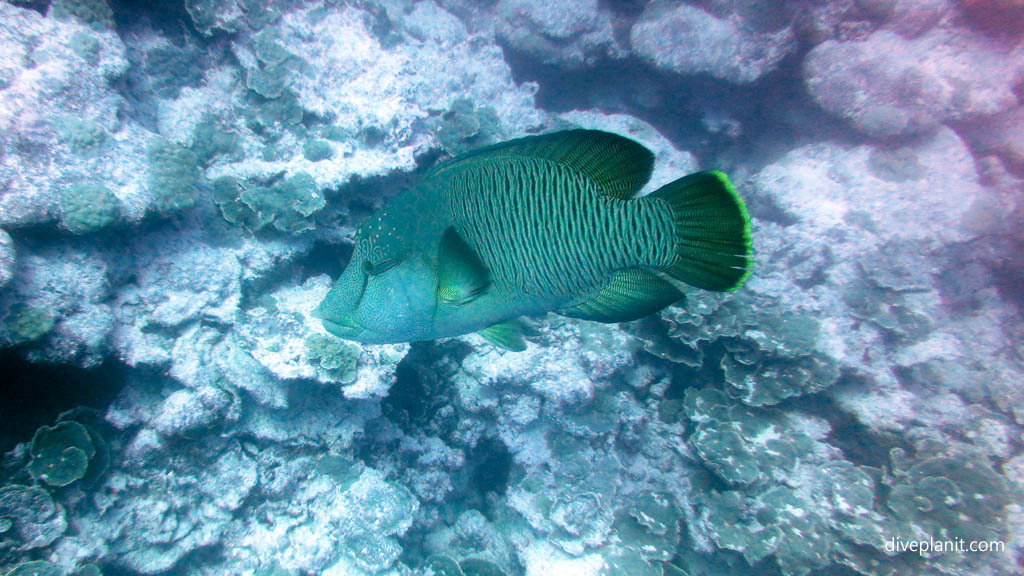 After a 40 minute circuit, Onu takes the less experienced divers to the shot line in good time and allows us more time on the reef top to play once again with a very colourful and inquisitive fish.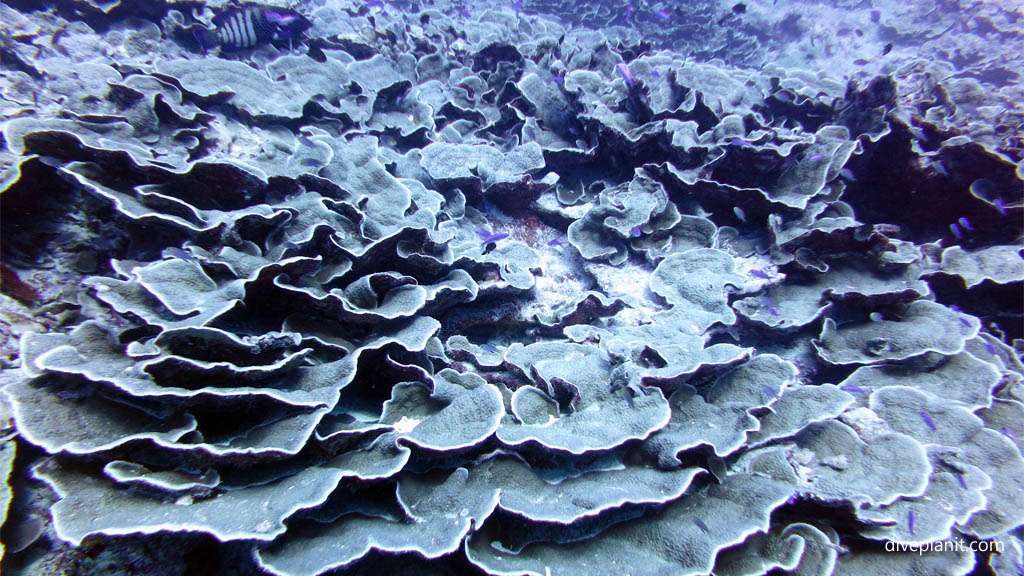 Once the dive is over, we surface via a safety stop on the shot line, all the while being entertained still by a photobombing Emperor Angel. Onu has a novel de-kitting method too: there are short lines with carabiners hanging down from the boat. This enables you to clip on to a BCD D-ring on your strap and then de-kit with both hands free without drifting away from the boat. Finally you de-kit your own BCD and then just climb up the ladder and lift it out of the water.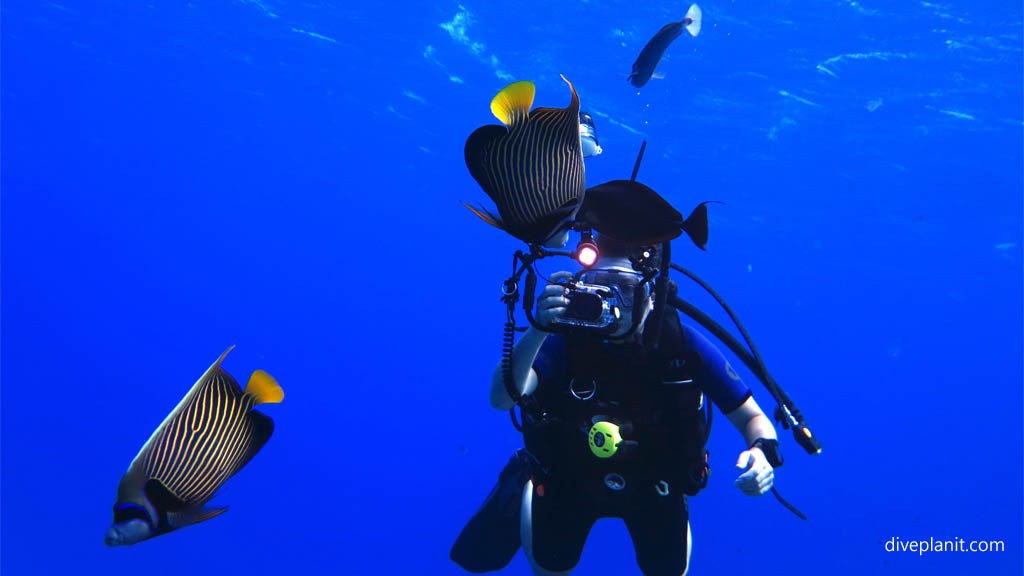 The water temperature is 25°C, so 'sub-tropical' rather than tropical and the surface interval is spent drinking thick hot chocolate, munching through a packet or two of chocolate chip cookies and discovering where in the world the other dive comrades are from, and more interestingly what brings them to Aitutaki.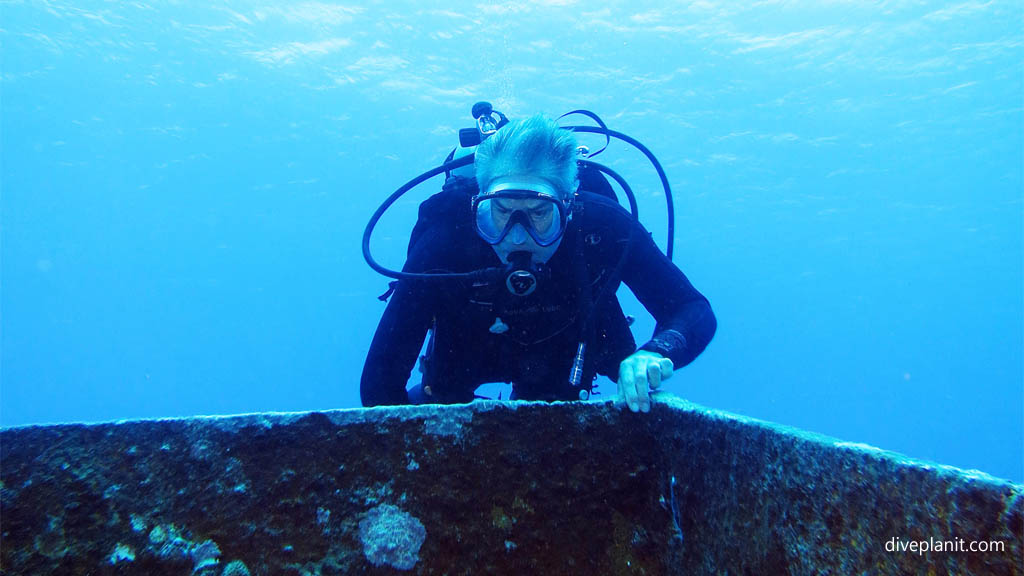 The second dive follows the same pattern as the first: we drop in, in pairs and set off to take in a swim-through and the wreck of a barge, and again Onu brings us within sight of the anchor line so we can all finish our dives in our own way and our own time.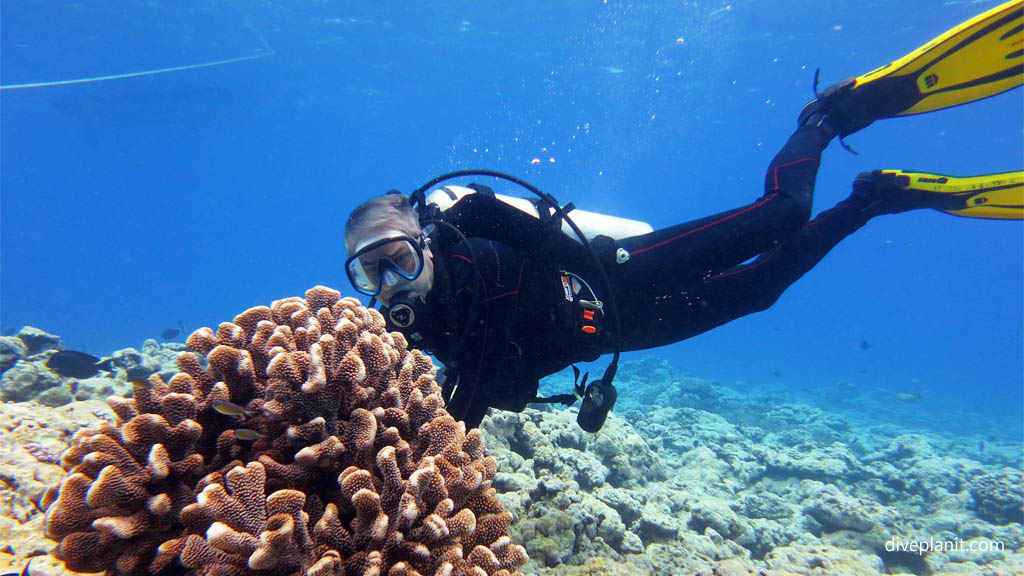 Once back to the boat a quick de-kit and were heading back to the wharf. Wetsuits are left on the boat with all the other gear and we drive back to the dive centre wrapped in towels in the sun-warmed minibus.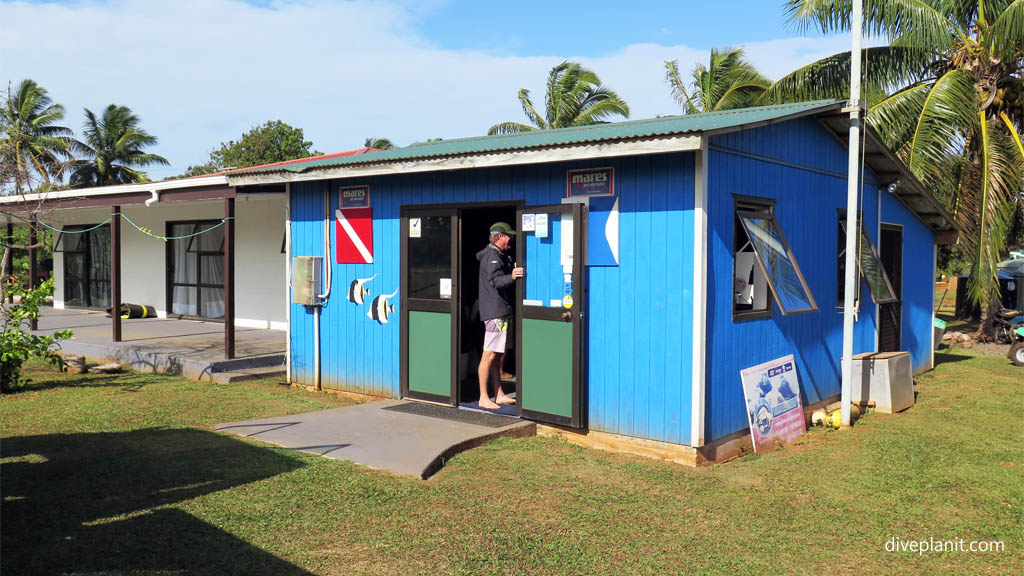 Once there our gear is washed down for us and left a drip dry on the line, whilst we write up our dives and marine life sightings using the many FishID slates provided. Onu comes over to chat and explains where we've been and what we've seen before we are all dropped back to our various accommodations in the truck.