Introduction
Location
Accommodation
Diving
Dive Sites
Pricing
Enquire Now
*** PLEASE NOTE THE TAMBORA IS NOT CURRENTLY OPERATING ***
Constructed out of Sulawesi ironwood and chosen Javanese teak, the luxury Tambora is one of the newest liveaboards in Indonesian waters. Unlike many other vessels that have been re-fitted as dive vessels, the Tambora liveaboard has been designed and built from scratch as a diving liveaboard catering to the needs of divers. She offers great comfort and flair, and at the same time is optimally geared towards supporting a diving operation in terms of safety, convenience and efficiency.
Experiencing Tambora under sails, with a good wind blowing, is amazing and a great way to travel through the Indonesian islands. Sailing and cruising on a traditional, beautiful wooden schooner does not mean compromise in terms of creature comforts. The Tambora liveaboard, at 42m / 137ft long, offers all luxury and amenities that you can imagine for up to 16 guests.
Food & Beverage
The Chef serves a menu of tasty Indonesian, European and Japanese specialties, freshly prepared in the well-equipped kitchen. Five meals per day mean there always is a tasty bite awaiting guests when they surface!
Snack prior to the first dive of the day: coffee, tea, fruit juice, milk, toast, selection of biscuits
A full hot breakfast 'with everything' after the first dive
Lunch: served, soup and main course, kept rather light!
Afternoon snack after the third dive of the day: variation of cakes, fruits, and Indonesian specialties
Dinner: buffet-style, with a different theme each evening
Drinks are on a help-yourself basis available in the salon: drinking water, a broad selection of local coffees, tea, milk, a range of soft drinks and beer are all included in the cruise fare
Wine and liquor are charged on a separate basis
We think…
Tambora is a beautiful, comfortable liveaboard. The service on board is excellent. The variety of excursions offered in all parts of Indonesia stands out. Tambora is a great choice for those want to explore various, very remote dive areas in this part of the world.
Boat itineraries depart from destination. Departure port varies with itinerary.
Accommodation & Facilities
Tambora liveaboard has three separate lounge decks – bow, aft and salon rooftop – providing both space and privacy, and protection from the sun. Tall people will love this vessel: ceiling heights are a comfortable 2.20-2.50m (7.2 to 8.2 ft.) throughout.
There is a large salon with separate dining and relaxing sections, offering enough space during meal times, as well as for chilling out over drinks with fellow divers.
Tambora liveaboard has 8 spacious guest suites for up to 16 guests, each suite at least 15m2 in size, and with a large en-suite bathroom. There is a choice of double and large twin beds. All beds are aligned with the vessel, so guests sleep in the direction of travel. Each guest suite comes with a writing desk and has ample storage space for clothes, bags, books, etc.
Showers in all ensuite guest bathrooms come with hot and cold water
Separate shower and hand towels for each guest
All guest suites are equipped with individually controllable air-conditioning
Individual reading lights above each bed
Plenty of power outlets (European 220V type) in your suite and throughout the vessel
2-4 portholes per guest suite for natural light, as well as a fresh sea breeze when opened!
The large salon is well ventilated at most times, but also has its own air conditioning
Large flat screen TV/DVD with home cinema surround sound in the salon
Satellite-based communication for phone calls, your personal email and internet access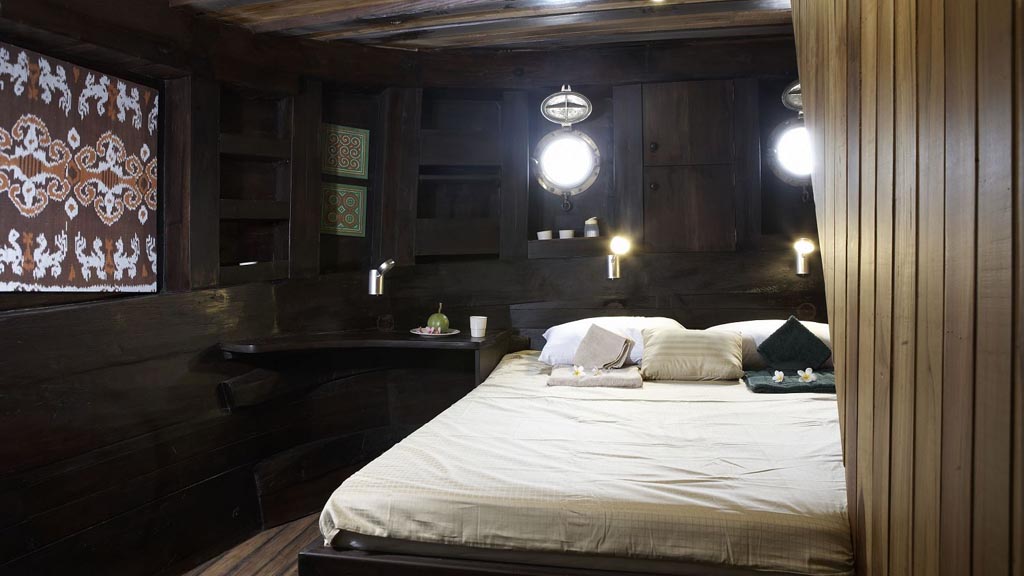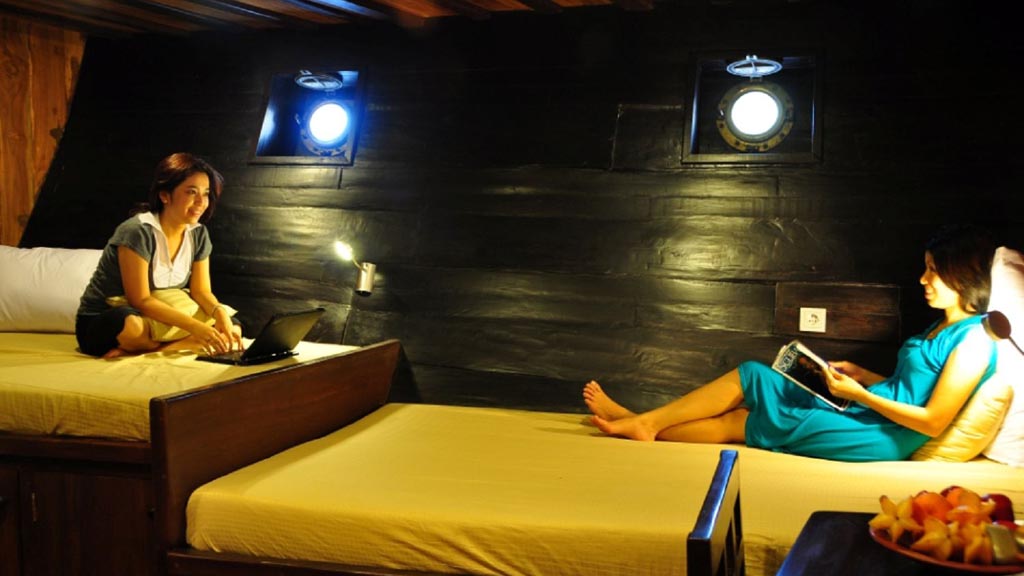 Tambora Liveaboard has been designed to keep excessive noise under control, and throughout the entire vessel, separating walls have been soundproofed. Safety standards and features on Tambora are amongst the very highest you expect from a liveaboard vessel.
The two dedicated dinghies are equipped with customised racks to store diver's gear in between dives; tanks do not need to be carried back and forth but can be re-filled directly on the dinghies.
Tambora liveaboard has a dedicated dive station with separate wet and dry sections. The wet section features rinsing tanks, personal dive baskets and storage of dive gear.The dry section provides a safe place to open cameras, dive light or use computers.
There is a large desktop area as work space, with a large number of power sockets – you will never have to wait if you want to charge your batteries.
Tambora offers:
Nitrox
Dive gear available for rental (has to be pre-booked)
40 aluminium tanks (12L) with INT and DIN connections, as well as a few extra large (15L) and extra small (emergency spare air) tanks
Dive areas
The Tambora Liveaboard has varied itineraries, spending some time in the western regions of Indonesia including Kalimantan and North Sulawesi and also has some interesting itineraries in the Moluccas, Halmahera, Raja Ampat, the Forgotten Islands and Triton Bay in West Papua. The waters surrounding Raja Ampat and Triton Bay offer enchanting coral gardens, cliffs and incredible biodiversity. Triton Bay has a resident pod of pilot whales and a whale shark aggregation surrounding local fishermens' 'bagans'. Macro lovers too will enjoy this region and discover pygmy seahorses, frogfish, blue ribbon eels and an incredible variety of nudibranchs.
Trip dates & Availability
*** PLEASE NOTE THE TAMBORA IS NOT CURRENTLY OPERATING ***
Tambora - Inclusions, Exclusions and Extras
Included
Accommodation as specified, all meals, snacks, water, coffee, tea & soft drinks, ship to shore transportation, all dives, tanks, weights dive guides
Excluded
AUD
USD
IDR
Marine Park fee Raja Ampat or Triton Bay
1000000
IDR
|
|
1000000
Marine Park fee Bali
250000
IDR
|
|
250000
Marine Park fee Borneo
150000
IDR
|
|
150000
Optional Extras
Full set of dive gear rental incl. computer (per day)
25
USD
|
25
|
Nitrox (per day)
15
USD
|
15
|
Important Information
This liveaboard's prices are in USD. The AUD prices shown are based on the current exchange rate. The price paid in AUD will be based on the actual exchange rate at the time any payments are made.
Special payment and cancellation terms apply for this operator.
Note: Celebrity hosted cruises may attract a surcharge.