Best known for its luxury resorts and over-water bungalows, the Maldives is also one of the world's greatest diving destinations. These Indian Ocean atolls are surrounded by deep water and attract large numbers of pelagic creatures – including whale sharks, turtles, sharks, dolphins, the largest aggregations of reef mantas in the world and 21 species of cetaceans. So, what is the best way to dive The Maldives without breaking the bank?
There are now two budget airlines flying to the Maldives from Australia, SCOOT and Air Asia making it far more accessible, and a 7-night, 10-dive stay at boutique resort can cost as little as AU $1,700.
Getting There
Malé International Airport is the gateway to the Maldives, and coming from Australia or New Zealand, the most popular route is via Singapore, but flights are also possible through other major airports in South-East Asia, India and Sri Lanka.
From Europe, some airlines offer direct flights or transit via Dubai and Doha, and from the U.S. the fastest routes would also be via the Middle East.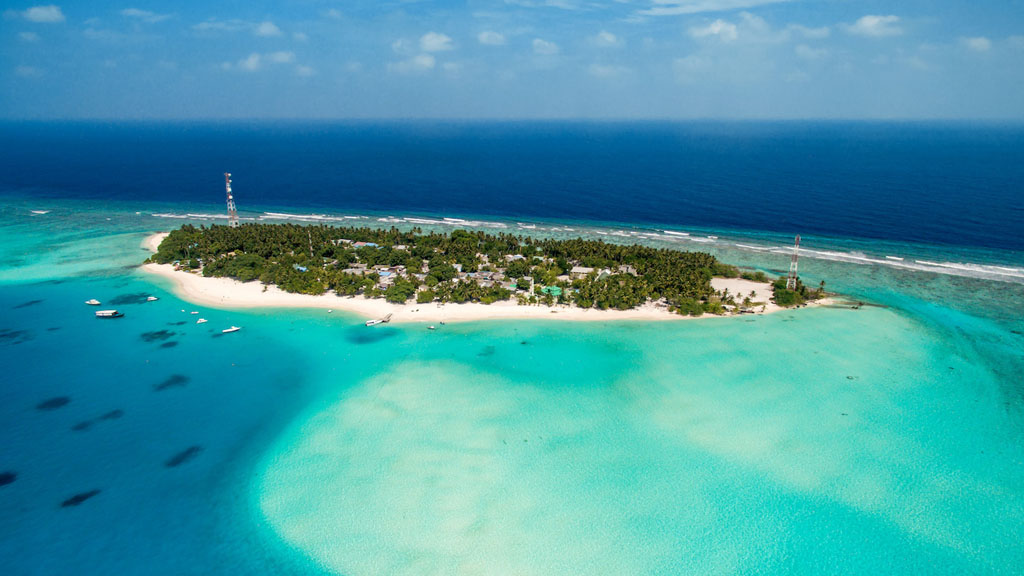 When to Dive The Maldives
You can dive the Maldives year-round and be guaranteed pelagic action, however there is a rainy and a dry season.
Diving conditions are dictated by two monsoon seasons. The northeast monsoon runs from December to May, bring calm seas and clear water (20m to 40m visibility) to the eastern atolls, but often stirred up conditions on the western atolls (8m to 15m visibility). This is generally the most popular time for diving.
From June to November the southwest monsoon brings clear water to the western atolls, but also rougher seas across the island nation. Less liveaboard options are available at this time of the year (and some resorts will offer low season discounts).
Water temperatures in the Maldives vary from 26°C to 29°C, so a 3mm wetsuit is ideal.
Where to see Big Stuff
Manta Rays. If it's the mantas of Hanifaru Bay you want to see, they descend in their hundreds on Baa Atoll between June and November, and you are more likely to see them elsewhere in the Maldies this time of year as well.
Whale Sharks. The whale sharks of South Ari Atoll are there all year round. The whale shark dive site here, that runs along the back of Dhigurah Island, has been identified as a secondary nursery, populated mainly by juvenile males, all of whom have been identified by locally-based researchers. Elsewhere in the archipelago, again, you're more likely to see them between June to November.
Shark & Ray Action. Several species of sharks and rays call the Maldives home, including large schools of nurse sharks (the world's largest aggregation) and eagle rays, with hot spots for shark action in the Central and South Atolls, including Vaavu. The only difference between rainy and dry season is a slight difference in visibility.
High Season:
Low Season:
The Maldives on any budget:
From north to south, here are a few examples of resorts and liveaboards that won't cost the Earth. (NB: pricing does NOT include flights).
Resorts
Fulidhoo Dive. One of the closest resorts to Male Airport, the transfer is via speedboat ad costs only USD40. This is the heart of channel diving territory, with large aggregations of sharks and rays, year-round. It's also one of the cheapest options.
7 Nights/10 dive all-inclusive packages start at AUD 1,700 per person.
Oceanholic Dive at White Sands Dhigurah Resort. This is the place to come for year-round whale shark encounters.
7 nights/10 dives all-inclusive packages start at AUD 1,900 per person.
Liquid Salt Divers at Aveyla Maldives. Between June and November, this is manta-central, but year-round the area has some of the Maldives prettiest coral reefs.
7 nights/10 dives/2 manta snorkels all-inclusive packages start at AUD 2,200 per person.
Liveaboards
Emperor Explorer. This brand new liveaboard is the Emperor Fleets' new flagship – and she's a beauty. The Explorer has a choice of two itineraries, The Best of the Maldives (Central Atolls), and (in February) Deep South & Southern Sharks.
7-night itineraries start at EUR 1,699 (AUD 2,700) per person when the boat first launches in August this year.
Emperor Voyager. Also from the Emperor Fleet, this liveaboard also covers the Central Atolls with its Best of The Maldives itineraries and between July and October also does Hanifaru & the North.
7-night itineraries start at EUR 1,259 (AUD 2,999) per person
MV Sheena. Another reasonably-priced liveaboard, the Sheena covers the Central Atolls, with a few special trips throughout the year including one for families or beginners.
7-night itineraries start at EUR 1,820 (AUD 2,890)
Carpe Diem / Carpe Novo / Carpe Vita. The Carpe Fleet are step towards luxury liveaboard, with only double/twin en-suite cabins (no bunks) and varied itineraries that cover the Central Atolls, heading up to Baa Atoll for manta season.
7-night itineraries start at USD 1,665 (AUD 2,345) but tend to be higher between January and June during the dry season.
What are you waiting for – enquire now with your preferred dates!
Pricing / availability enquiry
If you liked this post, you might also like Diving Palau without breaking the bank