Fiji's Beqa Lagoon is one of the world's top shark diving destinations. Located off the southern coast of the main island of Vitu Levu, Beqa Lagoon is home to three incredible shark dives that lure divers from across the planet. However, there was a time when this picturesque location was more famous for its coral reefs, but today most divers never see this side of Beqa Lagoon.
We first dived Beqa Lagoon a decade ago, and like most divers were lured to this destination by the chance to dive with sharks and lots of them. But unlike most divers that visit this area, that only stay for a day or two and only want to see sharks, we stayed for a week and also dived the area's incredible coral reefs, and a few scuttled ships.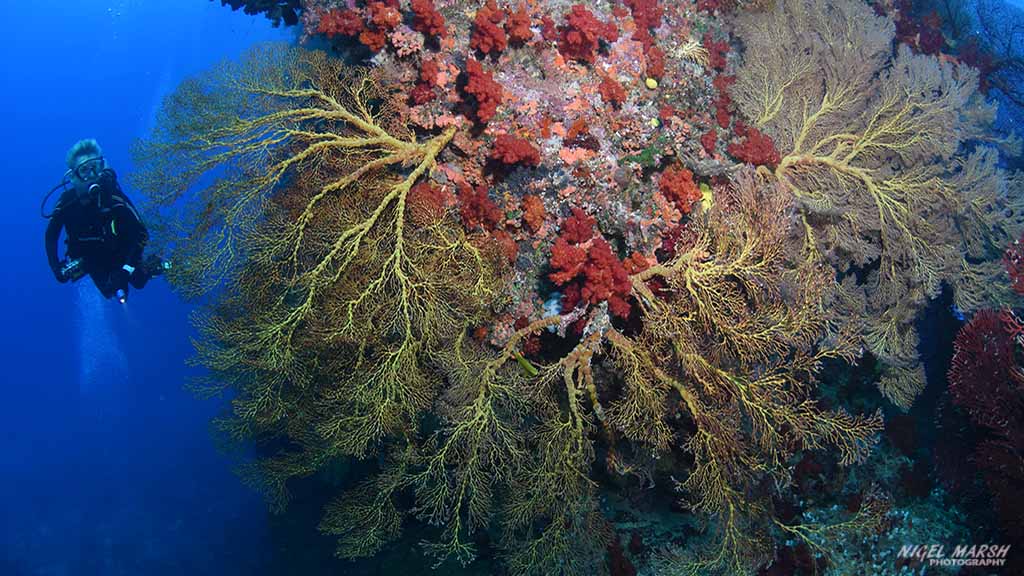 That week opened our eyes to the brilliant diving in this area, the sharks were thrilling and unforgettable, but so were the reefs and shipwrecks. We saw a great range of reef fish, but also pelagic fish, reef sharks and numerous invertebrate species. But the main highlight was the corals – beautiful gorgonians and spectacular soft corals. We could see why Jacques Cousteau declared this area – 'the soft coral capital of the world'.
We recently returned to Fiji on an invitation from Tourism Fiji to join a group of travel agents and travel writers to help promote this South Pacific island paradise. The first few days were spent exploring the fabulous reefs of Bligh Water off Rakiraki. But the second half of the trip was diving Beqa Lagoon. We naturally did the shark dives once more with Aqua Trek and Beqa Adventure Divers, but we also joined the team at Waidroka Bay Resort for three special reef dives.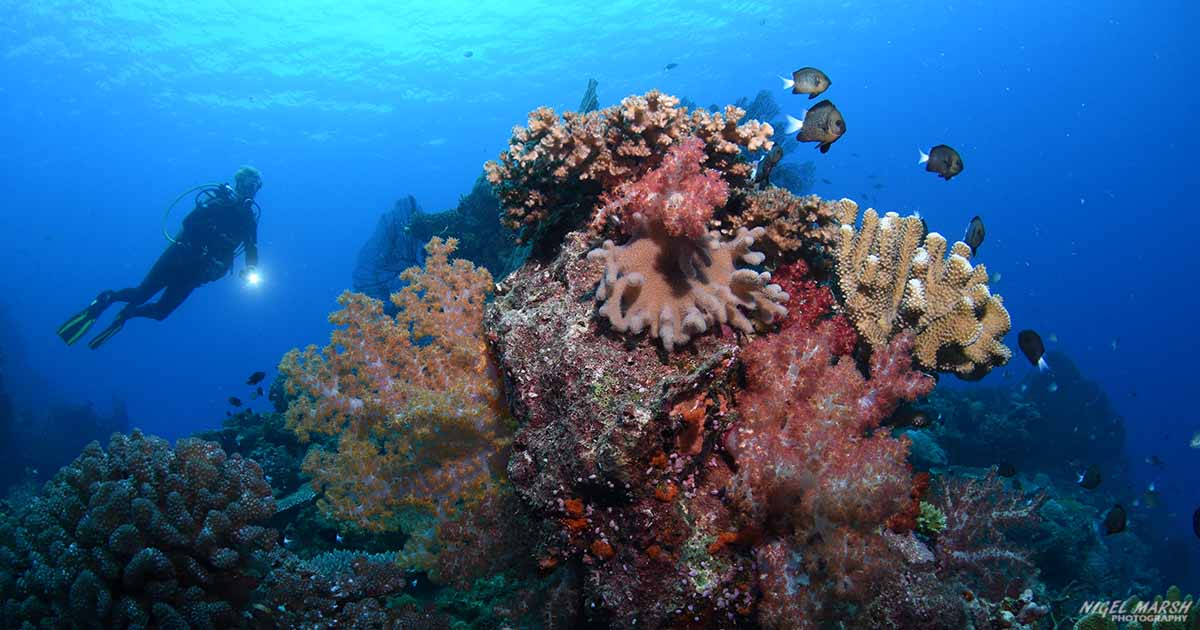 This wonderful secluded resort is located two hours drive south of Nadi and has a wide range of accommodation in its lovely tropical garden setting. Popular with surfers, the resort also has a fully equipped dive shop and offer both reef and shark dives.
Arriving at the resort in the afternoon we checked into our rooms and found we had time for a quick afternoon dive at one of the local dive sites. Only ten minutes from the resort is a fringing reef that has some great surf breaks and also some lovely dive sites. These local sites don't have the soft corals of Beqa Lagoon, instead have a healthy coverage of hard corals.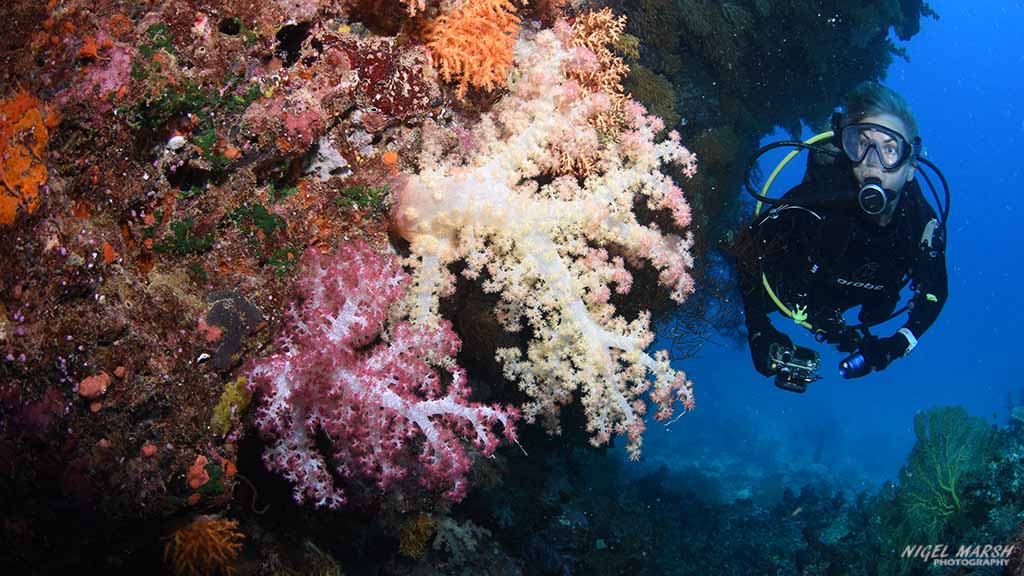 We dived a site called Pipes, exploring a coral wall, caves and vast hard coral gardens. Only 18m deep and close to shore we were surprised how rich this site was, seeing several whitetip reef sharks, a school of tuna and a great variety of reef fish.
The next day we headed out to Beqa Lagoon, which is around 40 minutes boat ride from the resort. The conditions couldn't have been better, sunny skies, flat seas and very blue water. Arriving at our first dive site we could look over the side and see the bottom at Fantasy One.
This wonderful dive site is made up of three large bommies rising from 20m to 5m. But we spent most of our time on the middle bommie that was riddled with caves and ledges and covered in exquisite corals. This site was jaw-droppingly beautiful, the gorgonians and soft corals simply spectacular. Over the hour long dive we encountered reef sharks, angelfish, schools of basslets and nudibranchs.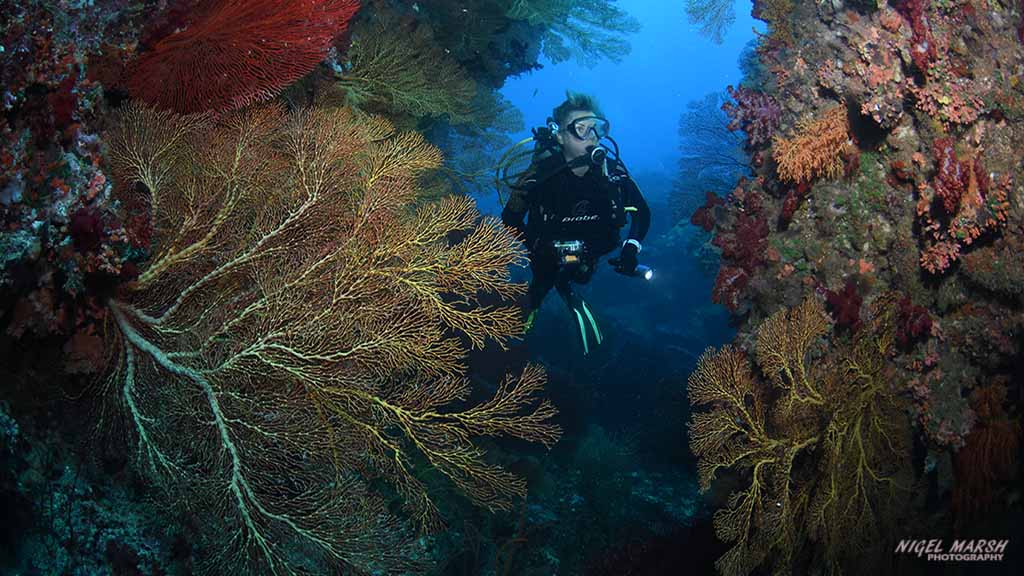 After our surface interval, enjoying homemade biscuits and muffins, we dived a site we last explored a decade before called Seven Sisters. This site also has numerous bommies, incredible corals and a good population of fish, but also a shipwreck.
Resting near the main bommie is the Tasu II, a 33m long fishing vessel scuttled many years ago. The wreck rests in 25m and makes for an incredible dive, encrusted with soft corals, gorgonians, black coral trees and sea whips. On the wreck we found pipefish, longnose hawkfish, dragonets and a resident giant frogfish. Last time we dived this site we also explored the rubble bottom around the wreck, as this zone is home to muck critters like scorpionfish, octopus, shrimp gobies and garden eels.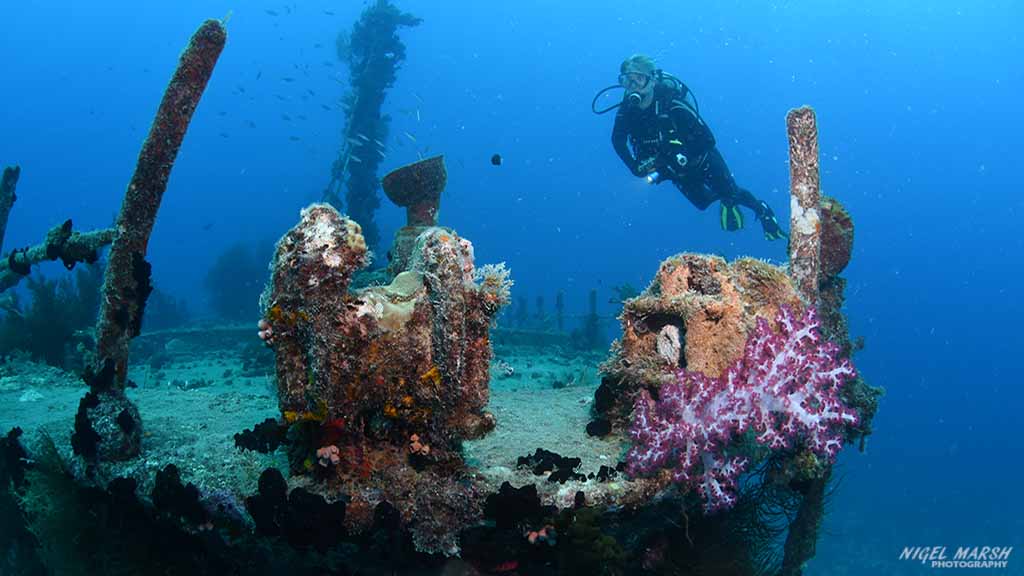 After a fun time on the shipwreck we then explored the main bommie, finding its walls and caves covered in incredible soft corals and gorgonians. We ended the dive investigating the coral gardens on top of this bommie, which were home to masses of small fish – damsels, basslets and fusiliers.
This short trip only reinforced what we already knew, that Beqa Lagoon still has some of the most colourful reefs in Fiji, and you would be mad to miss them.