I thought I had dived some wonderful fishy dive sites until I had the opportunity to dive Raja Ampat, Indonesia. Located at the heart of the Coral Triangle, I knew Raja Ampat was home to more species of fish than anywhere else on the planet, but nothing could have prepared me for the sheer volume of fish – immense schools of reef fish and pelagic fish, a veritable feast of fishes!
Located off the western end of West Papua, Raja Ampat is home to a staggering 1508 species of fish, including a few endemic species only found in this area. I first dived Raja Ampat on a very brief two-day trip organised by Tourism Indonesia late in 2017. This entrée only whet my appetite, so I returned for the full banquet experience in May, a ten-day liveaboard trip with Sea Safari Cruises on their wonderful traditional style vessel – Sea Safari 8.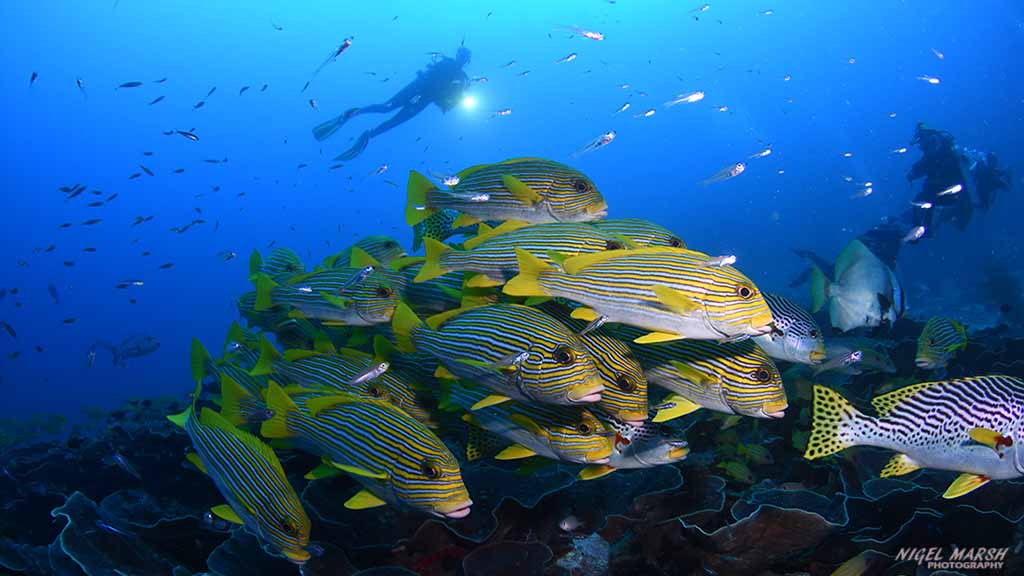 The first few days of the trip started in the southern part of Raja Ampat, around the island of Misool. The feast of fishes started slowly as we dived the spectacular rock islands of this region. Amongst the beautiful gorgonians, soft corals and sponges that decorate these reefs I saw and photographed pygmy seahorses, angelfish, butterflyfish, rock cods, blennies, dottybacks, triggerfish, lionfish, gobies and tasselled wobbegongs. At most sites were also schooling fish like snappers, trevally, fusiliers, surgeonfish, batfish and barracuda. I also had some close encounters with Maori wrasse, gropers, turtles, reef sharks and a group of large bumphead parrotfish. The fish life in this area was impressive, some of the best I had seen at any Asian destination, but then we headed north and the feast really began.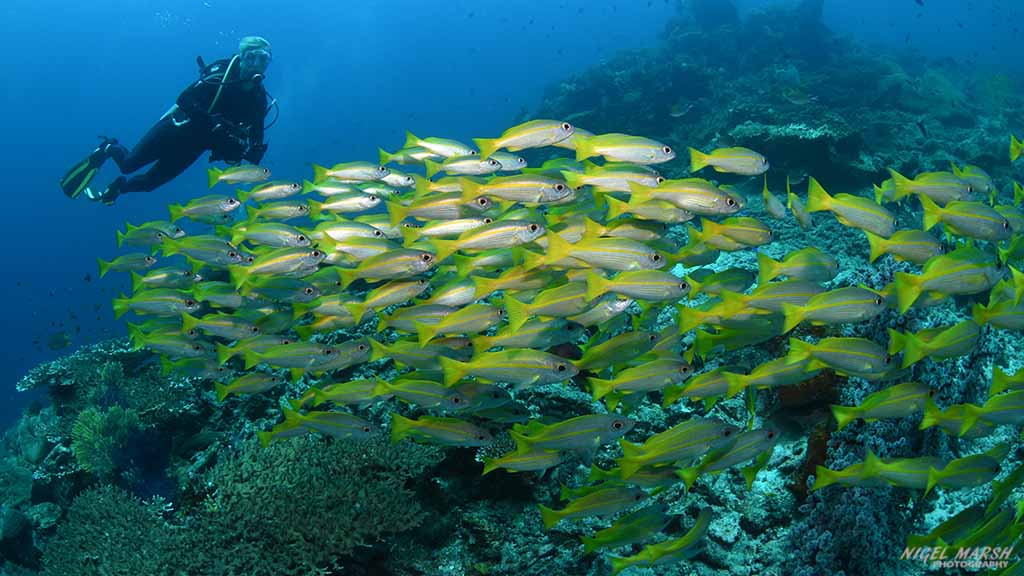 In the north we explored the Dampier Strait. The first few rock islands we dived were similar to Misool, with fabulous corals and a good assortment of fish. We did see manta rays at two sites and a number of turtles and tasselled wobbegongs, but nothing out of the ordinary until we dived a site called Sawandarak Jetty.
As soon as I submerged at this site I was surrounded by fish. Swimming in mid water were schools of fusiliers, triggerfish and surgeonfish, but once on the bottom I found thick schools of sweetlips and snappers swarming over one small patch of reef. My camera went into overdrive photographing all these stunningly colourful fish, but this was just the start.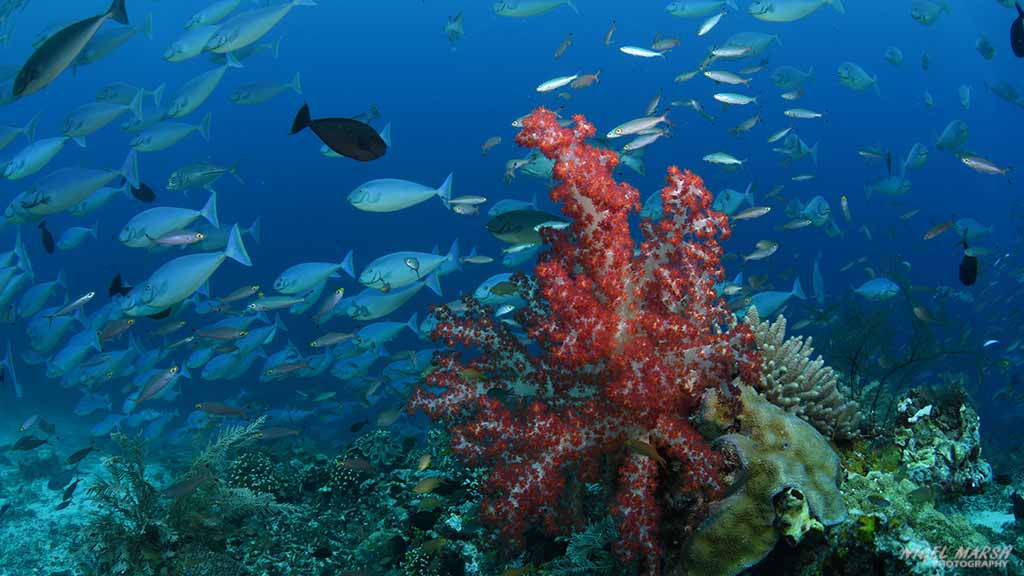 Exploring this sloping reef the parade of fish never stopped; schools of trevally, barracuda and more snappers, sweetlips and fusiliers. Joining these swarms of fish were smaller groups of batfish, bigeyes, bumphead parrotfish and a few gropers. There was also a great assortment of reef fish like angelfish, butterflyfish, wrasse and damsels. When I finally made it under the jetty I found even more fish – schools of rabbitfish, snappers, drummers, trevally and sweetlips. I can honestly say it was the fishiest dive I have ever done.
Over the next two days the feast of fishes continued as we explored the Dampier Strait on Sea Safari 8. At Cape Manswar there were schools of barracuda, snappers, trevally, sweetlips and rabbitfish. At Cape Kri it was swarms of surgeonfish, fusiliers, barracuda, snappers and sweetlips. While at Mioskon Island and Blue Magic there were schools of squirrelfish, batfish, trevally, sweetlips, bigeyes, fusiliers and barracuda. After these incredible dives my camera's memory card was stuff full of wonderful fish photos.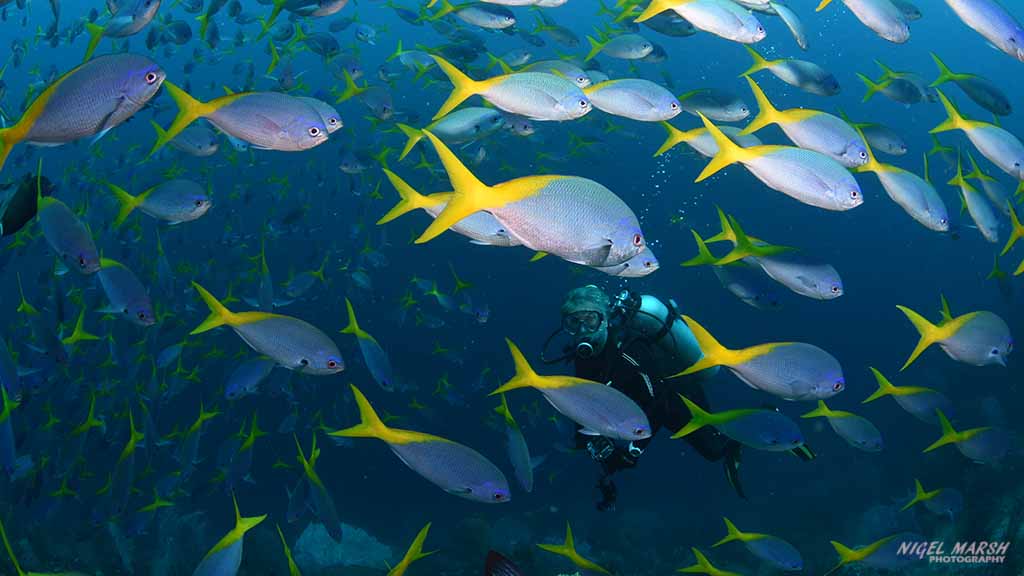 Raja Ampat is a stunning dive destination, with fabulous corals, manta rays, turtles and a smorgasbord of fish species. But it was the sheer volume of fish in this marine park that impressed me the most – a feast of fish that I am eager to consume again!