Tranquility Island Resort, on Moso Island, is just off the coast of Efate, Vanuatu's main island. The island's fringing reefs are some of the prettiest and most pristine in Vanuatu. It's also the best place to see turtles in Vanuatu, not just while diving.
Geographically speaking, the island is not far Vanuatu's capital, Port Vila, a 20-minute drive and short ferry ride will bring you to this small eco-resort, but as its name suggests, it really is tranquil. It seems a million miles from anywhere.

The diving here is spectacular, with coral gardens such as Owen's Reef home to more species of coral than you'll have seen anywhere else. Large fields of cabbage and stag horn corals, mountains of coating corals and forests of colourful soft corals, large gorgonian fans and leather corals. Around the coral bommies, large caverns and swim throughs where you might find large bat fish, angels and the odd flowery cod. And of course, turtles.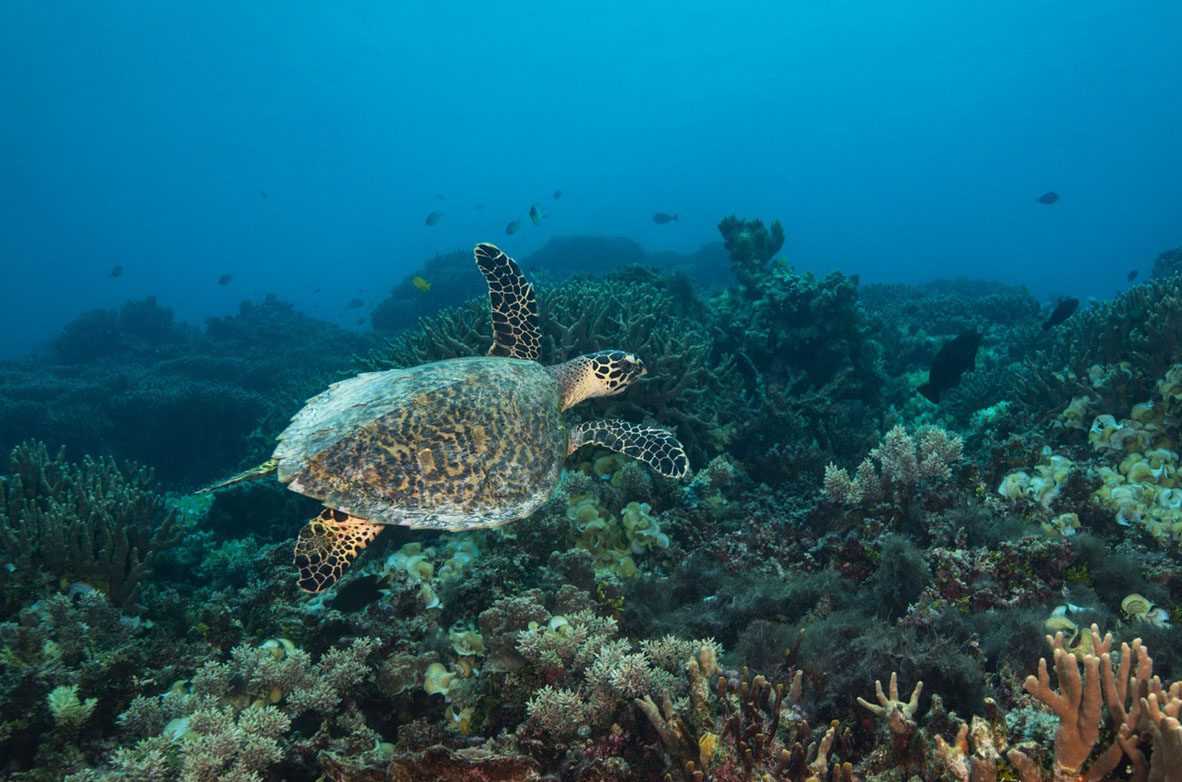 So why is this best place to see turtles in Vanuatu? This tiny eco-resort off the coast of Vanuatu's main island Efate is taking care of the area's critically endangered hawksbill turtle population.
Driven from their former nesting grounds by coastal development and light pollution, turtles now have very few safe places to nest nearby. Tranquility Island Eco Resort is caring for the hatchlings found, raising them in this sanctuary until they are larger and better able to survive the odds against their natural predators.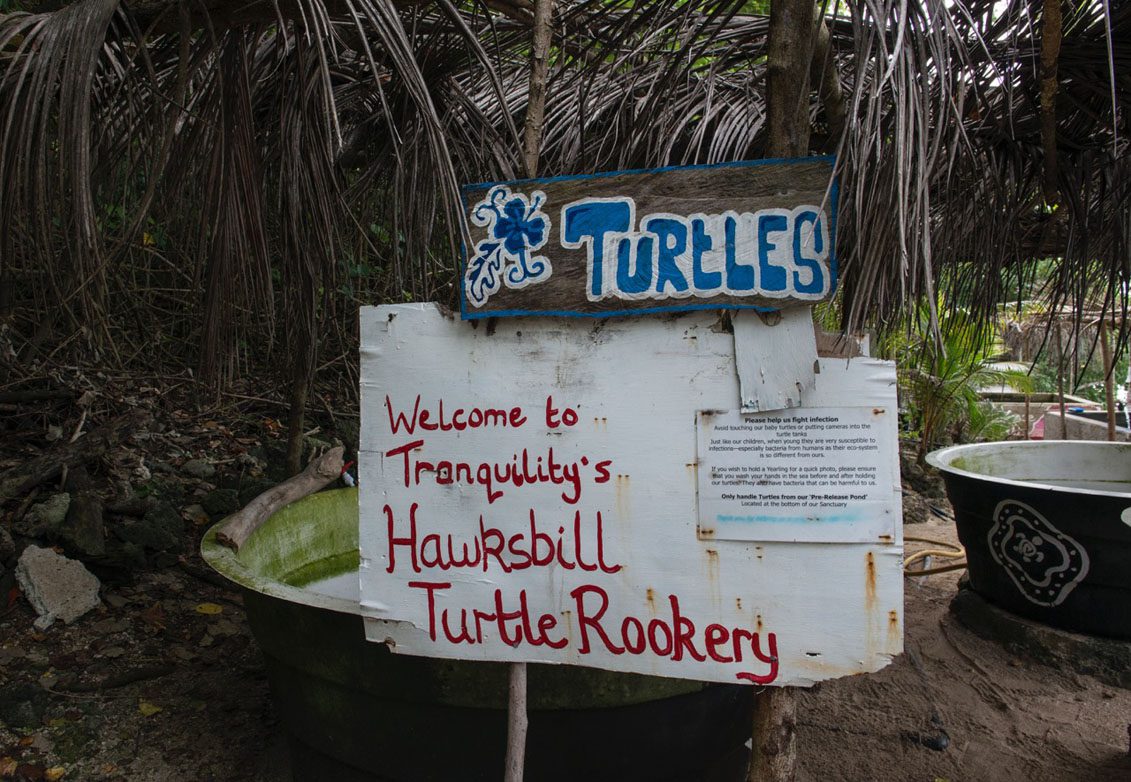 The project was established in Port Vila over 20 years ago by Vanuatu fisheries department. Unfortunately, after about 18 months, the project was abandoned. In a desire to keep the research project going, the project manager approached Tranquility's owners to see if it could be relocated here on Moso Island.
Researchers have identified only 14 to 57 turtles nesting here each year, and it is feared that this may be the last generation of hawksbills to nest here, with modern lifestyle changes bringing with it light pollution which affects nesting grounds, and in their feeding grounds, plastic pollution and the dangers of commercial fishing.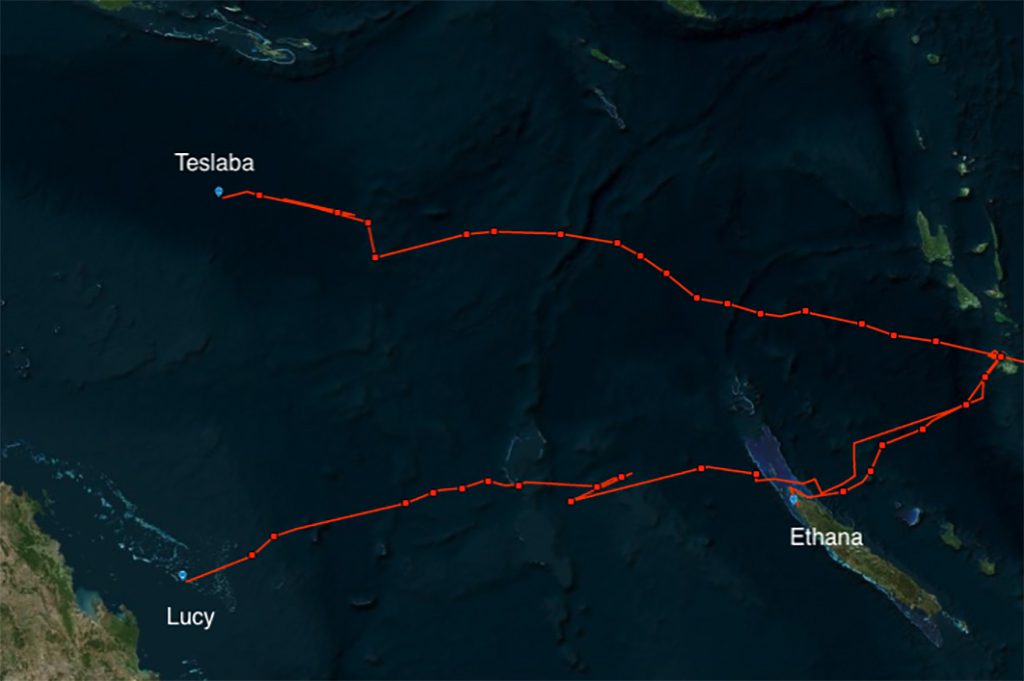 Turtles nesting here have been tracked to feeding grounds in New Caledonia, the Great Barrier Reef and the Coral Sea between far north Queensland and Papua New Guinea.
The sanctuary is now privately funded by the resort and by donations from resort guests and visitors. With assistance from the South Pacific Regional Environment Programme (SPREP), staff at the resort has now been tagging and releasing turtles for 18 years.
The resort's dive centre managers, Sun Tey and partner Joe Klakus, are also responsible for management of the turtle sanctuary. The couple has plenty of experience, having worked on turtle conservation projects in Malaysia for several years.
Sun presents regularly to guests, day trippers and school groups, explaining how the sanctuary came into being, but also, importantly, she explains that this sanctuary is NOT the answer to saving endangered sea turtles. Only human behaviour can do that. Guests are encouraged to give up at least one item of single-use plastic in their lives – every little bit helps.
The Vanuatu government is doing its bit too – banning single-use plastic bags, plastic straws and takeaway containers.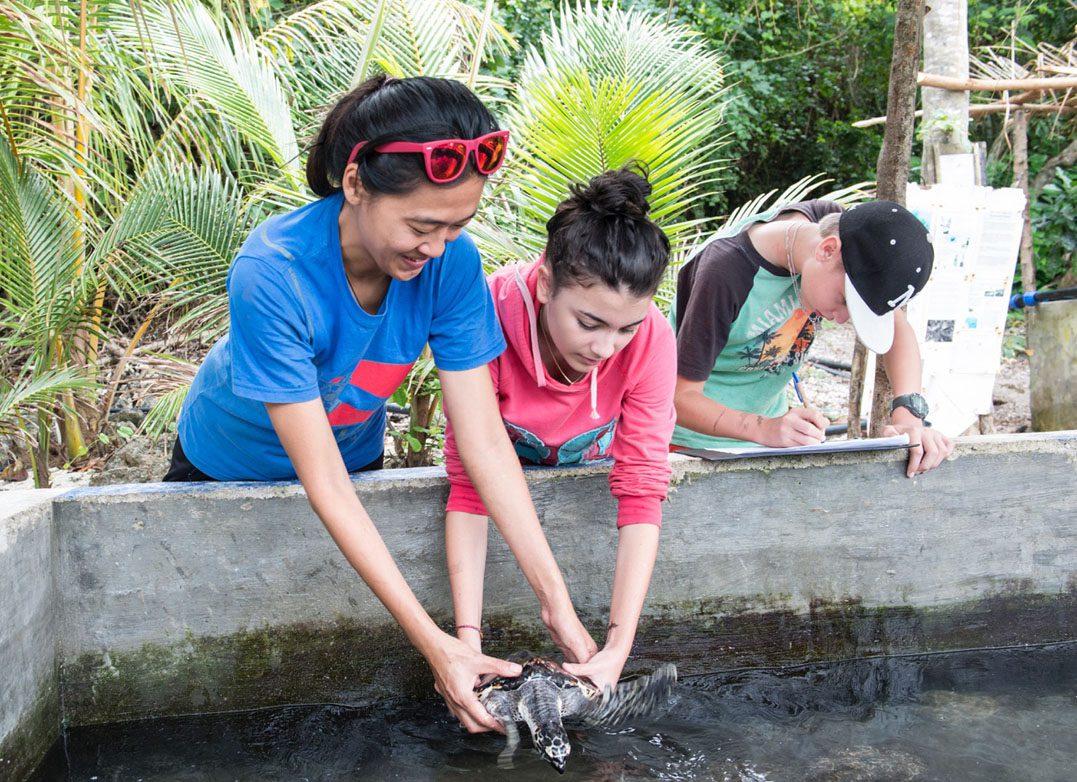 Plastic pollution now enters turtles' lives at a young age, as they leave their nests to ride the ocean currents – or Gyres – now alongside catastrophic levels of plastic waste. Turtles are also in danger of becoming victims of commercial fishing by-catch. Fishermen are required by law to release any turtles caught as by-catch, but turtles are worth a lot of money, many fishermen are poor and the expansive Pacific Ocean is hard to police.
As we move on to the Turtle Rookery, Sun shows us tanks holding turtles of different ages and points out different behaviours the young hatchlings display, such as floating with little movement, flippers tucked over their shells, thought to be a survival technique as they try to emulate floating leaves or coconut husks so they don't end up as lunch to predatory sea birds.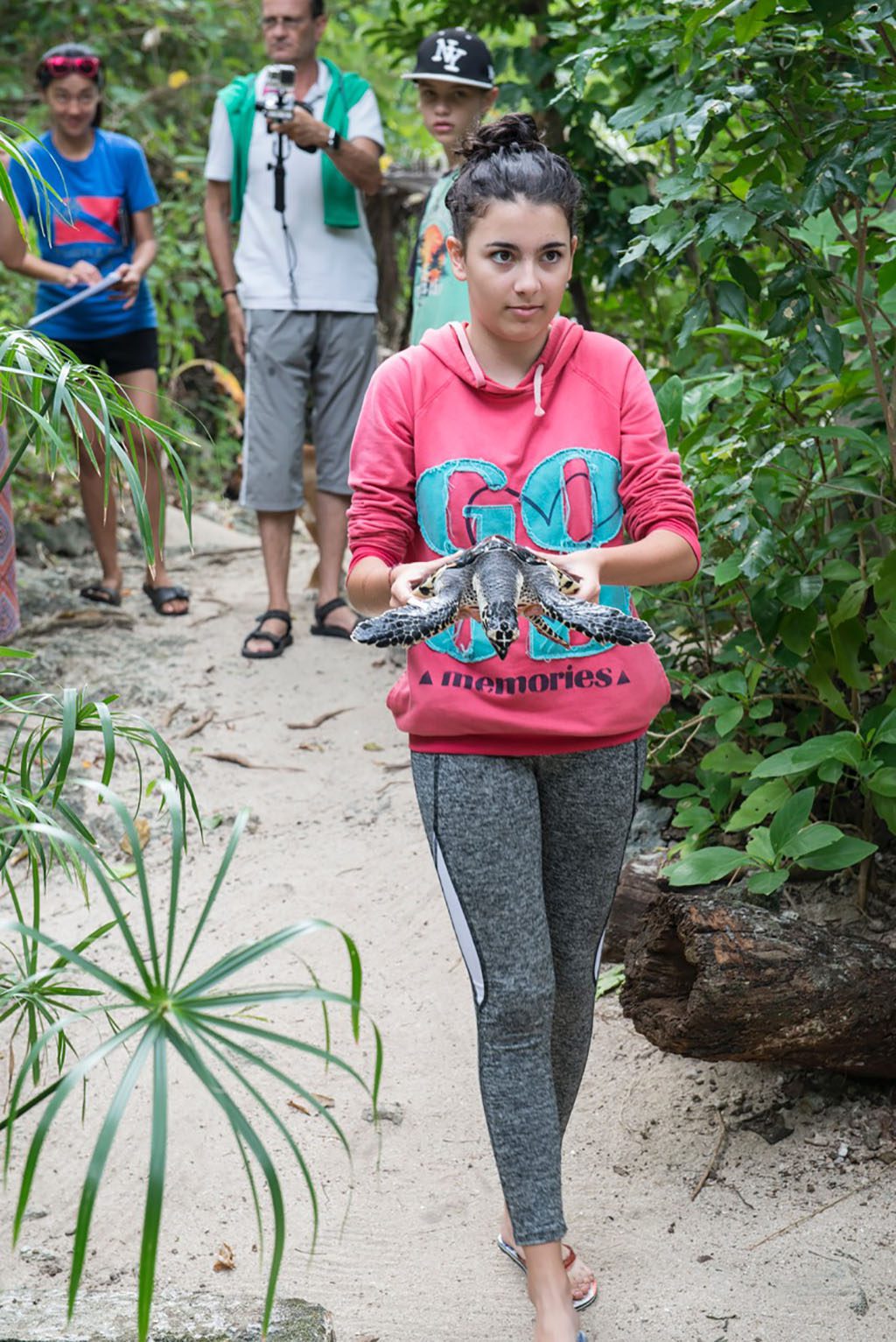 In what is a very unnatural environment for these normally solitary creatures, staff do their best, adding rocks to the tanks for them to sleep under, collecting sponges for them to nibble on and encouraging algae growth.
But ultimately, sharing a tank with a few dozen flatmates does not suit them, so it's wonderful to watch them released. Watching as they take a moment, sniff the air, and then hurriedly make their way into the water, and the big wide underwater world beyond.
Contact us for information on diving packages at Tranquility Island Eco Resort.
Photography by Jayne Jenkins.
If you liked this, you may also like: