Indonesia is a bucket list destination for practically all scuba divers and is famed for its warm waters, diverse marine life and spectacular coral reefs. 
As part of the Coral Triangle (the global centre of marine biodiversity with more than 500 species of reef-building corals in each ecoregion), Indonesia never disappoints and even the simplest of dives can offer an incredible range of sights. 
While this tropical paradise may have been closed to international divers during the pandemic, dive tourism across the archipelago is now thriving once again. Looking to explore this beautiful country's underwater world? Read on for all of the details.
Indonesia entry requirements 2023
If you're visiting Indonesia for 30 days or less, you can apply for a Visa on Arrival when your flight lands. This costs around 500,000 IDR (about $50 AUD) and can be extended once more if you decide you'd like to stay longer. 
If you're coming to Indonesia for your Divemaster training or just fancy spending a little more time exploring the underwater worlds here, you can apply for a Social Cultural visa, which lasts for up to six months. The price of these varies depending on how you arrange yours but, through a popular agent like Bali Visas, it costs around 2.500,000 IDR (around $250 AUD).
The requirements for entering Indonesia for international travellers are proof of vaccination or vaccination certificate (physical or digital) and to download the PeduliLindungi app. 
Diving in Indonesia post-pandemic
While some dive shops sadly closed down during the pandemic, most have reopened for recreational divers and those looking to continue their dive education. Tourist levels aren't quite what they were pre-pandemic either, which means smaller groups on fun dives and a more tailored, personalised experience on courses.
Best places for scuba diving in Indonesia
Where to start? Beginner divers will love the warm waters and chilled out turtles of the Gili islands while anyone looking for bigger creatures should head to the Nusa islands for manta rays and reef sharks. 
Komodo National Park is another top spot with slightly cooler waters but plenty of variety when it comes to dive sites and four known manta aggregation sites. Head off the beaten track to discover Raja Ampat's world-class diving or venture to North Sulawesi for muck diving, sheer walls and rare crustaceans and fish.
Scuba diving in Bali
Many tourists base themselves on mainland Bali before embarking on a scuba diving experience in the region and there's plenty to see here. Post-covid, this is the easiest place to begin a scuba diving adventure. 
Head up to Tulamben Bay on the east coast to dive the USAT Liberty with its fish frenzy of humphead parrot fish, schools of trevally, leaf scorpion fish, pygmy seahorses, giant barracuda and more. Further north at Amed, you'll find top class muck diving and sites to suit all levels of experience. 
Close to mainland Bali are the Nusa Islands, which boast a mola mola (sunfish) aggregation and almost guaranteed sightings of manta rays, as well as a great range of wall dives and light-filled coral gardens. 
Check into Tauch Terminal Resort Tulamben to explore east Bali's best diving sights or, for a more beachy experience, Lotus Bungalows Candidasa offers dive trips along the east coast as well as over to the Nusa Islands.
Scuba diving in the Gili Islands
The Gili Islands are among the best places in the world for beginner scuba divers thanks to the brilliant visibility, warm waters and wonderful array of underwater sightings. Around a two hour fast boat from mainland Bali or a quick 15 minute speedboat from neighbouring Lombok, the Gilis have a little something for everyone. 
Tourism levels are picking back up here in 2023 but are still a little lower than pre-pandemic levels, offering a great opportunity to explore the region with more curated scuba support.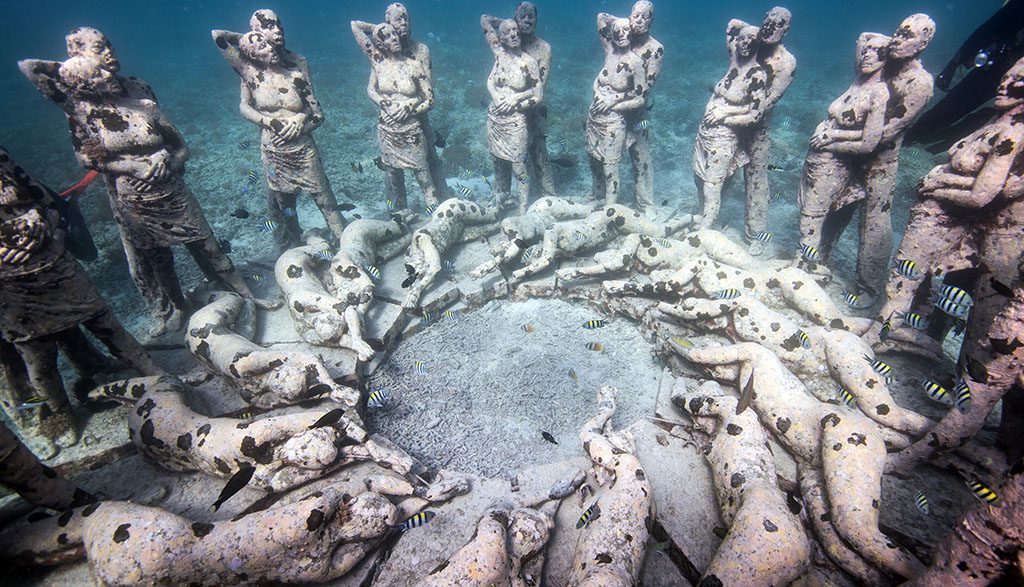 And don't be put off by this part of the country if you're a more advanced diver: you'll find plenty of opportunities for tec-diving or specialties, too. Made up of Gili Air, Gili Meno and Gili Trawangan, these three miniature car-free islands are home to creatures great and small as well as huge drops like the Tunang Wall, with depths of 200 metres, and snorkel-friendly underwater statues by Gili Meno. 
Scuba diving in Komodo National Park
Komodo National Park is around an hour's flight from Bali and flights are now running again on a daily basis. Komodo can be explored by day drips from neighbouring Labuan Bajo or via Liveaboard. If you're hoping to explore the national park in its entirety, you're far better off booking a Liveaboard for the experience as the national park takes a good couple of hours to reach.
Post-pandemic, some of Komodo's dive shops have sadly closed but a large number are back open and ready for guests. Manta rays, sharks and colourful reefs are just the beginning of what you'll experience here and the dive sites are just as exciting as they are challenging.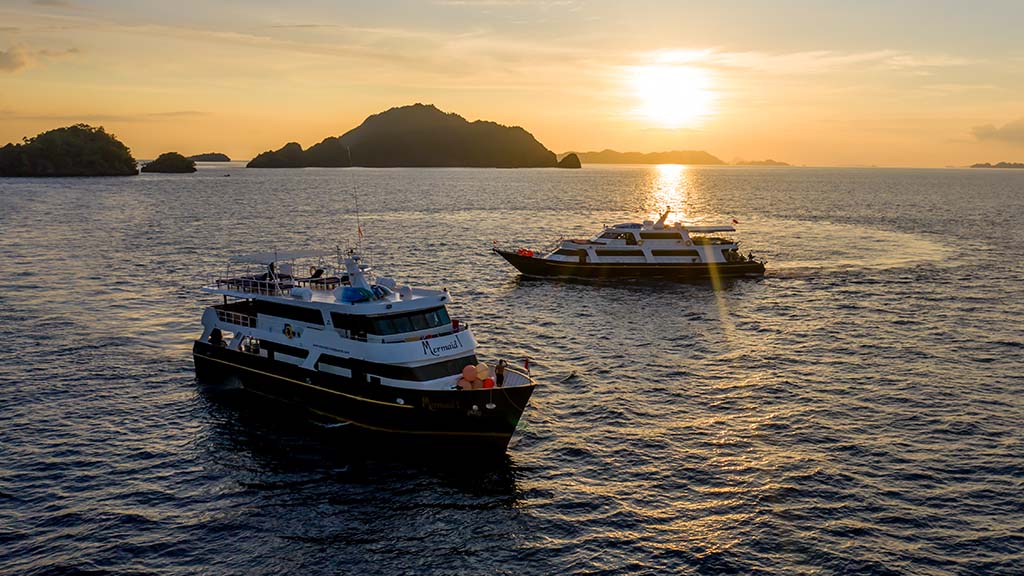 Some popular choices include Batu Bolong, rated as one of the best dive spots in the world for its myriad of marine life and Siaba Kecil, an exhilarating drift dive that's nicknamed the "fish highway" due to the impressive speeds you'll reach. Most liveaboards run trips in Komodo between May and September, while specialists Mermaid 1, Mermaid II and the Moana Cruising have longer Komodo schedules.
Scuba diving in Raja Ampat
A diving trip to Raja Ampat is on pretty much every scuba diver's list but arranging a trip here, especially since the pandemic, requires a little more organisation. The remote nature of this spot means bigger creatures and lesser-visited dive sites with thriving corals and a rainbow's worth of shades. 
But it also means getting there from mainland Bali or elsewhere in Indonesia is a bit of a challenge. The best way to explore Raja Ampat's magical waters is via Liveaboard. Raja holds a record for the most fish species found in one single dive, so it's almost impossible to specify what you'll see when diving here. But huge schools of fish, interesting topography and strong currents are all to be expected.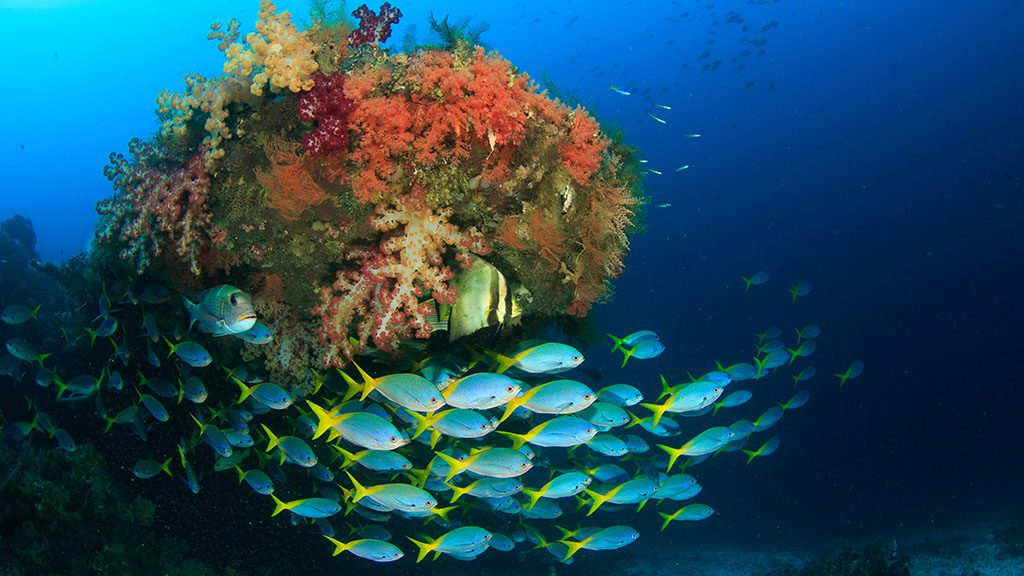 There is a wide range of dive liveaboards to choose from during the Raja Ampat season which runs from October through to early May with some offering itineraries further afield, visiting not only Raja Ampat but also Misool, Triton Bay, Alor, Cenderawasih Bay and the Forgotten Islands. 
Other top scuba diving spots in Indonesia
The vast size of this archipelago means you'll find scuba diving spots across its 17,000+ islands. But some of our other favourite places include North Sulawesi, famous for the coral walls and gardens of Bunaken and Bangka, and the muck diving of the infamous Lembeh Strait.
As your personal Dive Travel Agent, we'd love to help you arrange your next diving adventure in Indonesia or further afield. Ready to chat? Contact us for expert advice and a best price guarantee. We'd love to help!