Introduction
The diving at Savusavu is known to be among Fiji's best, but Vanua Levu – Fiji's second largest island – holds two of Fiji's best kept secrets as far as scuba diving is concerned. These are the Great Sea Reef and the Namena Marine Park and we're guessing you've heard of neither.
The Great Sea Reef is the third longest barrier reef in the world, and arcs 200 km from the top of Vanua Levu towards the tip of the Yasawa Islands. [hyp] After fish populations declined due to commercial fishing, a series of Marine Protected Areas have been created and fish populations are bouncing back. You can dive the end of the Great Sea Reef from a resort on the north of Vanua Levu.
The other secret is the Namena Marine Reserve. Think of it as Fiji's Sipadan, an island surrounded by a tongue of reef that extends 20 km south from Vanua Levu into the deeper Koro Sea. This isolated island sits almost on the middle of a line drawn between Rainbow Reef and Vatu-I-Ra. Since TC Winston, there is no resort on the island, but Namena MPA is accessible from the Savusavu dive resorts.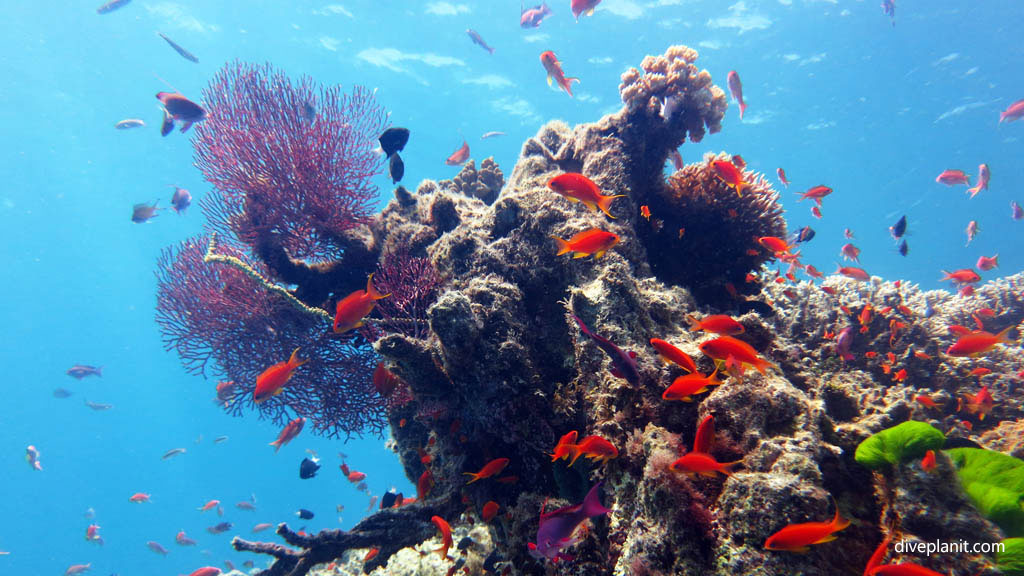 Vanua Levu's other great marine treasure is the world famous Rainbow Reef though it's often associated with Taveuni, (from where it's very logistically accessible).
Location
The resorts of Vanua Levu are quite spread out and conveniently located on the map top right.
Local Information
There is more information on the Great Sea Reef and particularly efforts to protect it on this WWF site.
The Namena Marine Reserve has its own website.
Getting There
If you are going to Nukubati, fly to Labasa and the will arrange your transfer as part of a package from there. Savusavu airport is conveniently located for all the resorts in the Savusavu area.
To get to the two Rainbow Reef retreats on Vanua Levi, fly to Taveuni's Matei airport on the northern tip of the island, and take road transport down to the wharf where the resort boats wil meet you.
Both Fiji Airways and Northern Air have flights to Labasa, Savusavu and Taveuni.