Jean-Michel Cousteau Resort has been a bucket-list holiday destination for me for such a long time but it always seemed a little bit out of reach. Sometimes though, you just have to spoil yourself, right? Diving Savusavu with Cousteau Divers is now ticked on my long wish-list, but not ticked off – I plan to return and spend more time there.
On our short break at Jean-Michel Cousteau Resort in Fiji's beautiful Savusavu, we were pampered and fed from the moment we stepped off the plane. On arrival to the resort, we're led to our bure (an enormous villa possibly larger than our home) where we're met by two masseurs on the deck overlooking the bay, ready to give us a Fijian Foot Ritual massage.
15 blissful minutes later, we have soak in our private jacuzzi before heading to the restaurant for dinner. Over a glass of wine or two we go a bit crazy taking snaps of the setting sun, which is ridiculously photogenic.
Bright and early the next morning we head to the dive shop for a day of diving. Unfortunately, the conditions are against us on this trip, so we won't make it out to Namena Marine Reserve, the pearl in Fiji's soft coral crown, so we settle a selection of local dives.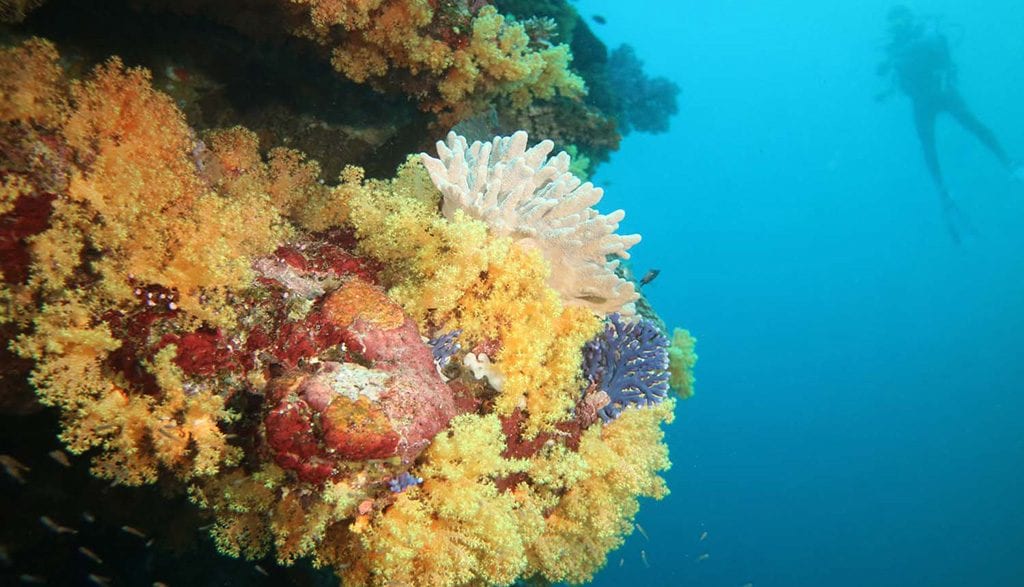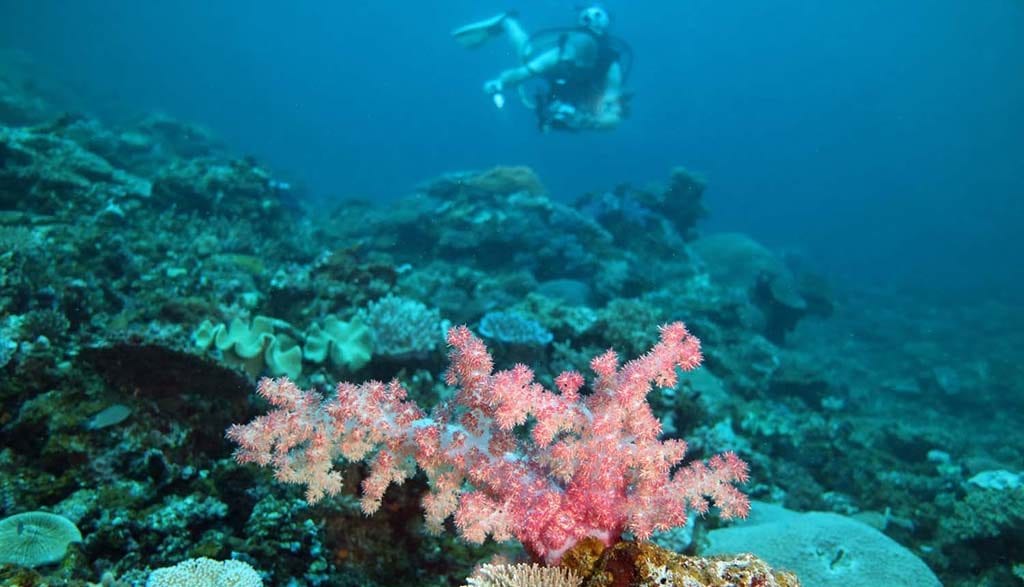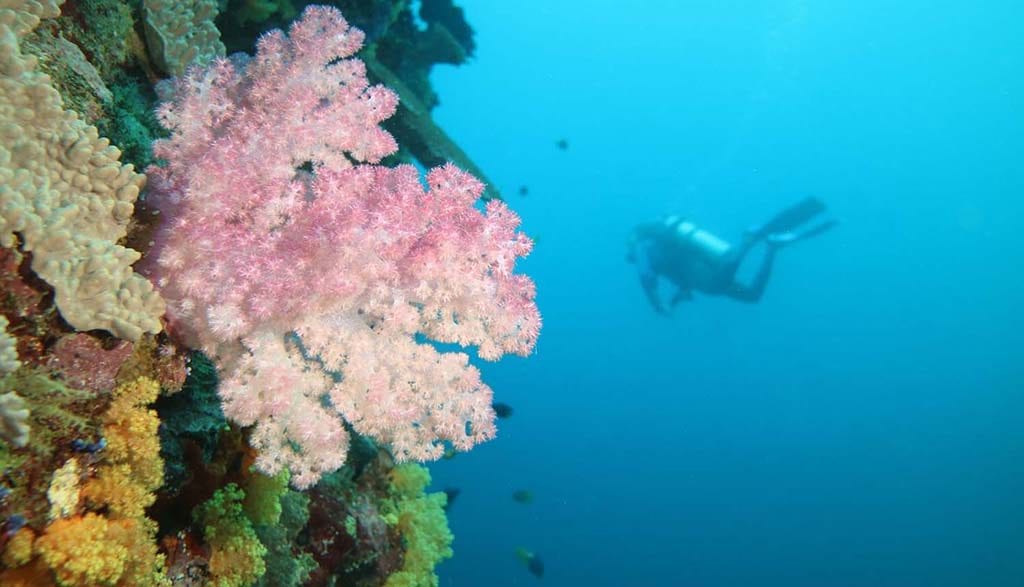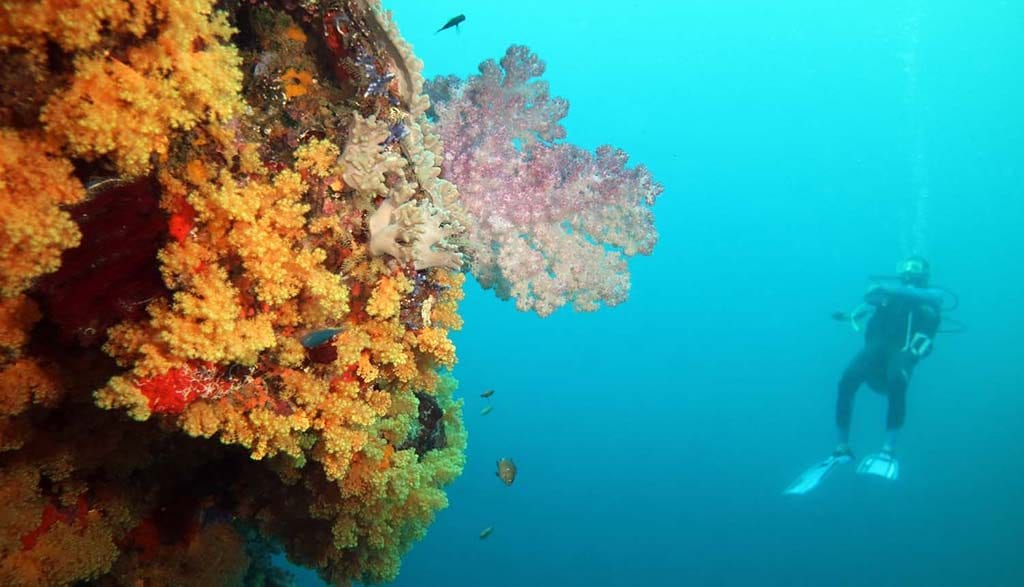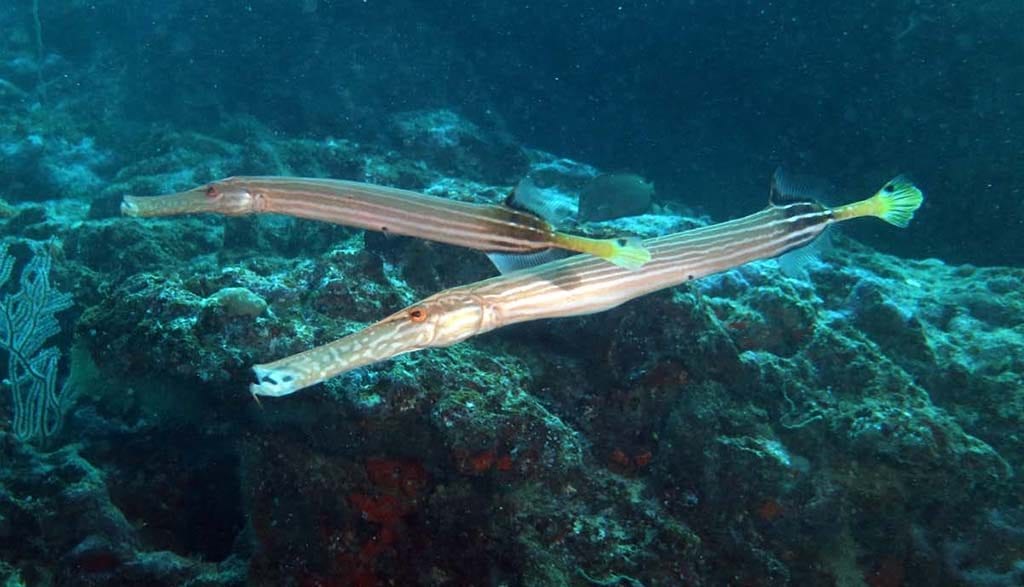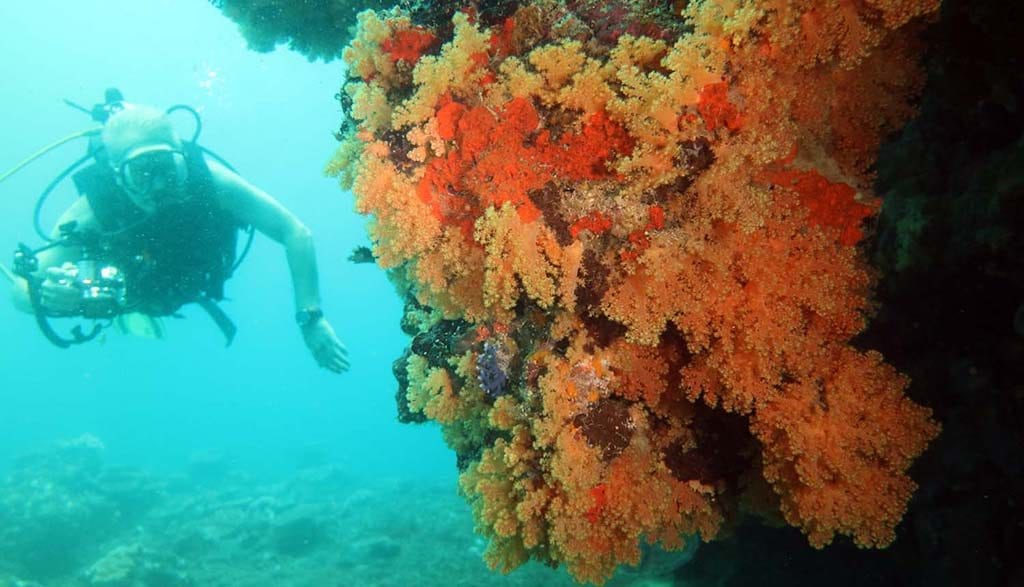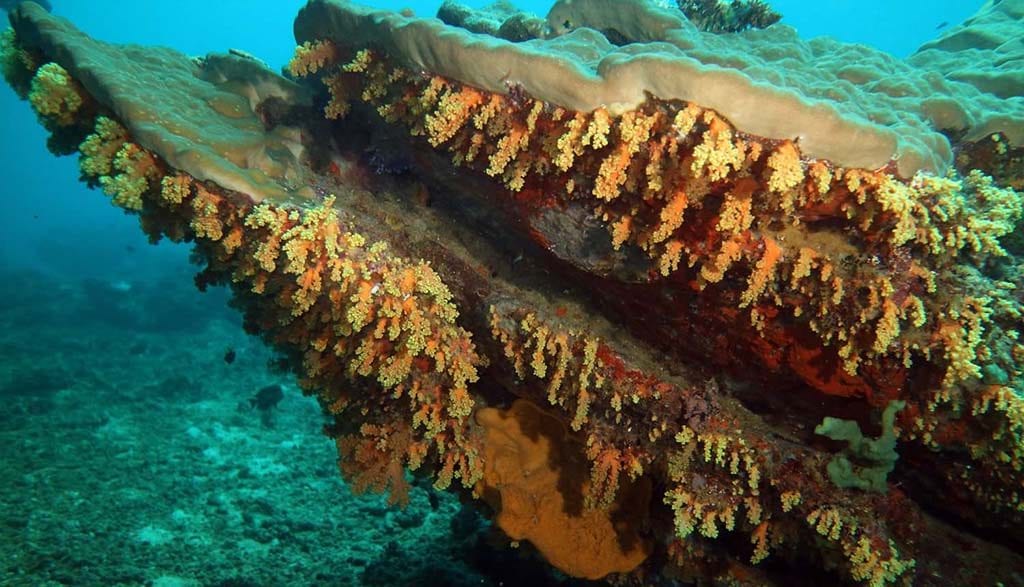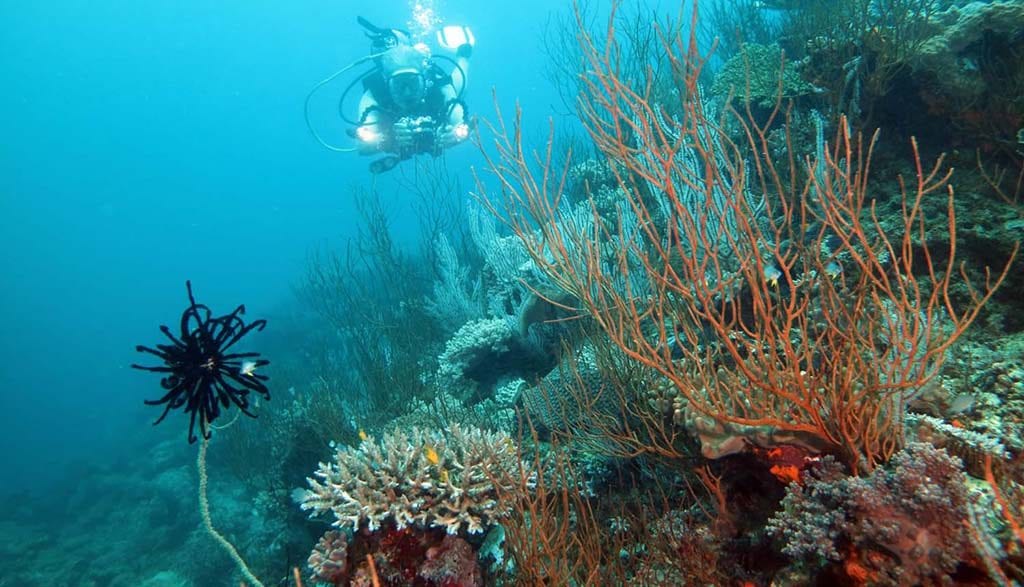 Initially a little disappointed, the feeling quickly passes as we dive into our first local dive site, Alex, named after dive centre manager Andy's girlfriend. It's a wide landscape of colourful hard and soft corals, large thickets of whip coral and crinoids hiding emperor angels, trumpet fish and all sorts of damsels.
The second dive is even better and proves to be a signature experience of the local diving here: bright yellow soft coral – every rock, bommie and overhang is blanketed in it.
There are other colours of course; reds, pinks, blues and purples; but it's the yellow that dominates and that features on a lot of the other dive sites, including 'Brothers' and the appropriately named 'Golden Nuggets'.
Another memorable dive was a pretty site called Big Blue which, as the name suggests, wasn't as yellow as the others, with fields of staghorn coral and bright red soft corals.
Sustainable credentials
It goes without saying that a resort owned by Jean-Michel Cousteau, founder of Ocean Futures Society, would be run fairly sustainably. The traditionally designed bure accommodation has high vaulted ceilings and fans that keep the rooms cool naturally. Vegetables are grown in the organic kitchen garden and there is no bottled water available for sale at the resort. Water is provided in stainless steel reusable drink bottles, replaced in the minibar daily.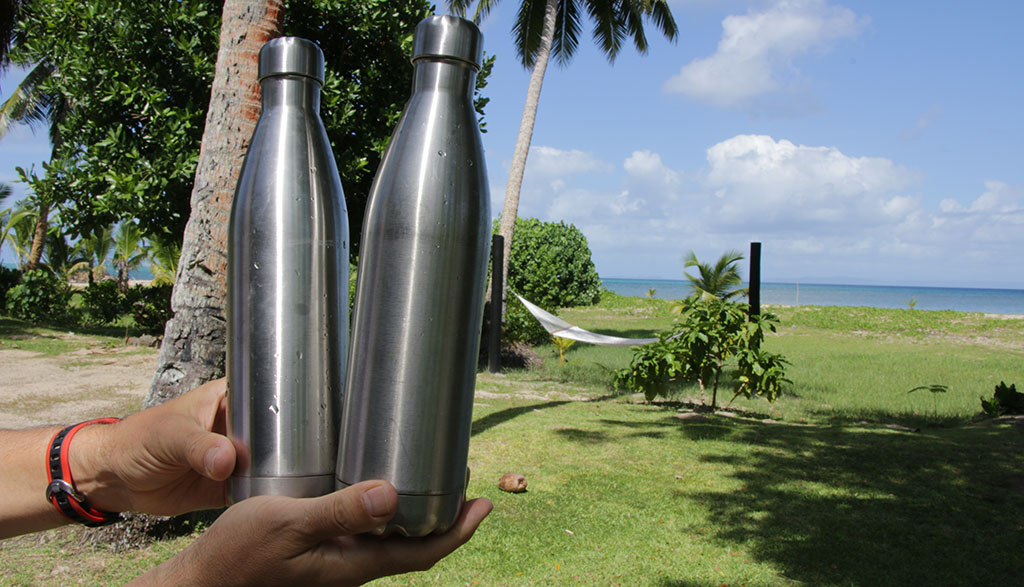 Resident marine biologist Johnny Singh takes guests on guides reef walks and snorkelling tours to educate them about the marine environment, and the staff conduct regular beach cleanups on neighbouring beaches.
For romance
By some quirk of fate, we'd been assigned the resort's designated 'Honeymoon Suite' and possibly received a bit of special treatment as a result. This included a surprise candle-lit dinner for two at the end of the jetty and a picnic on a private island, complete with four poster day bed shaded by palm trees.
For wellness
On our last (non-diving) day at the resort, we tried a few more of Cousteau's wellness offerings, starting the day with yoga on the beach before heading to the spa for a relaxing massage.
The daily yoga classes are free and the spa has a great range of treatments.
For families
Over the years Jean-Michel Cousteau Resort has gained a well-deserved reputation as a family-friendly resort – in fact it's possibly more famous for its wonderful kids' 'Bula Club' than it is for diving. In its expansive grounds, the Bula Club has two swimming pools, tennis courts, games room and adventure playground.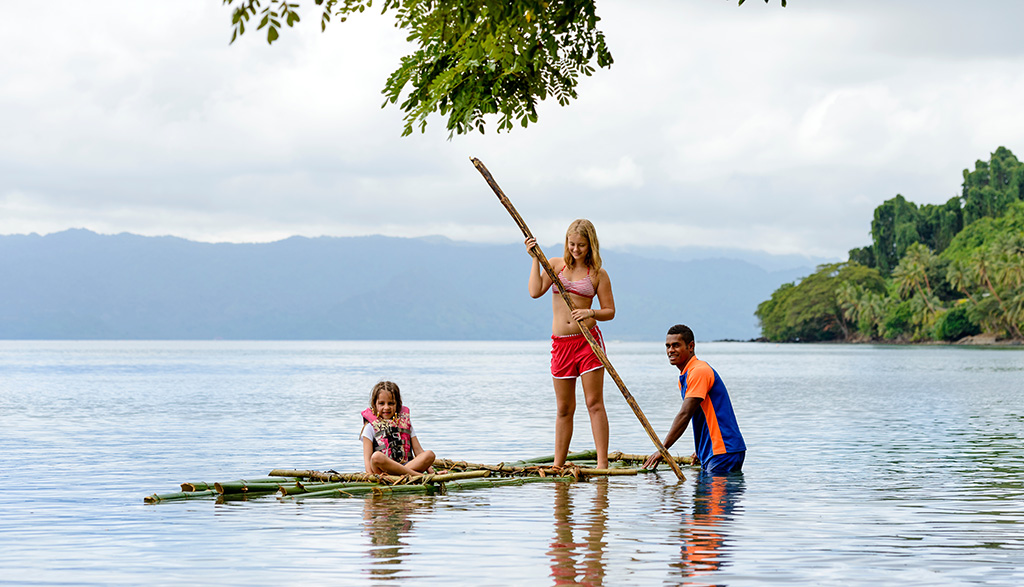 Kids under six years old are assigned a nanny each for the duration of your stay, and older kids, in groups of five, have a 'buddy' that organises a wide range of fun and educational activities for them. The resort's School Under the Sea', a course that includes reef tours and evening seminars with the resident marine biologist, awards participating kids with an Under The Sea Certificate and t-shirt.
Kids eight to 10 years old can get an introduction to SCUBA with the resort's Sassy or PADI Bubblemaker sessions, and kids 10 to 12 can qualify as Junior Open Water divers on a course with Cousteau Divers.