Overview
Wet n Dry Adventures is a small and friendly family business that has been operating on Christmas Island since 1994. The operator is Hama, his 2IC is Linney, and his boat is Feral. No seriously, it's called -'Feral'.
Wet n Dry is based in Settlement with cafés, the supermarket and Christmas Island Tourism Office on one side and the best pub and a selection of great accommodation on the other side. There are accommodation options for Settlement within walking distance, which you can read about here.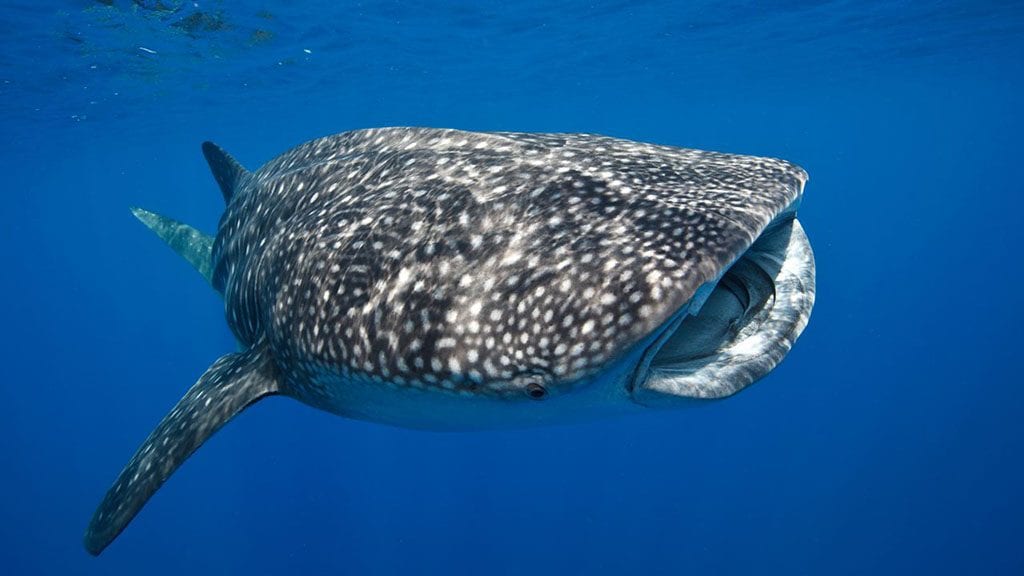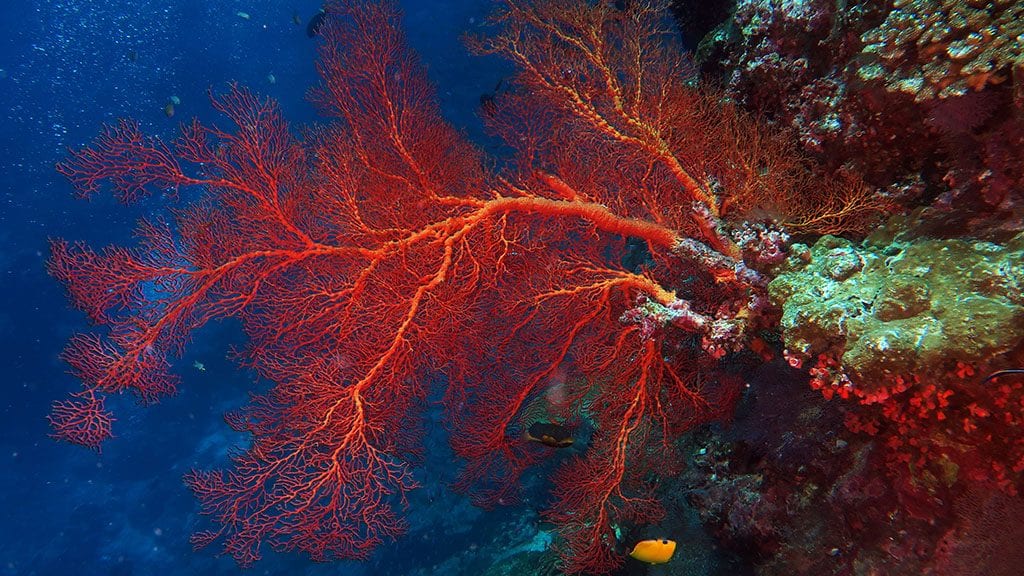 Pricing for Wet n Dry Adventures, Christmas Island
Valid until 31 March 2020
AUD
7 Nights at The Sunset in Ocean View Room with 10 boat dives

1513
7 Nights at VQ3 Lodge in a Standard Room with 10 boat dives

1408
Valid 1 April 2020 to 31 March 2021
7 Nights at The Sunset in Ocean View Room with 10 boat dives
1565
7 Nights at VQ3 Lodge in a Standard Room with 10 boat dives
1460
Pricing includes accommodation on a twin share/double basis, a total 10 dives, 2 per day, including weights, air tanks, boat, and transfer from hotel to pier on dive day.
The per person pricing above is indicative only: we show 7 night with 10 dive packages at high-end and lower-end rooms (singles & doubles) for the purposes of comparison. We can give you a price (and availability) for any combination of nights/dives you wish to undertake, which will include any discounts due to you as part of that package, and any exclusions, or items payable at the resort. Use the [Enquiry & Booking] button to give us your exact requirements and we'll give you the best deal we can.
Facilities
| | | | | |
| --- | --- | --- | --- | --- |
| Training School Type: | PADI | | Nitrox Fill: | |
| Air Fill | | | Number of Guides | 2 |
| Gear Hire | | | Number of Boats | 1 |
| Gear Sales | | | Number of Dive Sites | 60 |
| Gear Servicing | | | Accommodation | |
Location
Wet n Dry is based in Settlement, but the boat launches into Flying Fish Cove (on most occasions).  Once launched, Hama brings the boat around to the steps at the wharf.  Occasionally, he may need to launch from another place on the island if the wind is blowing strongly from the north, but full instructions will be given.
What to expect
Here's how a typical dive day goes with Hama and Linney. His philosophy is to fit two dives into the half day so that you are free to use the other half day to see more of Christmas Island. He also has a 'no gloves' policy which is one of the reasons why the coral around Christmas Island is in absolutely pristine condition.
Usually, all the gear is set up the evening before, so all the tanks are set up with the BCDs and regulators on the boat ready to go. If he's running four dives per day the meet-up is at 7:30am at the jetty, later if there are only two dives that day.  We always board at the wharf so there is no requirement to wade through the water or swim out to the boat. It's best to be half-dressed in your wetsuit, but you can walk on dry with your dry bag and your dry camera and as it's such a short ride out to the dive sites we're often in the water by 8.30am (assuming that there is no bonus snorkel with the dolphins before the first dive). Most dives are limited to 55-minute bottom time and 25m.  Though actually there is not much more to see if you venture below 25m (unless there's the odd shark cruising by) and even then there's no slap wrists for a depth of 30m if you feel the occasional need.
As we, the divers, are cruising along the reef at 18m or on a wall around 20m, Hama will often hang out in the big blue shaker at the ready in case something really big (and I'm not referring to the Navy patrol boats) comes cruising past. We were lucky on our second day something very big did come cruising past.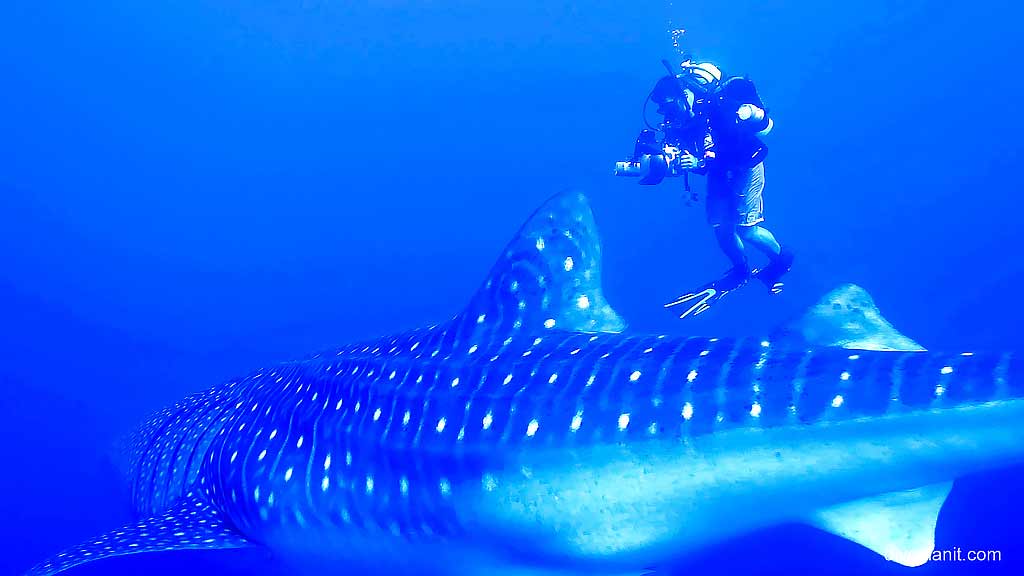 After 55 min Hama ensures that we've moved up to our safety stop level and also that there is something reasonably interesting at that level. From there we'll swim out to the blue just slightly so that the boat can pick us up. The drill is to completely de-kit in the water and hands up all the gear before climbing the small ladder at the back into the boat. Linney and Hammer take it in turns to do the morning and afternoon dives, which means there's always someone on the boat. It never anchors – which would have a significant impact on the coral – and should you forget something, or need to conclude your dive earlier than your fellows, it's always there to come and pick you up.
Linney bakes something fresh every morning: apple turnovers, date and walnut cake, or muffins. So between dives, there's fresh bakery coming around and there's a choice of hot drinks, tea, coffee, Milo or a softy. There are also biscuits and lollies if you're not into the home baking. In the surface interval, we cruise around very slowly with Hama perched as high as he can get looking for shadows or splashes which indicate a company in the water. Usually, there will be something to entice us back into the water, be that dolphins, or a passing school of sharks or a manta. If not Hama will kick us off the boat anyway so he can change the tanks without falling over people. Having said that the boat is licensed for 11 people and he only has six divers on the boat plus himself and Linney at any given time. This means it is pretty spacious and plenty of out-of-the-way spaces behind the skipper for the safe storage of camera gear etc. With a single 200 hp engine, it is a particularly smooth and fast ride out to any reef or dive site.
After a sensible service interval, we're back in for the second dive. Same drill: a briefing on the whiteboard followed by a quick up-gear, as it's already assembled in front of you. A backward roll and you're away. On a morning double-dive, you'll be back to the jetty by 12 noon and you leave all the gear on the boat knowing that it will be ready and set up for you the following morning. If you ordered your dives with lunch included for the extra $10, it will be handed to you at this point and you can eat it at one of the many beachfront tables nearby: it will be delicious Japanese meal of noodle, meat and those little extra bits that make it somehow Japanese – light and refreshing. There are also showers and toilets available at the end of the jetty to wash down yourself and any gear you may have chosen to take with you. If you're there at the right time you can even grab a coffee at the little coffee wagon in the car park. Then you have the rest of the day to fit in a walk or visit one of the other beaches or something more adventurous like the Daniel Rue caves or the Grotto.
Pricing / availability enquiry