Overview
The Phinisi Liveaboard has three itineraries offering the very best diving in Thailand and Myanmar: in the south: the islands of Koh Haa, Hin Daeng and Hin Muang; in the north: the Similan Islands and Surin Islands (and the infamous Richelieu Rock); and in Myanmar: the Mergui Archipelago.
The Phinisi is a 34 metre custom built diving liveaboard yacht of traditional Indonesian gaft rigged Phinisi style with 7 sails. She hosts 18 guests in 7 en-suited cabins. The main deck features a large indoor salon with comfortable sofas and personal storage. There is an outside dining area with bench seating to the rear complete with full refreshment making facilities. Forward of the Salon is the dive deck, outdoor shaded relaxation area and camera charging station. Upstairs is the large half covered sun deck with cushioned loungers for après dive cocktails.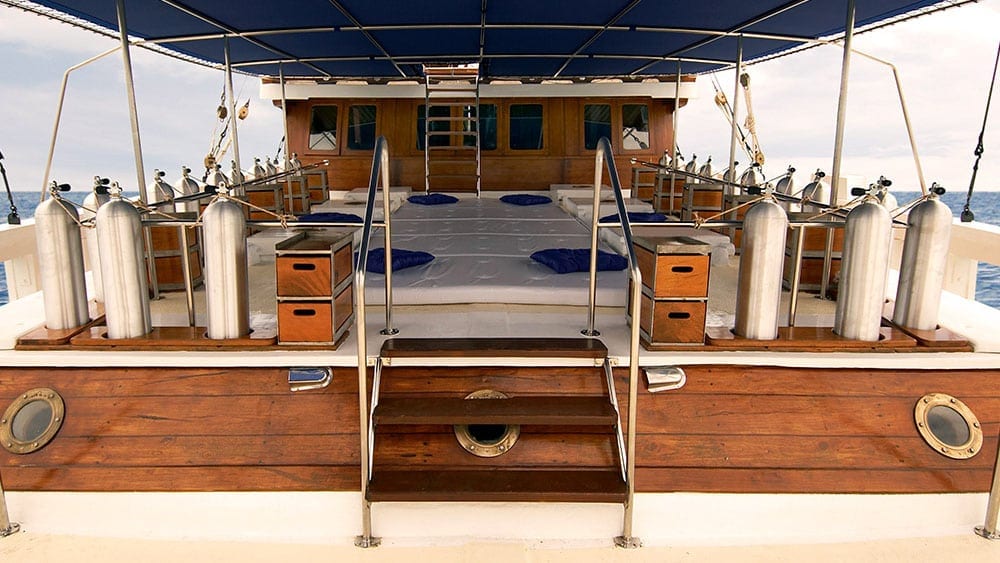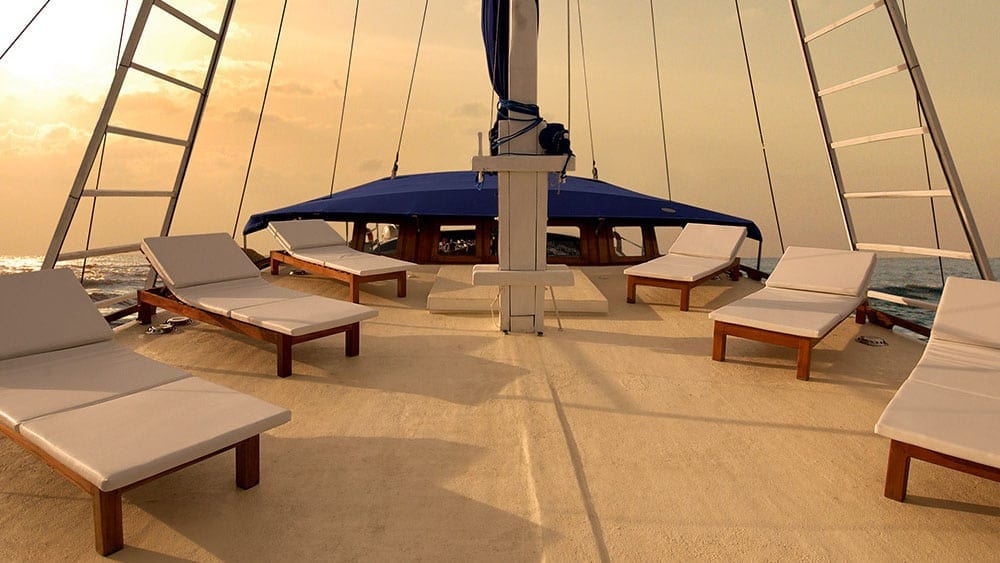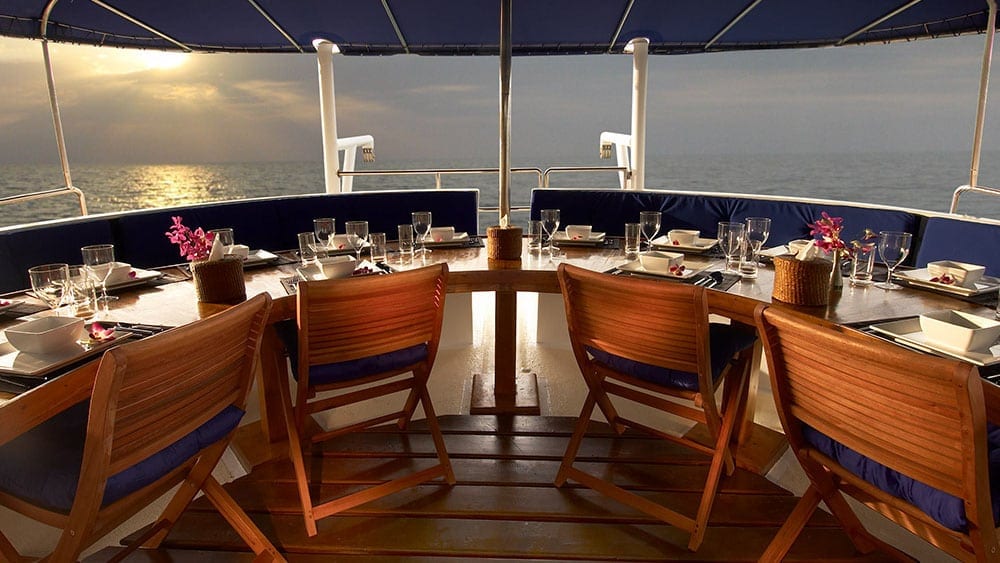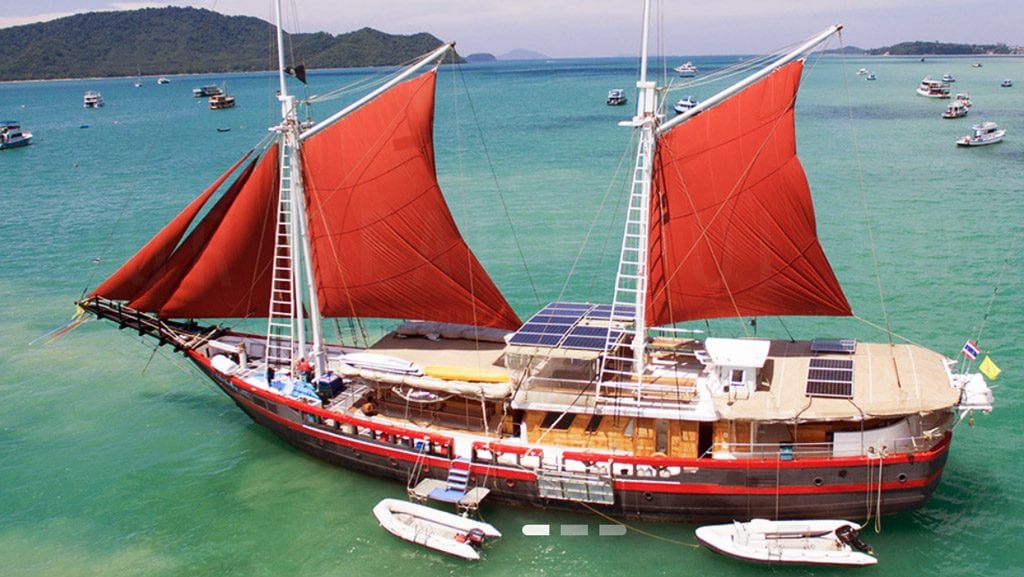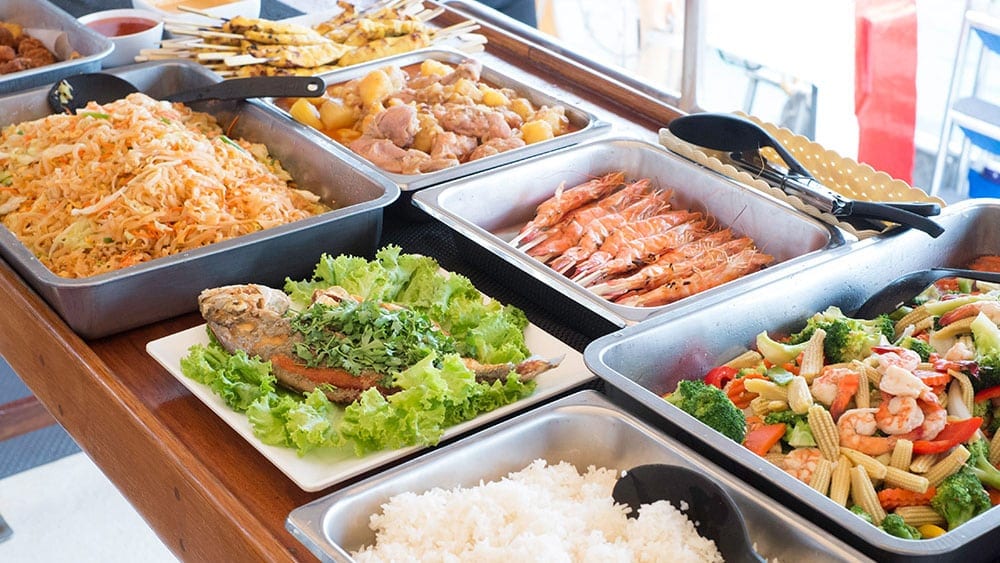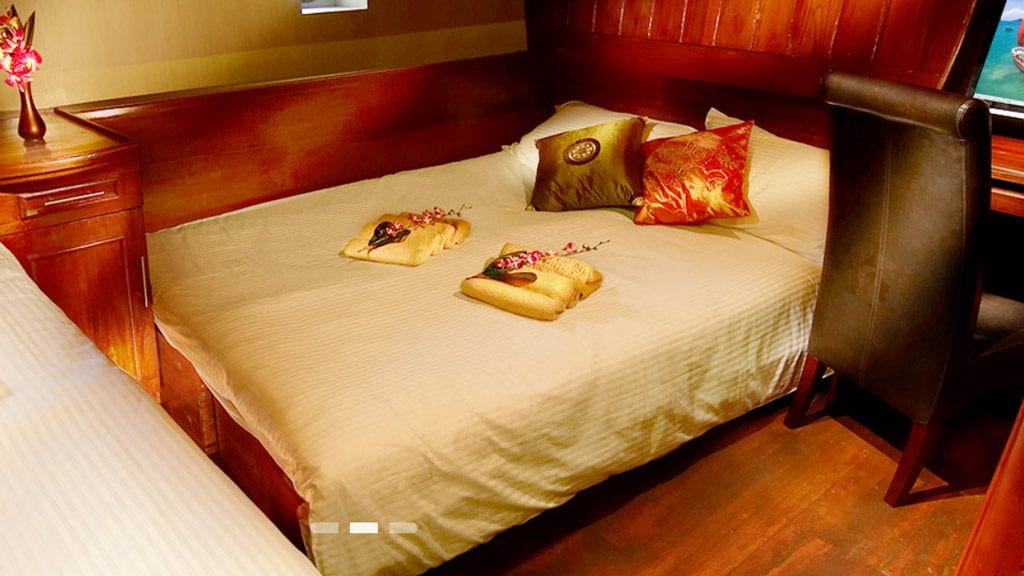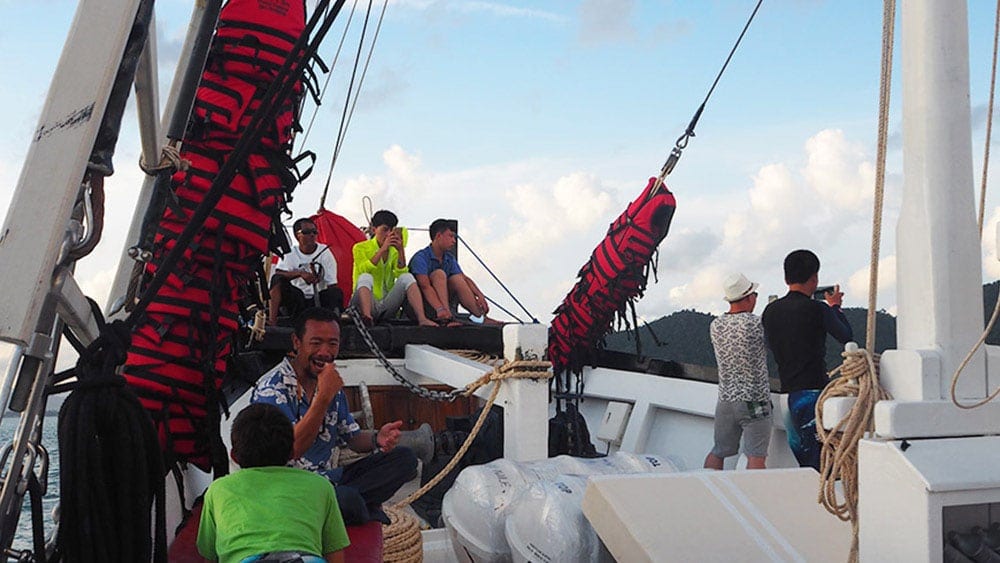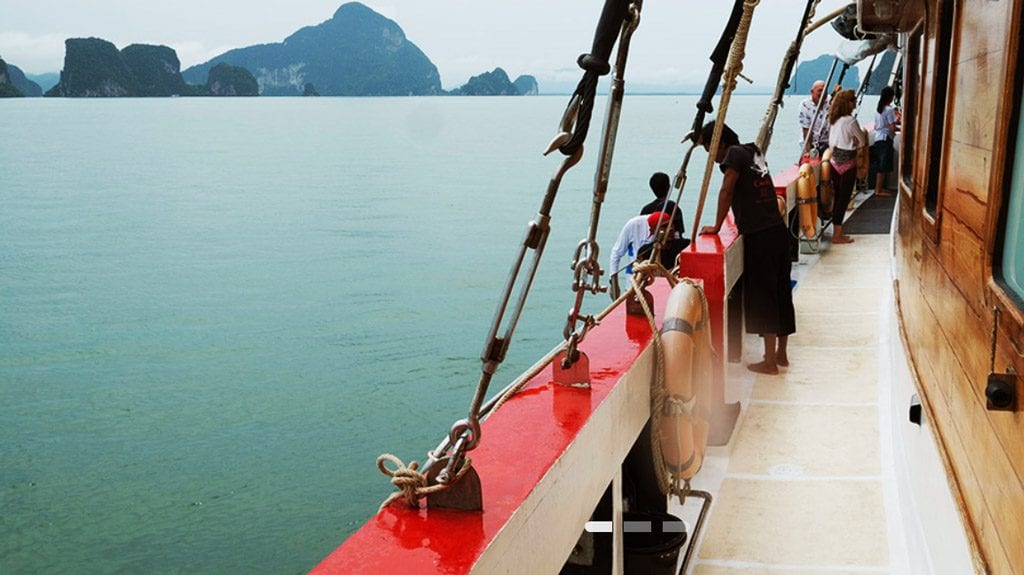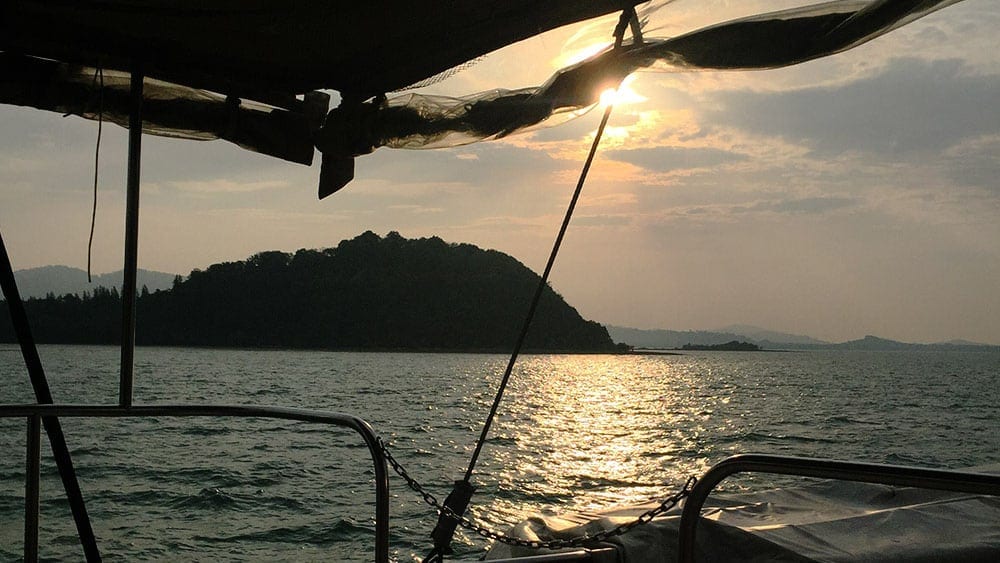 Accommodation
The Phinisi liveaboard has seven cabins with three cabin types:
5 x private double / twin bed cabins
2 x quad share cabins
So though The Phinisi Liveaboard can accommodate up to 18 divers, as most divers prefer the privacy of a twin or double cabin, many trips have just 12 divers on board.
All cabins are located on the lower deck, are fully air-conditioned and have their own hot water shower and toilet en suite. Towels and individual reading lamps are provided in the cabins. Electricity is 220V with 2 round pin sockets (European style).
Facilities
The beautifully renovated Phinisi liveaboard mixes together the old and the new and as a result has a lot of character. There are 2 recreational areas: a large air-conditioned saloon and a lot of on-deck chillin' space on the main deck.
The food on The Phinisi Liveaboard deserves a special mention. Many of its diving guests claim it's the best food they ever had on a diving liveaboard! There is no fixed menu. Continental breakfast is served in the mornings. Lunch and dinner is a choice of international and Asian cuisine served buffet style in the indoor dining area. (They can also cater to special dietary requirements ig advised in advance). A range of carbonated soft drinks, fruit juices, black, green and herbal teas are available, as well as some 'naughty' treats should you feel hungry between meal times. Guests may also select beer, wine or spirits from our cocktail bar for an additional fee.
See the Pricing and Availability section below, itineraries, pricing and availability.
Location
All Southern trips embark & disembark Chalong Pier, Phuket.
All Northern Trips alternate between Chalong Pier, Phuket and Tap Lamu Pier, Khao Lak.
Note that these parks are closed between May and November by the Thai government as the seas get too rough for boats the size of dive liveaboards.
What to expect
Dive Service
Your cruise director will schedule up to 4 dives per day, 3 day dives and either a sunset or a night dive. (On the 6 night Northern Itinerary cruise, there is no diving on embarkation and disembarkation days, as the boat is underway from the mainland to the marine parks, or vice versa).
The Thai dive guides are the most experienced in the region and through extensive briefings and debriefings give you insights in the local marine life.
Zodiacs (small inflatable boats) are used to drop divers into the water at the exact right spot and then to pick them up – wherever they surface – to bring them back to The Phinisi. It makes the diving safe and convenient. The crew will also carry equipment and help divers kit up in the zodiac.
Dive gear rental is available for hire; Nitrox is available for a fee, and some 15L tanks are available for hire, though advanced notice must be given.
Dive Areas
Phinisi will offer a variety of itineraries of 4 and 6 night trips (which can be taken as a 10 day back-to-bac) around the South of Thailand, The Similans and Myanmar.
Southern Thailand – from November to May – 4 nights
The Phi Phi National Marine Park and the southern islands of Koh Haa, Hin Daeng and Hin Muang offer pinnacles, incredible limestone walls full of healthy soft corals and gorgonians full of macro life. There is a good chance of seeing schools of barracudas and snappers, as well as, mantas, leopard sharks, black tip sharks.
Similan & Surin Islands – from November to May – 6 nights
The Marine National Parks of the Similan Islands and the Surin Islands offer over 200 species of hard corals spread amongst walls, coral gardens and pinnacles, where turtles, giant trevallies, schools of jacks, barracudas, and many kinds of tropical fish, patrol. All this as well as one of the best dive sites in the world, Richelieu Rock – one of the few dive sites in the world so special it has its own website!
Best of Thailand – From November to May – 10 nights
Join the two Thailand itineraries above back-to-back and you have The Best of Thailand all in a fantastic single 10 night itinerary.
Myanmar – From February 2019 – 7 & 10 nights
Still relatively undiscovered and under-explored, Myanmar's Mergui Archipelago offers marine life for all kinds of underwater fauna lovers! From mantas, dogtooth tunas, and barracudas to frogfish, cuttlefish, and seahorses. Macro lovers can expect to see all kinds of crabs, shrimps and experience some rare macro interactions. Many different kinds of sharks also populate the area. Its reefs are some of the most impressive, not just because of the beauty of the corals, gorgonians and table corals but also because of their size.
We think…
The Phinisi Liveaboard is offering some of the freshest, newest diving available in the Andaman Sea, and presents a unique opportunity to discover some underexplored new areas.
Pricing and Availability
The Phinisi Extras Payable Locally
AUD
USD
Marine Park & Port fees (4 nights)
50
USD
|
50
Marine Park & Port fees (6 nights)
65
USD
|
65
Marine Park & Port fees (10 nights)
115
USD
|
115
Government Charges for Myanmar 7 Nights
280
USD
|
280
Government Charges for Myanmar 10 Nights
350
USD
|
350
Full set of dive gear rental (per day)
33
USD
|
33
Dive computer rental (per day)
8
USD
|
8
UW torch rental (per day)
4
USD
|
4
Nitrox (per day)
25
USD
|
25
This liveaboard's prices are in USD. The AUD prices shown are based on the current exchange rate. The price paid in AUD will be based on the actual exchange rate at the time any payments are made.
Pricing / availability enquiry