Site Overview
Site Type:
Macro (Nudi's); Mega fauna; Wreck; Reef – Drift; Reef – Scenic; Photographic; Other; etc
Depth:

Top: 5M

Median: 16M

Bottom: 26M

Location:
Surin Marine National Park is situated north of Similan and only 7 kilometres from the Myanmar border
Description
A horseshoe or crescent of steep sided boulders, with the highest point at the apex, which almost breaks the surface, and then the height diminishing down to the points. It forms an enclosed 'bay' teeming with fish. The steep sides of the boulders form vertical walls, and still there are plenty of swim throughs and gaps, within which you can find the small stuff. It's one of those dive sites that appears to have been specifically 'designed' – rather than just a random act of nature. No wonder it is considered Thailand's number One dive-site. Here's a short video to wet your appetite.
Swirling in the 'bay' are not just one, but two large schools of snapper.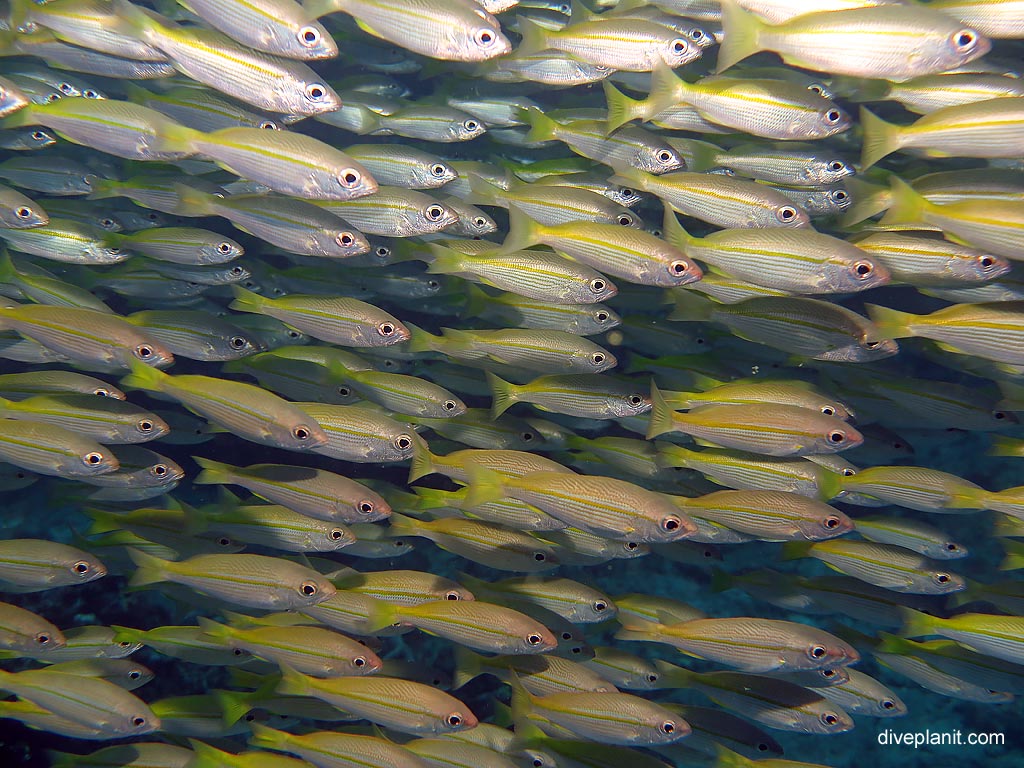 Spot the two different schools: big-eye and two-spot just before they merged into one indeterminate mass.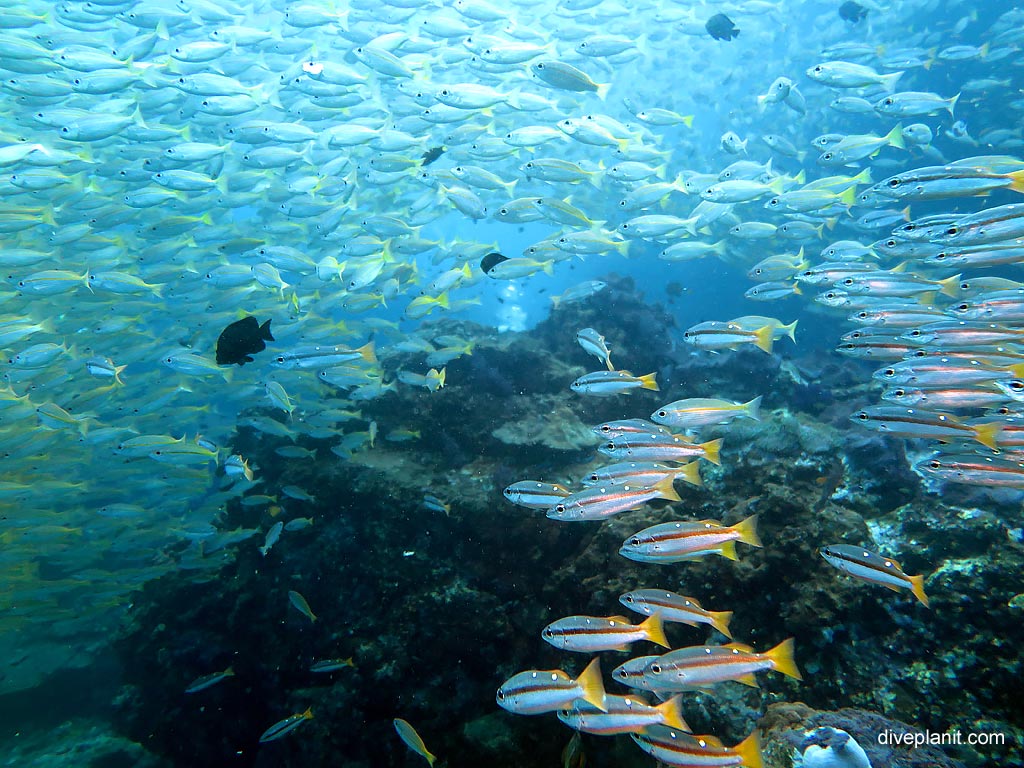 On the sea floor below, this juvenile yellow box fish, has tagged along with a pair of spotted puffers as if they're on a family outing.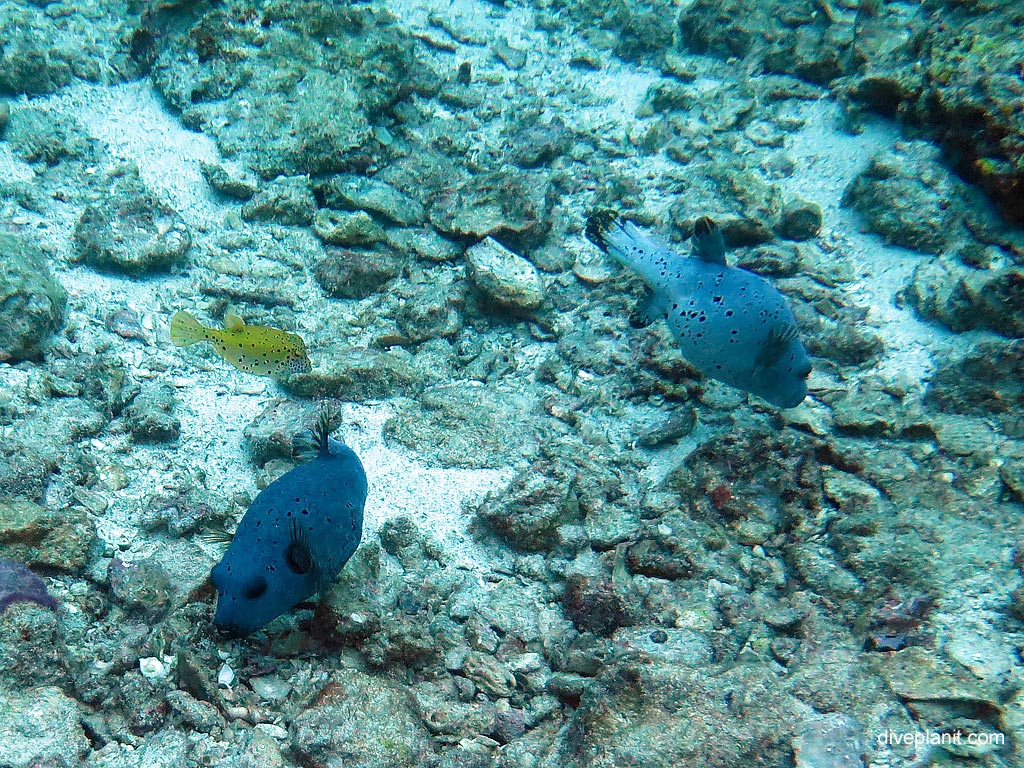 As there is plenty of current, there are plenty of Gorgonian seafans.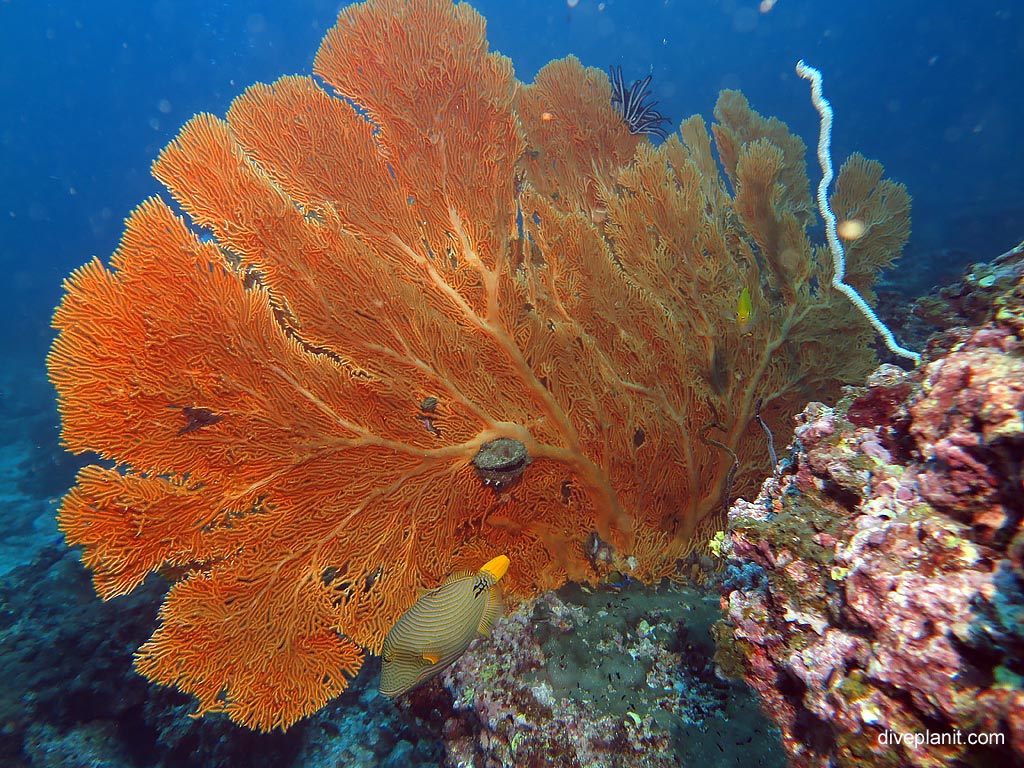 And right down at the bottom, waiting for night are the squirrel and soldierfish.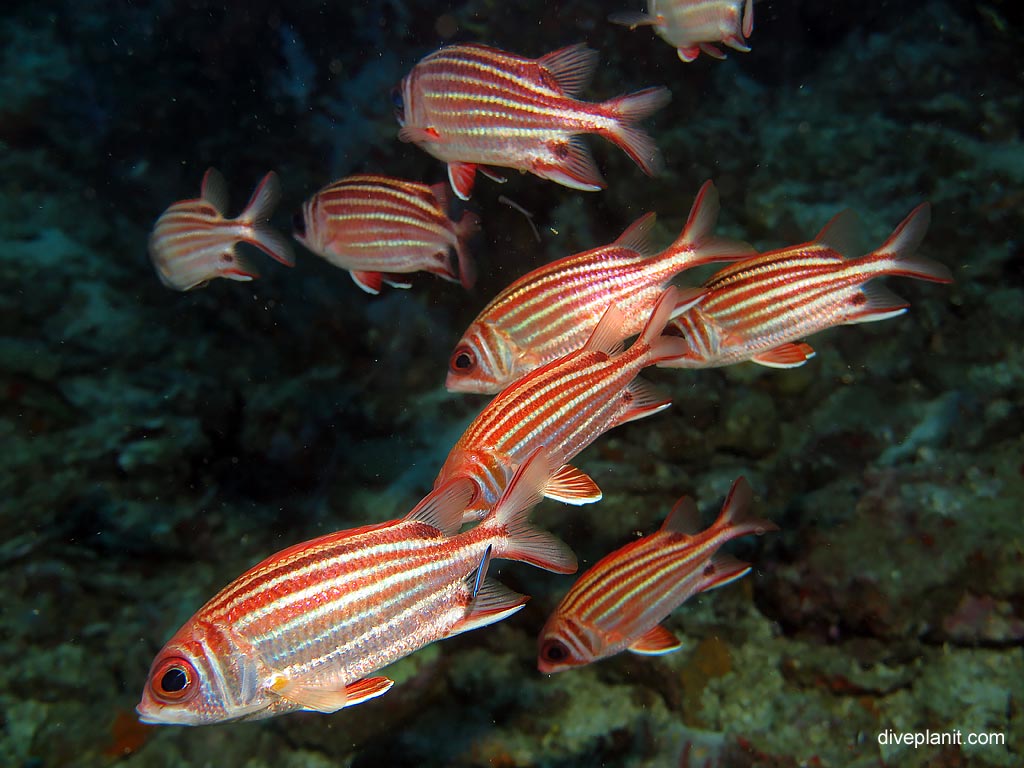 It's down at about 18-20m that you need to get into all the nooks and crannies to find the small stuff. And you will be rewarded with an ornate ghost fish,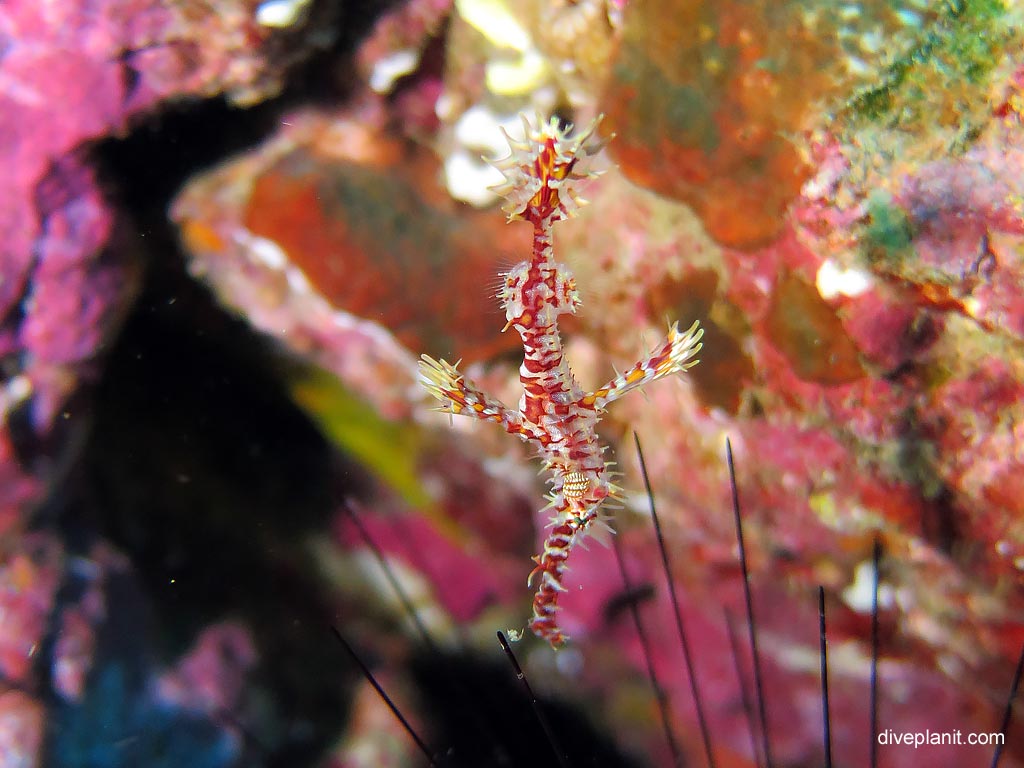 A trigger-tail seahorse,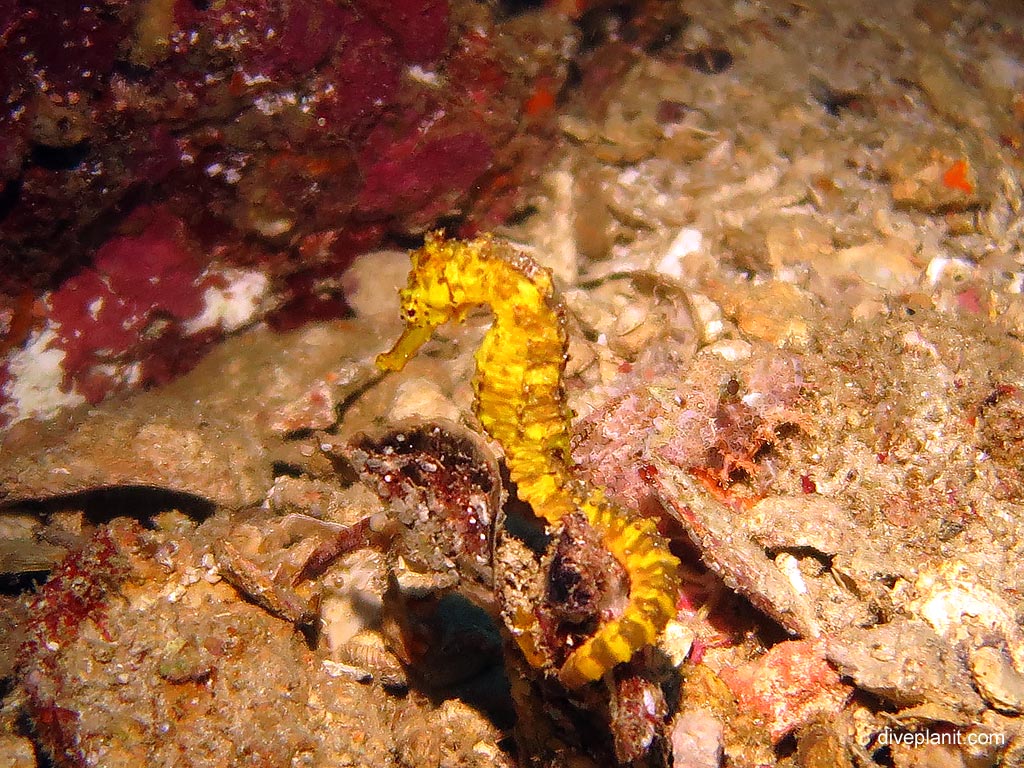 And a pipefish – even if mine was only the common red-banded pipefish.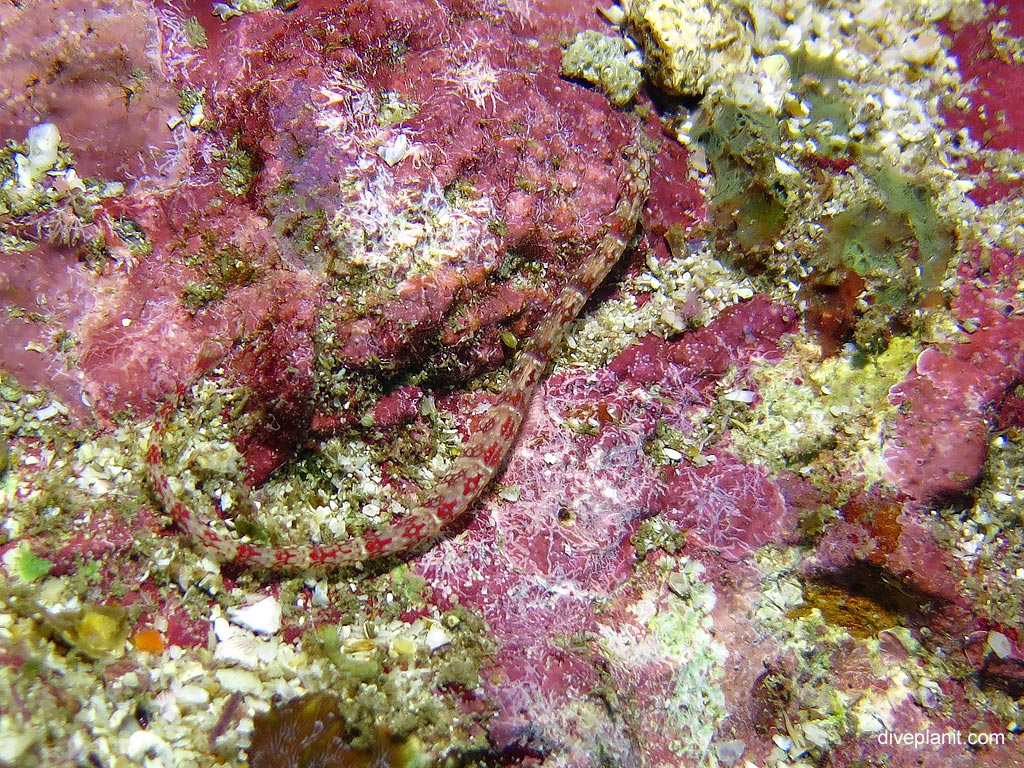 The tube anemones will be out of their tubes feeding in the stream, often with unnoticed visitors.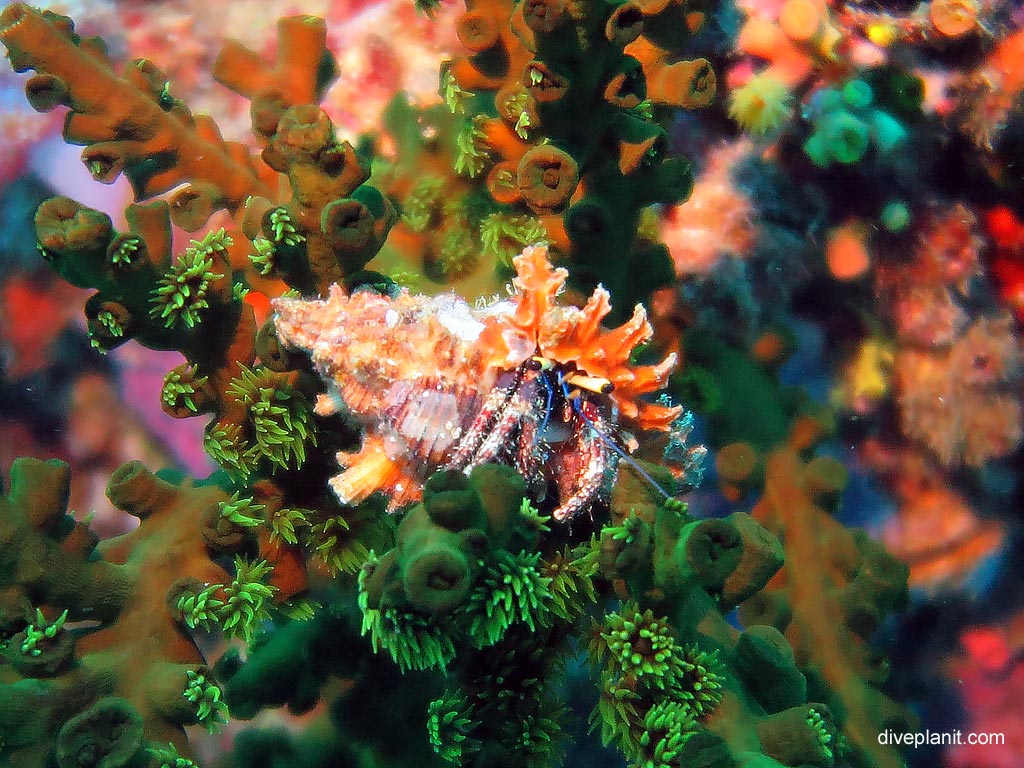 There is all sorts of other interesting stuff that you won't find at home, such as the globe urchin,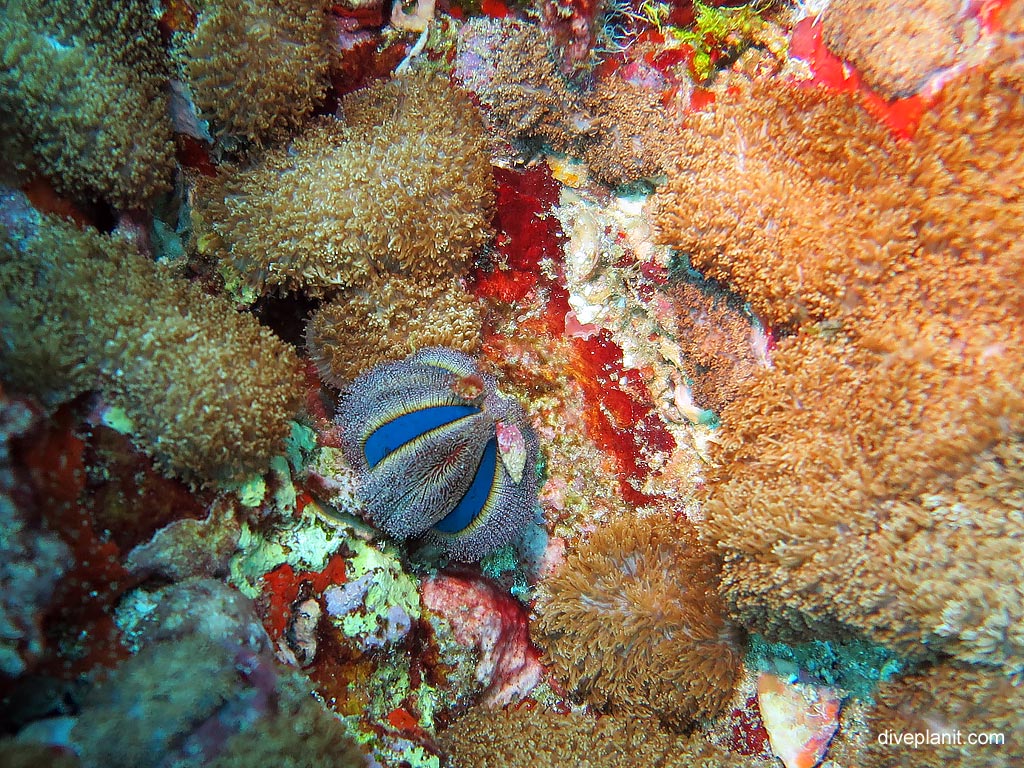 The geometric chromodoris, one of the many nudis hiding in plain sight,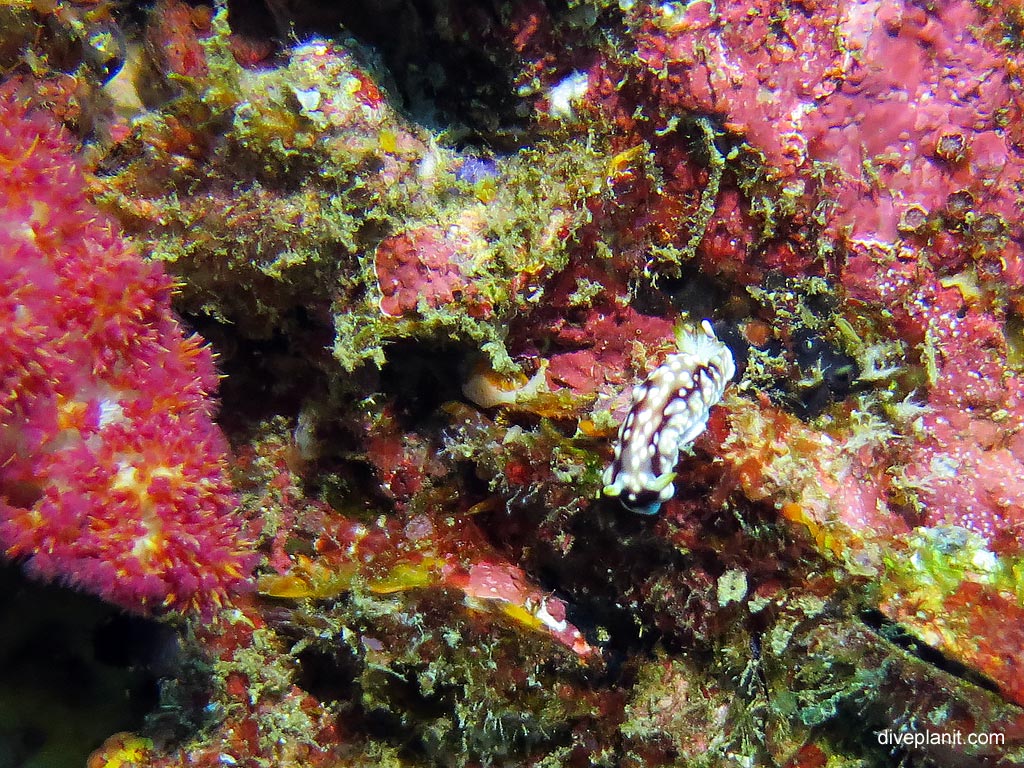 And a porcelain crab or two.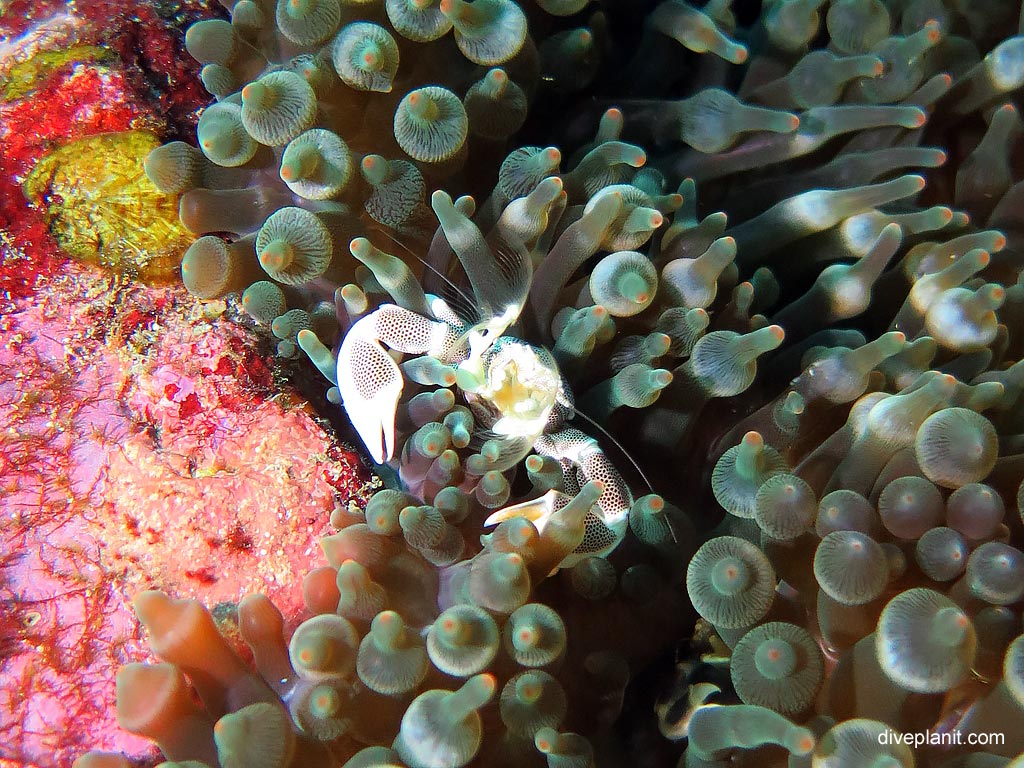 You will find critters that are common to many areas in the Andaman Sea, such as the bearded scorpionfish,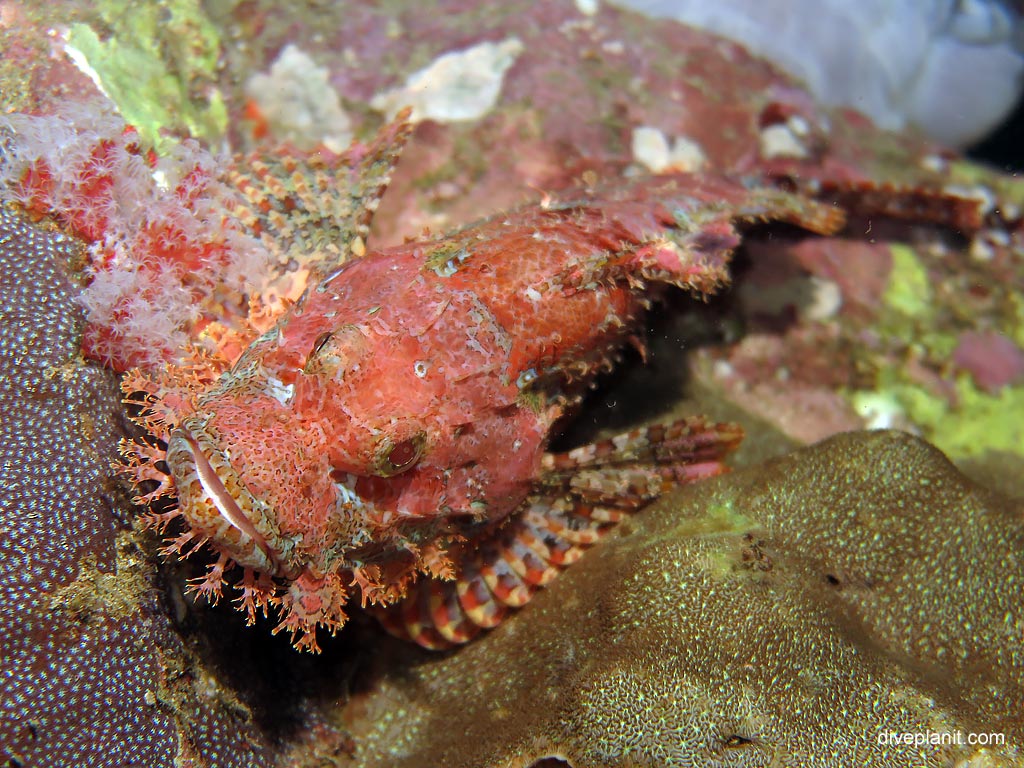 The very-terry-torial damselfish that rushes his 90g of body weight at a 90 kg diver in the insane belief this will scare it away.
This Skunk anemonefish has hidden his eggs under the anemone carpet; not so safe methinks.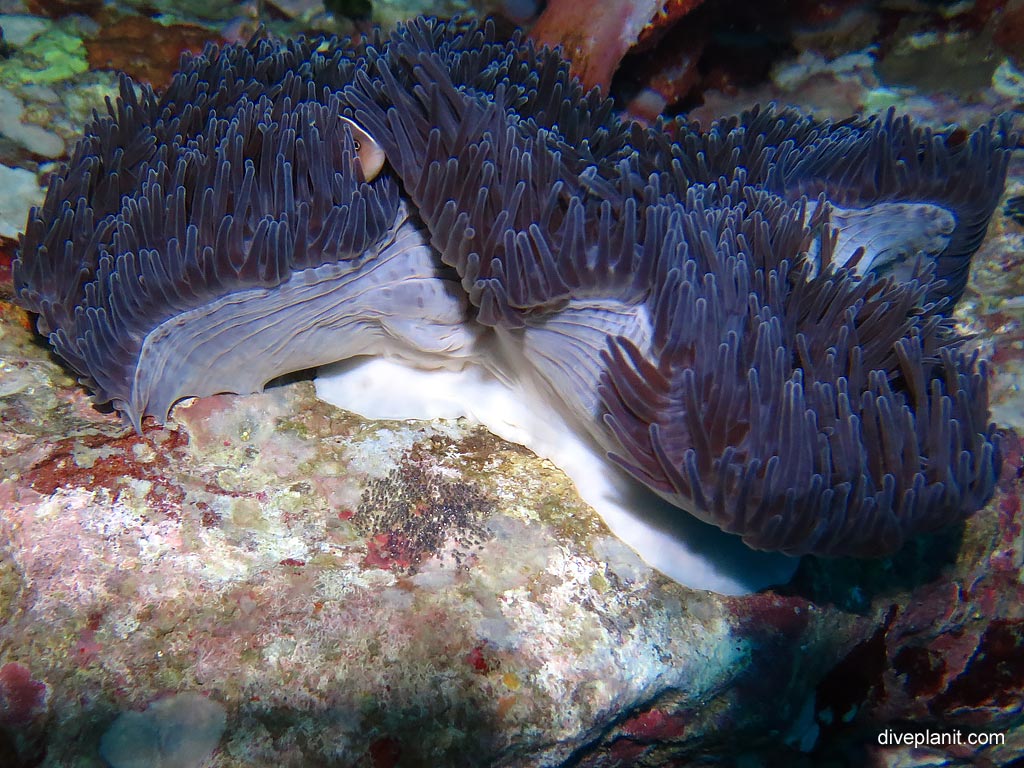 One of the less common anemonefish, a Red Saddleback in a regular sea anemone,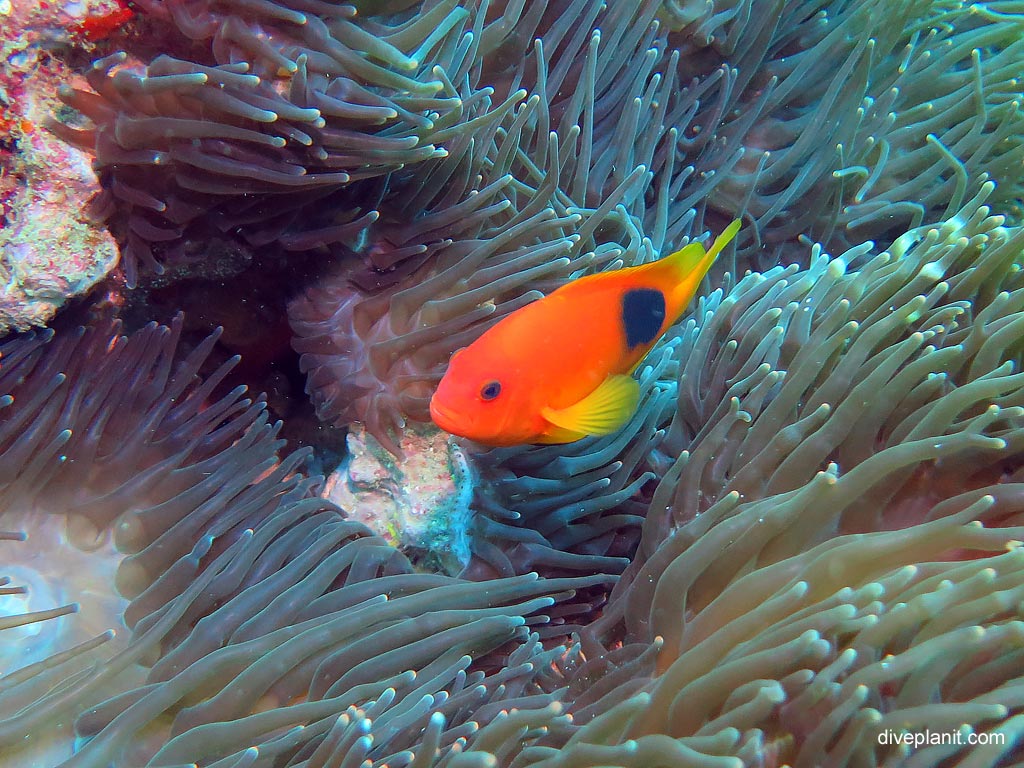 And what looks like a saddleback in bulb-tube anemone (where its more commonly found) – but this one does have white bar.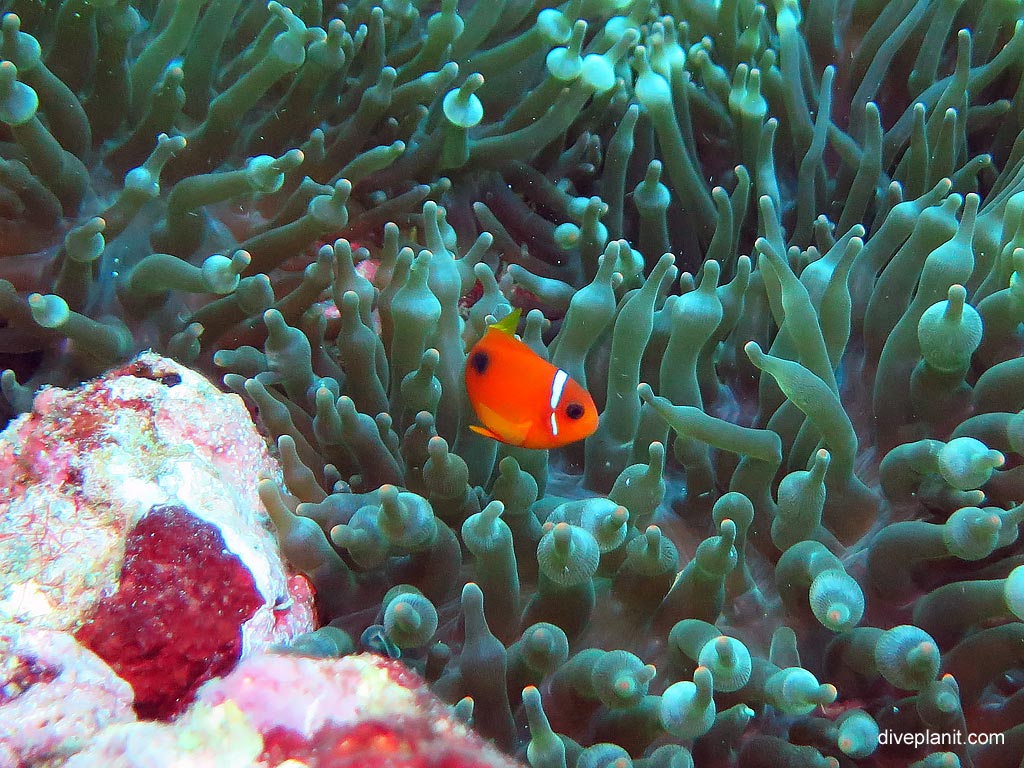 These photos were taken over three dives. Don't attempt to cover this site in one dive – you'll see nothing. We dived with Sea Bees Diving on the Marco Polo and their excellent dive guide Beam who was able to show us the best of three different areas over three dives.
Just before surfacing on the second dive, we were treated to an encounter with a cuttlefish, who was reasonably tolerant of the attention.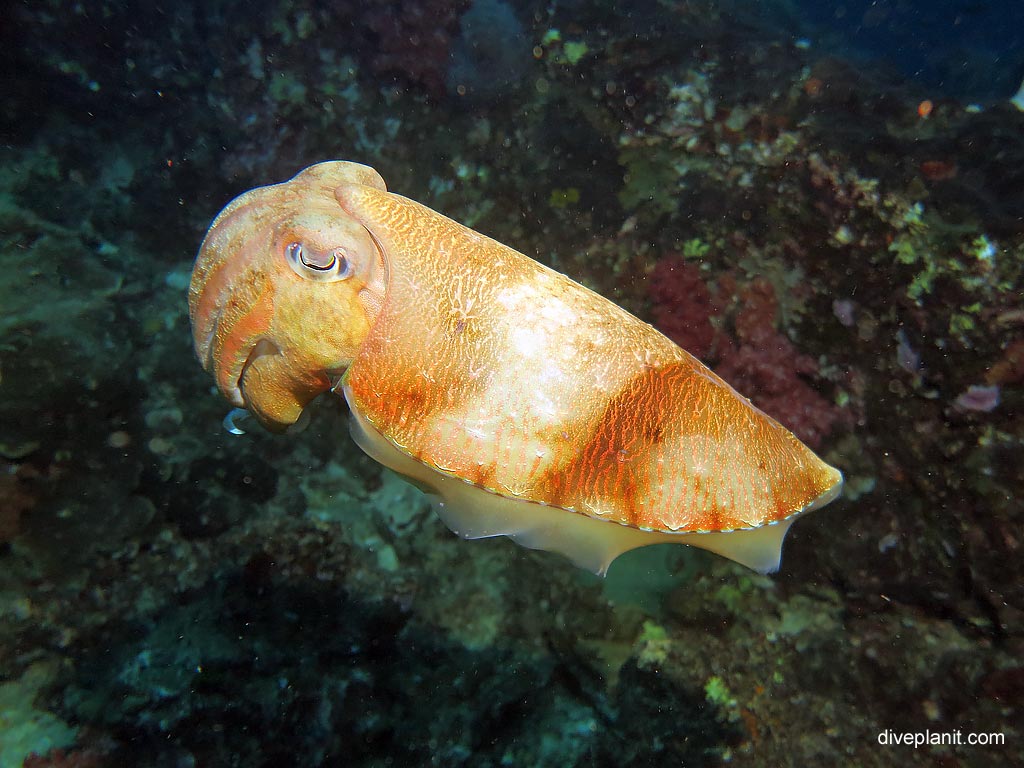 On the third and final dive of the day, we were visited by a colony of batfish, who I suspect, just wanted to see us safely to the surface, and out of their world.