Overview
The Dewi Nusantara is one of the largest liveaboards in Indonesia. Its master stateroom is currently the most spacious on any dive boat and evokes the romance of a bygone seafaring era while providing the space of a large hotel suite with the latest in modern design and amenities. The liveaboard, built in 2007, is a solidly constructed wooden three-masted schooner. At 57m (188ft) in length, she is truly a large yacht, providing plenty of space for a total of just 18 passengers.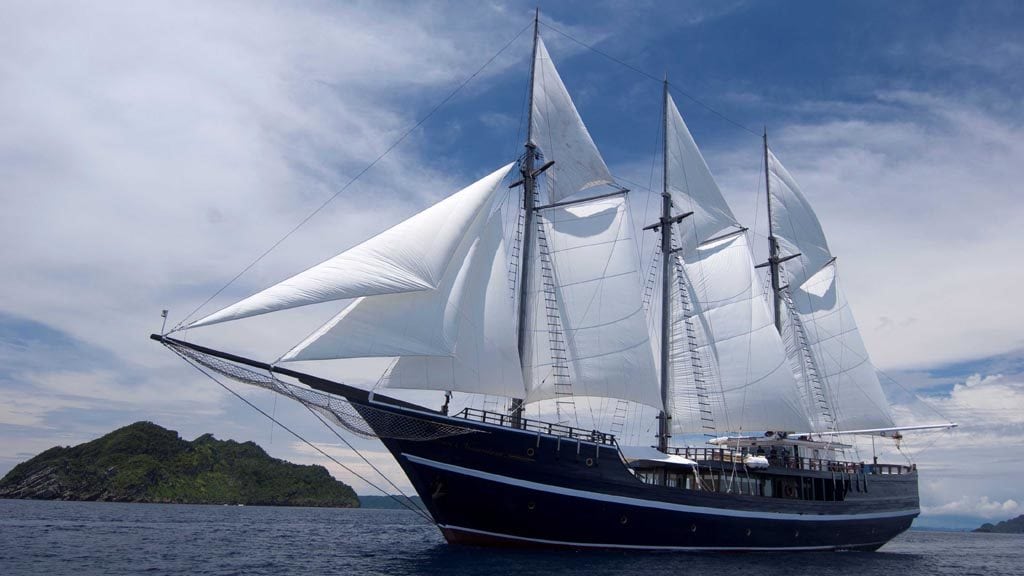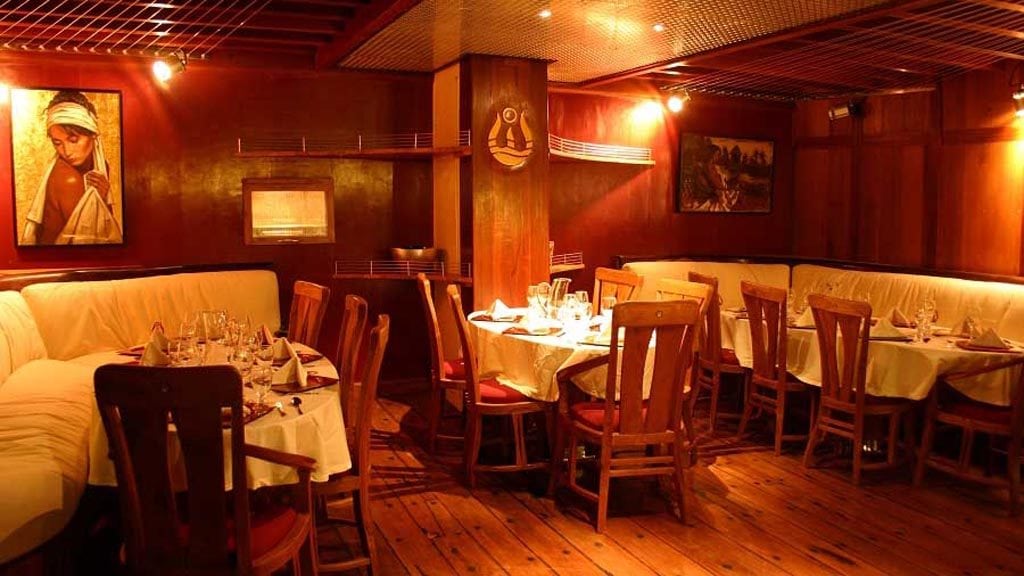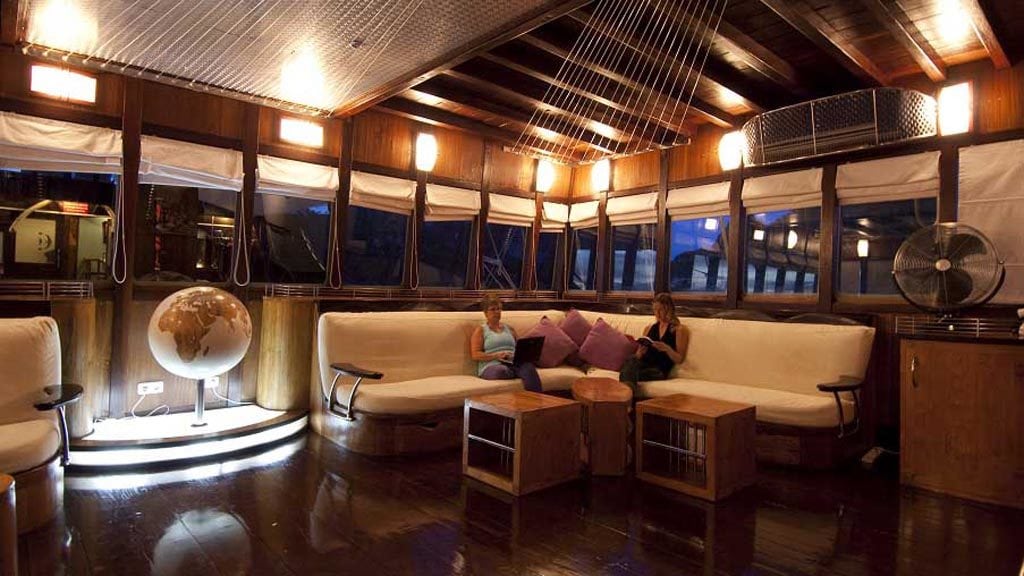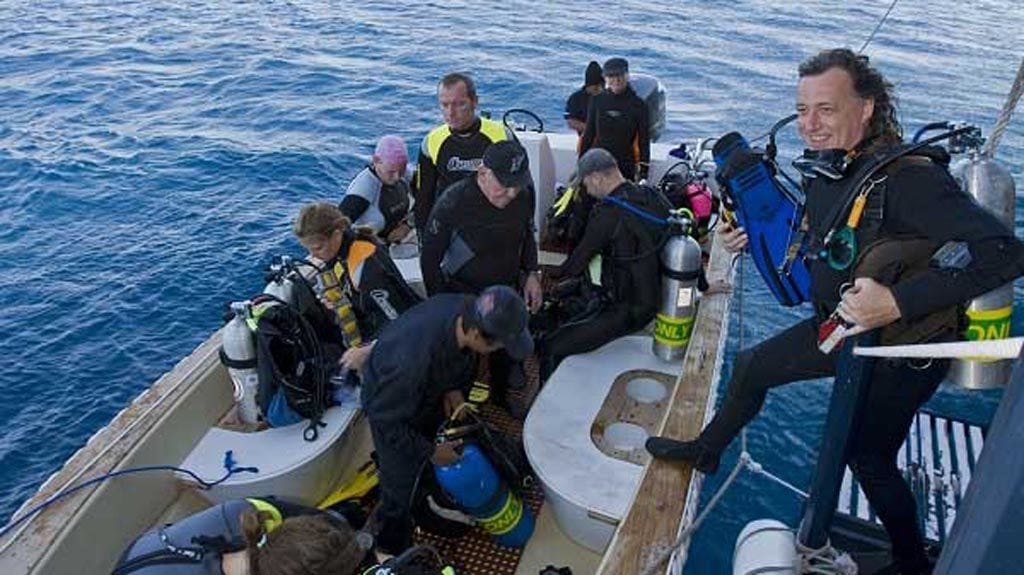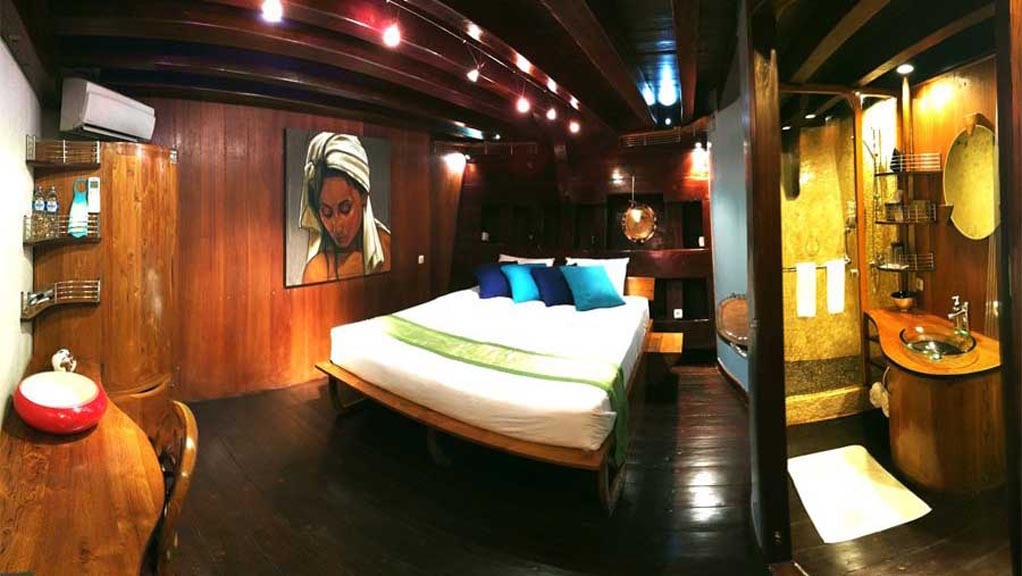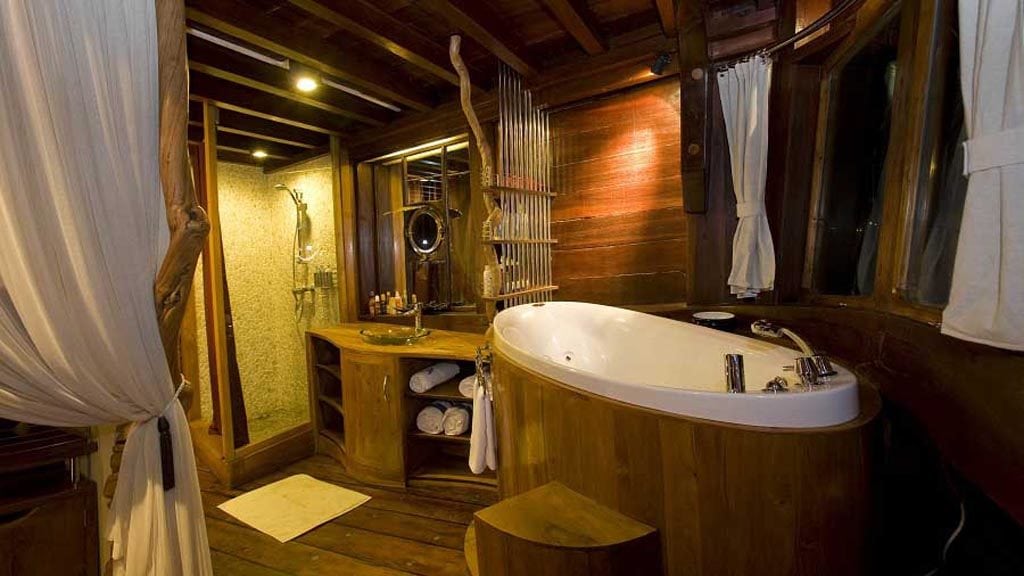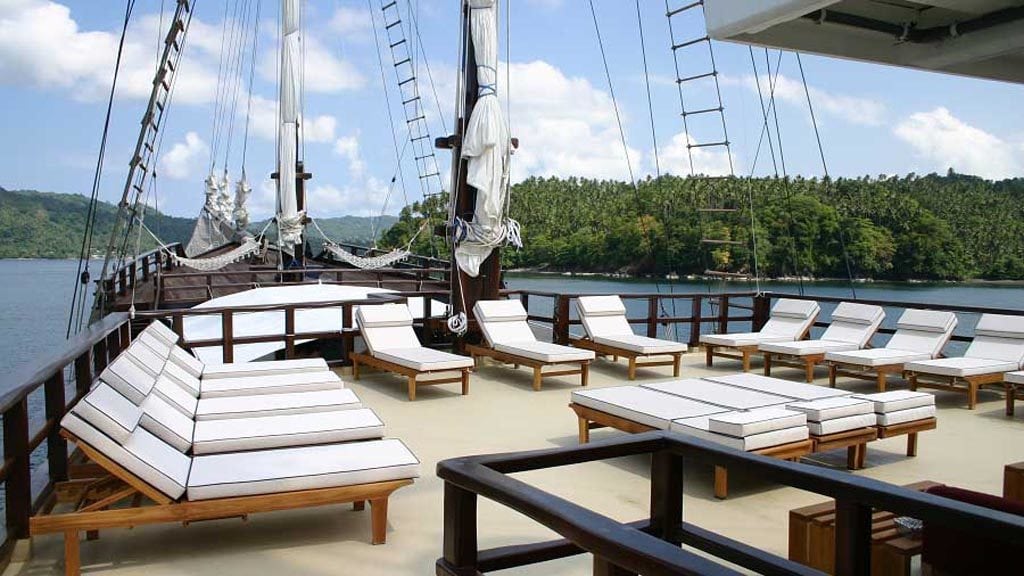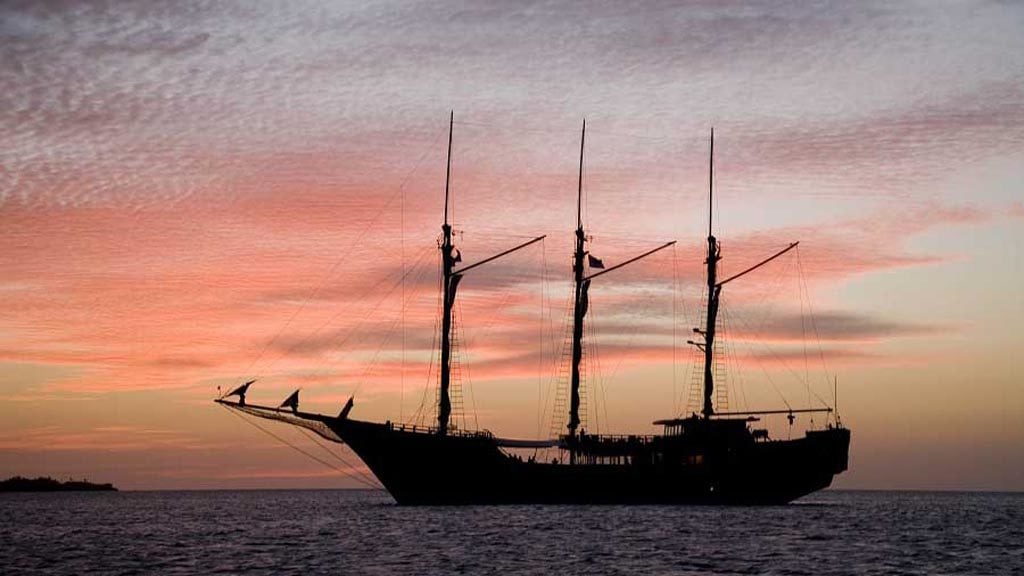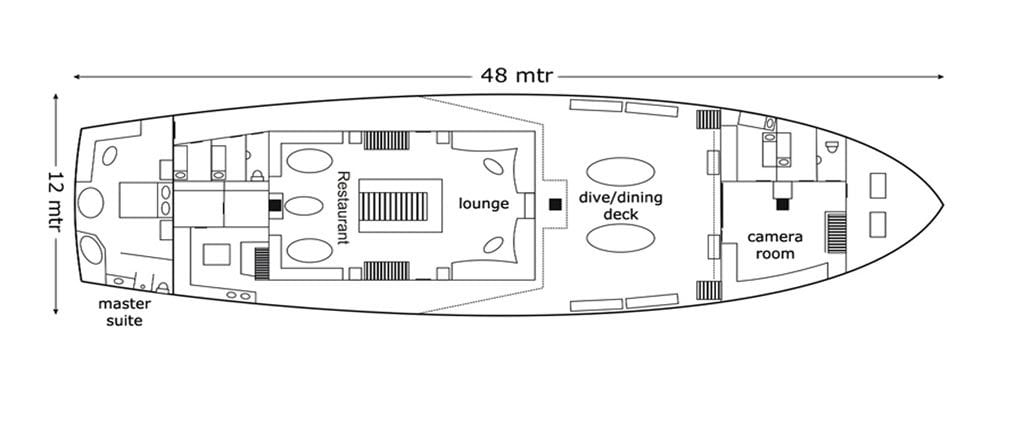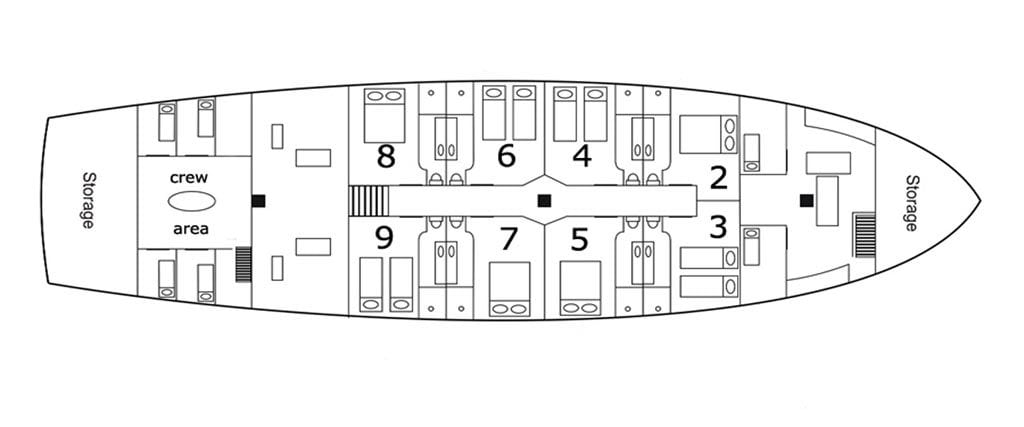 Dewi Nusantara – What's in the name?
Dewi Sri, or Shridevi is the Javanese, Sundanese, and Balinese pre-Hindu and pre-Islam era goddess of rice and fertility, still widely worshiped on the islands of Bali and Java.
Nusantara is an Indonesian word for the Indonesian archipelago. It is originated from Old Javanese and literally means "archipelago"
Dewi-Nusantara = Goddess of the archipelago! How fitting!
Features
Dewi Nusantara is equipped with a nice salon and restaurant. Dewi Nusantara is fully air-conditioned and it has a big sun and dive deck, which is excellent for relaxing after the dives.
Meals prepared by the onboard chef consist of an international mix of local flair. There is in-room morning coffee service, breakfast cooked to order, buffet lunch and an elegant meal at dinner with tableside service plus several snacks throughout the day. Non-alcoholic beverages, local beer (limited selection) and one glass of wine with dinner are complimentary while onboard. Non-alcoholic beverages include fruit juices, soft drinks, plenty of iced water, tea and coffee. Fresh milk may not be available, although UHT long life milk is provided onboard.
Accommodation
Onboard, there are 9 staterooms for 18 passengers. All of the staterooms are larger than traditional staterooms (at 180sqft each, more than 60% larger than an average liveaboard cabin) and each cabin has private en suite facilities and air-conditioning. The 470 sqft Master cabin at the stern of the main deck features a king size bed, separate sitting area with a sofa, and table with chairs that remind guests of the captain quarters from the schooner design that inspired her.
Facilities
| | | | | |
| --- | --- | --- | --- | --- |
| Training School Type: | none | | Nitrox Fill: | |
| Air Fill | | | Number of Guides | 0 |
| Gear Hire | | | Number of Boats | |
| Gear Sales | | | Number of Dive Sites | |
| Gear Servicing | | | Accommodation | |
Location
Dewi Nusantara visits several regions within Indonesia, amongst those are Raja Ampat, the Forgotten Islands and Banda Sea.
What to expect
Almost all diving on Dewi Nusantara is done from the two tenders. The twin tenders are specially designed to take local conditions into consideration – each 25ft/8m long and powered by a 200 HP 4 stroke engines. They have electric starters and are driven from the front leaving most of the interior free for divers to suit up comfortably and set up their cameras. Each craft has its own oxygen unit, VHF radio, shot & stern lines, and electric bilge pumps etc.
There are always 2 to 3 dive masters per tender as well as a driver and an assistant. On dive days, up to four dives are offered. Dives are usually accompanied by a dive instructor after a detailed briefing.
Dive Area
The Dewi Nusantara has several interesting itineraries exploring the more remote regions of West Papua including Triton Bay, Misool and Cenderawasih Bay. The area is rich in biodiversity, from macro wonders to whale sharks and pilot whales. The reefs in this region are just as varied as the marine life. There are vertical walls, reef flats, slopes, seamounts, mucky mangroves, lagoons and pinnacles. The reefs are in pristine condition with miles of perfect hard corals and many varied colourful species of soft corals.
The diving is predominantly drift diving due to the moderate prevalent currents in the area which provide nutrients for the myriad fish and coral. Currents average at 'moderate' but can vary from none to 'very strong'. Many of Dewi Nusantara's guests are avid photographers who like nothing more than hunting out weird and wonderful critters on the reef and sand.
We think…
Liveaboard diving does not get any more comfortable than the Dewi Nusantara.
Trip dates & Availability



Dewi Nusantara - Inclusions, Exclusions and Extras
Included
Accommodation as specified, all meals, snacks, beverages (excl. wine and spirits), return airport transfers on charter days, up to 4 dives per full dive day, air fills, tanks, weights, experienced dive guides
Surcharge for single cabin 65%
Excluded
AUD
USD
Port & National Park Fees for Komodo/Alor/Wakatobi (from)
195
USD
|
195
Port & National Park Fees for Raja Ampat
255
USD
|
255
Optional Extras
Full set of dive gear rental excl. computer (11 nights)
300
USD
|
300
Nitrox fills (11 nights)
200
USD
|
200
Important Information
This liveaboard's prices are in USD. The AUD prices shown are based on the current exchange rate. The price paid in AUD will be based on the actual exchange rate at the time any payments are made.
Long distance fees depending on destination
Special payment and cancellation terms apply for this operator.
Note: Celebrity hosted cruises may attract a surcharge
Pricing / availability enquiry