Overview
Calico Jack is a traditionally built Indonesian sailing liveaboard, newly built from the finest tropical hardwoods to the highest of standards by the craftsmen of Konjo master boat builders of Sulawesi. Blending the best of the traditional with all the modern amenities and safety features one would expect and deserve. The Calico Jack liveaboard is 33m (108ft) long and 7m (20ft) wide.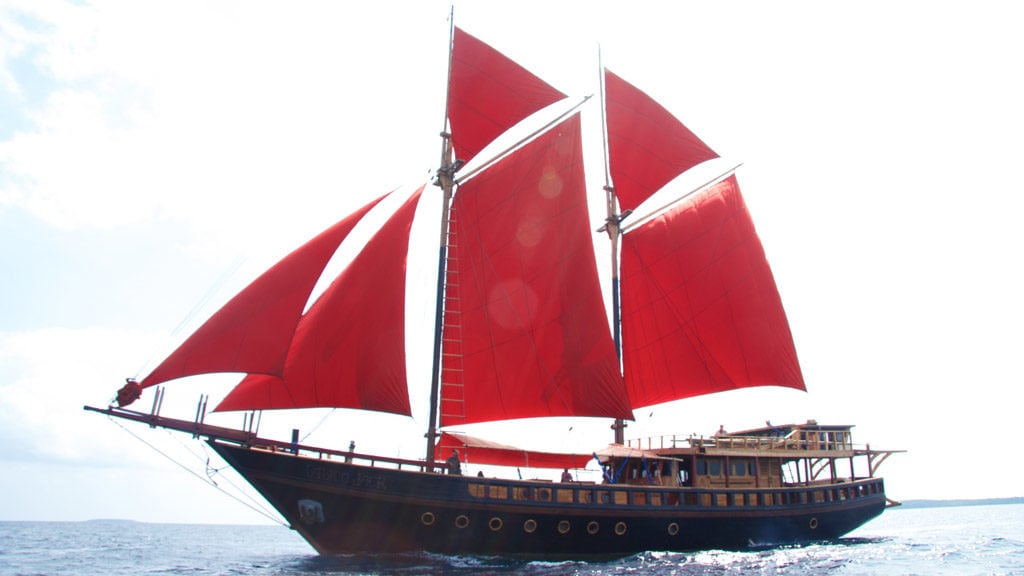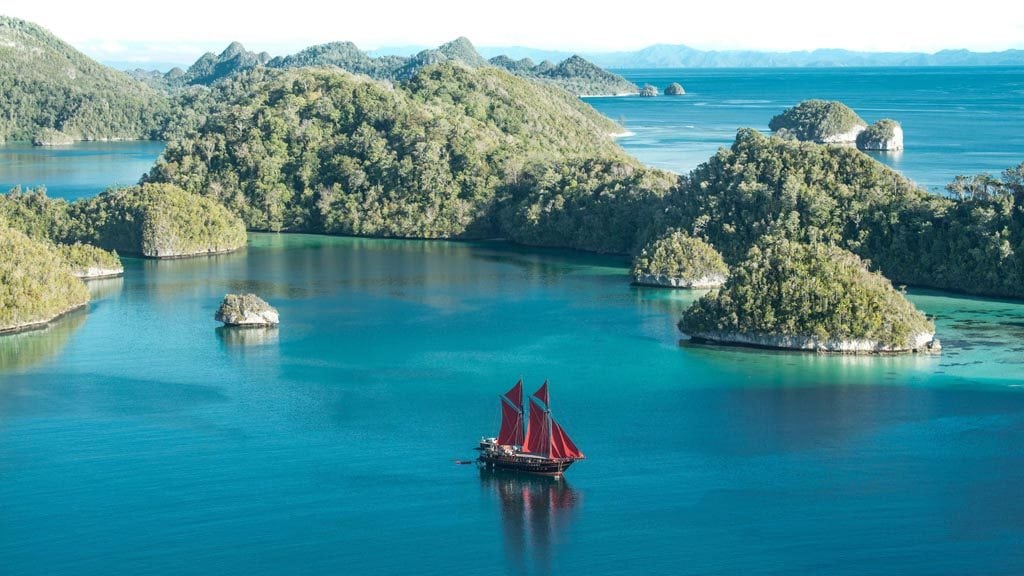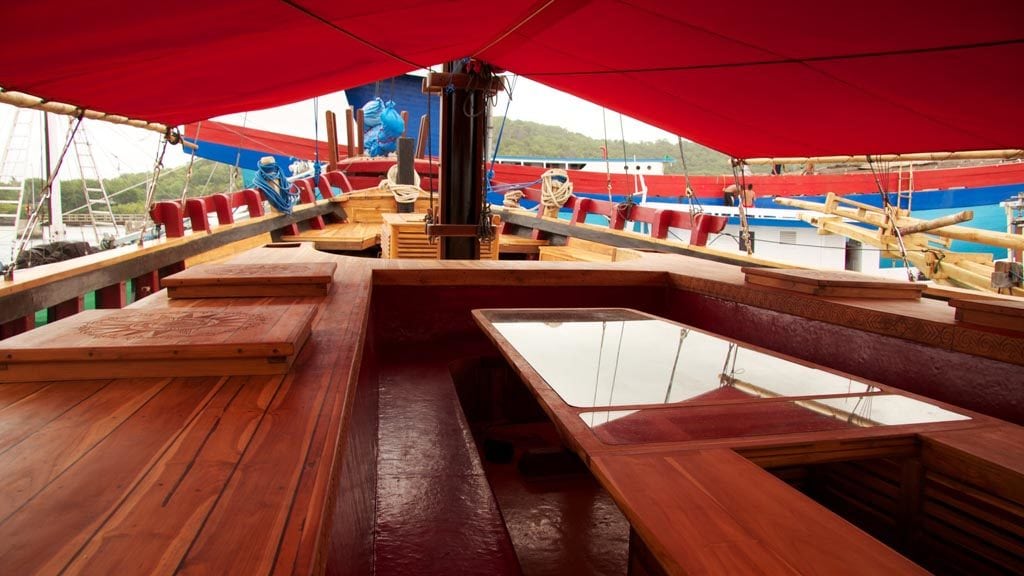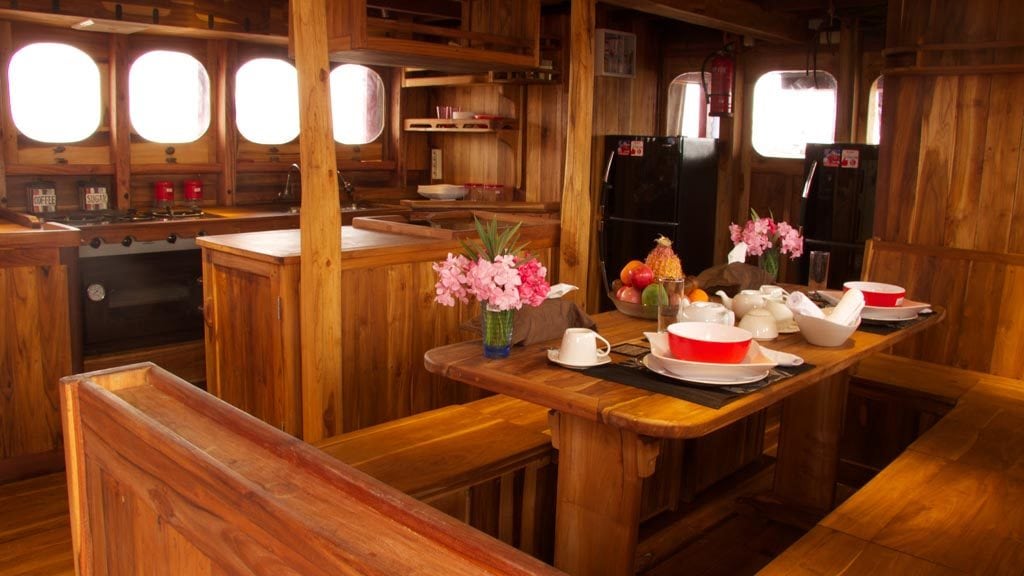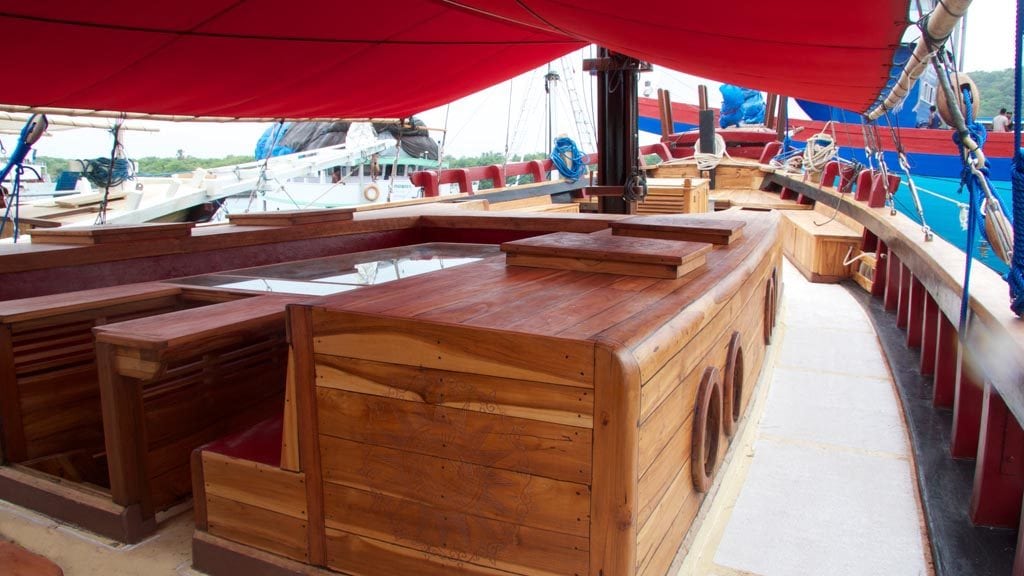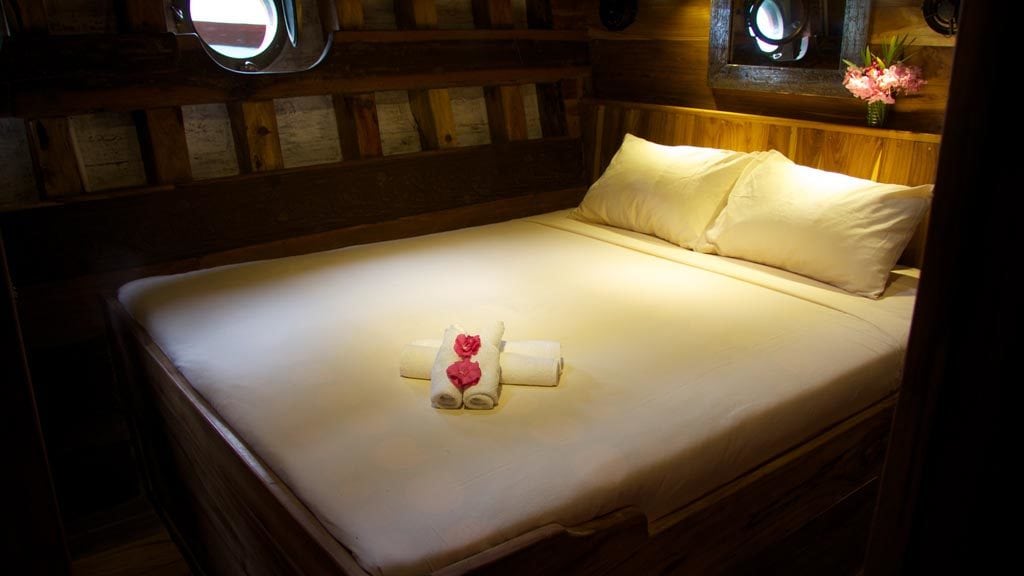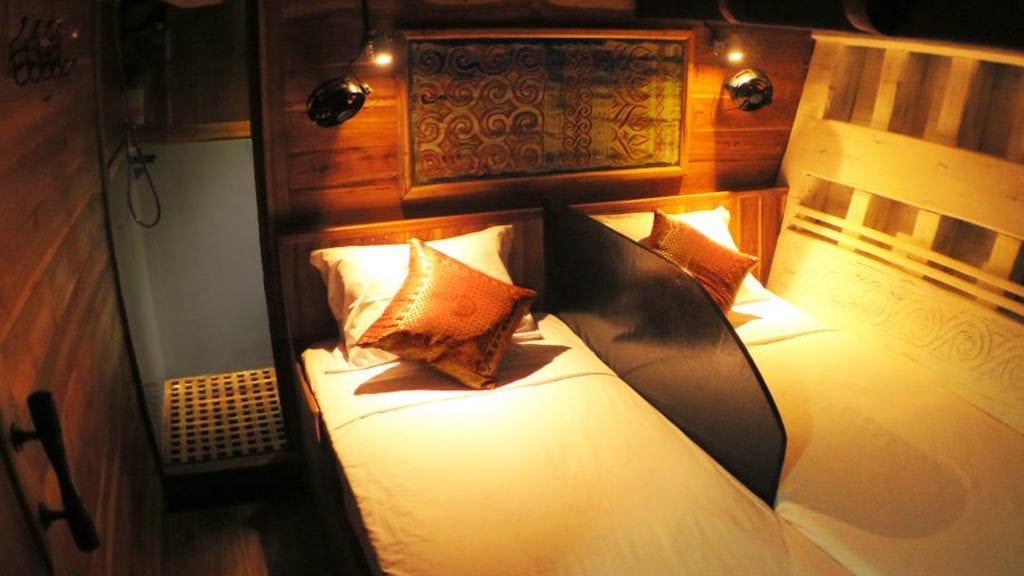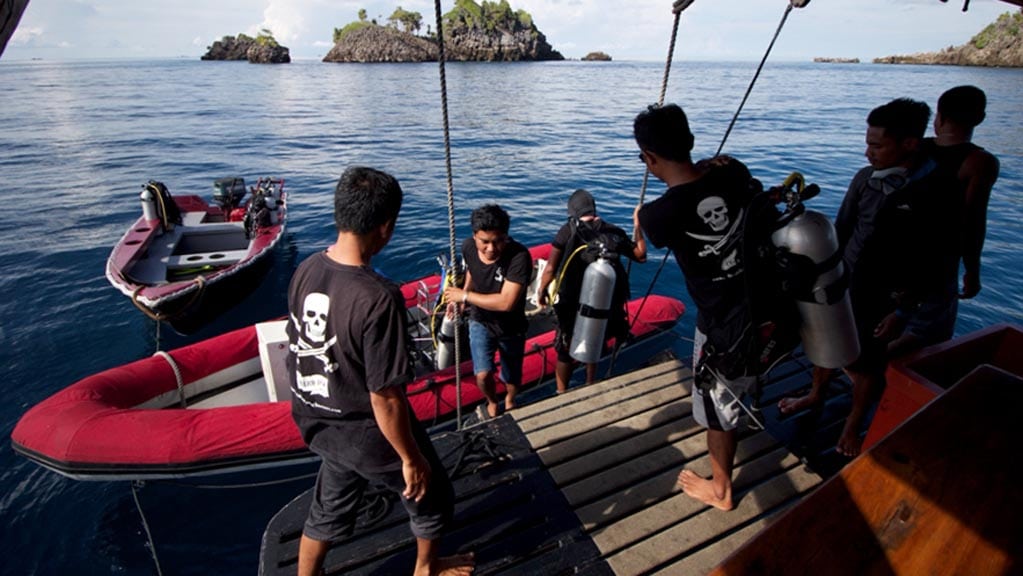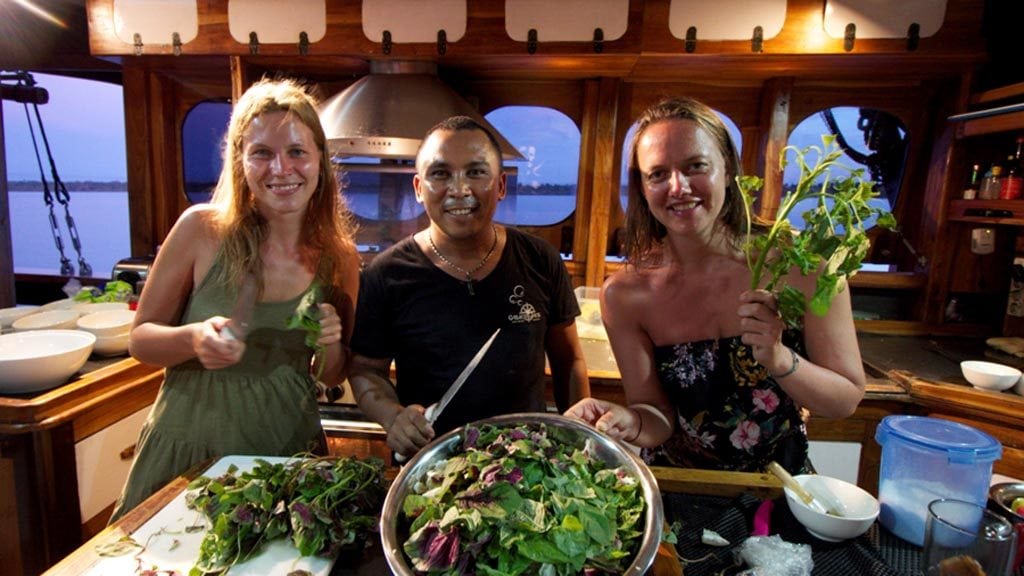 Accommodation
Calico Jack has been tastefully and comfortably furnished throughout with all the modern facilities you would expect. The boat sleeps up to 10 guests. There are 5 luxury cabins to choose from, all with en suite toilets, hot showers, air conditioning. There are 4 double bed cabins and 1 twin bed cabin, all below deck. Main areas of Calico Jack liveaboard include a large galley and a salon, a camera servicing area, an outside dining area, a roof terrace and a diving platform. Electricity is 220V throughout.
Cuisine
Expect some wonderful Asian fusion culinary delights during your stay on board Calico Jack. Dinner is a 3-course gourmet affair served by the crew. You can both choose your own menus and enjoy your favourites just how you like them or, much like your vacation, you can adventure into an unknown journey of discovery! The kitchen crew are even happy to share their culinary knowledge with you if you would like to do some cooking classes. Like many liveaboards, eating aboard the Calico Jack is an event to be enjoyed and savoured.
Location
The departure and arrival ports vary with the itinerary.
What to expect
Aboard the Calico Jack, guests are invited to take a hands-on approach. So if you wish to help with the sailing rig, or just pull a line, then the crew will embrace your help; of course, if your holiday involves lying in the world's biggest on-board beanbags, then the crew will be equally happy to top up your drinks. The water sports equipment below will meet all your water play needs. Onboard, you will find quality gear and expert tuition. Aboard the boat you will find:
Diving Gear
Wetsuits in all sizes
20 x 12L dive tanks (4x 15L for hire)
Dive computers
Dive Instructor/Dive Guide
Snorkeling equipment
Photography and Videography equipment
Kayaks doubles and singles
2 x Wakeboards
Oxygen
Extensive first aid equipment
Dive areas
The Calico Jack liveaboard offers 11 nights cruises around Raja Ampat for most of the year. From late June to mid-August some alternatives are offered including Cenderawasih Bay, and Ambon.
Raja Ampat, in West Papua province of Indonesia, is an archipelago consisting in 4 main islands surrounded by over 1500 smaller islands and cays.
It is certainly the world's most biodiverse marine region with more recorded fish, coral and molluscs species than anywhere else on the planet. Some areas boast enormous schools of fishes; there are spots with large groups of manta rays, others with schools of barracudas, trevallies, bump head parrot fish, large groupers, and of course always a great variety of critters. The reefs are as varied as their inhabitants, with vertical walls, seamounts, pinnacles, slopes, caves, lagoons, some covered with hard corals, other displaying colourful soft corals and some covered with gorgonians with their resident pygmy seahorses. Everywhere you will find a profusion of colours and life.
Staying Connected
Many of the trips are in remote locations and neither mobile phone coverage nor internet service is available.
You should know…
Minimum diving experience required is Advanced Open Water Certification and a minimum of 50 logged ocean dives.
We think…
Calico Jack offers great service, fantastic food, comfortable cabins and of course some truly special diving.
Trip dates & Availability
Calico Jack - Inclusions, Exclusions and Extras
Included
Double/twin cabin, all meals, snacks, drinking water, tea, coffee, soft drinks, all offered dives (3 guided day dives + alternating additional night dive), tanks, weights, air fills, dive guide, transfers at location to/from vessel on charter days
Single occupancy cabin +80%
Excluded
AUD
EUR
National Park & port fees Komodo
140
EUR
|
140
National Park & port fees Raja Ampat
180
EUR
|
180
National Park & port fees Exploration cruises (11 nights)
200
EUR
|
200
Optional Extras

Full set of dive gear rental incl. computer (per day)
25
EUR
|
25
Important Information
This liveaboard's prices are in Euro. The AUD prices shown are based on the current exchange rate. The price paid in AUD will be based on the actual exchange rate at the time any payments are made.
Special payment and cancellation terms apply for this operator.
Note: Special excursions such as Christmas, New Year, Eclipse, etc. attract a surcharge
Pricing / availability enquiry