The great thing about a trip through a remote region like Fiji's outer Lau Islands is the variety of terrain you encounter along the way: from ocean eroded limestone pinnacles reminiscent of Palau, to sandy bays and lagoons with big coral bommies reminiscent of Australia's Cocos Keeling Islands. Every island is different, every lagoon is different and the marine life found there is different.
To give you an idea of the variety – above and below water, we thought we'd share a few video postcards with you!
The map shows the route of our cruise aboard Captain Cook Cruises Fiji's small ship cruising boat the Reef Endeavour…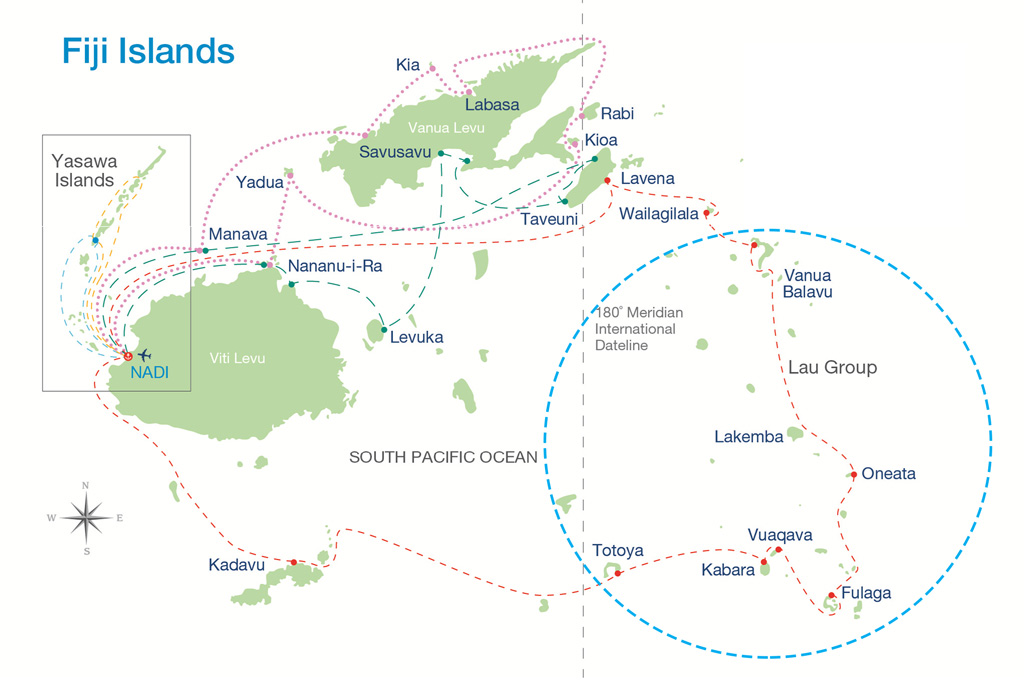 … and here's a sneak peek of the underwater world in the Lau Islands group.
Vanua Balavu
Coming eye to eye with a thin spin lionfish in addition to lots of the usual reef fish keeping the reef in good shape – butterflies, parrotfish and surgeons, and white tipped reef sharks who came to check out the rarely seen divers.
Oneata
This island has some really easy dive sites perfect for snorkelers, DSDs and experienced divers alike. Lots of marine life and the reef critters.
Fulaga
In Fulaga we found big cavernous terrain with some swim throughs and large domed bommies covered with colourful hard corals and little stuff hiding here and there.
Vuaqava
There was coral cover here down to about 40 m over big, open terrain with colourful corals on top of all the underwater hills.
Kabara Bommies
An aptly described dive site – an area about 400m by 200m containing massive coral bommies 20-30m across spaced out over a sandy base with depths between 6 and 20m.
Totoya
This is a relatively shallow dive where white tipped reef sharks followed us across the sands from one bommie to the next, and the early morning divers were graced with a manta encounter.
Read more about what it's like Cruising and Diving aboard a small cruising ship, or alternately, for land based diving off the beaten track in Fiji read this post.