So exactly what is a Solomon Islands liveaboard experience like? It's hard to think of a better place to be underwater than the Solomons, when you're out on the point and currents are running. On either side of you there are fusiliers rocketing up the reef wall, then dropping back down like rain whilst a school of barracuda drift by, a hundred silvery eyes cautiously watching you, the other hundred cautiously watching the black tip reef sharks skirting around them. By your shoulder, a spectacular reef wall covered in colourful tunicates and soft coral that invariably opens into a sunlit shallow coral garden where you can happily spend your safety stops marvelling at the numbers of different types of clown fish species.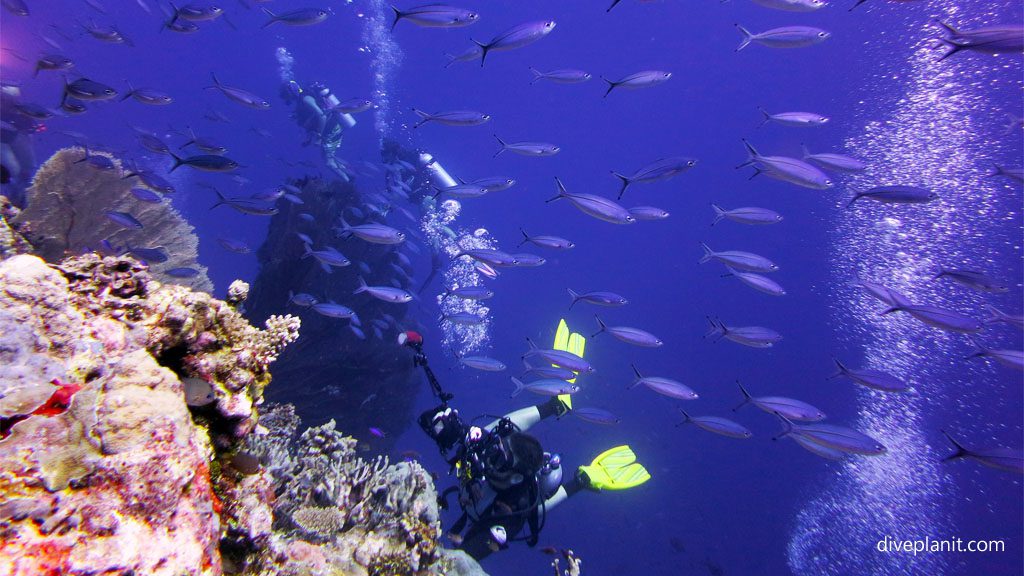 Imagine this experience, without walking more than a few steps before plunging into warm water (around 29-30 degrees), with a hot shower and delicious meal to come back to after each dive? That's what a Solomon Islands liveaboard experience is like.
Surprisingly, the Solomon Islands are far down on most people's bucket list because of the perception that it's a little hard core – lacking in creature comforts. Perhaps you didn't realise there were liveaboards on the Solomon Islands?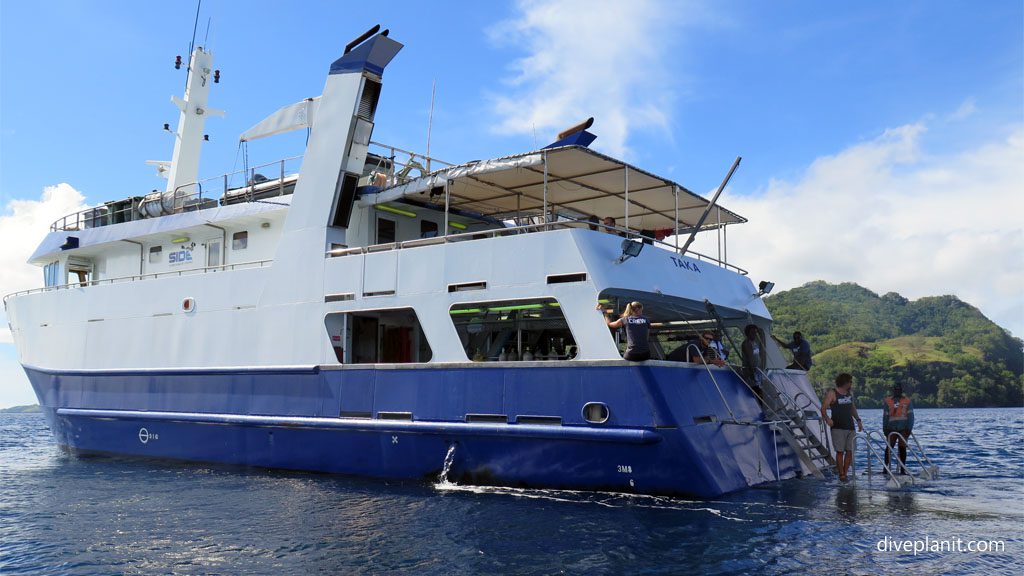 If you like long dives right off the boat, followed by a snooze in a sunny hammock (or the comfort of an air-conditioned cabin) between dives undisturbed by mozzies, flies or ants, then the Solomons PNG Master, or the MV Bilikiki is definitely your best way to dive the Solomons.
The Solomons PNG Master, (formerly the Taka) used to operate on Australia's Great Barrier Reef, and now runs a variety of itineraries which take in the Florida Islands, the Russell Islands, and Mary Island. The friendly staff will collect you straight from your international flight and whisk you off to the Point Cruz Yacht Club to board Solomons PNG Master. She has both en-suite cabins and cosier options for the cost conscious, and all internal areas of the boat are air-conditioned.
The spacious mid deck serves as a lounge, dining room, auditorium for reef talks, movie theatre, library and workspace for those with laptops who like to work on photos and identify their critters straight after their dives. It's also the place where the dive briefings are held. The site maps are quite elaborate, but never prepare you for the colourful reality of the dive.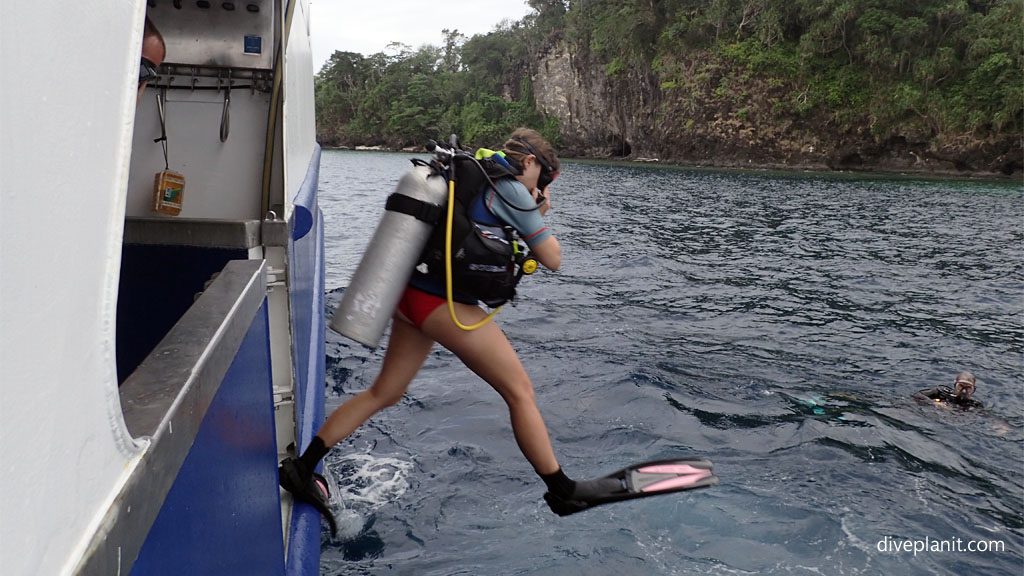 After the brief, it's straight onto the dive deck and into our gear (which is standing ready), and within minutes were doing a live entry off the side as the vessel sweeps close to a vertical wall.
Some of the dive sites are iconic like the Mirror Pond where you enter a cave below the waterline and surface in a pond surrounded by jungle, or Levu Cut – a long horizontal slot where the slanting sunlight provides atmospheric photo opportunities.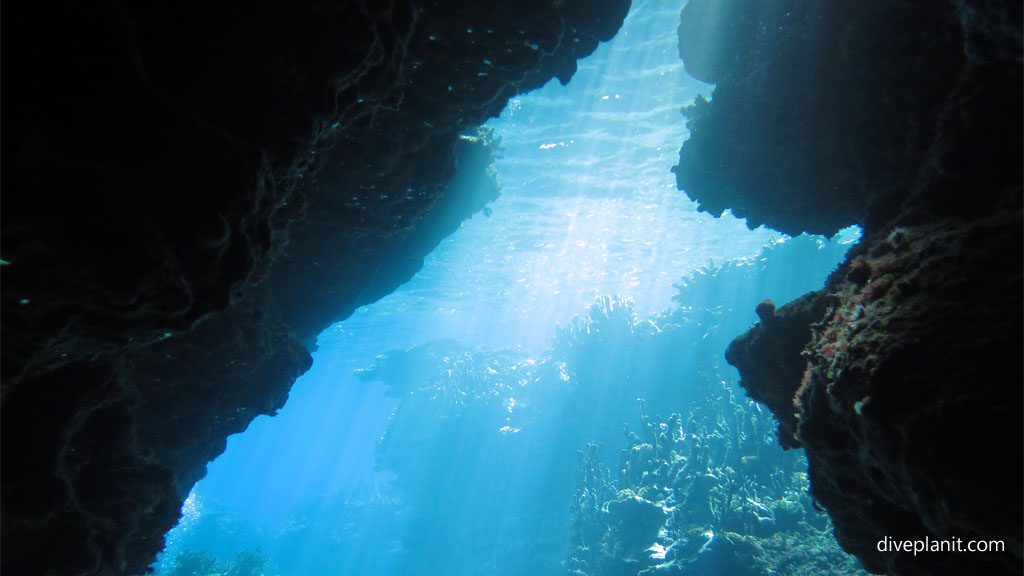 Whether it's a wall, a wreck or sloping reef, the terrain ensures that the safety stop can always be carried out on a colourful reef top where yet another previously un-encountered type of an anemone fish presents itself. I counted ten species in all – this particularly unique specimen lives on Kau Kau in the Russell islands.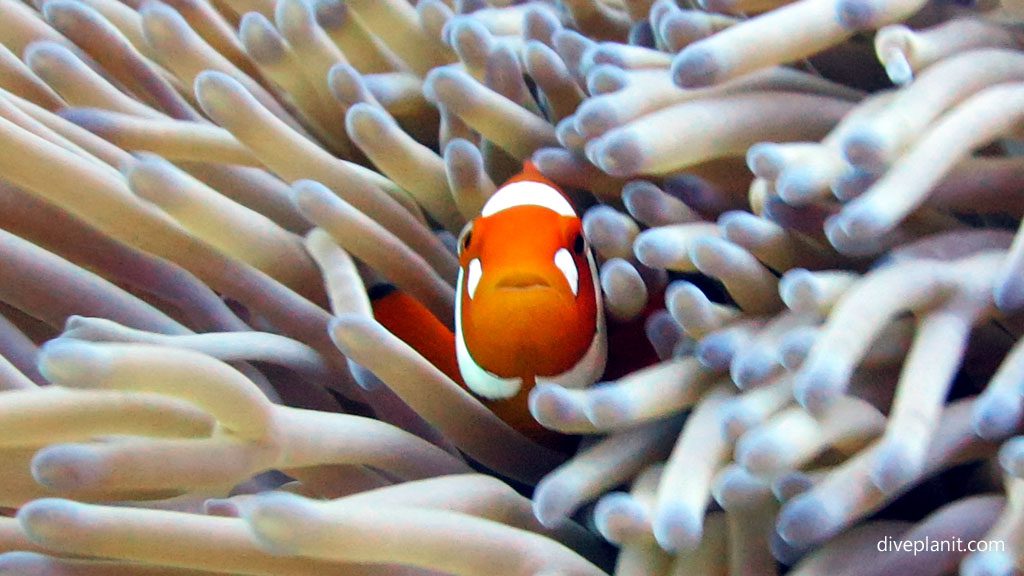 Dives are almost always 60 minutes and the tender whisks us back to the mothership in short order after surfacing, where a hot shower is waiting. All water aboard the Solomons PNG Master is created by reverse osmosis so it's clean and plentiful. The showers are so hot, powerful and consistent they'd be illegal in every state in Australia. And your numbered towel is waiting for you, straight out of the dryer, Zonnie sees to that.
Kenz, the chef, either has the next meal ready or has prepared a tasty snack or refreshing coconut to tide you over until the next dive. No one loses weight aboard the Solomons PNG Master despite doing up to five dives a day.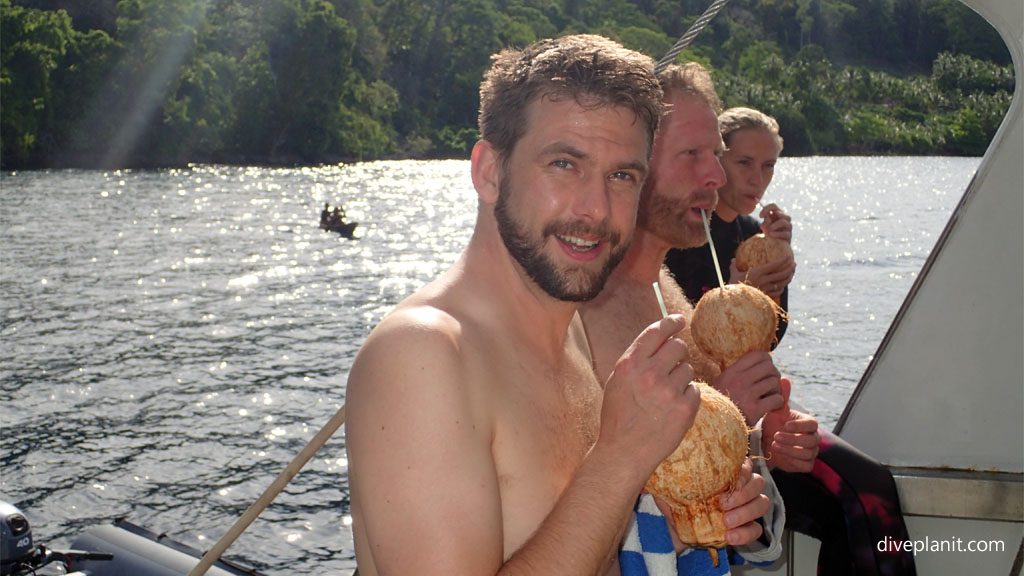 On the night dive, John the local dive guide delights in finding the night-time critters at every site: anything from a ringed pipefish to a pulsating cuttlefish. You'll be amazed how many feather stars are wandering around, and lions' paw sea cucumbers literally litter the reef floor.
The dive ends back at the stern platform 60 minutes later, with yet another hot shower and dry warm towel whilst someone else washes down the gear and prepares it for tomorrow's diving.
Dinner is a generous affair matched with chilled Australian wines and local beers followed by dessert and ice cream.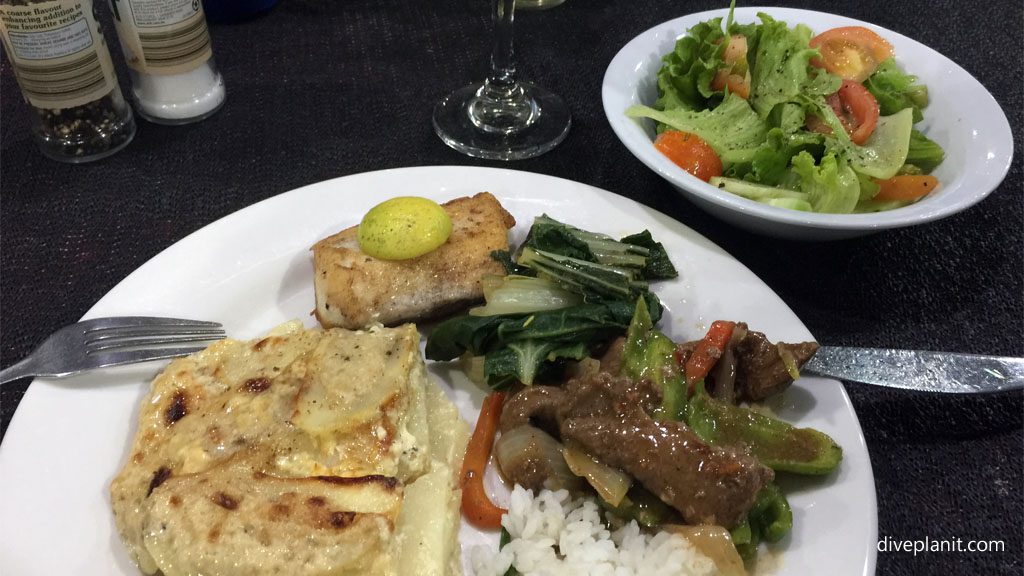 After that it's finally time to relax with a movie, a reef talk presentation by the staff or just a session with today's catch of photos and the library of fish and critter ID books to find the names of the new species that you saw today.
Some choose simply to recall the day's highlights over a glass of wine or beer: Mbersiri Point where a squadron of devil rays went overhead, the saltwater crocodile that happened to be lazing around on the Funnel dive site, or the Hawksbill Turtle that meandered by as we were admiring the colourful anthias at Karumolun Point. These will be the lasting memories of your comfortable Solomon Islands liveaboard diving holiday.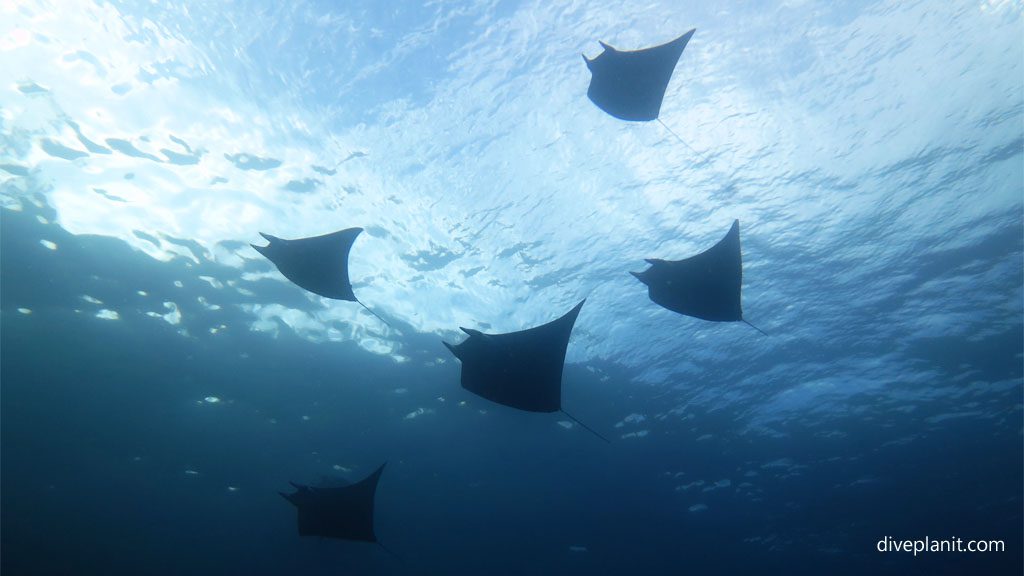 Looking for another cruisy Liveaboard option in the Solomons – try the Bilikiki.
If you liked this post, you might also like 'Munda – great diving plus lots more to explore'