Overview
Okeanus Aggressor 1 liveaboard takes divers to Cocos Island in Costa Rica, one of the best places in the world for diving with hammerhead sharks and other pelagic marine life. Part of the Aggressor Group, the boat is both functional and comfortable.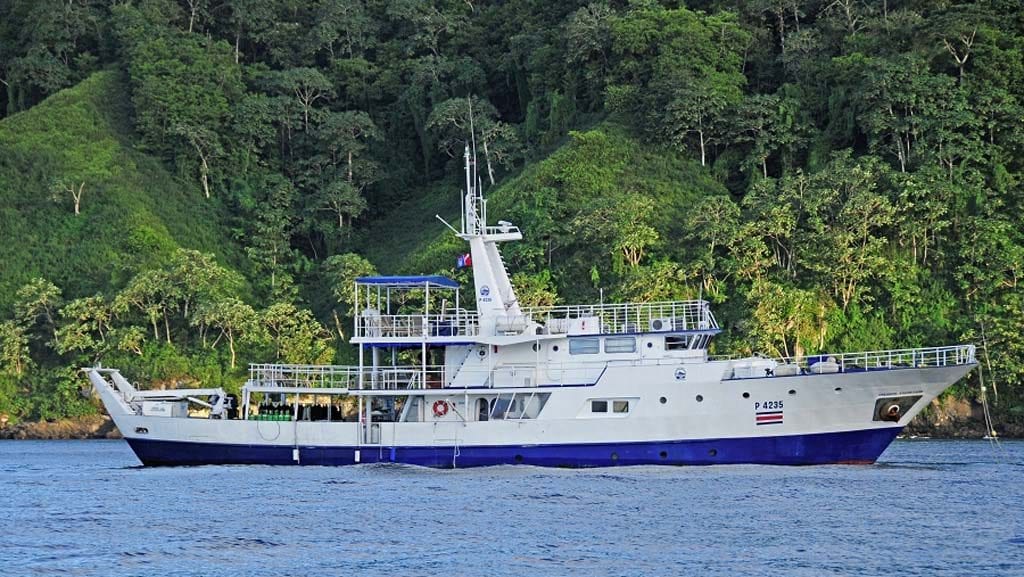 Features
Okeanos Aggressor 1 is a great ocean-going vessel, ideal for the long journey to Cocos Island. She offers 10-night cruises to Cocos Island, with 7 full days diving.
Okeanos Aggressor 1 also offers diving at Caño Island, a marine reserve located off the coast of Costa Rica off the Osa Peninsula, as well as the province of Guanacaste and the Bat islands in the northwest region of Costa Rica.
Eight day/7-night dive trips to the Caño Island marine reserve include 6 days of diving (3 dives per day) between January to May.
Eight Day/7-night trips to Guanacaste and the Bat Islands, located in a protected Marine Park inside the Guanacaste conservation area include 6 days of diving (up to 4 dives per day) between May and November.
Accommodation
Okeanos Aggressor 1 accommodates up to 22 divers in 10 cabins. All cabins have air-conditioning, en-suite, closet, port window, individual climate control and hair dryer.
Forward of the dive deck is the saloon with comfy sofas, entertainment centre, featuring a TV, DVD/CD home theatre system, and an assortment of movies. The dining area is separate from the saloon, with two large tables and chairs providing plenty of room for all guests. On the upper level is a shaded bar and a partially covered sundeck with lounges, wet bar and seating area.
Seven cabins are located below deck, accessed via a stairway in the saloon. The forward cabin below deck is a quad share cabin with double and single berths. Four twin cabins have two single beds and two staterooms can be set up as double or twin share.
On the upper deck are three more staterooms with a double and a single bunk each. Access to those cabins is via a stairway from the dive deck.
Deluxe Stateroom (#3, 4, 5, 6, 7, 8 = lower deck; #9, 10, 11 = upper deck)
Staterooms #3-6 have 2 single beds (bunk beds).
Staterooms #7-11 have a lower double bed and single upper bed (bunk beds).
Quad Stateroom (#2)
With two lower full-sized beds and two upper single beds (bunk beds), private head and shower, individual climate control, TV/DVD and hair dryer.
Location
Okeanus Aggressor 1 liveaboard departs from Puntarenas on the west coast of Costa Rica, reached by car from the capital San Jose in about three hours.
The crossing to Cocos Island takes about 32-25 hours. Because of the long journey, extended 10-night excursions are offered, with 7 full dive days, making the trip worthwhile. All divers must arrive in San Jose at least one day ahead of cruise start. It is also recommended to have one night after cruise end. Pick-ups are done only from four host hotels in San Jose.
What to expect
Diving
The dive deck has plenty of space for 22 divers. Each passenger has their own tank rack, locker and bench and the dive deck is well equipped for photographers' needs, with rinse tanks, charging stations and a three-tier camera table with low pressure air hoses. Rental dive gear is available at extra cost.
The Okeanus Aggressor 1 has 80cuft aluminium tanks on board with standard 'K' valves for use with standard yoke regulators. Bring your own DIN adapter if necessary.
The dive platform located at water level is rarely used for diving but is ideal to get into the water for snorkelling. All diving is done from two dive tenders and divers are split into smaller groups that dive different sites.
Dive Sites
Cocos Island is one of the few remaining dive locations where you can still expect to see large pelagic marine life. The island is essentially a huge mountain starting thousands of metres below the surface and breaking the surface as an impressive Island with steep cliffs and little island groups.
The biggest attractions are huge schools of hammerhead sharks. Most dives are done close to surrounding rocks and islands. The cleaning stations in these areas attract schools of hammerhead sharks. On almost every dive you will encounter huge schools of fish, mostly Jacks and barracudas and large fish such as silky, silver lace and grey-sharks, mantas and mobula rays. Whale sharks and dolphins are not uncommon and can be spotted on almost all routes. Turtles, moray eels and lobsters are everywhere. With a little luck, you may encounter chasing sailfish or whales.
Staying Connected
Email is available on board through the satellite system. There is a charge for incoming and outgoing email. Private calls may be made from the yacht. When diving at Cocos Island, there is a cell tower with intermittent reception. There is no coverage in the Bat Islands or Caño Island.
We think…
If you love diving with large pelagic marine life, diving Cocos Island is one of the best dive locations in the world. Okeanos Aggressor 1 is a comfortable choice for visiting this region. The destination is not suitable for beginners.
Trip dates & Availability
Pricing / availability enquiry