Overview
Let's Go Adventures is the new name of Nelson Bay's longest established diving centre. They operate a full-service dive operation including two fully surveyed Dive Boats, PADI certification courses – including TecRec, do gear servicing and have a large range of equipment for purchase and hire.
Located on the waterfront at d'Albora Marina, they have storefront parking, a convenient gear wash down area and hot showers right next door.  They do air and nitrox fills if you're doing one of the many local shore dives.  See their website for details.
They have a number of locally experienced dive guides, and an active dive club both off and on-line.  Subscribe to their newsletter and check out their Facebook page to see what's happening.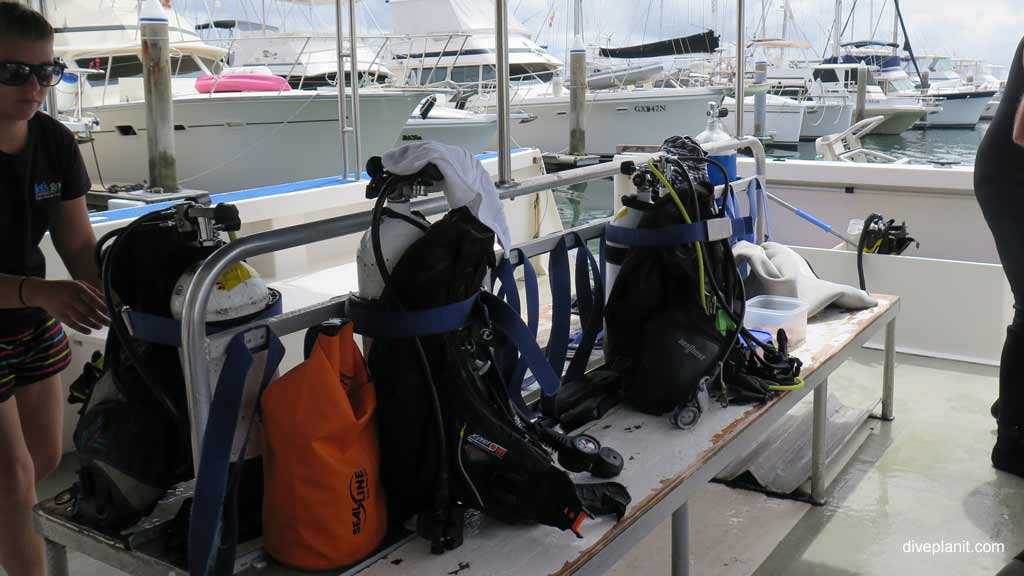 Their signature dive sites are around Broughton Island, in particular, The Looking Glass which never disappoints.  They have plenty of other dive sites if Broughton is not accessible or there's not enough to justify the trip.
Facilities
| | | | | |
| --- | --- | --- | --- | --- |
| Training School Type: | PADI | | Nitrox Fill: | |
| Air Fill | | | Number of Guides | 3 |
| Gear Hire | | | Number of Boats | 2 |
| Gear Sales | | | Number of Dive Sites | 25 |
| Gear Servicing | | | Accommodation | |
Location
Let's Go are located on the waterfront at d'Albora Marina, Nelson Bay; refer to map opposite.
Enquiries: please contact Let's Go Adventures directly on: 02 4981 4331 or via their Contact Us page.
What to expect
The typical double dive with Let's Go runs something like this:
Adam likes you there in plenty of time to check in and get sorted, but knowing many divers who seemed to take an age to get sorted that's not such a bad thing. The dive shop is the last in the car park so you can usually pull up right outside, drop your gear, then go park on the road for all-day free parking. (It's not expensive in the car park, but it's limited to 4 hours).
Being in the marina, there are plenty of cafes around, so you can grab a coffee on the way back down to the shop and kit up in a nice leisurely fashion.
The council toilet block with hot showers is right outside the shop so you can just go before you go. Though it's no big deal as there is a very spacious toilet on the boat. Once all the guests are ready, the tanks we just set up are loaded into a handcart and wheeled the 100 m to the boat at the jetty.
The boat is spacious with both rear and side entrances. Park yourself next to your tank and tuck your basics beneath the seat. There's freshwater on board and a bucket for mask rinsing before you hit the water.
The journey up the Port Stephen channel is usually pretty smooth, and once you're at the dive site, it's a pretty relaxed entry as there are two side entrances, so you're halfway to the bow line as soon as you hit the water.
Between dives there is the usual offering of soup, tea or coffee, plus cheese and crackers. On arrival back at dock the guests assist in unloading the gear from the boat to the cart, then walk back to the shop. You can wash your gear down under the hot showers whilst you're doing yourself. You can even leave the gear on the hanging rack whilst you go for a spot of lunch in one of the many restaurants in the marina nearby – you are smack bang in the middle of the marina after all. Then, wander up and get your car, drive down pick up your gear and enjoy the rest of your day.
Pricing / availability enquiry