Ever wanted to swim with whales? The latest whale swim experience has just launched in Coffs Harbour and the season is already off to a great start.
More than just watching, swimming with whales
Jetty Dive has been running whale watching trips out of Coffs Harbour for many years in their hybrid dive/whale-watching boat, and they are now offering the chance to swim with whales as well.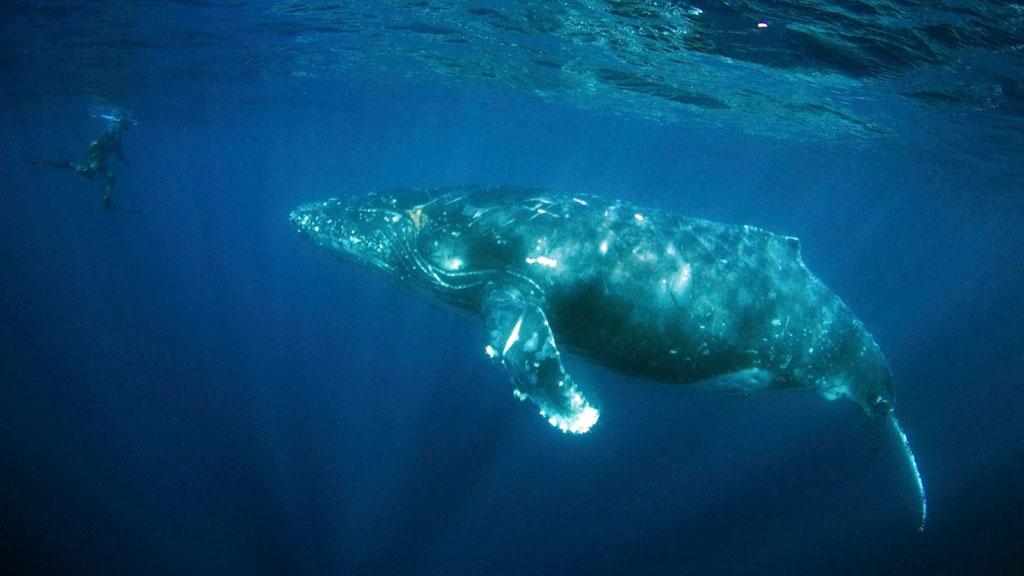 (Photo credits: Brett Vercoe)
Will whales swim with us?
There are very strict national guidelines on whale watching in Australia, and the whale swims must uphold the requirement not to interfere with the migration path of humpback whales.
As Mike Davey of Jetty Dive explains: "It's really more about the whales swimming with us, rather than us swimming with them. If whales are curious, they will cruise past the snorkelers for a look, and obviously, you will enjoy an experience of a lifetime to see them."
Mike and his team have a wealth of experience observing whales, and it's their job to locate the curious whales that want to experience swimming with people.
"We call them the 'right whales'. We spend an extended time out at sea to find these particular whales."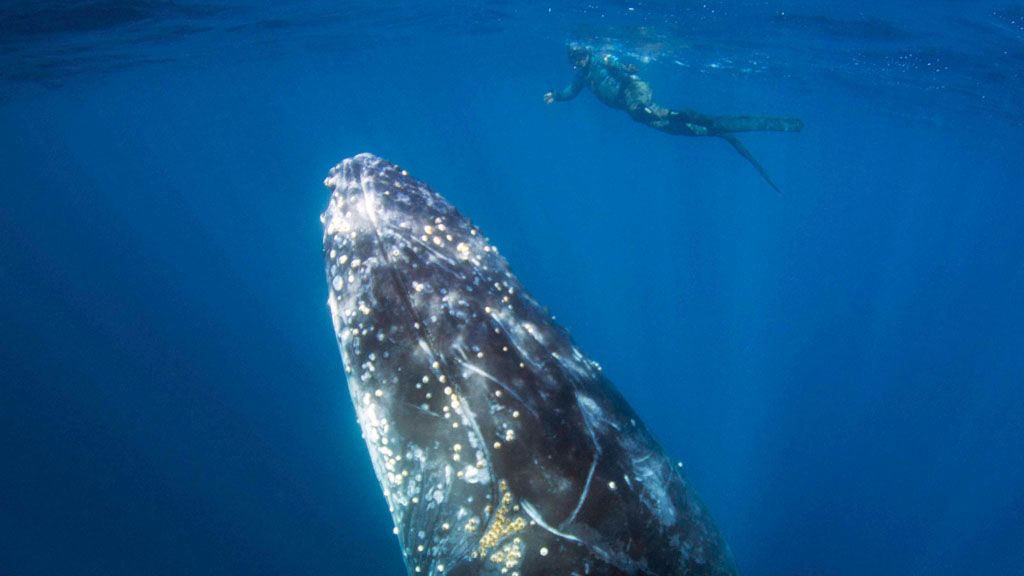 It helps if you have a fast boat too
Mike has always claimed Jetty Dive provide the 'fastest ride out to the whales', and the fast boat ride out means whales are usually sighted within minutes of leaving the harbour. If whales are seen in the distance jumping, the boat can move from one group to another in a very short time, and not miss any action. The three hour trip is mostly spent watching whales, not getting there.
How does the Whale Swim at Coffs Harbour work?
You sign in and kit up with wetsuits, mask, snorkels and fins ready for the trip. If you have your own equipment, of course, you can use it, as you will be more comfortable with your own gear.
When everyone is ready, you board the boat at the marina and head out in search of the 'right whales'.  The trip is essentially an extended whale watching trip, where the boat finds and follows humpback whales at the distance required by regulations, while enabling all on board to see them. If the skipper feels they are whales that are curious enough to see us, the boat is positioned at the required distance and the snorkelers enter the water.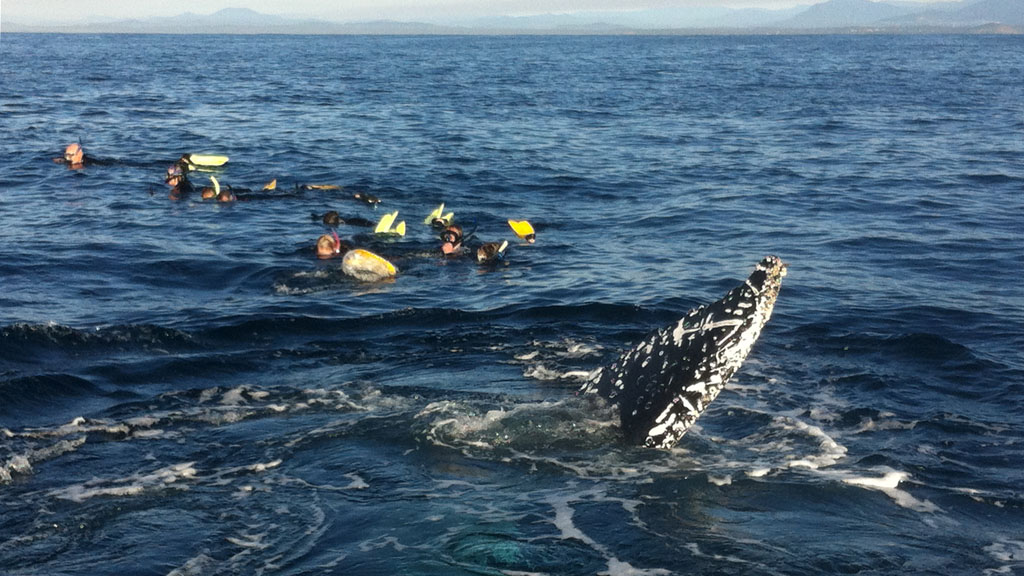 What happens next is up to the whales. If the whales are not interested they disappear on their way, everyone re-boards and the boat moves on to another pod to try again.
"You will see humpback whales from the boat, guaranteed, but whether you see humpback whales in the water is entirely up to the whales. That is what is so special about the experience, when you see them, it's because the whales wanted to see you."
FAQs:
Q: What are the chances of seeing Humpback Whales?
A: Jetty Dive guarantees you will see whales above water, but underwater is entirely on the whales terms. To date with whale swim experiences here and in other regions, between 50% and 75% of trips experience seeing them underwater. It is like seeing whales do a full body breach (jump) on whale watching trips, it happens sometimes, but no guarantee.
Q: When is the whale watching and whale swimming season?
A: Jetty Dives whale swim at Coffs Harbour operates daily between June and October, dependent on weather and sea conditions, and of course the number of humpback whales that are about.
Q: When is the best time to do Whale Swims at Coffs Harbour?
A: The whales appear to be somewhat curious on the trip north (between June and August), but more playful and curious on their return to the southern ocean. If anytime is better, mid-August to end of October.
Q: What are the age limits and do we need to be able to swim and snorkel?
A: 12 years old is the minimum age, and there is an expectation that you are a confident snorkeler.
Q: How much is a Whale Swim at Coffs Harbour?
A: $149 per person (regardless of age)
Q: How do I book?
A: Call 02 66 511 611
More information on the Jetty Dive website.
*Bookings essential. Whale Watching and Whale Swim at Coffs Harbour trips are dependent on weather and sea conditions.)