I always enjoy seeing turtles and recently dived an area with the friendliest turtles I have ever encountered, possibly the best place to see turtles in Asia. This turtle hot spot was in an area that I would have never expected – the Gili Islands, a popular backpacker hangout off Lombok, Indonesia.
The three Gili Islands – Gili Air, Gili Meno and Gili Trawangan – are located off the north-west coast of Lombok. Covered in palm trees and surrounded by coral reefs the islands are a popular tourist destination. Access is either by boat from Bali, or the way our group reached the islands, a flight from Bali, a drive to the northern end of Lombok and then a quick boat ride to the islands.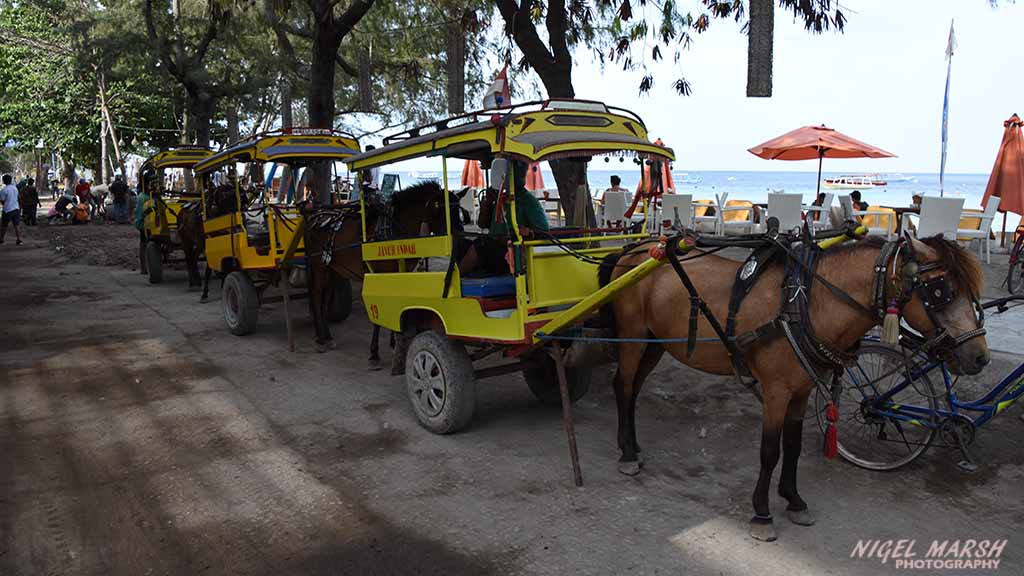 On my first morning here, after an early morning wakeup by the call-to-prayer from a nearby mosque, I had a look around the resort and the town. The Laguna Gili Beach Resort has large comfortable rooms, pretty gardens, a nice restaurant and an excellent dive centre. The only thing separating it from the white sandy beach and clear blue waters is a road. Fortunately the only traffic on this road are bicycles, pedestrians and numerous horse and carriages. Cars and motorbikes are banned on the Gili Islands and the jingling bells of a horse approaching is very charming.
After breakfast it was time to dive, our first sites were to be muck dives. Our double dive took us away from the island and back to the coastline of nearby Lombok to dive Kecinan and Seahorse Bay.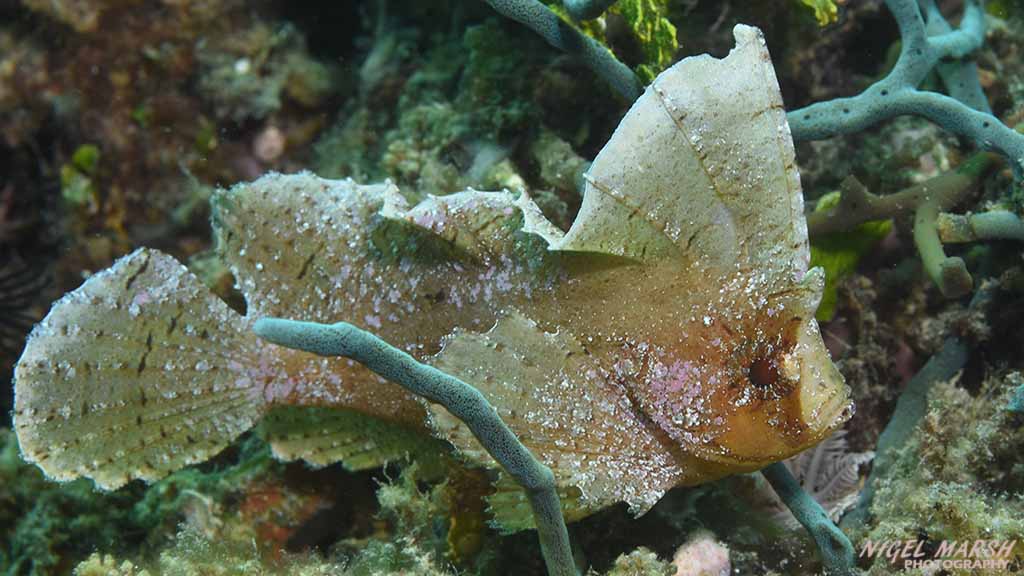 Both these muck sites have sloping sandy bottoms, plus areas of coral and rubble. At the first site we saw giant frogfish, painted frogfish, warty frogfish, finger dragonet, cuttlefish, gobies, blennies and a cute cockatoo waspfish. While numerous thorny seahorses were the highlight of Seahorse Bay.
Our afternoon dive was on the Laguna House Reef in front of the resort. This site has some nice coral and plenty of coral rubble, but was a great spot for reef fish and invertebrates. I saw angelfish, moray eels, octopus, pufferfish, mantis shrimps, nudibranchs, ribbon eels, lionfish and an ornate ghostpipefish. No turtles at these sites, but that was soon to change.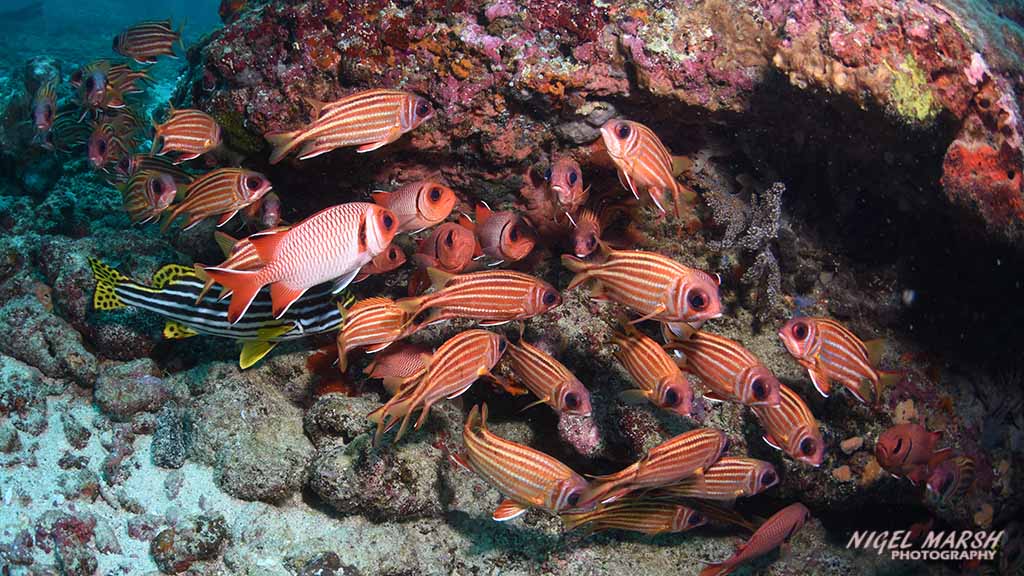 The next day we dived Deep Turbo. This site is a series of bommies covered in lovely corals in depths from 20m to 30m plus. Cruising from bommie to bommie we enjoyed almost 30m visibility and spotted schools of snapper, plus trevally, stingrays, a large starry puffer and fields of garden eels. But the dive got really interesting when we explored a turtle cleaning and resting station. Around a dozen green turtles were in residence, and accustom to divers we could get right up beside them for photos.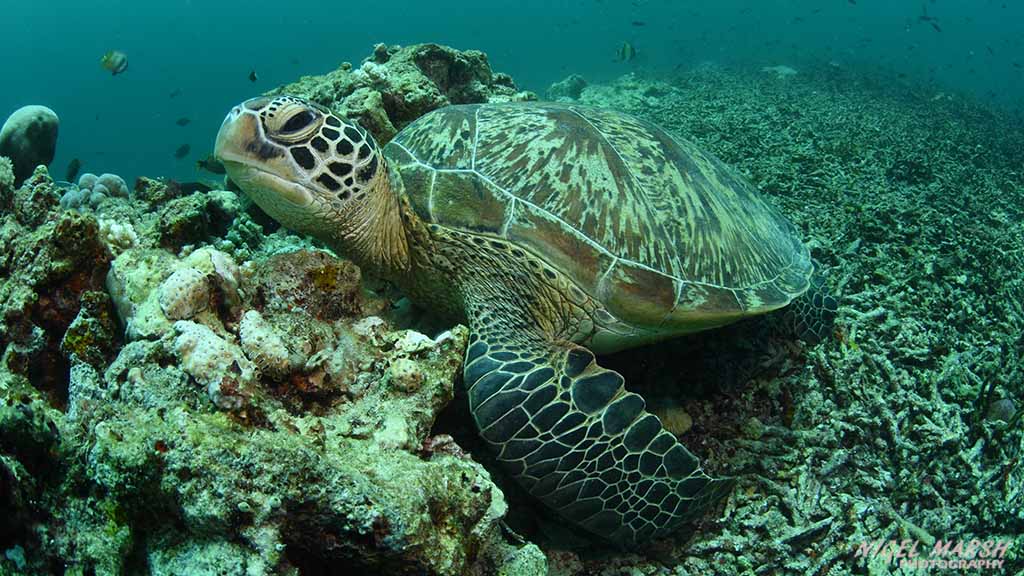 Our next turtle experience was even better at Turtle Heaven. This sloping reef, covered in mushroom corals, is another major turtle cleaning and resting station. We spent over thirty minutes with almost a dozen green turtles resting on the bottom. There was a bit of competition for the best spots, with a bit of push and shove at times. One of the turtles even had an octopus climbing onto its shell!
Our afternoon dive was a little different at Meno Slope, as this is the site of an underwater sculpture garden. Created by artist Jason deCaires Taylor, 48 life-size human sculptures are arranged in two circles in 4m of water. After photographing these unusual sculptures we drifted along a coral wall, seeing batfish, snappers, squirrelfish and several more turtles.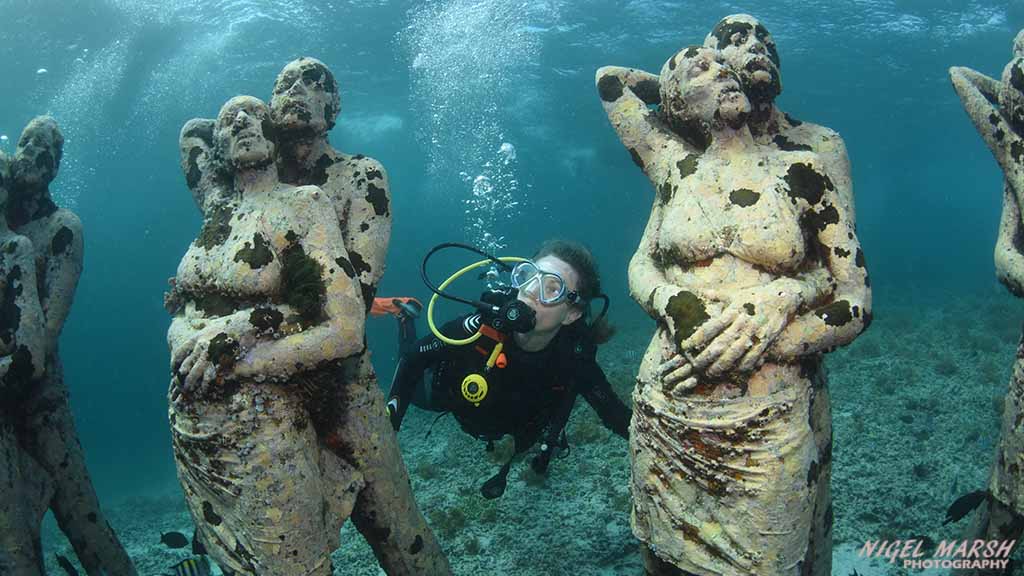 Our turtle encounters continued the next day at Shark Point. This site has lovely corals and masses of fish, including schools of snappers, fusiliers, squirrelfish and soldierfish. We also saw a few whitetip reef sharks and blue-spotted lagoon rays, but the turtles were the highlight. Resting in the shallows were over a dozen green turtles, some of the males were close to two metres long. We also found two hawksbill turtles munching on the corals.
Our final dive was at the Bounty Wreck, a scuttled 30m long floating platform that is now a haven for fish. Swarming around this wreck were schools of drummer and hundreds of sergeant majors guarding their eggs. But this site also had a wonderful coral bommie covered in corals and baitfish, and a bounty of turtles. I even fed one of the hawksbill turtles a sea salp, after noticing it snapping down one of these floating treats.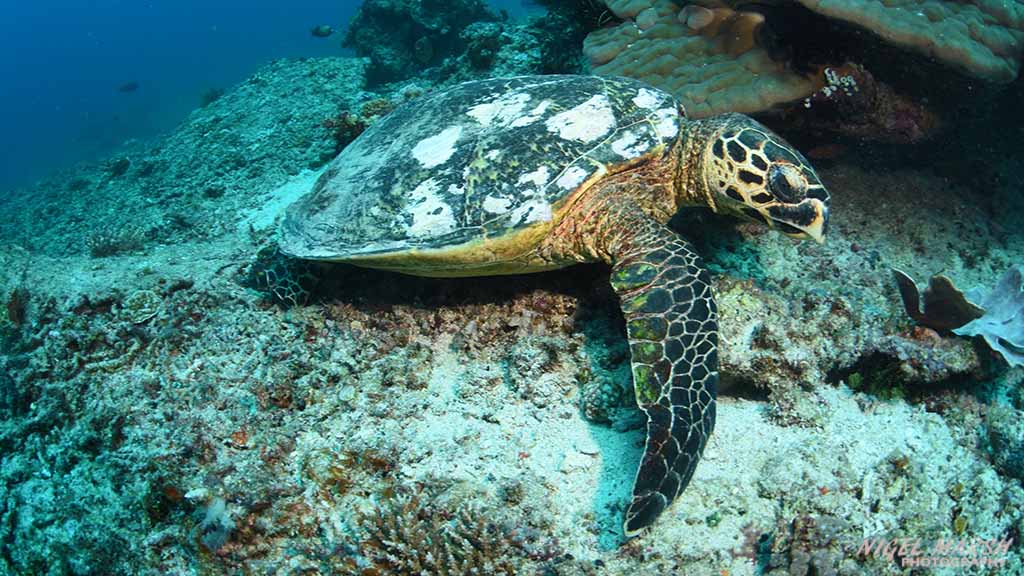 The reason the Gili Islands are home to so many turtles is that they nest on the islands. There are also a few turtle conservation projects on the islands to protect the turtle's nests and ensure that as many eggs as possible successfully hatch.
I had a wonderful stay on the Gili Islands and can confirm that they have successfully recovered from the recent earthquakes. The wonderful diving, the great resorts, the tasty food, the beautiful islands and the very friendly turtles make the Gili Islands a very special dive destination.