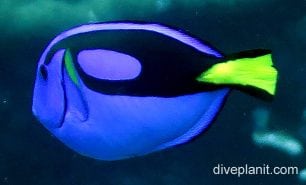 Family
Surgeonfish

(ACANTHURIDAE)

species
Paracanthurus hepatus
size
Up to 25cm
locality
Outer reefs in current
behaviour
Usually solitary
range
Tropical Indian and Pacific Oceans
Unmistakably Dory – small, but surgeonfish shaped ie, with narrow dorsal all the way along the back and matching fin along the belly. Electric blue, with a black pattern starting from the eye. Yellow tail with black margin.