Introducing your kids to the Life Aquatic is one of the most bonding experiences you can have as a family, entering that magical underwater world together is an experience you'll never forget. Diveplanit Travel provides specialist advice on how to do that safely, with advice on the 10 best family friendly dive resorts and dive cruises.
1. Beqa Lagoon Resort, Fiji
Beqa Lagoon is more famous for shark diving, but the fringing reef at Beqa Lagoon Resort is stunning, and the soft corals of the lagoon rival the Rainbow Reef. Each year in August the resort hosts a Family Fun Explorer Week, with an all-inclusive package that includes Bubblemaker or Seal Team classes for kids.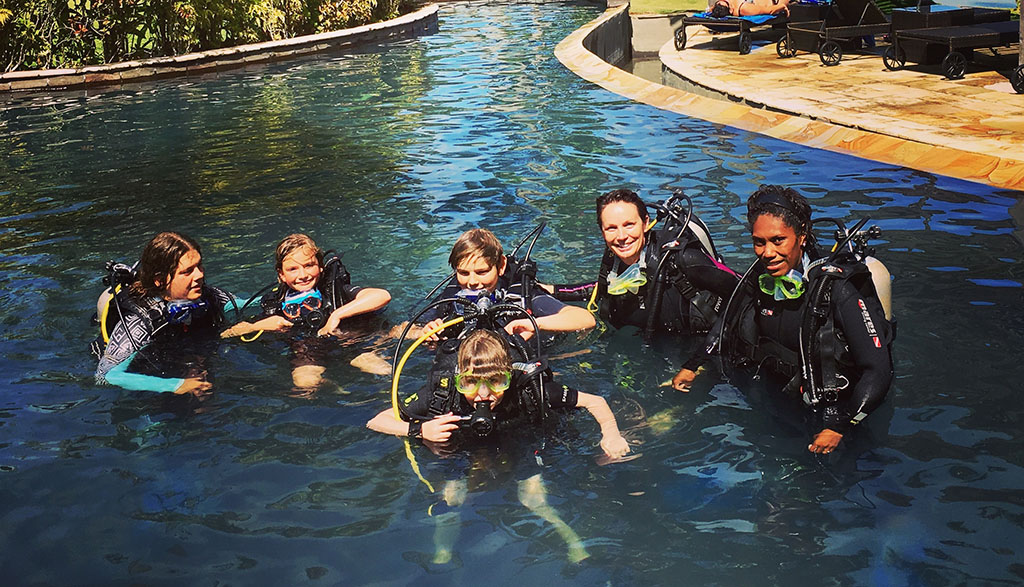 2. Jean Michel-Cousteau Fiji Resort
Fiji is an obvious first choice for a family diving holiday, as most resorts already have excellent 'kids clubs' and family-friendly activities. Jean Michel Cousteau Resort is almost as famous for its Bula Club for kids as it is for the soft coral diving at nearby Namena Marine Reserve (and the resort's namesake owner). The diving here is spectacular and the resort also has a Junior Marine Biologist course for kids.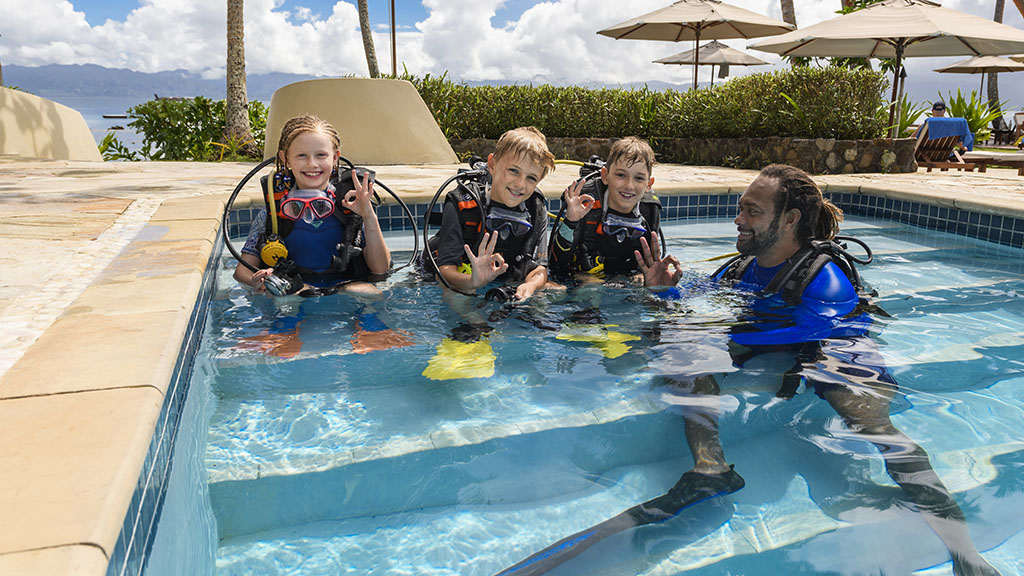 3. Captain Cook Cruises Fiji
A cruise around the Fiji islands with Captain Cook Cruises Fiji is another wonderful option for families. The onboard kids club has a great program for kids age 5 and up, and each day a new port offers a wide range of day trips and diving opportunities. The bonus for divers is that you'll visit Fiji's more remote dive sites such as the world-famous Rainbow Reef in a family-friendly environment.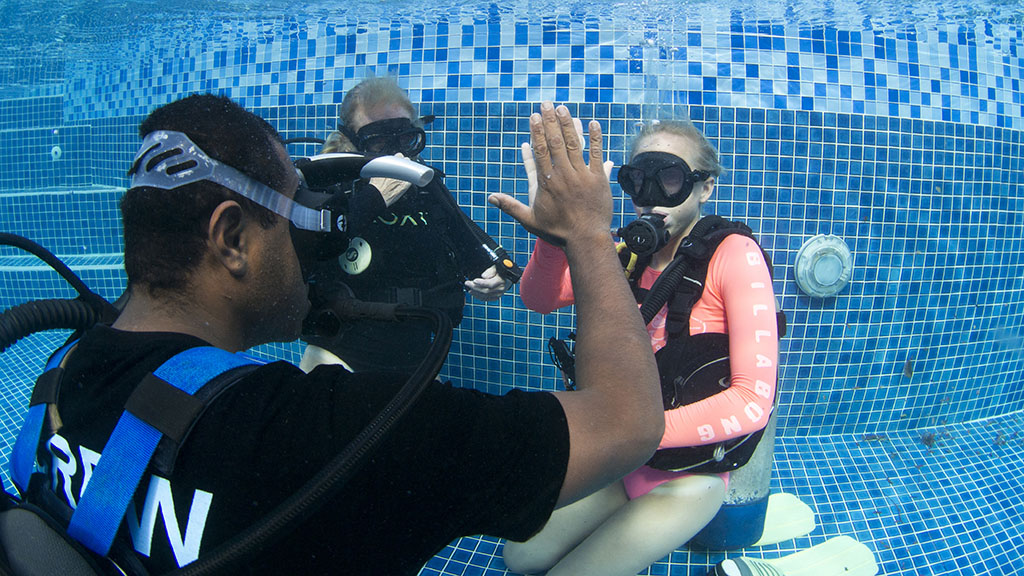 4. Wakatobi Resort, South Sulawesi, Indonesia
Wakatobi is a purpose-built family friendly, 5-star dive resort, with luxury accommodation, fine dining, and seriously mind-blowing diving. They offer the full gamut of childcare too, from nannies for the toddlers to bubble-maker courses for younger kids and Discover Scuba Dives for the bigger kids, while certified junior divers can dive with their parents.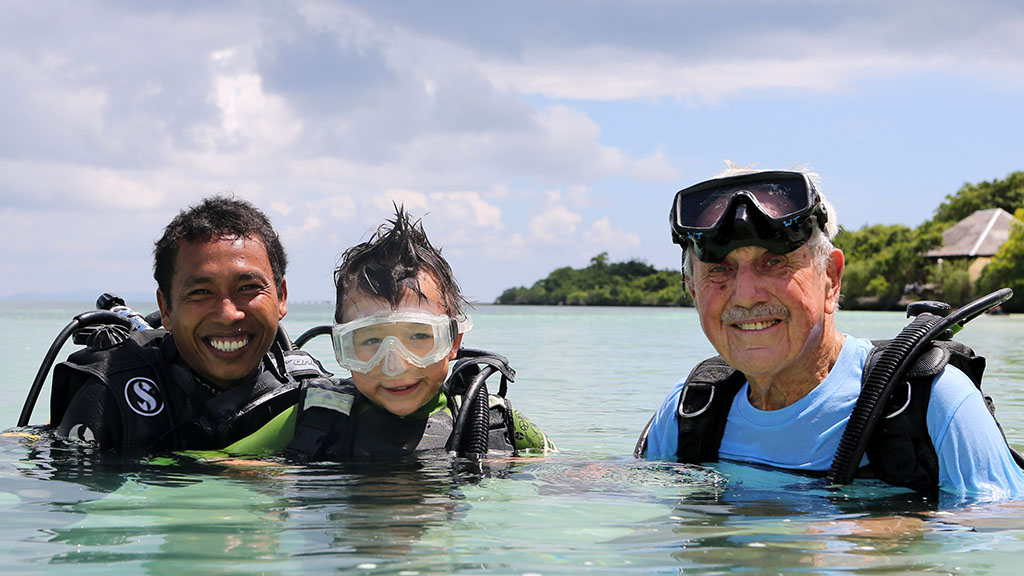 5. Pindito Liveaboard
In Indonesia, families can explore the Coral Triangle, the world's centre of biodiversity, by liveaboard, aboard the Pindito, which does a dedicated Family Cruise each July. This special "Family Dive Cruise" departs from Bali, taking passengers into Komodo National Park, a World Heritage Site and location for incredible diving.
6. Hai Tide Resort, Lembongan
Bali Hai Diving Adventures offer diving experiences on Bali's Lembongan Island, at Hai Tide Resort, also available as a day trip from your chosen Bali resort, with base camp for the day a large pontoon equipped with waterslides, swimming pool, kayaks and semi-submersible coral viewing boats.
7. White Grass Ocean Resort, Vanuatu
In Vanuatu, Hideaway Island Resort in Port Vila and White Grass Ocean Resort in Tanna are both great choices for families, with easy access to very pretty fringing coral reefs and easy diving conditions suitable for beginners.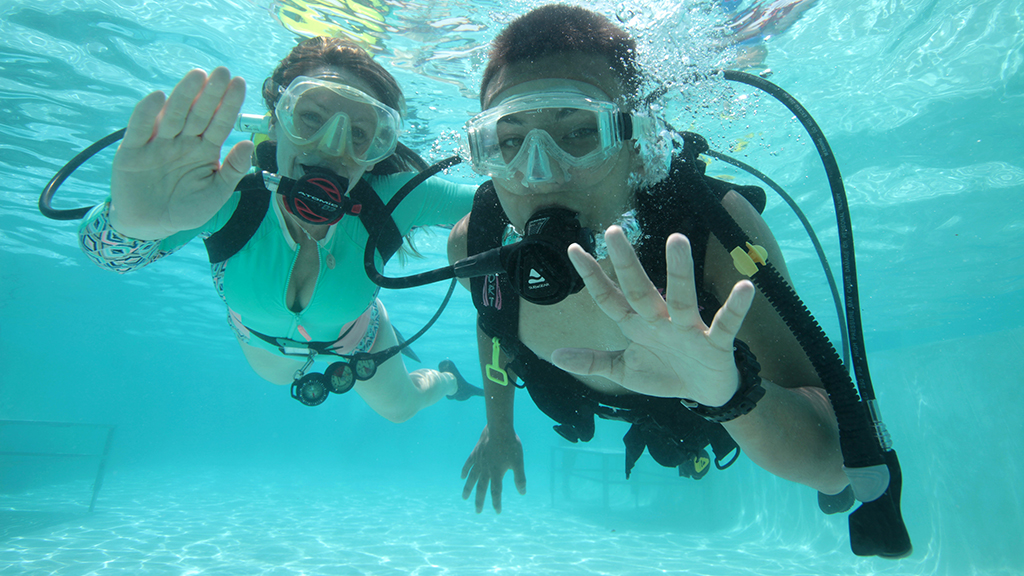 8. Atmosphere Resort, Dauin, Philippines
The Philippines is another family-friendly destination, and Atmosphere Resort is one of the best for kids. 'Kids' Cove' on Atmosphere's premises has a range of educational materials and toys, arts and crafts activities and movies. Older kids can snorkel, do a PADI Bubble Maker Dive Course, join the PADI Seal Team program. They also cater to families in the spa with Kid's yoga and a Kid's Spa Menu.
9. Fatboys Island Resort, Gizo, Solomon Islands.
Fatboys Resort has access to some of the world's best easy diving. Pristine coral reefs, giant clams and friendly reef sharks are as close as the resort's own jetty and there plenty of land-based activities and safe swimming for kids.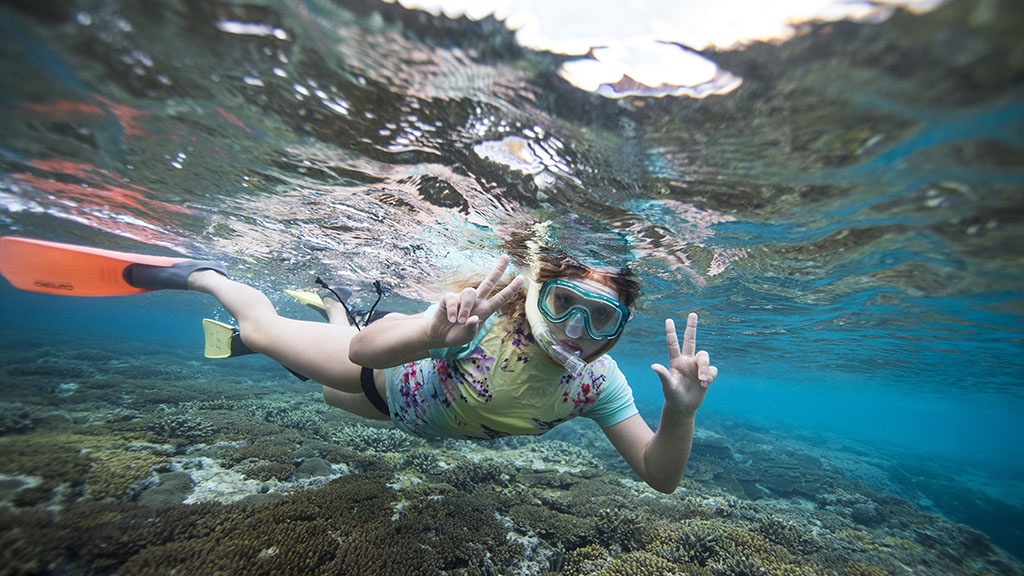 10. Lady Elliot Island Eco Resort
What could be better than ticking off the ultimate bucket list dive destination, the Great Barrier Reef, with the whole family? The easiest option for a family dive holiday on the Great Barrier Reef is to stay on one of the islands, whether that's Heron, Fitzroy or Lady Elliot Island. You'll have easy access to the fringing reefs to snorkel or dive and a Master Reef Guide on hand to take you on guided snorkelling tours and explain the Reef's complexities. As a recent visitor explains:
"We wanted our kids to have a jaw-dropping experience like we had snorkelling in Palau for the first time 20 years ago. Lady Elliot Island delivered, and more. It's all out the door of your cabin (vs hours of boat ride), and it's accompanied by the overall eco message of the resort – seeing something that amazing is a privilege and I'm so glad that for our kids, it was accompanied by a lesson in what it takes to preserve it. One of my forever happy places."