Australia is blessed with some of the most diverse diving in the world. Many of these dive destinations are well known, however others are more obscure and visited by very few divers, but are no-less impressive. One of these lesser known dive destinations is the Rowley Shoals, a trio of remote coral atoll reefs off the Western Australian coast.
The Rowley Shoals is one of those legendary dive destinations I have always wanted to visit. However, I never got around to organising a trip, mainly because only a handful of charter boats visit this remote site and only in spring when the weather is calm. But working on a new book on the best dive sites in Australia, Underwater Australia, I knew I had to include the Rowley Shoals, so finally organised a trip aboard the luxurious True North.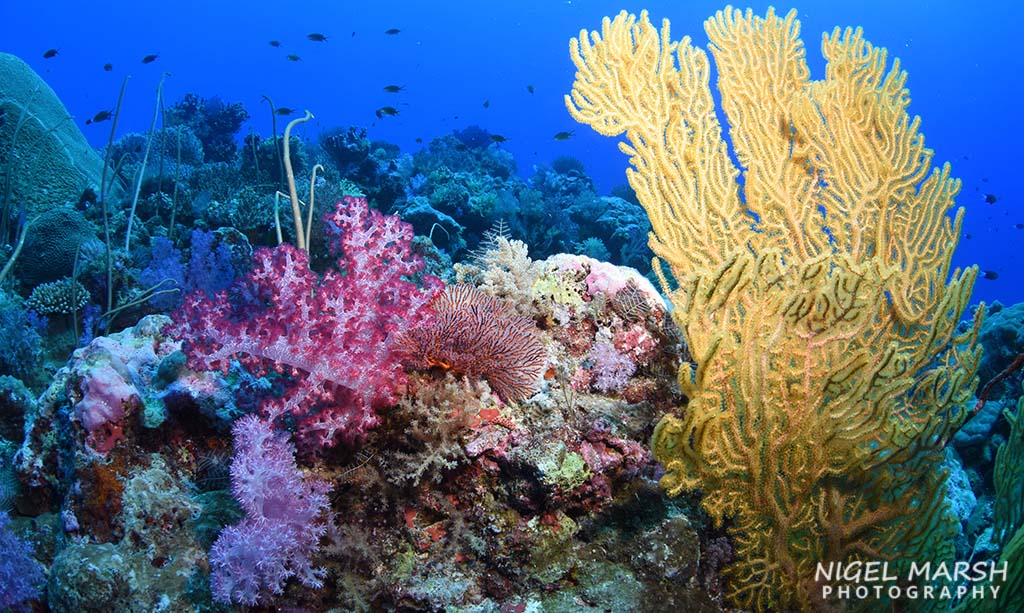 Three liveaboards visit Rowley Shoals:
Odyssey: 24m expedition vessel with 10 cabins (4 twin, 6 double), 4 shared bathrooms. Max 20 guests. Cabins from AUD 3,800 per person twin share for a 7-night trip.
MV Great Escape: 26m catamaran with 7 double cabins with ensuite. Max 14 guests. Cabins start at AUD 4120 per person twin share for a 5-night trip.
True North: This luxury 50m vessel only visits the Rowley Shoals twice each year. She sleeps 36 guests in 18 double ensuite staterooms. Cabins start at AUD 6695 per person twin share for a 5-night trip.
For our six-night adventure to the Rowley Shoals I first had to journey to Broome, one of the most remote towns in Australia and the pearl capital of the world. It took the best part of a day to get to Broome, and I arrived the day before departure so I could look around the town and see the sights, like the famous Cable Beach and a local pearl farm.
Boarding late afternoon, I met my fellow passengers, a mixed group of divers, snorkelers and anglers, and was shown to my cabin. As the sun set over the Indian Ocean, we departed Broome for the overnight crossing to the Rowley Shoals, which lie 300km offshore.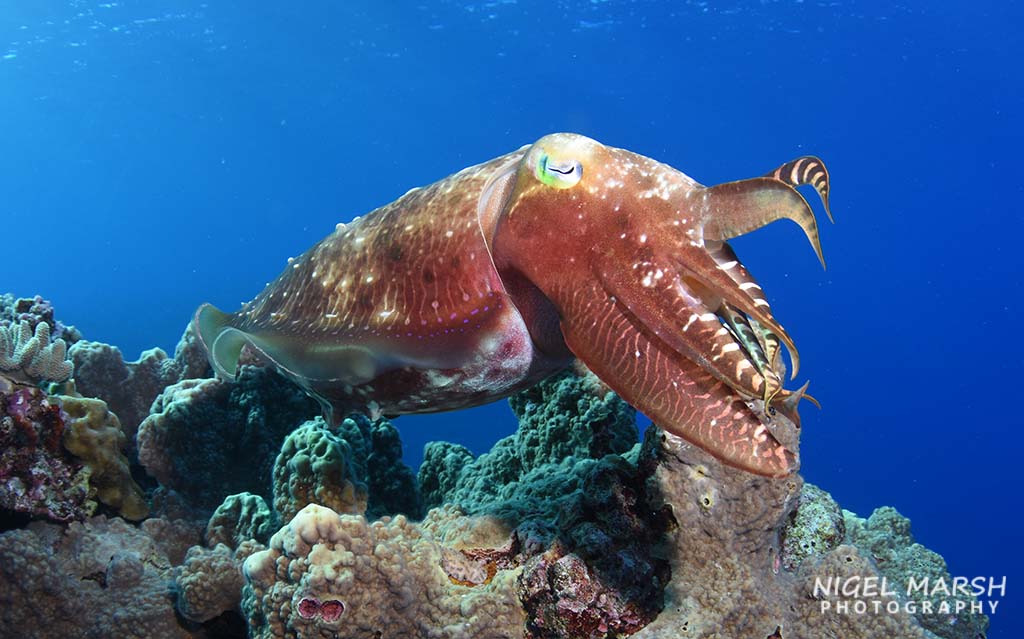 The next morning, we arrived at the Rowley Shoals to find perfect conditions – calm seas, blue skies and light winds. There are three large atoll-like reefs at the Rowley Shoals, which were once the peaks of an ancient mountain range. These reefs are Imperieuse Reef, Mermaid Reef and the one we were going to explore Clerke Reef. Covering an area of 90 square kilometres Clerke Reef is huge, with a large lagoon and even a sandy island at its northern end. Even with four days we were only just sampling the diving at Clerke Reef.
From our very first dive at Blue Lagoon the underwater adventures at the Rowley Shoals were superb. However, there were three things that most impressed me about this dive destination – the fish, the sharks and the corals. At Blue Lagoon we encountered schools of barracuda, trevally, fusiliers, surgeonfish, snappers and sweetlips. But at this site, and other dive sites, we also saw Maori wrasse, coral trout, mackerel, wahoo, rainbow runners, potato cod, moray eels, garden eels and dogtooth tuna. The fish life at the Rowley Shoals is spectacular, but I did find one problem, they were very camera shy as they rarely see divers (only a few hundred divers explore these reefs each year).
The sharks were also impressive, and on each dive we encountered numerous whitetip reef sharks. Also common on the wall dives were grey reef sharks and silvertip sharks. On several dives we were fortunate to encounter groups of juvenile grey reef sharks, less than 50cm long, a very uncommon sight. In the lagoon we also saw several tawny nurse sharks and manta rays feeding on the surface each day. The sharks also proved to be camera shy, but it was good to see a healthy population.
I was also very impressed with the corals at the Rowley Shoals. In the shallows were wonderful hard corals, but down deeper were sea whips, gorgonians, whip corals, sponges and one of the best collections of soft corals I have seen. Fiji is generally considered to have the best soft corals in the world, however I would argue that the soft corals at the Rowley Shoals are equally as good.
Over our four days at Clerke Reef we dived a dozen sites, exploring walls, bommies, coral gardens, canyons and caves. At Clerke Wall we saw lots of pelagic fish, turtles, sharks and also a charming broadclub cuttlefish. At Jimmy Goes To China we were surrounded by grey reef sharks and silvertip sharks, but also saw impressive corals and thick schools of five-lined snapper. Other wonderful dive sites we visited included The Bommie, South Park, Sheer Delight and Plectropoma Pass. We also explored the channels into the lagoon, doing a drift dive through the Main Channel and a drift snorkel through a smaller boat channel. Another highlight of the Rowley Shoals was the visibility, which varied between 20m to 40m depending on the tides, but one morning was close to 60m.
My adventure to the Rowley Shoals ended all too quickly, but I was happy to finally visit this iconic Australian dive destination on one of the finest vessels afloat, the amazing True North.