Introduction
Location
Accommodation
Diving
Pricing & Schedules
Enquire Now
The Rowley Shoals is a chain of three spectacular pristine coral atolls which rise up from the ocean floor 400 m (1312 ft.) below on the very edge of Australia's continental shelf.  The Rowley Shoals is hence one of the most remote dive locations in Australia and diving the Rowley Shoals is seasonal with trips only available around October each year.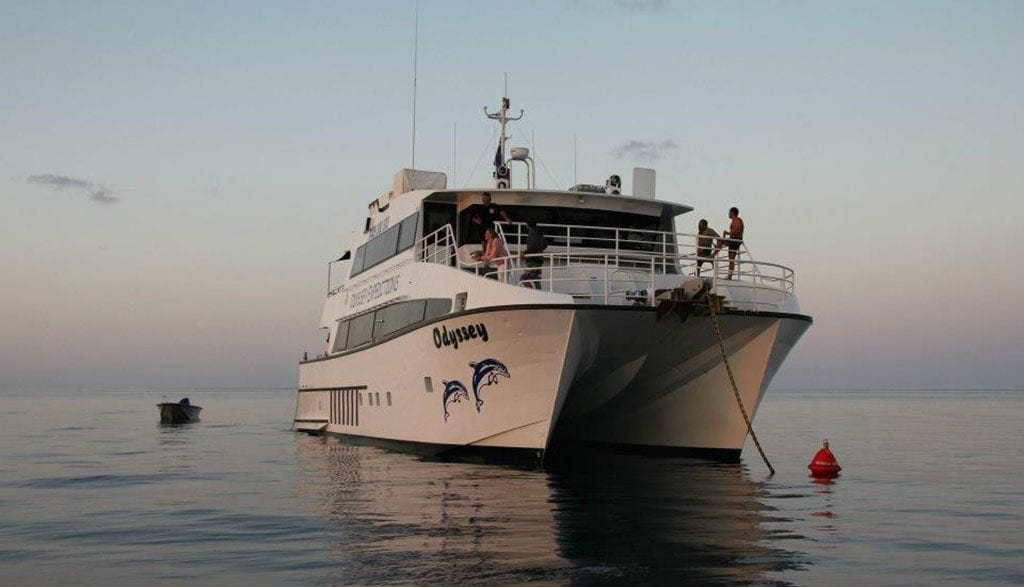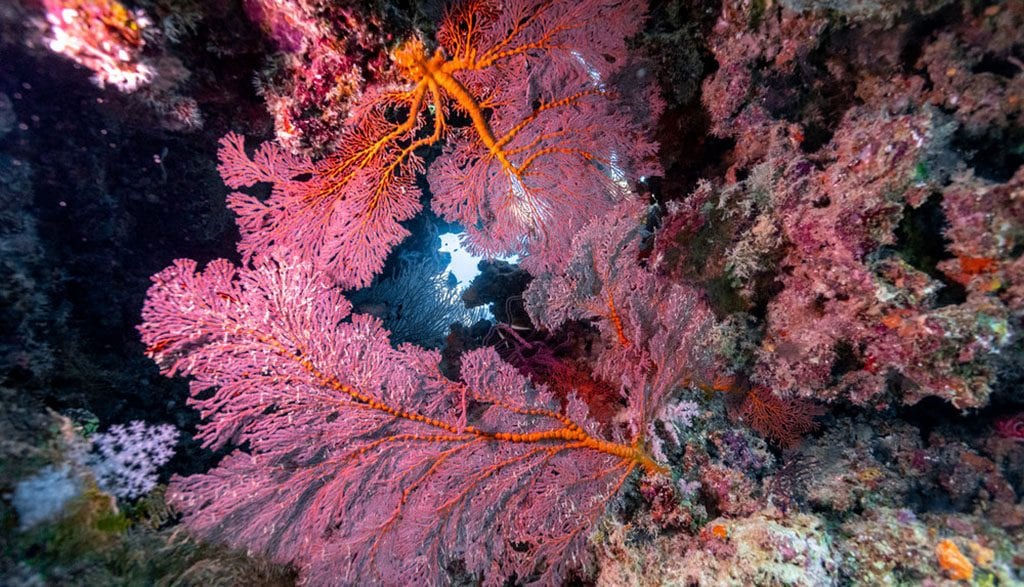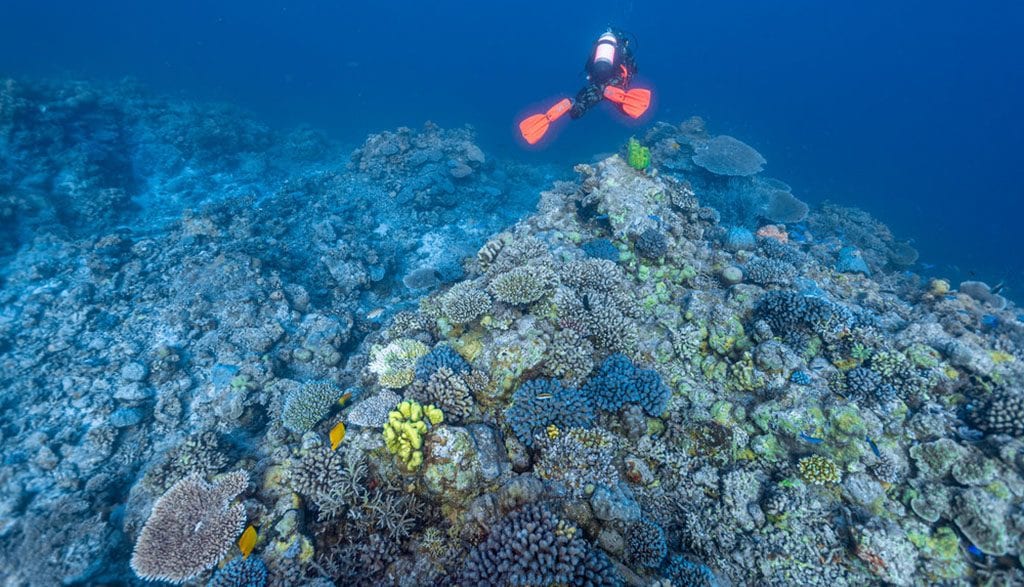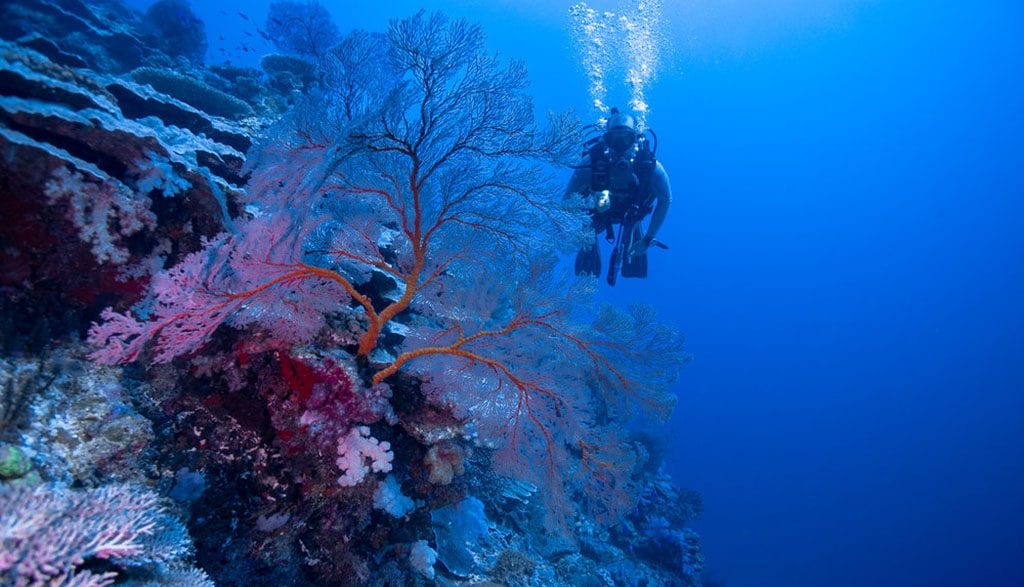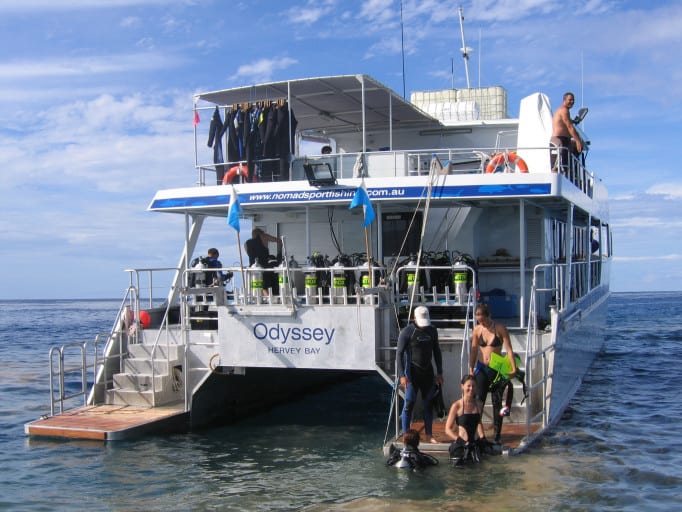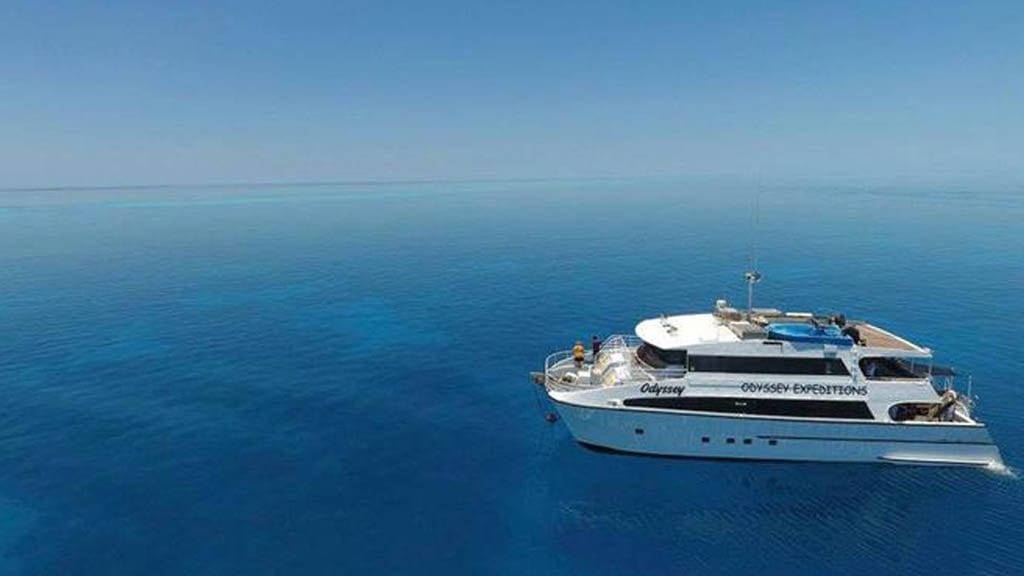 Facilities
The air-conditioned indoor dining area can seat all passengers comfortably for meals or presentations. Enjoy a drink at the bar located outside on the upper deck where all guests can be seated under shade for alfresco meals. There are 3 other comfortable outdoor viewing decks.
There are three large flat screen TV's are to be found throughout the upper and lowers decks to keep you informed and entertained. Electricity on-board is 240v with Australian power sockets.
We think…
Odyssey offers fantastic value for money in the Rowley Shoals where otherwise only more expensive excursions are on offer.
Odyssey Expeditions itineraries depart from their depot at 5 Lucas St, Broome, Western Australia. It is just 500m from the international and domestic airport which has frequent connections to most of the major cities. Guests must check in before noon on the day of departure. On the day of return, guests are transferred to local hotels or the airport by 10am.
The Odyssey is a custom built 24m (78 ft.) expedition vessel with 10 cabins with a maximum of 20 dive guests.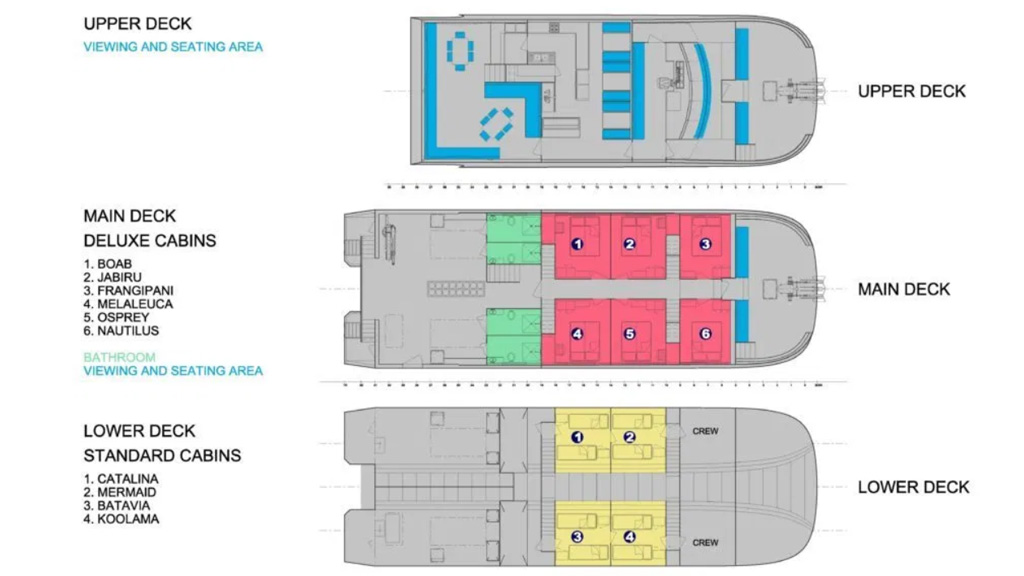 Four are 'Classic' twin bed cabins and 6 are 'Deluxe' double bed cabins. All are well equipped with individually adjustable air-conditioning, storage units and bar fridges, and the deluxe double cabins also feature built-in desks, a vanity and basin. The cabins have no en-suites, but four spacious bathrooms are available for guests to share. Located on the mid-deck, each bathroom has a toilet, shower and vanity.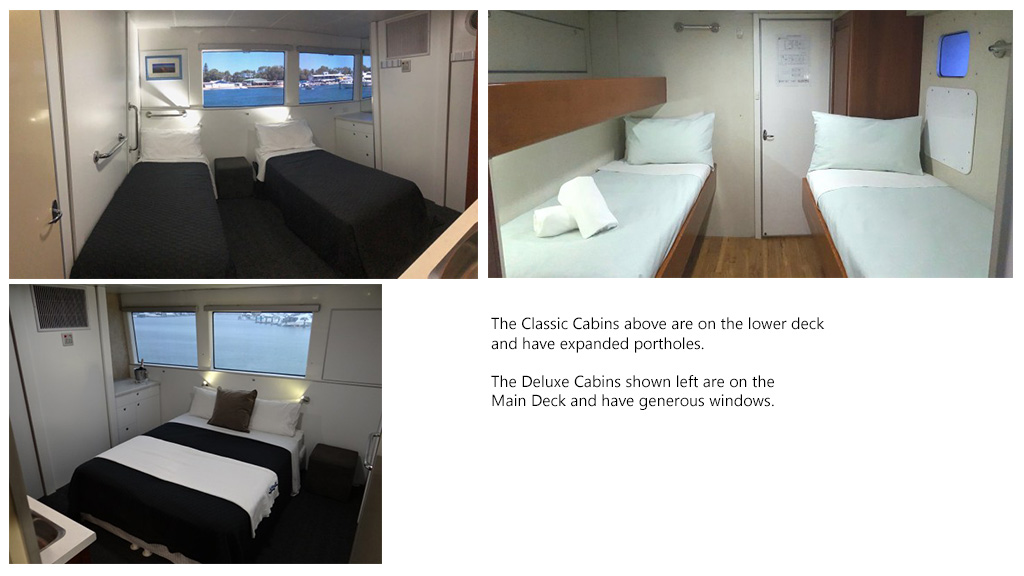 The spacious dive deck contains a central dive rack with stations for all 20 divers, which is the maximum number to be taken on excursions. There is ample under-seat storage for dive gear and hanging space for wet items. Up to 4 dives are offered per day, sometimes this includes a night dive (weather permitting). Prospective Dive Guests should note that dive gear rental and dive courses are not available on board.
The 12m (40ft) dive tender expedition vessel 'Homer' is one of the most luxurious dive tenders one can think of. 'Homer' carries all 20 guests in comfort and safety, whilst two quiet motors ensure that you don't miss a word of the dive brief. 'Homer' has comfortable seating and lots of shade cover. 'Homer' also boasts an easy access ramp and stairs for landings and on-board toilet and water facilities. It makes an ideal dive platform.
Dive areas: The Rowley Shoals
The Rowley Shoals are about a day's cruising from the shore, and the area is accessible only by liveaboards from Broome on the Kimberley Coast. Diving is seasonal and excursions are offered only between October and December each year. The Rowley Shoals is a chain of three spectacular pear-shaped pristine coral atolls – each covering 80 to 90km2 and rising up to 400 m (1312 ft.) from the ocean floor on the very edge of the widest continental shelf in the world. Here you dive amongst the giant clams, shellfish, Giant Potato Cod and Maori Wrasse. Trevally, mackerel and tuna hover in large schools around you, and you can discover over 200 species of coral and over 650 species of fish. Visibility in excess of 60 metres (197 ft.) is common.
Rowley Shoals are among the few reefs in the world affected by a high tidal range. The dramatic 5m tides pour massive volumes in and out of the coral framework and have created unearthly and enchanting coral scapes. The turquoise lagoons are filled with coral bommies brimming with exotic tropical fish. Drift diving in and out of the atolls sweeps you through pristine reefs with turtles and sharks and more.
Monte Bello and Mackerel Islands
Occasionally, The Odyssey takes divers to Monte Bello Islands on the cruise from/to Exmouth in Western Australia. These waters offer some of the most colourful hard and soft coral gardens in the region, along with the opportunity to come face to face with giant potato cod, manta rays and turtles. You'll enjoy brilliant tropical wonderlands with the pristine beaches and islands alive with numerous types of fish, flora and fauna.
Anchoring in secluded turquoise waters fringed by miles of untouched beautiful beaches guests can go ashore to watch hundreds of mating turtles, or catch your own seafood medley. All of the Islands hold their own special beauty, attractions and history, unique only to itself.
Non-diving tours: Kimberley Coast Excursions
In the long off-season, The Odyssey offers sightseeing and fishing excursions along the beautiful Kimberley Coast of Western Australia. Explore waterfalls, visit remote beaches, go for scenic bush walks and more.
All inclusive 7 night itineraries start from AUD 4,990 per person in a Deluxe, and AUD 4,490 per person in a Classic cabin in 2023.
Odyssey Expeditions Rowley Shoals Trip Availability 2023
2023 Season Availability
Deluxe Cabin
Classic Cabin
Tuesday 3 - 10 October 2023
1/2 (female)
1/2 (female); 1/2 (male)
Thursday 12 - 19 October 2023
FULLY BOOKED
FULLY BOOKED
Saturday 21 - 28 October 2023
2 cabins
0 cabins
Monday 30 Oct - 6 November 2023
2 cabins
2 cabins
Deluxe Cabin: AUD 4,990 per person
Classic Cabin: AUD 4,490 per person
Please note that this panel is updated periodically and is not live availability. Please use the [Enquire Now] tab to give us your requested dates and we'll re-confirm availability for you.