Introduction
Location
Accommodation
Diving
Pricing & Schedules
Enquire Now
Great Escape – Looking for something totally different?
The Rowley Shoals is one of the most remote dive locations in Australia. Only a couple of cruises a year visit this pristine atoll. Diving here is something that has to be experienced to be believed, and no one knows the secrets like Chris Tucker, and the crew of the luxurious Great Escape. The liveaboard is a 26m catamaran and perfect for remote diving in comfort and style. Diving at the Rowley Shoals is seasonal, trips are only available around October and November. During the rest of the year, the MV Great Escape makes non-diving excursions along the Kimberley Coast of Western Australia.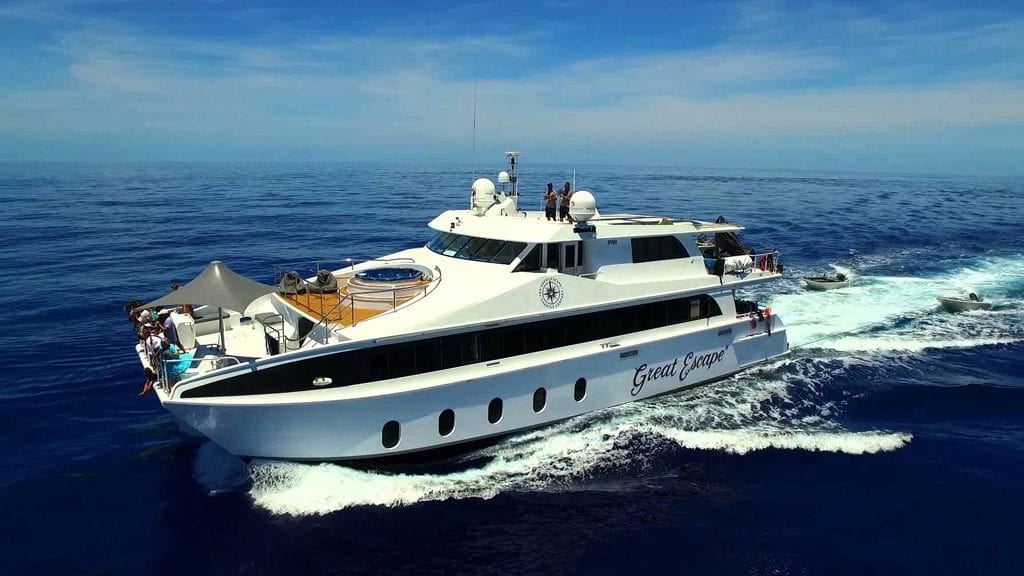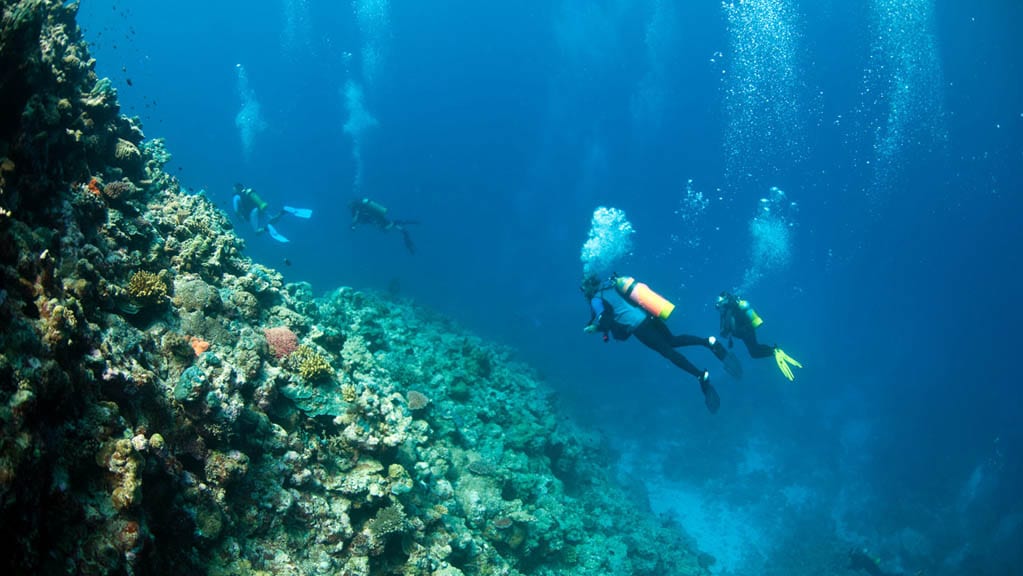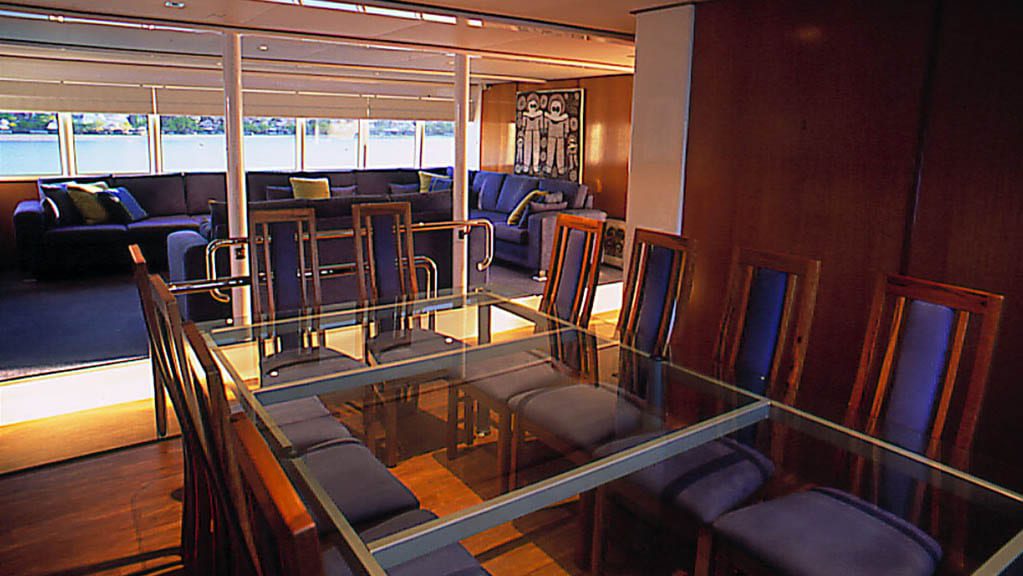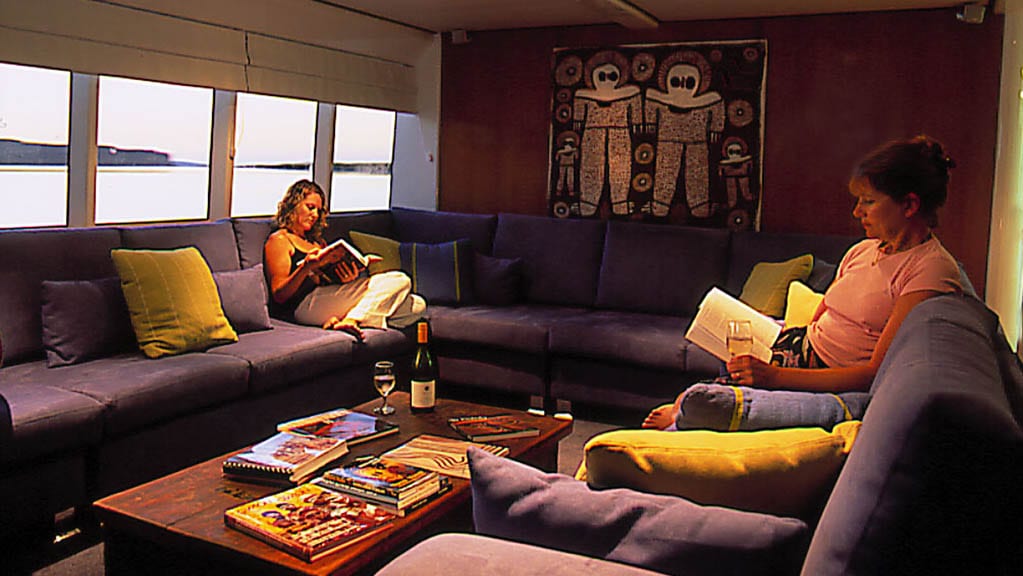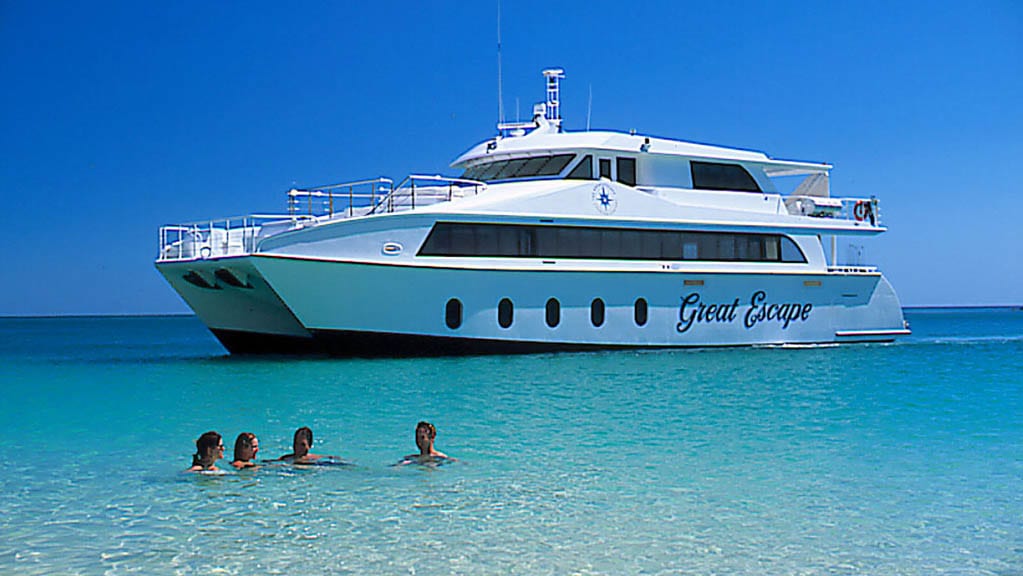 Features
The MV Great Escape liveaboard is fitted with the latest electronic navigational, safety and communication equipment. Freshwater is on-board for both drinking and bathing and an ice machine is available. A fully equipped galley with large cool room prepares fresh gourmet meals three times daily. Towels and linen are supplied and a large, covered back deck is used for relaxed entertainment and alfresco dining. A specially designed 8-person spa is located on the bow, the perfect place to enjoy a cold beverage and a spectacular Kimberley sunset.
Diving charters are well catered for with two below deck compressors and air banks for quick refills. There are three control stations for visual manoeuvring when picking up divers from drift dives. The three 5m dive tenders are used for exploration and some fishing adventures. Furthermore, there is a very large back deck area with great personal space for divers setting-up their dive gear. The dive platform has been specifically designed for easy access on and off the vessel with 4 gradually sloping stairs to the back deck. In addition, the Great Escape has a dedicated camera work and storage area with fresh water for camera wash-downs.
We think…
The Great Escape is a luxurious vessel and one of only two vessels which offers dive trips to the Rowley Shoals. Diving the Rowley Shoals is a fantastic experience and should not be missed if you're planning a holiday between October and November on the west coast in Australia. But make sure you book it well in advance, as the few excursions are often booked out a year in advance!
Great Escape itineraries depart from Broome, Western Australia, which has its own international and domestic airport with frequent connections to the major cities.
The liveaboard is built to accommodate just 14 passengers in 7 cabins. All cabins are fitted with en suites and queen size, walk around beds and air-conditioning.
Horizon View Staterooms: The 4 Horizon View Staterooms are located on the lower deck, all with large porthole style windows, personal fridges, flat screen televisions and DVD players. These rooms have queen-size beds you can walk all the way around.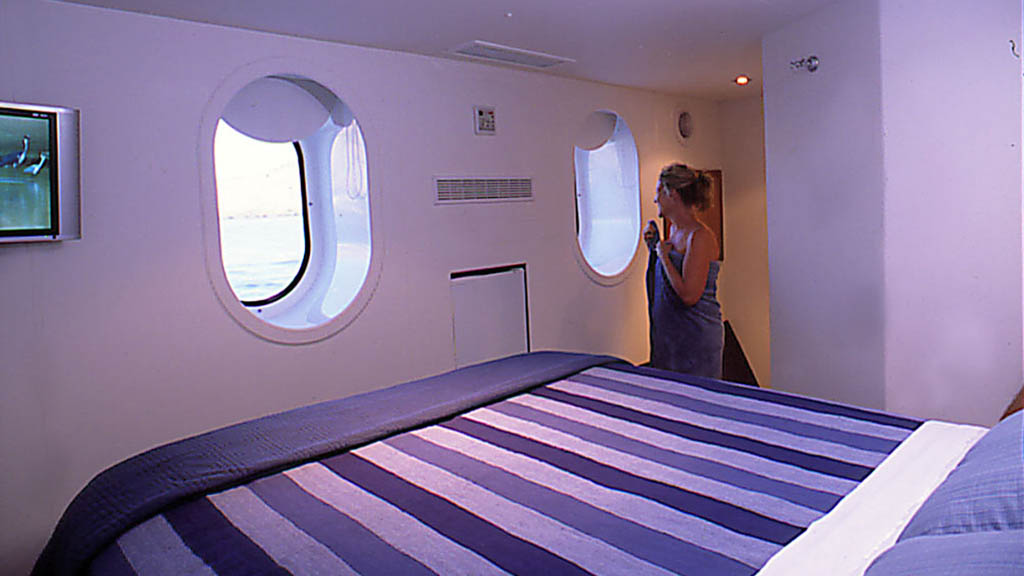 Two of the Horizon View cabins can be configured as twin-single beds as well.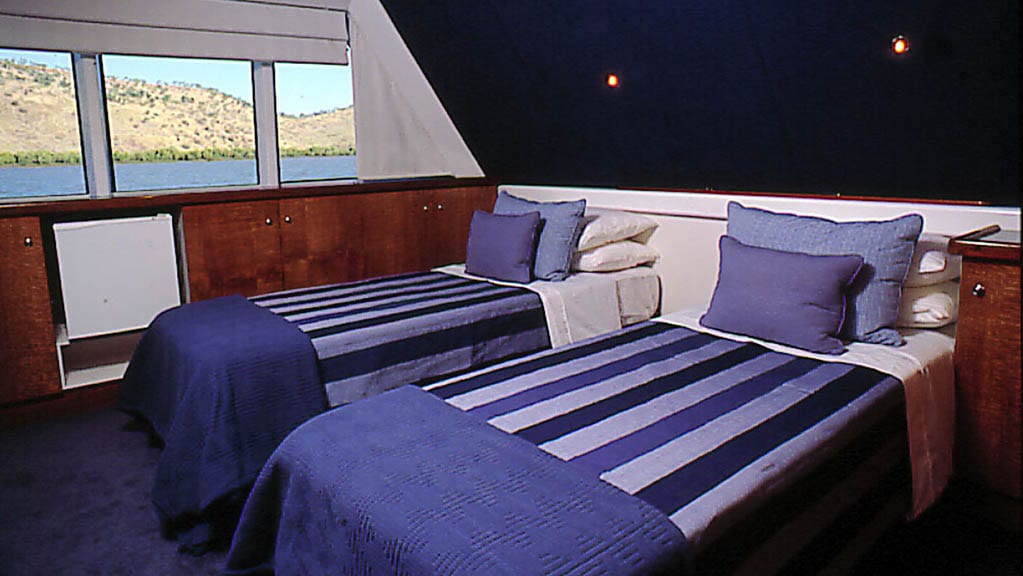 Panoramic View Staterooms: 3 Panoramic View Staterooms are located on the mid-level and on the upper deck. This is the superior level of accommodation on-board MV Great Escape, providing added space, larger windows, and larger en suites.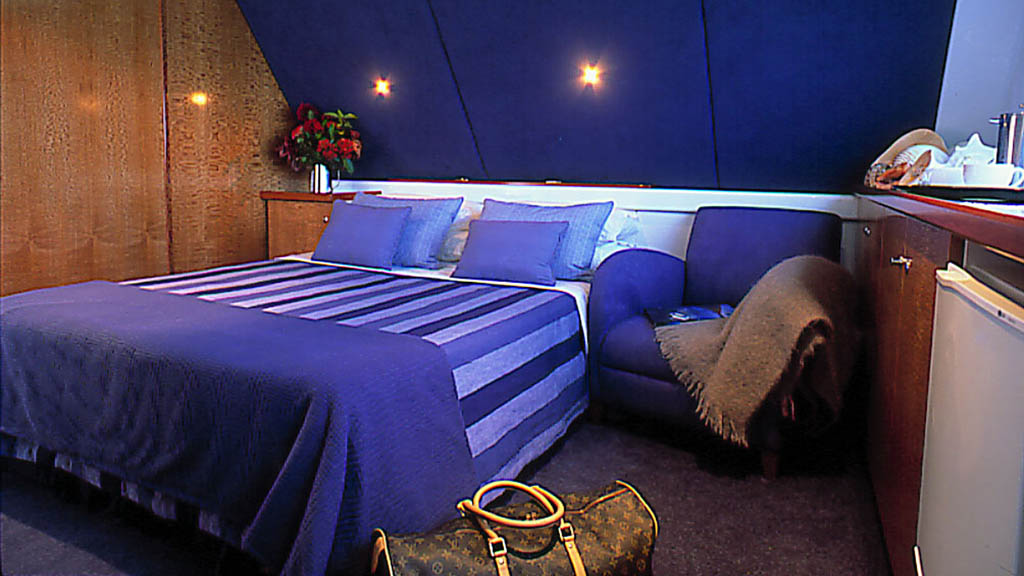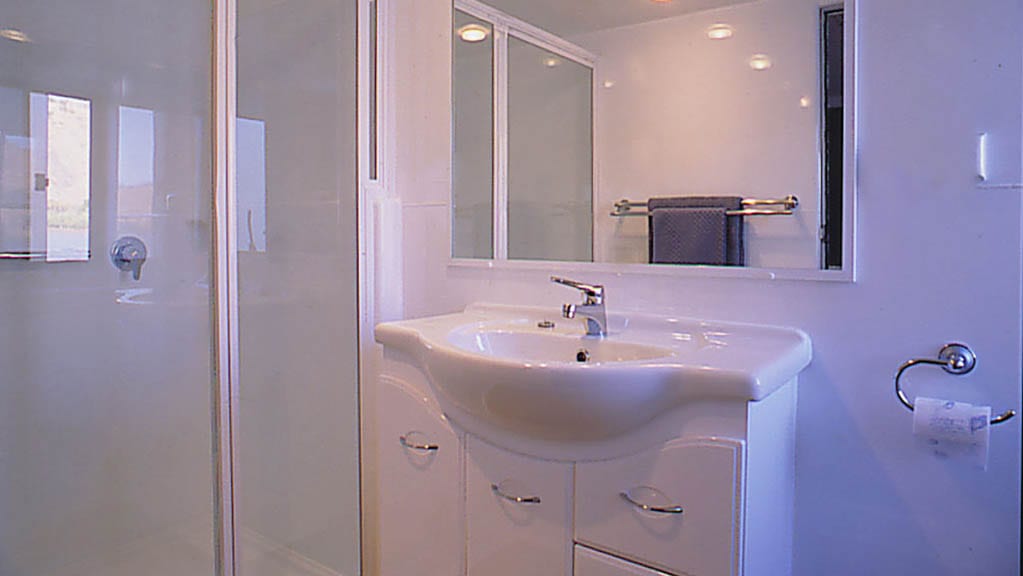 Dive Area
A thousand nautical miles north of Perth, and only an hour's direct flight from Bali, lies the fabled Kimberley Coast. A day's cruising west of Broome, discover the Rowley Shoals, an eco-dive experience unmatched anywhere else in the world. Rowley Shoals is a chain of three spectacular pristine coral atolls – each covering 80 square kilometres and rising up to 400m (1312 ft.) from the ocean floor on the very edge of the widest continental shelf in the world. Comparable to the Coral Sea on the East coast, the all year round warmer waters and the stronger prevailing currents make this a unique underwater environment.
Rowley Shoals offer some of the most pristine diving anywhere. Only a small number of divers have experienced this, as yet, relatively undiscovered underwater paradise.
Dive on one of the largest untouched coral gardens on earth. Dive amongst the Giant Clams, shellfish, Giant Potato Cod and Maori Wrasse. Discover over 200 species of coral and over 650 species of fish. With visibility in excess of 60m (197 ft.) and a warm tropical climate – this is one dive adventure not to be missed!
Pricing for MV Great Escape
** 2023-2024 season is currently on a Waitlist Only basis**
Below pricing is indicative only
AUD
5 Night Panoramic View Stateroom
5120
7 Night Panoramic View Stateroom
6770
5 Night Horizon View Stateroom
4120
7 Night Horizon View Stateroom
5770
Pricing includes accommodation as specified, all meals, non-alcoholic beverages, transfers in Broome on charter days, linen, towels, tanks, weights, air fills and dive guide.
Please use the [Enquire Now] tab to contact us for latest availability.