When you think about diving with manta rays, let's be honest, Brisbane isn't the first destination that comes to mind. Yet each summer, there are fantastic manta encounters to be had at a dive site called: Manta Bommie.
Mention the word manta and divers dream of the Maldives, Palau, Raja Ampat or Komodo, however, Manta encounters are actually possible at many locations in Australia, including Lady Elliot Island and Ningaloo Reef. But most divers would be surprised to discover that one of Australia's best manta ray dive sites is located just offshore one of its largest cities – Brisbane's Manta Bommie.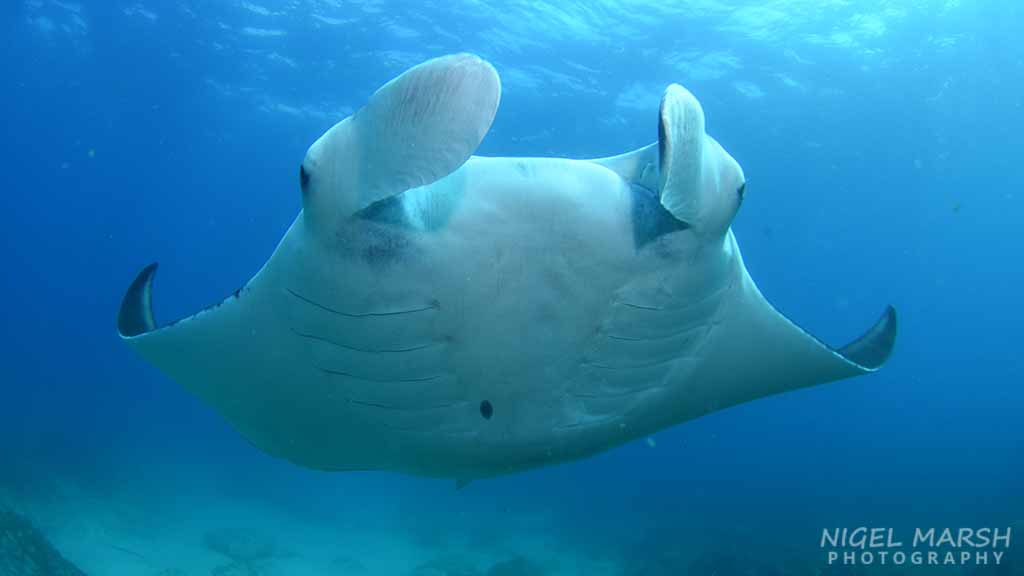 Situated off North Stradbroke Island, or Straddie, Manta Bommie is a collection of rocky outcrops surrounded by a rugged rocky reef in depths from 3m to 15m. This rocky reef is riddled with ledges and home to a good variety of invertebrate species, such as octopus, crayfish, nudibranchs, shrimps, cowries and crabs. But most of these critters are overlooked by visiting divers that are looking to encounter manta rays.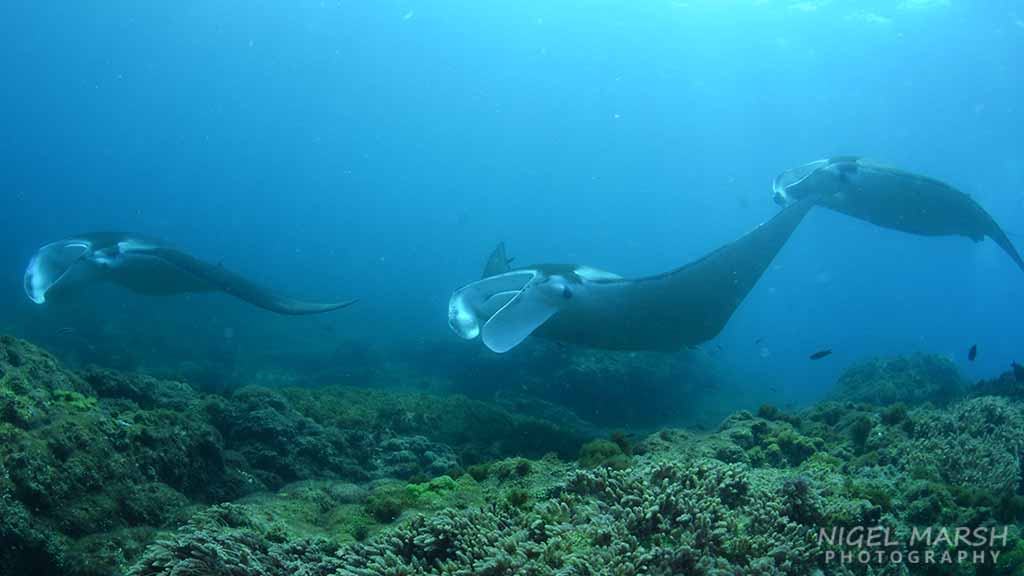 Reef manta rays gather at Manta Bommie in large numbers, with researchers identifying it as the second most important manta gathering site in Australia after Lady Elliot Island. The manta rays aggregate at this site from November to May to get cleaned, but feeding is also commonly observed.
While manta encounters are never guaranteed, on most dives you will see at least three to six manta rays gliding around the reef or hovering over one of the bommies getting cleaned. But on some magic days you will see a dozen or more.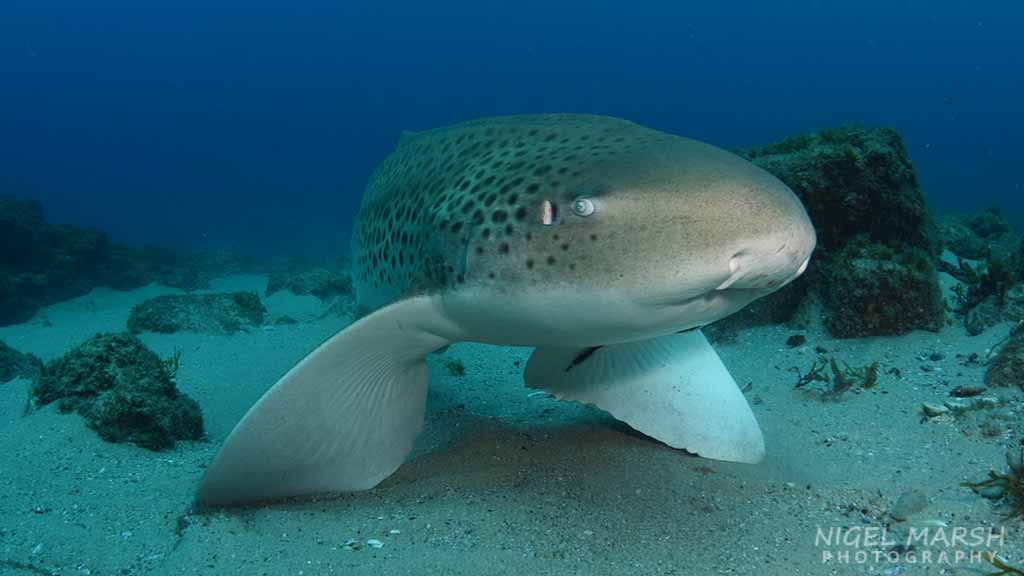 While the manta rays are fabulous to watch at Manta Bommie, they are not the only attraction, as this incredible dive site is a magnet for sharks and rays. Another summer visitor are leopard sharks.
Beyond the rocky reefs are sandy gutters and a vast plain of sand where leopard sharks love to rest. Studies at the site by shark researchers have found that over 500 leopard sharks visit Manta Bommie each year, making it the world's best dive site to see these wonderfully patterned sharks. On most dives you will see a dozen or more leopard sharks, but sometimes there are so many that they are impossible to count.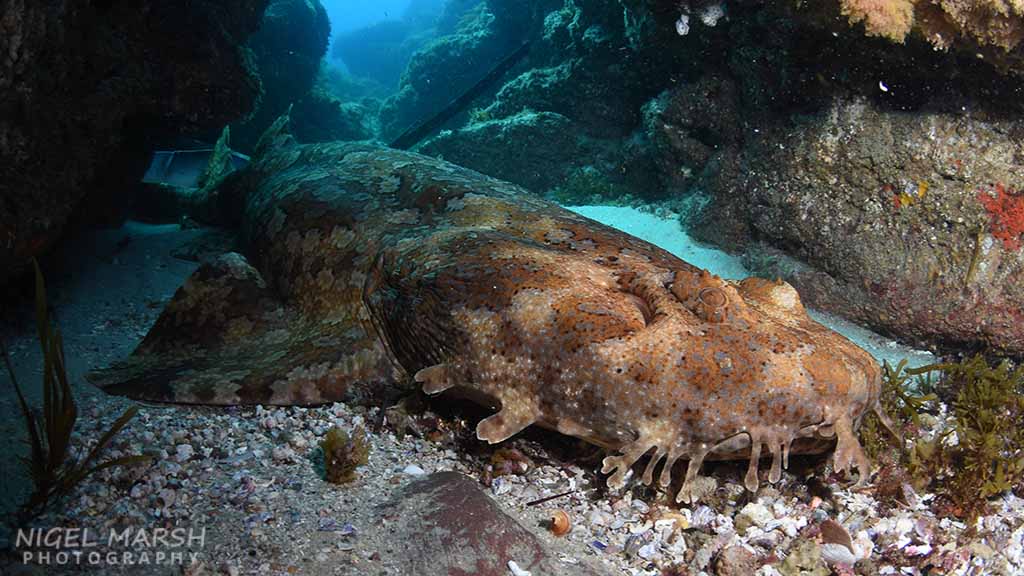 And the manta rays and leopard sharks are not the only elasmobranchs found at Manta Bommie. Resting in the ledges are banded wobbegongs, spotted wobbegongs, ornate wobbegongs, blind sharks and brown-banded bamboo sharks. Spotted eagle rays are also commonly observed soaring around the reef. While resting or feeding in the sand are blue-spotted maskrays, blotched fantail rays, pink stingrays, cowtail rays and the occasional leopard whipray. But another impressive visitor are the large white-spotted shovelnose rays, with dozens seen on some dives.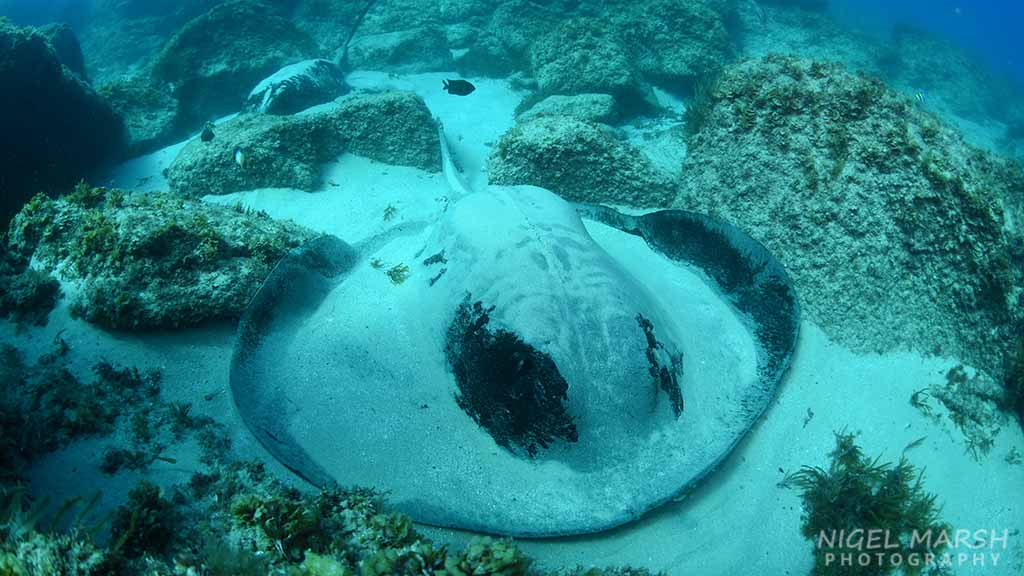 Naturally the site is also home to a good variety of reef and pelagic fish, with divers commonly seeing gropers, lionfish, scorpionfish, sweetlips, morwong, snappers, porcupinefish, angelfish, butterflyfish, wrasse and schools of trevally.
While Manta Bommie is an amazing dive site, it does have a few limitations. For a start the site is only overloaded with marine life from November to May, outside this period it is almost barren. And the site doesn't always experience the best conditions; in fact, it is often like a washing machine – with a choppy surface, strong currents and surgey conditions. And finally, the visibility is a little unpredictable – varying from 3m to 30m, but mostly around 12m to 15m. However, on a clear day the staggering number of sharks and rays at Manta Bommie make it one of the most amazing dive sites in Australia.
Feel like going further afield for manta encounter? Here are our Top 5 Manta Destinations:
1. Hanafaru Bay, The Maldives.
The Maldives, being a string of coral atolls surrounded by deep deep water, attract lots of pelagic creatures, including turtles, whale sharks, huge aggregations of nurse sharks and one of the world's largest aggregations of mantas: Hanifaru Lagoon at Baa Atoll.
2. Nusa Penida, Bali
Being so close to tourism hotspot Bali, the manta dive sites of Nusa Penida are easily accessible and growing increasingly popular. Both cleaning station and feeding ground, mantas here can be seeing looping the loop in graceful chains.
3. Raja Ampat, Indonesia
There are a coupe of well-known manta dive sites in Raja Ampat but the best-known in Manta Sandy, located to the south of a large reef near Arborek Island.
4. Lady Elliot Island, Australia
Lady Elliot Island is a destination well known for manta activity – indeed, the island advertises itself as 'Home of the Manta' and is used frequently as a base for the research team at Project Manta.
5. German Channel, Palau
You'd expect Palau to have mantas, because let's face it – Palau has everything. That's probably because they had the foresight to ban commercial fishing in all their territorial waters creating a massive Marine Sanctuary.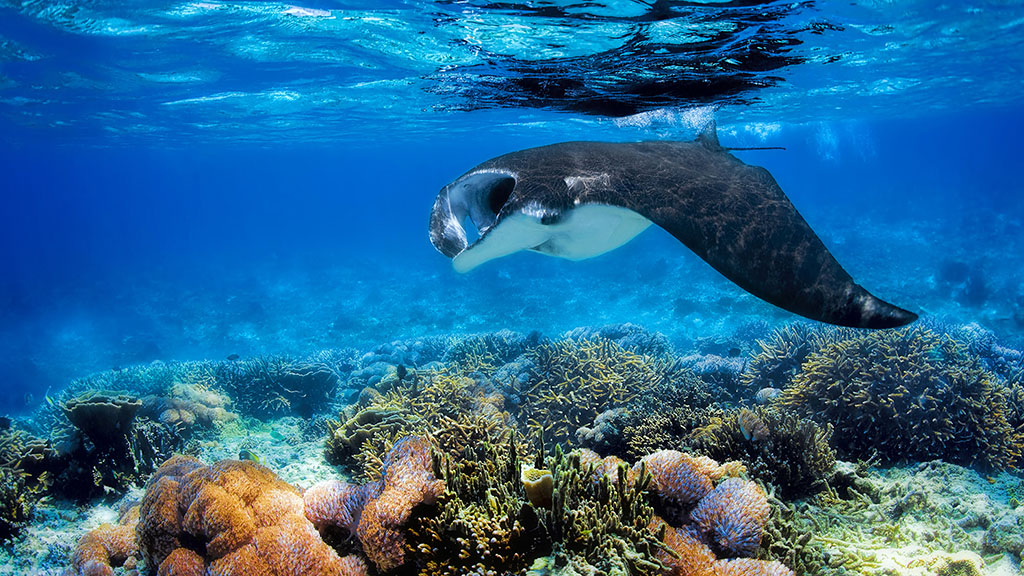 A number of dive operators run charter trips to Manta Bommie. On Straddie are Manta Lodge and Scuba Centre and Point Lookout Scuba Dive Charters. While the Brisbane based Go Dive Service Centre and Dive Charters operate a boat from Manly.