Jacques Cousteau once claimed that the Poor Knights Islands have the best subtropical diving in the world. He must have been a little confused on his geography, as the Poor Knights Islands are located in a temperate zone. But we can understand his confusion, located in New Zealand's North Island region of Northland, the islands are washed by a warm tropical current, which attracts countless subtropical species, making it one of the most interesting and unique dive destinations on the planet.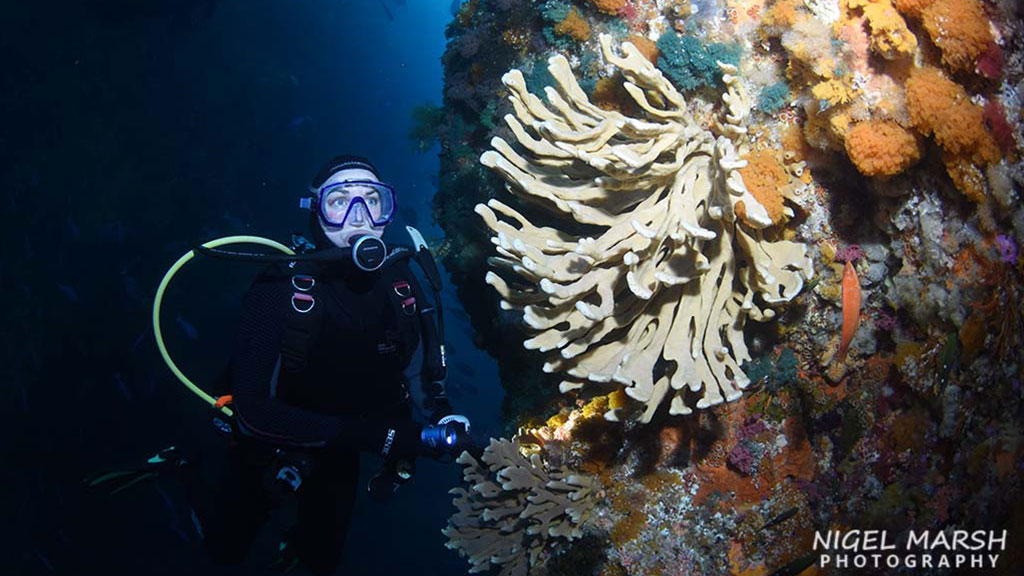 The Poor Knights Islands are New Zealand's most famous dive destination. Located north of Auckland, off the small coastal town of Tutukaka, the Poor Knights Islands are bathed by the warm clear waters of the East Australian Current, or EAC, made famous in the film Finding Nemo. These warm waters bring subtropical species to the islands, which swim alongside temperate species in the kelp and sponge gardens around the islands. Because of this fascinating mix of species, the islands were declared a marine reserve in 1981.
We recently spent a week diving the Poor Knights Islands with Dive! Tutukaka. The dive shop is the most famous and highly awarded dive shop in New Zealand, and operates a fleet of five dive boats out to the islands. They also have onsite accommodation at the luxurious Lodge 9, which offers features not normally associated with a dive lodge, like continental breakfast, afternoon tapas and free wine and beer.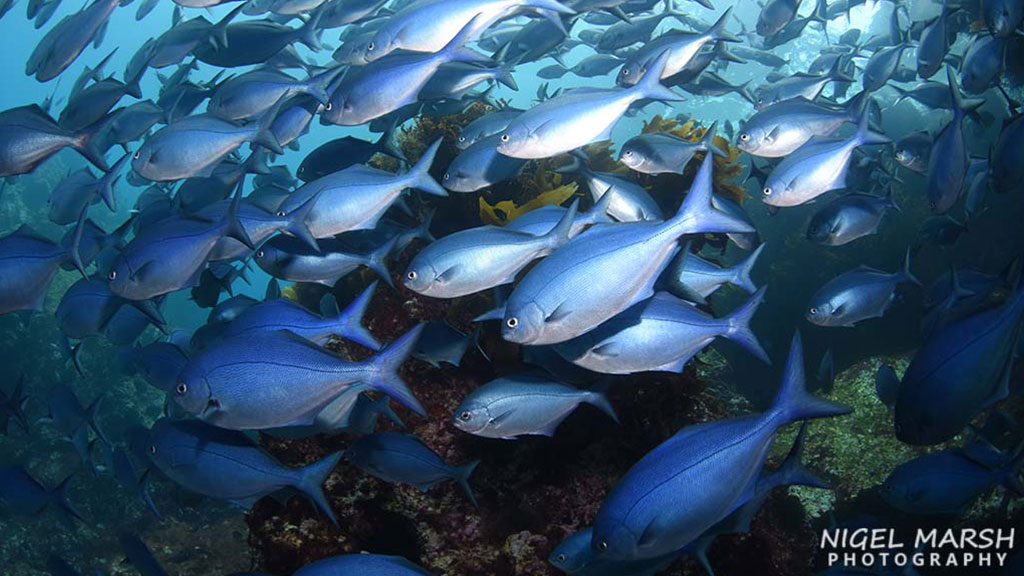 We were impressed with Dive! Tutukaka and the diving at the Poor Knights from day one. The islands are located 24 km offshore, so it takes around one hour to reach them. This crossing was never boring as we saw dolphins, seabirds, penguins and hammerhead sharks, but the crew also told us they see sunfish, manta rays, seals and whales.
The terrain around the islands is breathtaking: towering sea cliffs, caves, arches and pinnacles of rock. And most of these structures are reflected underwater, creating spectacular terrain. Each day we did a double dive, and quickly found that most dive sites had options for beginners as well as more experienced divers.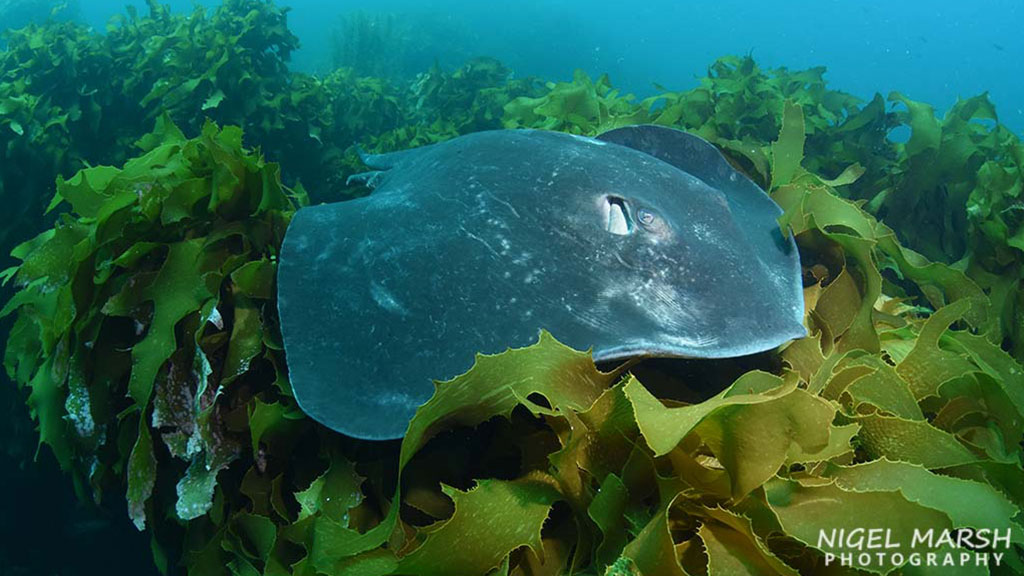 At Northern Arch we explored an impressive arch cutting through a rocky point. The bottom of the arch is at 38m, and the walls around it drop into 50m plus, but you didn't have to go below 20m to have a great dive. This amazing arch is overloaded with fish life, including familiar species like snapper, kingfish and trevally, and less familiar ones like pink maomao and blue maomao, which are a type of sweep. Also, the dazzling walls of the arch are encrusted with colourful sponges, anemones, algae and bryozoans. We also saw a bronze whaler at this site, which are often seen in deeper water.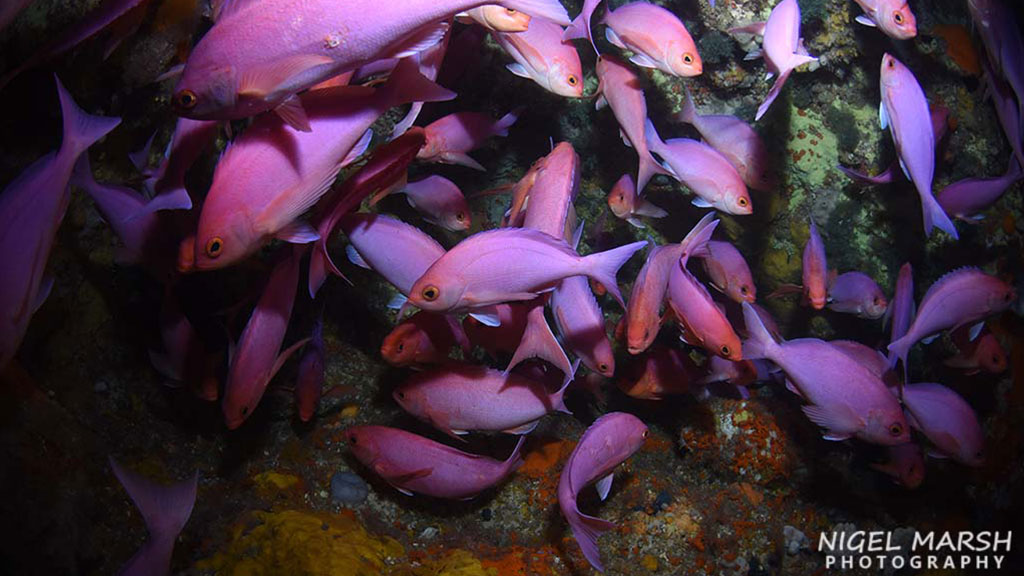 Over the week we dived more arches at Middle Arch and Blue Maomao Arch, explored caves at Sharkfin Cave and Jan's Tunnel, and investigated rocky kelp covered reefs and walls at Brady's Corner, Magic Wall, Cleanerfish Bay and Dutch Cove. The water temperature was also quite pleasant, varying between 19°C and 21°C in February, while the visibility varied from 12m to 25m. All the dive sites had fascinating terrain, but it was the marine life that most impressed us.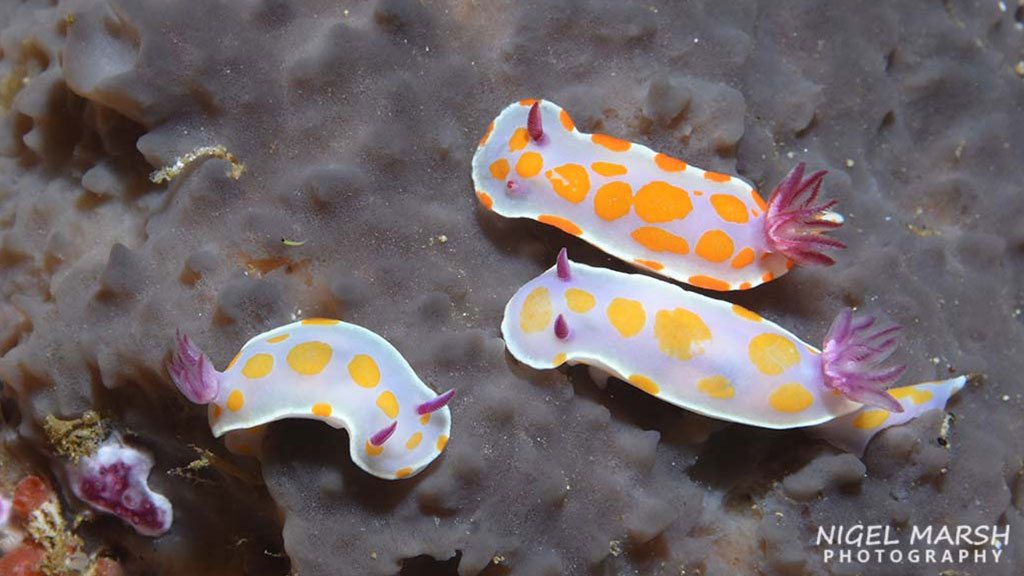 On each dive we saw a good variety of invertebrates, nudibranchs were especially common, but the friendly fish were our favourites. While some of the species are familiar, as shared with the east coast of Australia and Lord Howe Island, most had a different name. For example, the banded morwong is called the red moki in NZ. Many of the fish are unique to this area, like cute little triplefins, perch and demoiselle. During our dives we saw temperate species like leather jackets and butterfly perch alongside subtropical species like the Lord Howe coral fish and the sharp-nosed puffer. But we also saw boarfish, scorpionfish, blennies, conger eels, butterfish and eagle rays.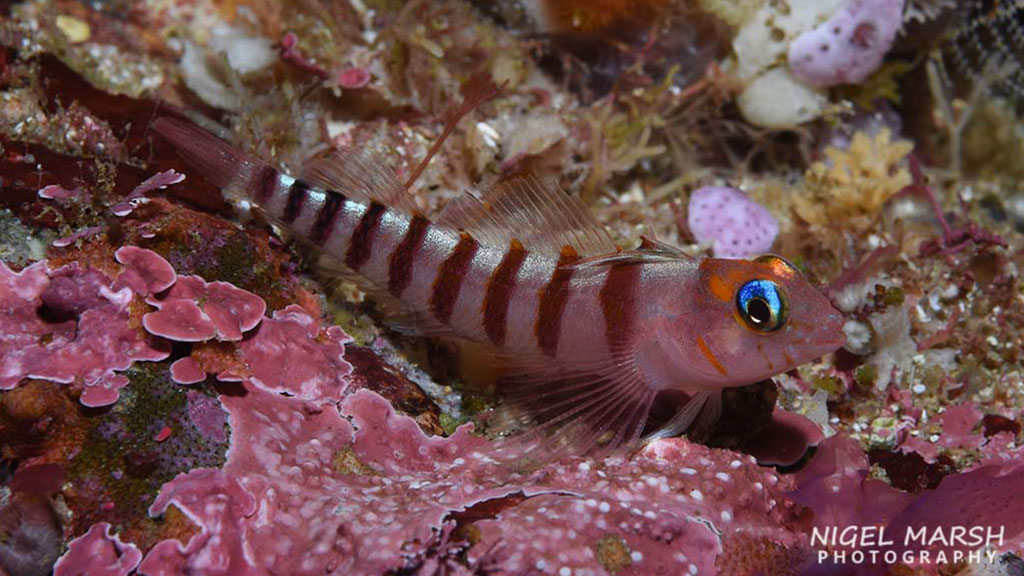 Stingrays are also very common at the Poor Knights Islands. On most dives we encountered smooth stingrays, known locally as the short-tailed stingray. At Cleanerfish Bay we found a cave with four of the rays cruising around. These rays are also known to gather in arches and caves over the summer months for breeding, but we missed that spectacle.
Even more impressive were the moray eels, – and they were everywhere. Most morays reside in tropical and subtropical regions, but surprisingly seven species are found at the Poor Knights Islands. Several of these morays are also found in Australia, but most are unique to New Zealand. We have never dived sites with so many morays, and not just hidden away in ledges, but out in the open and even draped over the kelp and sponges.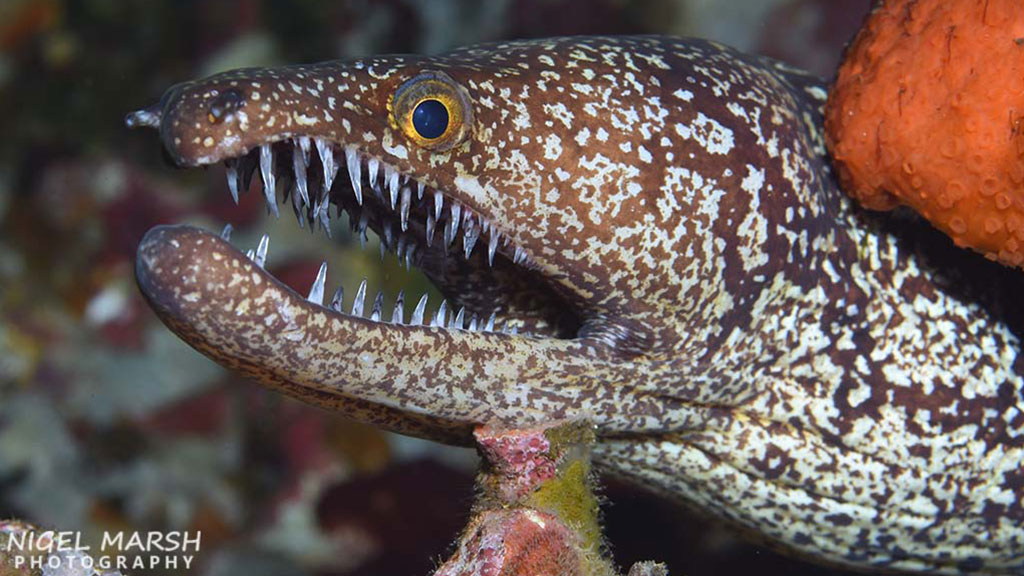 As a photographer, the Poor Knights Islands provide an incredible location for either a wide-angle or a close-up lens. The colours of the boulders are unforgettable, a rich tapestry of pinks, yellows, oranges, greens, reds and blues. On every dive my camera went into overdrive photographing the fish, morays, nudibranchs, stingrays and incredible structures.
We had a fantastic time at the Poor Knights Islands and don't understand why more Australian divers aren't flocking to this amazing dive destination just across the ditch.