Taiwan is not the first destination to come to mind when you think about diving holidays. It's probably not even second or third, but as I found out recently – diving Green Island Taiwan is definitely worth considering.
Although I'd not dived in Taiwan before my recent visit, I have visited the country a few times, and I'm already a fan. The culture is fascinating, somewhere between Chinese and Japanese culture, beautiful Taoist and Buddhist temples, quirky pop culture and (let's face it) damn good food.
The east coast of Taiwan is different again, with a large indigenous population, and in the little surfing towns that dot the coastline, a touch of California. The surf cafes offer a fusion of Californian, Japanese and Chinese food, with dishes including burgers, burritos, dumplings and ramen.
Green Island, an hour's ferry ride from the south-east corner of Taiwan, is famous for its fringing coral reefs and clear water. I've seen a few photos, but I really don't know what to expect as we board our ferry. In fact, I'm actually a bit worried about conditions as there has been a lot of rain over the past few weeks and a super typhoon is currently winding a destructive path to our east on its way to Japan.
The surf along the coast is a muddy brown colour – not the most enticing colour for divers – but I'm assured conditions will be different on Green Island, that the water is usually clear even one day after a typhoon has hit.
The crossing is a bit rough, with plenty of vomit bags used by passengers, but we divers know better so have already taken sea sickness tablets. When we arrive on Green Island however, we find a sheltered bay, a pretty little seaside village and turquoise water. We check into our Mediterranean-style whitewashed bed and breakfast, grab our gear and head to the dive shop.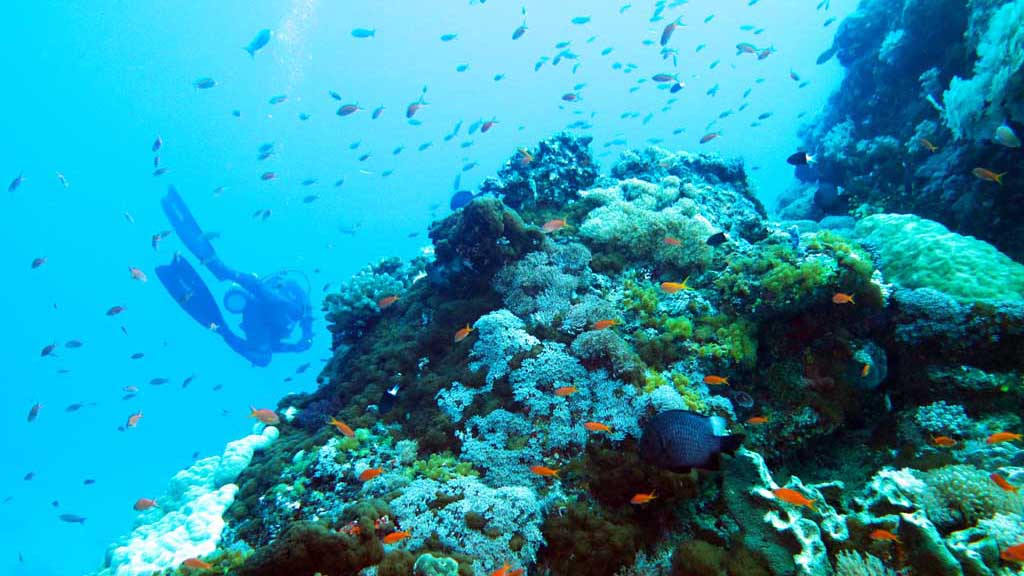 The water, despite the storms out to sea, is incredibly clear, with visibility of at least 40 metres. The only other place I've seen water as clear as this is Yonaguni Island, in Okinawa, which actually, is not too far away from here, roughly 100km to our north east.
The bay, once fished out by local fishermen, is now a marine reserve, a testament to nature's ability to bounce back. Large coral bommies are surrounded by clouds of fish, and in the nooks and crannies we find nudibranchs and moray eels, while banded sea snakes wind in and out of the colourful sea fans, and a giant titan trigger fish snaps at our heels, warning us to keep our distance.
As well as the colourful marine life, there are a few interesting large coral formations, one that our guide tells is looks like Donald Trump – and it really does! It's a giant malformed brain coral, with a profile, from a certain angle, that looks just like the U.S. President's comb-over.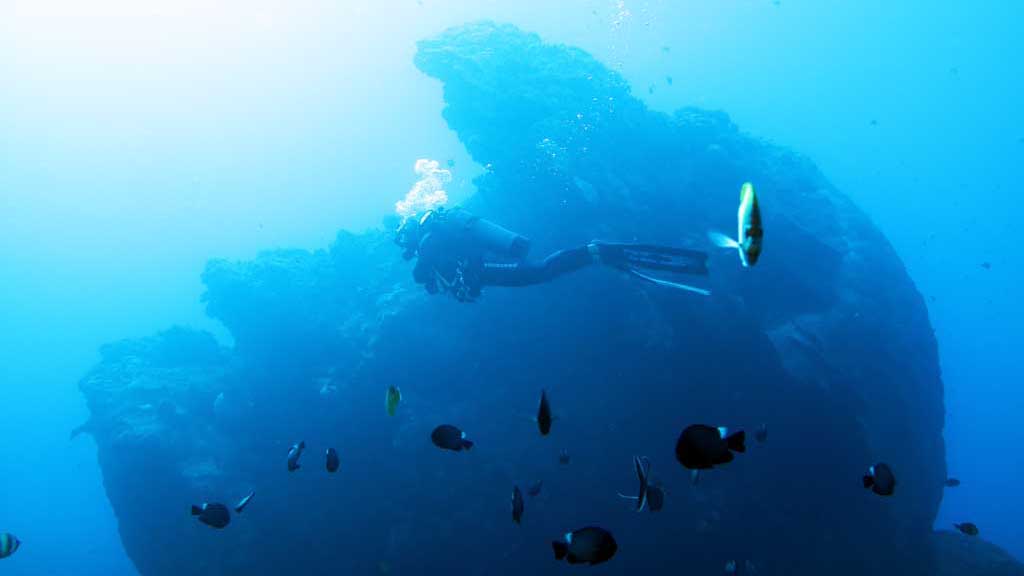 After a couple of hours underwater, we take our wrinkled bodies back to dry land and head out for a dinner in a wonderful al fresco BBQ restaurant to feast on succulent Wagyu steaks and enormous king prawns. A day well spent.
More Information: East Coast National Scenic Area