Underwater photographer Pete McGee was one of the lucky first passengers on the brand new MV Oceania Liveaboard, now operating out of Walindi Plantation Resort. Here's his review on this luxury dive liveaboard.
For years I'd heard that PNG was THE place to go diving. World-class diving, incredible marine biodiversity and resorts to rave about. It took 10+ years, but I finally got there. And it won't be long before I return.
Launched this year, the new dive liveaboard MV Oceania Liveaboard operates out of Walindi Resort in PNG and it's fantastic. This new addition to the Walindi/FeBrina dive experiences in Kimbe Bay is a purpose built 27 m catamaran that can accommodate 16 passengers in comfort and take you to New Britain's premier dive sites.
Every detail seems to have been thought of. All eight cabins are a good size with ample storage, a/c, windows and an ensuite with full size shower with rainwater head. Twin rooms have non-bunk beds, and extra-long mattresses, so those 180cm-plus guests can stretch out and get a good night's sleep.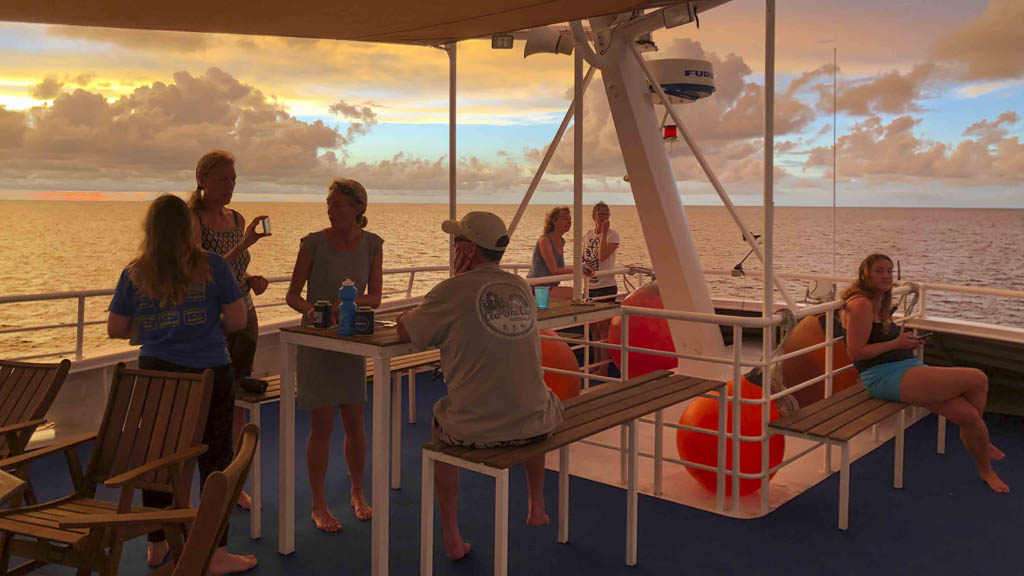 The roomy dive deck has dedicated stations with storage under each seat, and a central camera table. Getting in and out of the water via either of two platforms, with staff at the ready to don your fins etc. makes the gearing-up part of diving so easy.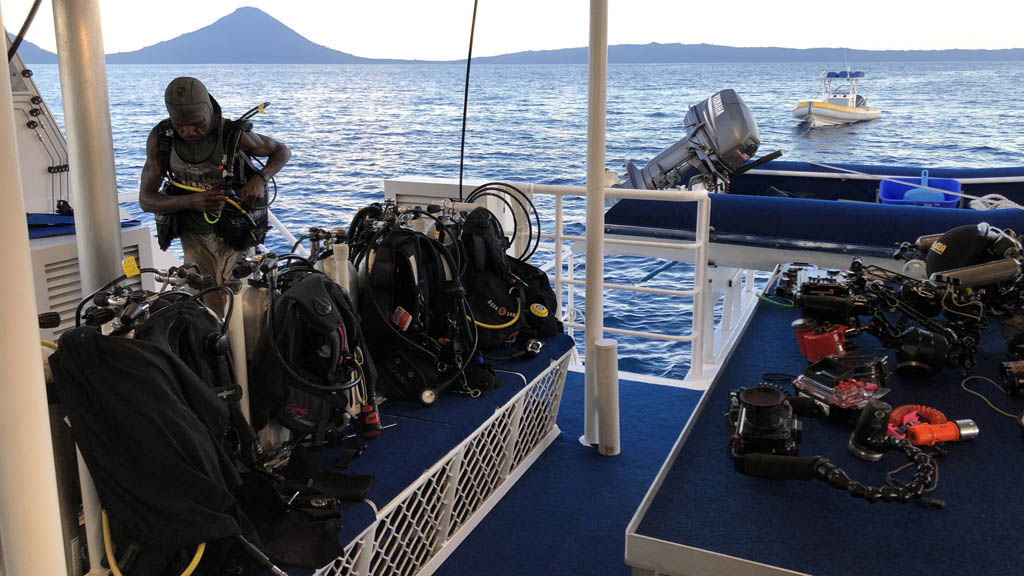 Dives are guided and bottom times 60-70 mins – so no rushing and the warm water (28-31 degrees) and available nitrox allows you to maximise each dive and return happy and relaxed. The meals are beautifully prepared and a real highlight, with a complimentary glass of wine to toast each day.
The overall package of world-class diving combined with the quality and comfort afforded by MV Oceania and its friendly staff makes this possibly the best liveaboard experience I've ever had.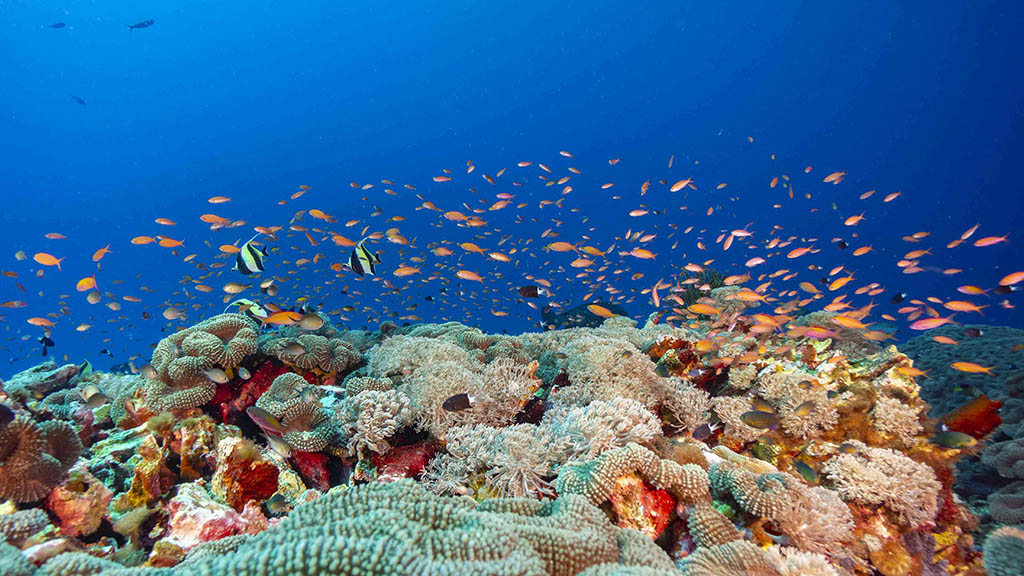 Diving Kimbe Bay
MV Oceania's signature schedule explores sites in Kimbe Bay and the more distant Fathers Reef and Witu Islands over nine to 10 nights. Shorter seasonal trips and trips that include Rabaul with WWII wrecks are also available.
With so many quality dive sites just a giant stride away, it's almost impossible to pick favourites, but here goes…
Diving Fathers Reefs
The Fathers are series of offshore reefs. The underwater topography is startling, with dramatic reef scapes, arches and swim throughs. Being offshore, these reefs attract plenty of large species such as sharks, rays, turtles, schools of barracuda, jacks etc.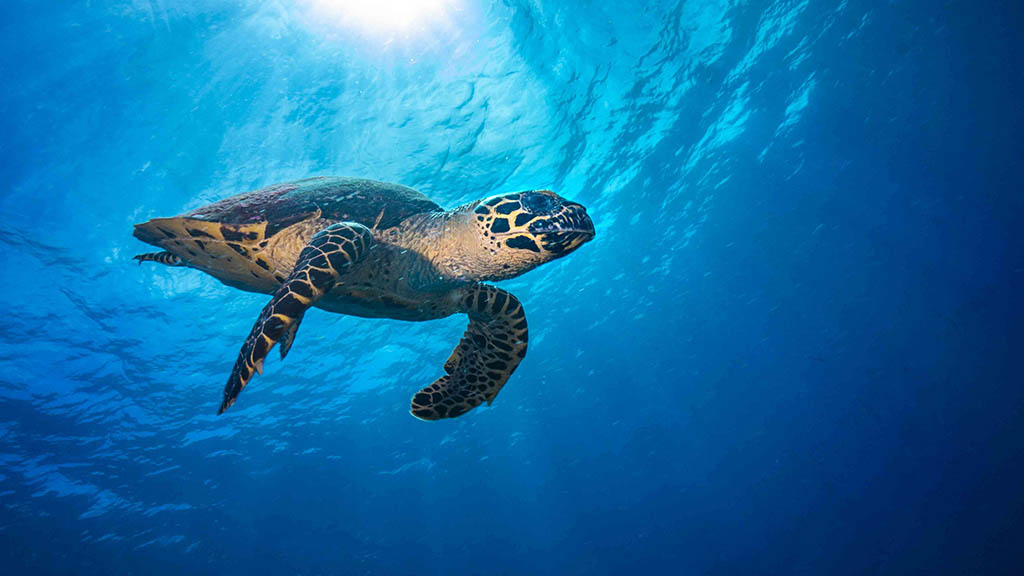 Diving Norman's Reef
Yearning for a little turtle love and attention? Like other reefs in the Fathers expect hawksbill turtles to join your dive. They aren't shy and happily swim under and around divers. Watch out for photobombing turtles when you're taking your snaps!
Normans Reef is completely overrun with life. Expect a long dive as you circle the sloping reef from 30 m up to the coral garden at 5 m. You'll see big stuff like schooling barracuda, reef and silvertip sharks, rainbow runners and tuna cruising in the blue. All around you, colourful damselfish, butterflyfish, fusiliers and anthias dance above the healthy hard corals and sponges. And if you haven't suffered sensory overload, there's macro life to draw you in close to the reef.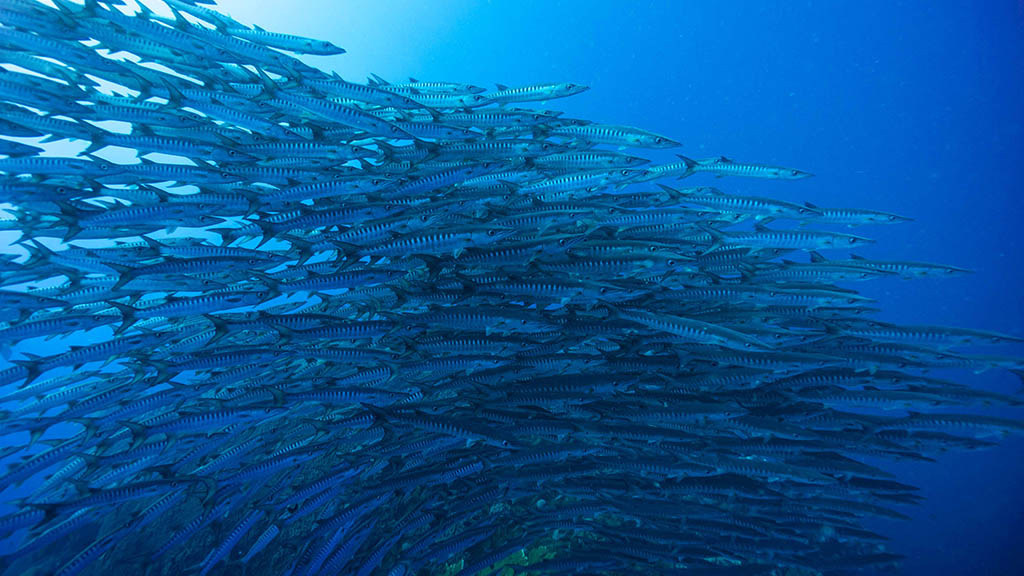 Blackwater dive Kimbe Bay
The option of a blackwater dive over the deep drop off near Leslie's Knob in the Father's was an irresistible fourth dive of the day. Being blackwater novices, we were all excited to give it a try. We descended to 15 m, tethered to the tender above. Our torchlights spotted a range of small deep-water critters in the black. Squid zipped around leaving mysterious trails of ink.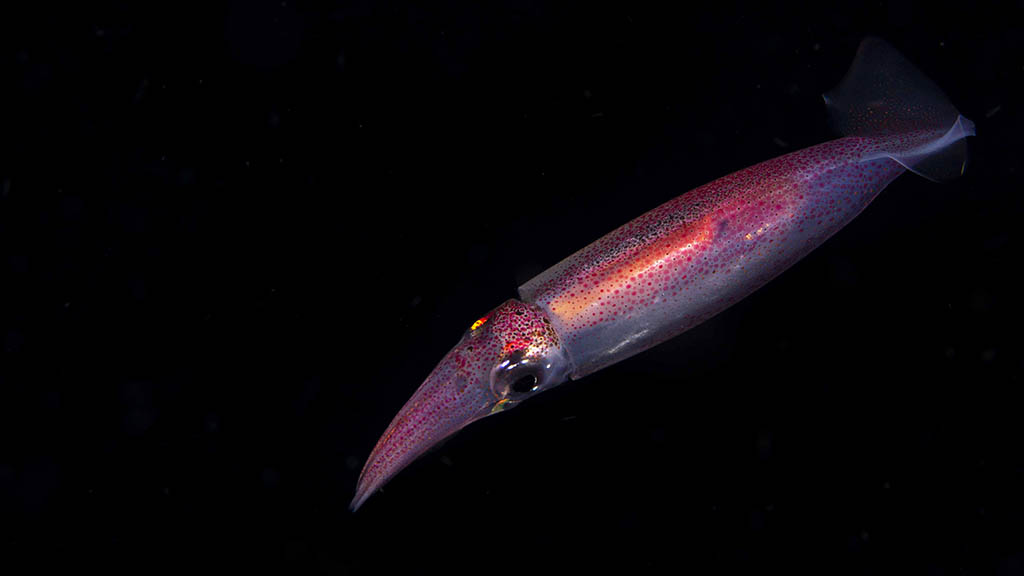 Juvenile fish froze in the lights and alien looking jelly creatures propelled themselves through the night. Such a different experience to the vibrant colours of the reefs.  And what a way to top off a remarkable day of diving on the Fathers Reefs.
Diving Bradford Reef
Bradford is a sea mount in Kimbe Bay accessible via dive boat from Walindi Resort or liveaboard. Possibly the most exhilarating dive in Kimbe, it features large schools of pelagics and reef fish galore, swimming over a thick cover of pristine hard corals.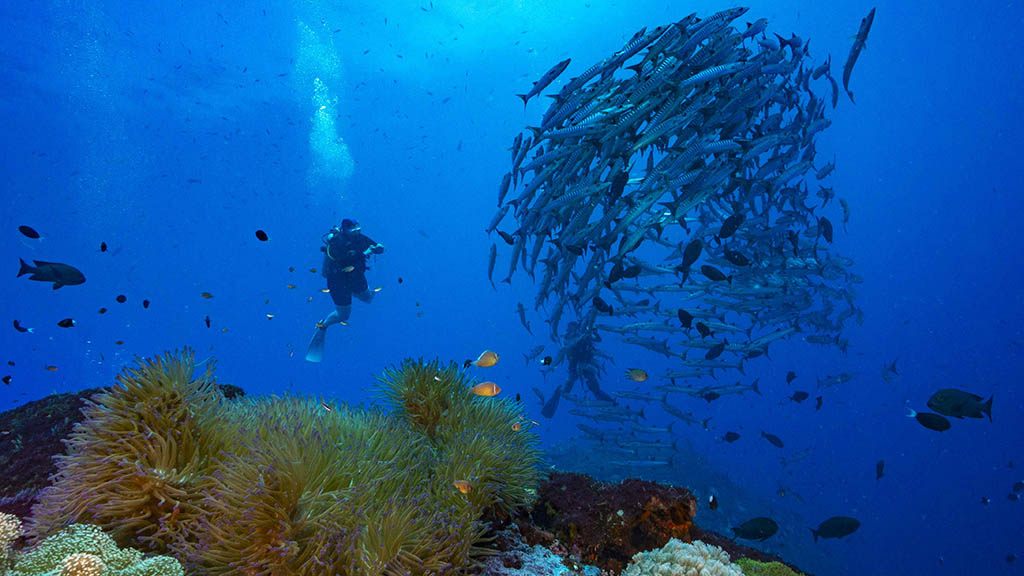 Get ready to see the resident barracuda school circling in tight formation around you. This is your chance to capture that iconic image backlit by the sun. Jacks, dog-tooth tuna and reef sharks patrol the site. The hard-coral formations are magnificent and dotted among them colourful anemones with their resident clown fish. Purple and orange anthias dart about against a deep blue background, joined by thousands of fusiliers and damselfish to create a kaleidoscope of vibrant colours.
The twin peaks atop the sea mount are at about 20 m and slope down to 30m before dropping off. With nitrox and a gradual ascent (accompanied by batfish) you can expect to enjoy an hour of adrenaline-charged stimulation in this deep ocean wonderland.