Overview
Established for over 20 years, Dive Centre Manly is a full-service diving centre offering PADI training, gear hire and sales, guided diving, both shore and boat, and adventurous dive trips both around NSW and abroad.
The owner, Richard, a Manly local, has been influential in getting facilities for divers established at local dive sites, and actively campaigns for stronger marine conservation. Manly Dive Centre runs a dive club offering members discounted pricing on gear and events, as well as organizing monthly social activities, events and talks.
Manly Dive Centre offers the full range of PADI dive courses from Open Water to Instructor, and all points in between, and specialty courses including things like Shark Awareness, and Tec courses to Tec 50. The purpose-built training centre … is in Manly Vale, a ten-minute drive from the shop.
Their boat, the Firefish, usually moored in Little Manly Cove, is big enough to have a head, and take ten dive guests and yet small enough to pull out of the water and launch up in Careel Bay to dive the ex-HMAS Adelaide off Terrigal Beach (- which saves a very long drive to Terrigal via Gosford).
It's out every weekend, taking divers to places like Magic Point, which is a well-known site locally for Grey Nurse Shark, and as well as other dive sites around North Head.
In the shop, you'll find the latest range of gear, plus knowledgeable dive hands who can give you advice about what might be best for your level of diving. You can also get a filled air – or nitrox.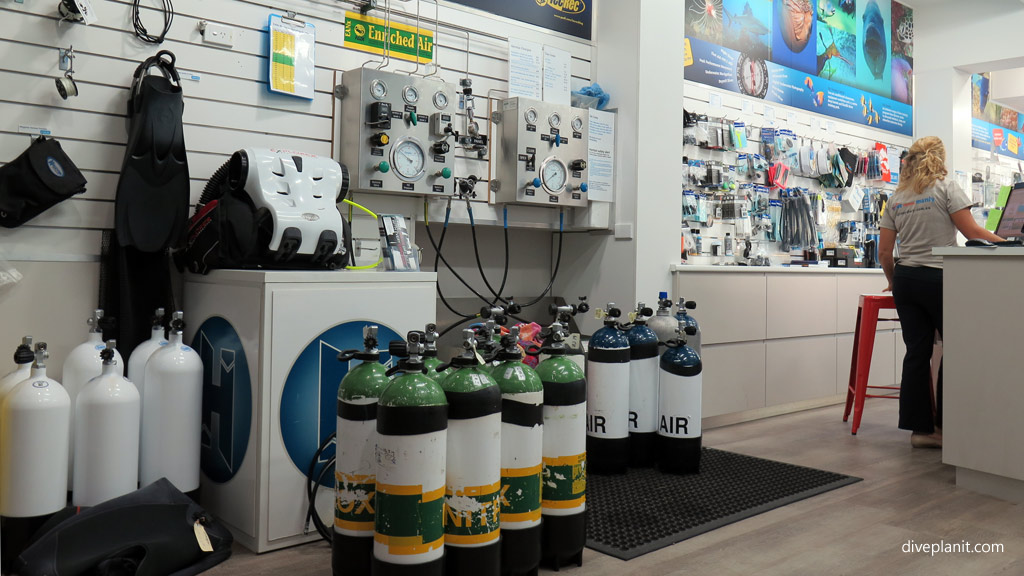 Whether you want to learn to dive, want to find some buddies to dive with, are looking for gear, or a dive trip away, check out their website to see what's on.
Facilities
| | | | | |
| --- | --- | --- | --- | --- |
| Training School Type: | PADI | | Nitrox Fill: | |
| Air Fill | | | Number of Guides | 12 |
| Gear Hire | | | Number of Boats | 1 |
| Gear Sales | | | Number of Dive Sites | 20 |
| Gear Servicing | | | Accommodation | |
Location
Dive Centre Manly is conveniently located in the heart of Manly on Belgrave Street a two minute walk from Manly Wharf, and opposite the main bus departure points. Not quite so easy if you need to park a car, though there is 30 minute free parking along Belgrave Street, which would give you time to check-in, and then drive out and meet the dive bus at the dive site.
Enquiries: please contact Dive Centre Manly directly on: +61 2 9977 4355 or via their Contact Us page.
What to expect
A day's guided double dive starts with check-in at a leisurely 9am. Guests are introduced to their dive guide right at the start, and so have the same go-to person all day. Your guide will take you through the paperwork, fitting any hire gear you need and give you the little details about where the best place to buy a sandwich for lunch is and where to store your valuables – rather than take them to the site.
Once all the gear is laid out, each diver loads their tub, their tanks and their weights into the mini-bus to ensure they have everything they need. Shelly Beach in Cabbage Tree Bay – a long established marine reserve and acknowledged as probably the best shore dive in NSW – is a ten minute drive away.
Once there, the gear is unloaded directly into the area with diver-designed benches making setting up and kitting up a synch.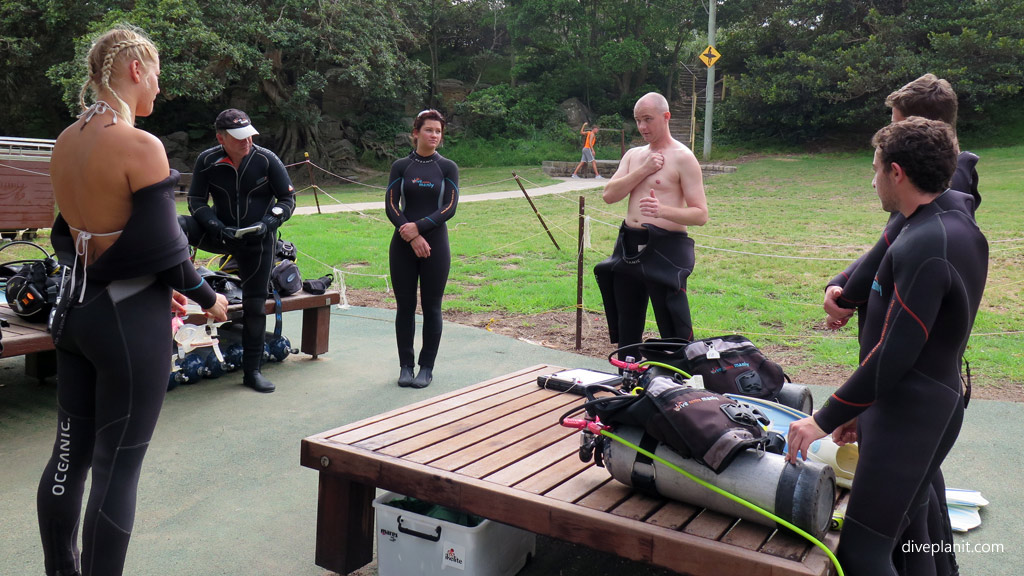 After a fairly extensive pre-dive brief and rigorous buddy check, the water is just a short stroll across the beach for the north side: 'The Point' along the rocks, or along the path to the boat ramp, for the south side: 'Marine Parade'.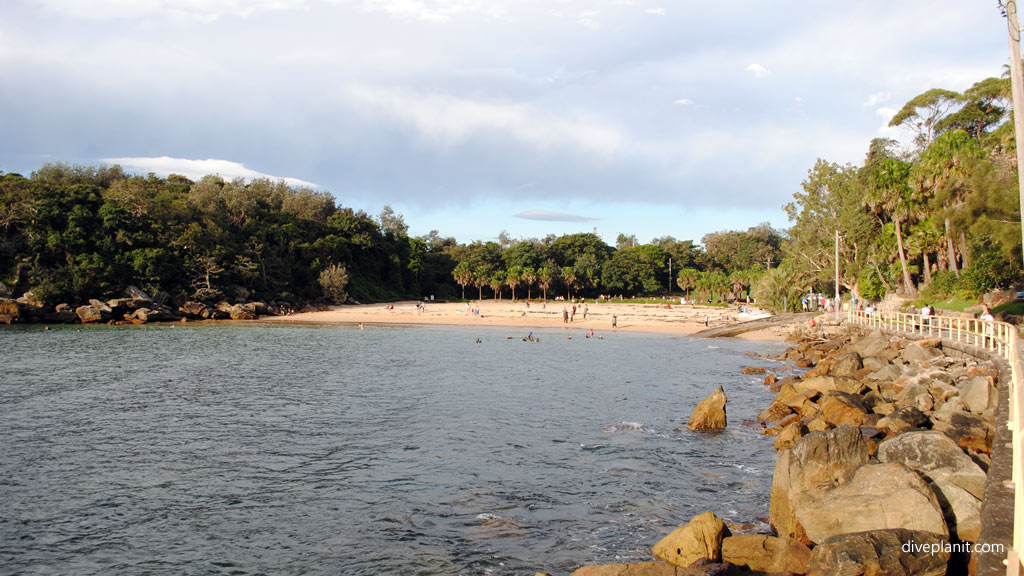 Dives in Shelly are usually up and down one side or the other, as there is not much to be seen, apart from the stingarees and goatfish on the sandy bottom in-between. A dive flag is left at the start of the dive, and this also marks the end of the dive between 40 and 60 minutes later, depending on air consumption – though at a maximum depth of 11m there is no excuse for dives less than an hour really!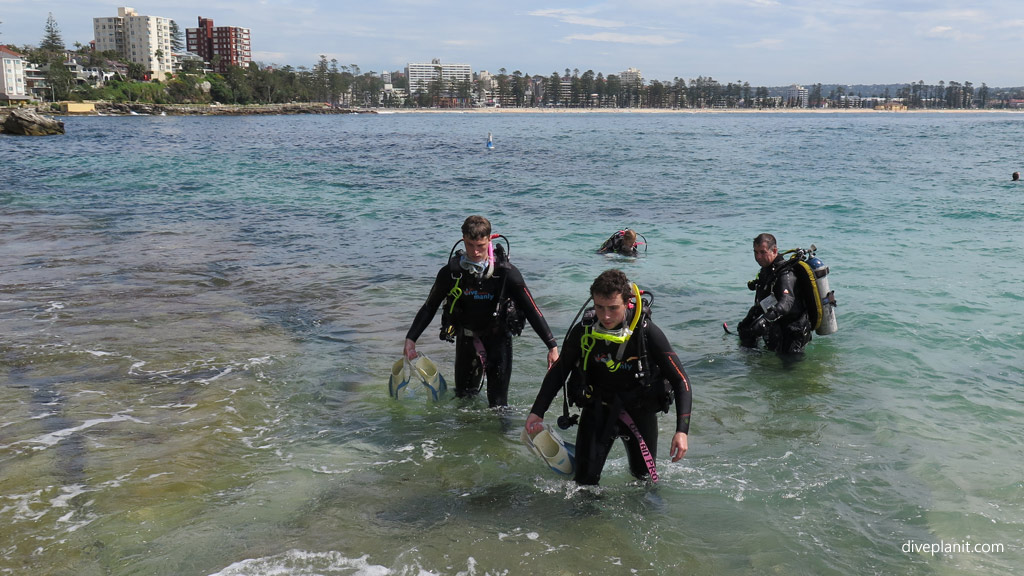 Exit is usually via the boat ramp, as this saves walking through the shell grit, and at weekends, the hordes of bathers scattered from the water's edge right up to the reserve behind the beach.
There is a takeaway café kiosk (take your keep-cup!), drinking fountain and water refill station (take your water bottle), and barbeques on the reserve if ever you want to make a day of it.
Diving with Dive Centre Manly, there is an hour surface interval which is just time to change your tank, eat your lunch and grab a coffee before kitting up for the second dive.
On return, there are showers right next to the set up area, so it's easy to wash down all your gear, and yourself, and drop it straight back into your tub without getting it covered in sand, grit or grass. A short drive later and you'll be back at the shop by 2pm with plenty of time left in the day to explore Manly, its beaches or some of the great lunch options within a very short walk from the dive shop.
Pricing / availability enquiry