Overview
Beqa Lagoon Resort is first and foremost a dive resort and being a PADI 5* Resort it offers everything from Discover Scuba Diving right up to professional courses such as PADI Assistant Instructor. Beqa Lagoon Resort also offers PADI specialty courses such as Enriched Air Nitrox, so that after a day's training you'll be able to take advantage of the Nitrox available on any dive.
With a dive team of around 16 Fijians, many with 15+ years' experience diving Beqa Lagoon, four 40+ footers – broad, spacious dive boats, and all the gear to support over 50 divers, Beqa is uniquely set up so that you can enjoy dives matching your expectations, with divers at a similar level, on every dive. It offers everything from an 8m house reef, to numerous coral bommies, to +30m walls.
You can hire everything you need, (not just the heavy stuff), including dive computers, night lights, fluoro lights and full-length wetsuits with kneepads for the shark dive. With many of their guests coming from the U.S. they tend to work in Feet, PSI and Fahrenheit! (If you're strictly SI Units, just stay out of the red zone on any gauge!) All boats come fully equipped with the boat captain, first aid, oxygen, marine VHF radio, toilet, and camera tub. They are broad, spacious vessels carrying up to between 12 and 16 divers. As the dives are all within the lagoon area, the trip to even the furthest dive site is 45 minutes max.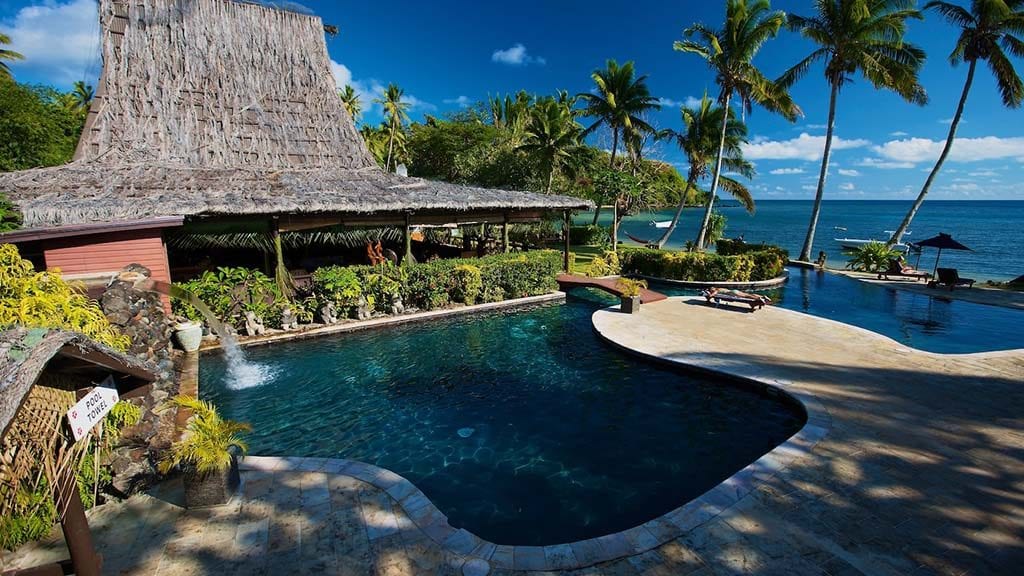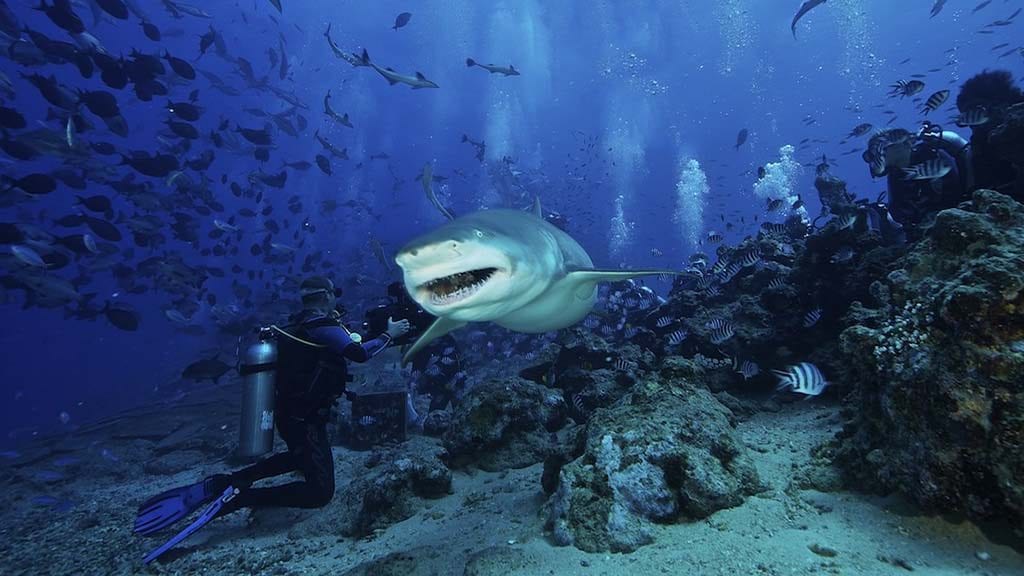 With over 100km of reef edge, there is every kind of dive somewhere on the reef. Grab a copy of the map as soon as you get there and start planning! Most of the dives are in the 20 – 30m zone, so take advantage of the nitrox to maximize the experience.
There's a top ten list of the dive guides' favourites, and if you manage to work your way through all of them, plus a double shark dive, you'll be dining out on dive stories for a year.
Pricing for Beqa Lagoon Resort
Valid to 31 March 2020
AUD
USD
7 Nights Ocean View / Beachfront Villa (double/twin) with 6 2-tank dives including a 2-tank shark dive
2154
USD
|
2154
7 Nights Ocean View / Beachfront Villa (single) with 6 2-tank dives including a 2-tank shark dive
3099
USD
|
3099
7 Nights Lagoon or Garden Villa (double/twin) with 6 2-tank dives including a 2-tank shark dive
1979
USD
|
1979
7 Nights Lagoon or Garden Villa (single) with 6 2-tank dives including a 2-tank shark dive
2749
USD
|
2749
This resort's prices are in USD. The AUD prices shown are based on the current exchange rate. The price paid in AUD will be based on the actual exchange rate at the time any payments are made.
INCLUDED: accommodation as specified, all meals, return airport transfer from/to Nadi, 5 dive days/2 dives per day (reef diving), 1 (2-tank) shark dive day, unlimited shore diving, tanks, weights, boat, dive guide, Fiji Government taxes
The per person pricing above is indicative only: we show 7 night with 10/12/14 dive packages at high-end and lower-end rooms (singles & doubles) for the purposes of comparison. We can give you a price (and availability) for any combination of nights/dives you wish to undertake, which will include any discounts due to you as part of that package, and any exclusions, or items payable at the resort. Use the [Enquiry Form] button to give us your exact requirements and we'll give you the best deal we can.
Facilities
| | | | | |
| --- | --- | --- | --- | --- |
| Training School Type: | PADI 5* Resort | | Nitrox Fill: | |
| Air Fill | | | Number of Guides | 16 |
| Gear Hire | | | Number of Boats | 5 |
| Gear Sales | | | Number of Dive Sites | 30 |
| Gear Servicing | | | Accommodation | |
Location
Near Raviravi on Beqa Island in Beqa Lagoon, about 40 minutes by their boat from Pacific Harbour.
What to expect
On arrival, and after you've enjoyed your welcome drink, and complete the inevitable paperwork, you'll be invited to wander around to the 'dive shop' to get your gear sorted. You are allocated a tub for BCD, weights and regs, and a net bag for basics. These are labeled with your name and bure number. There is space to wash and hang your wetsuit, conversely, there is a drying line behind your bure if you prefer to keep it with you. There is a big white board with the next day's dive schedule, with divers assigned to boats, and likely dive sites.
Because of the numbers of divers, and the fact that there are often groups of divers who want to go out on the boat together, their logistics are run like clockwork: even before you arrive for breakfast, your gear will be loaded onto your boat (along with the 100+ tanks). All you need to do is be ready at 7.45am with (or in) your wetsuit, with your dry bag and any camera gear. Camera tubs are provided on all boats.
At 8 am the boats depart for usually a morning double dive, or a treble by arrangement. All the dive sites are either on the reef that surrounds the lagoon or within the lagoon. This entails a comfortable 30 – 45-minute boat ride on one of the spacious boats. Also, being inside a lagoon, the waters tend to be reasonably calm – though the wind can pick up in the afternoon making for a little choppiness. (This is why, typically, Beqa do the double dive in the morning, leaving the afternoons free for relaxing, engaging in one of the resort other activities, or that other kind of emersion – into a good book).
Before the dive, the dive guide gives a full briefing of how the dive works, complete with depths (usually in feet) and timings. All the boats are equipped with a board step at the rear for giant stride entry, and one or two ladders for easy exit. Many of the dive guides have more than 10 years' of experience on these sites, indeed some of the dive sites are named by, or after them! So they know their way around, and for example, exactly where the fire/electric clam is, where the rarer handfish may be found and even from which points to get some of the best shots.
You'll be free to explore along with the dive within the limits of the agreed route, but stay close enough to the guide, and listen out for the tap of the reef rod on the tank as there'll be something worth photographing.
All dives end when the first diver hits 700 psi with a safety stop usually on top of the reef stack, and usually within sight of the bowline. Often there is so much to see in this zone, the safety stop stretches out to 10 minutes!
The surface interval is usually taken on the boat, though it may go and anchor at the lea shore of one of the islands that are dotted around the edge of the lagoon. After a generous surface interval of cookies, juice and a little sunbathing, the second dive follows, usually at a site close by. The trip back to the resort arrives at about 12.30pm just in time for a quick shower before lunch at 1 pm.
Pricing / availability enquiry