Planning a trip to Cairns to see the Great Barrier Reef? Diveplanit recommends you join an evening session at Reef Teach for an entertaining and informative introduction to the Reef. You will then enjoy your time on the Reef so much more – understanding the complexities of what you're seeing.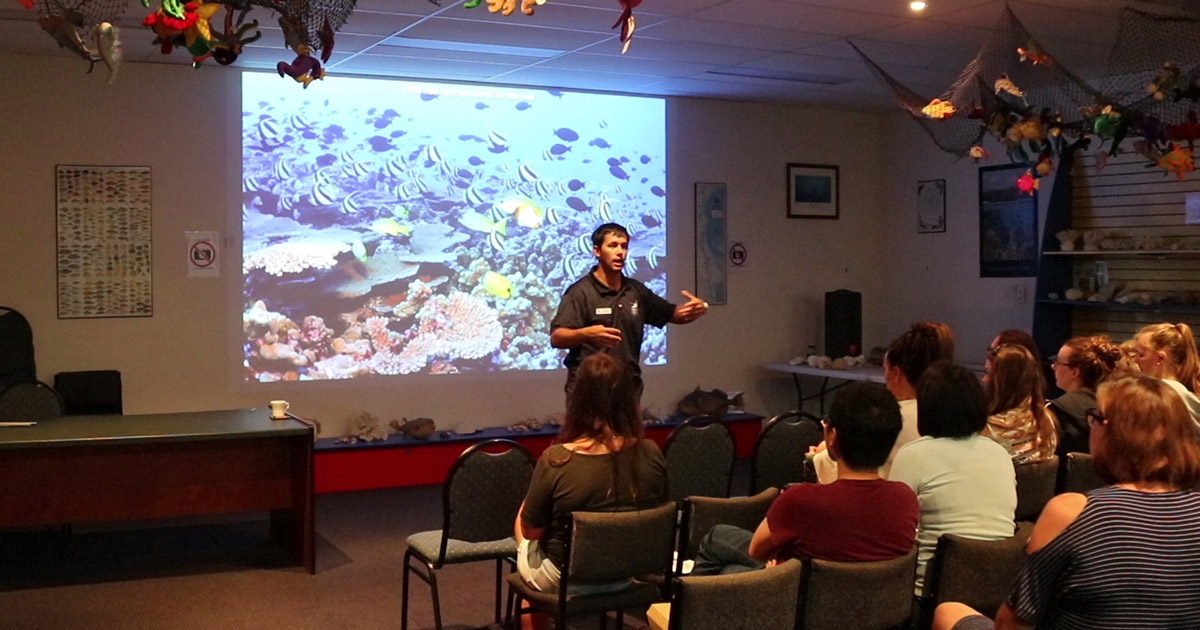 Reef Teach
Reef Teach is a very entertaining and engaging evening, full of amazing facts and beautiful images, woven together to help you understand how the Reef works. From the tiniest little creatures that you hardly know exist, up through the various species of fish and marine mammals. The material is presented in two 'exciting halves' – the little stuff and the big stuff – in a very accessible way.
As Gareth Phillips, Reef Teach owner and one of the presenters explains: "Reef Teach was born out of a demand for people wanting to know more and more about the Great Barrier Reef.
"So a group of us as marine biologists got together and decided let's share our knowledge – what we know about the ecosystem so when people go visit it and experience it they actually understand it more and enjoy it more and we find if they understand it and enjoy it more every time they use it whether snorkelling, diving … they're more responsible with it."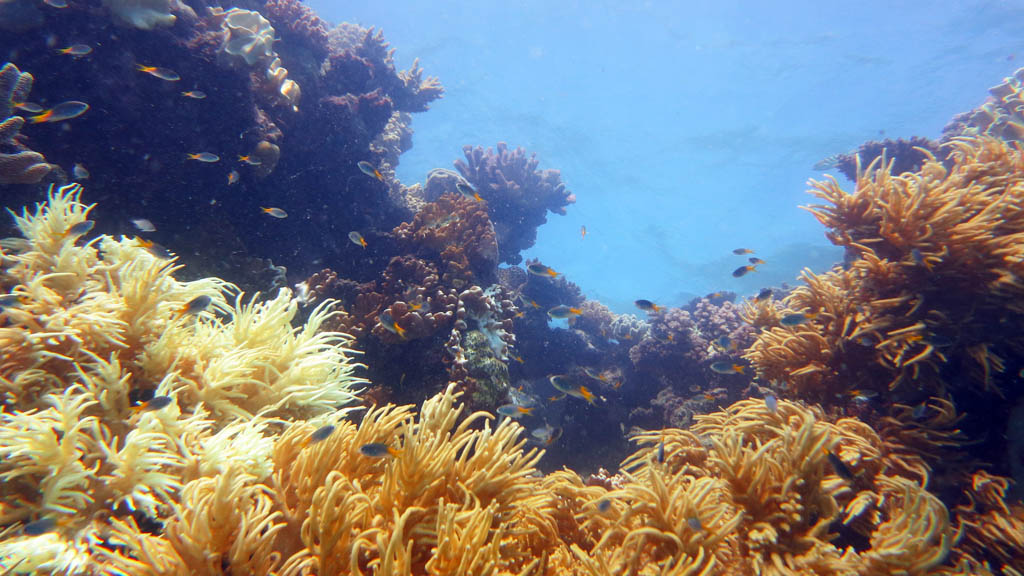 With learning comes appreciation
Diving and snorkelling are so much more enjoyable when you know what you're looking at. At Reef Teach they are committed to their motto:  'with learning comes appreciation'. The knowledge you gain from Reef Teach will help you to understand and enjoy your visit to The Great Barrier Reef much more. By the end of an evening at Reef Teach you'll be able to identify many of the common fish and corals, be amazed at the extraordinary creatures out on the Reef, and be incredibly excited about your undersea adventure.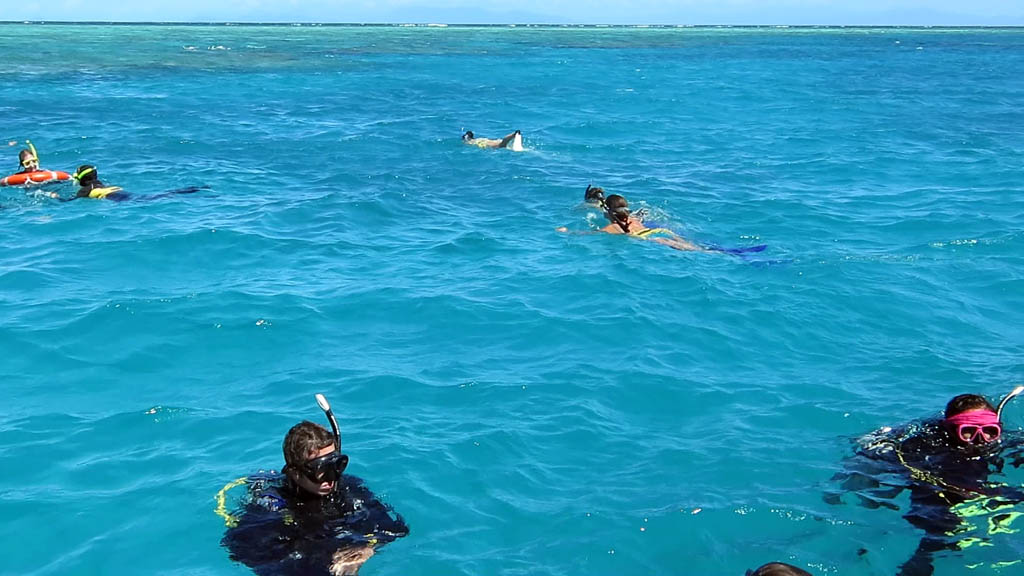 Reef Teach assumes no prior knowledge and suitable for anyone with even the mildest curiosity for what lies below the ocean's surface. When you get out to the Reef you'll be thrilled at your new found ability to recognise and comprehend a lot of what you see:
common fish, corals and other animals
fish and corals changing colour in front of your eyes!
fish visiting cleaning stations and being groomed by other fish!
the special relationships between "Nemo" and the anemone, corals and algae, "Wally" and remoras!
At Reef Teach you will also gain some practical tips on how to get the most of your Reef experience – ranging from how to avoid being seasick to how to take a good photograph underwater.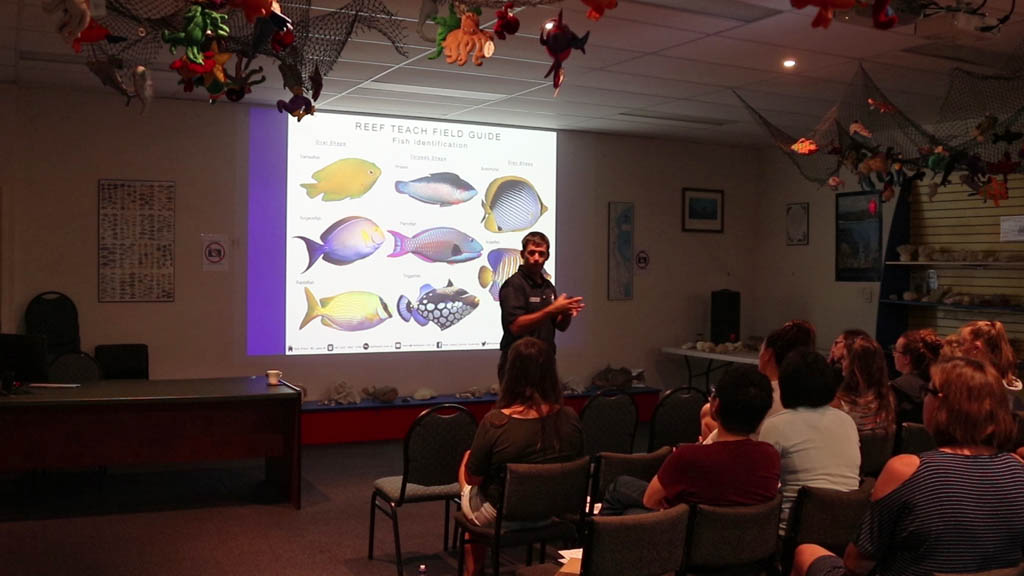 During the interactive session (it's not a lecture!) the marine biologists and conservationists are happy to answer your questions about marine life, snorkeling and diving, but also on the threats to coral reefs, both natural and caused by humans, such as Crown-of-Thorns sea stars, coral bleaching, and marine debris. You'll be surprised to discover heartbreaking facts about man's disregard for this extraordinary underwater environment.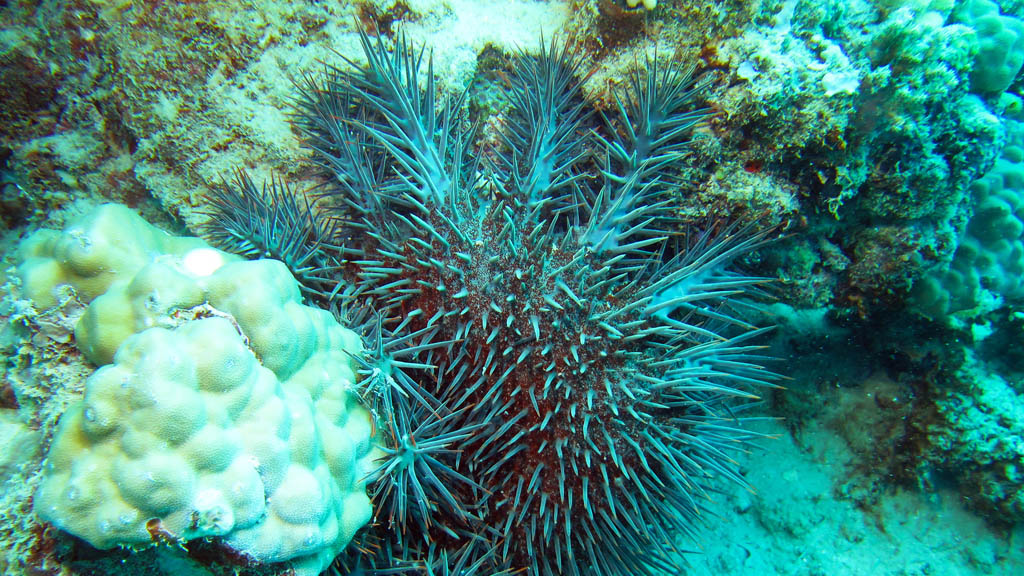 Being a small outfit, Reef Teach appreciates a heads up that you're coming, so to book your spots (take a friend or the entire gang), call or email to save your seats. Then just turn up on the night around 6:15pm and pay on the door.  The details are on this page.