Introduction
Location
Accommodation
Diving
Pricing & Schedules
Enquire Now
The Lankayan Island Resort is located in the Sulu Sea, a 90-minute boat ride due north the port city of Sandakan. As well as the 25 dive sites on the reefs around Lankayan Island Resort, this beautiful little island with thick tropical growth and sandy beaches offers an absolutely pure nature-based experience. It's situated in a National Park region. The Turtle Rehabilitation centre on the island is open to the public and you can watch egg laying and turtle hatchlings at times.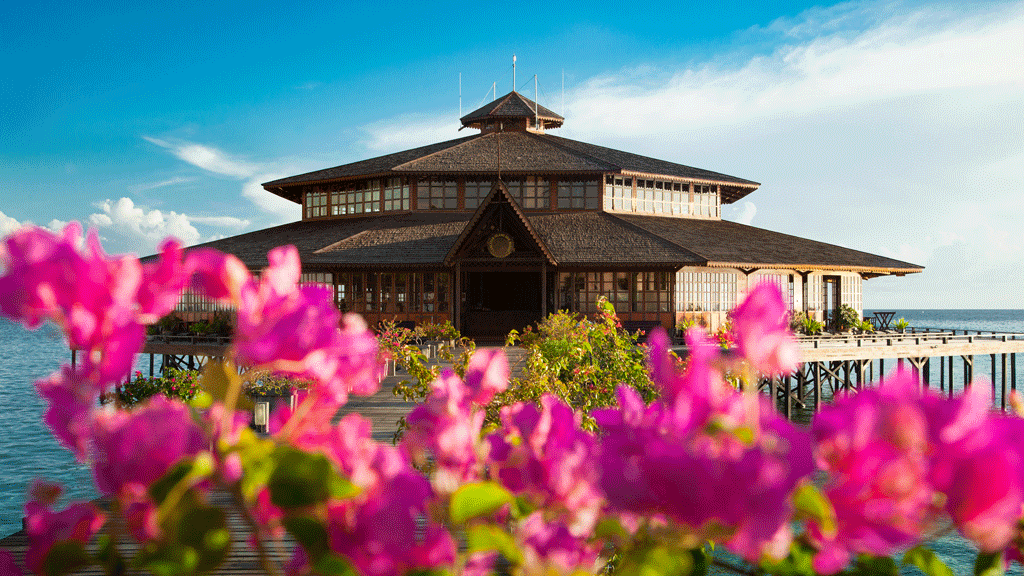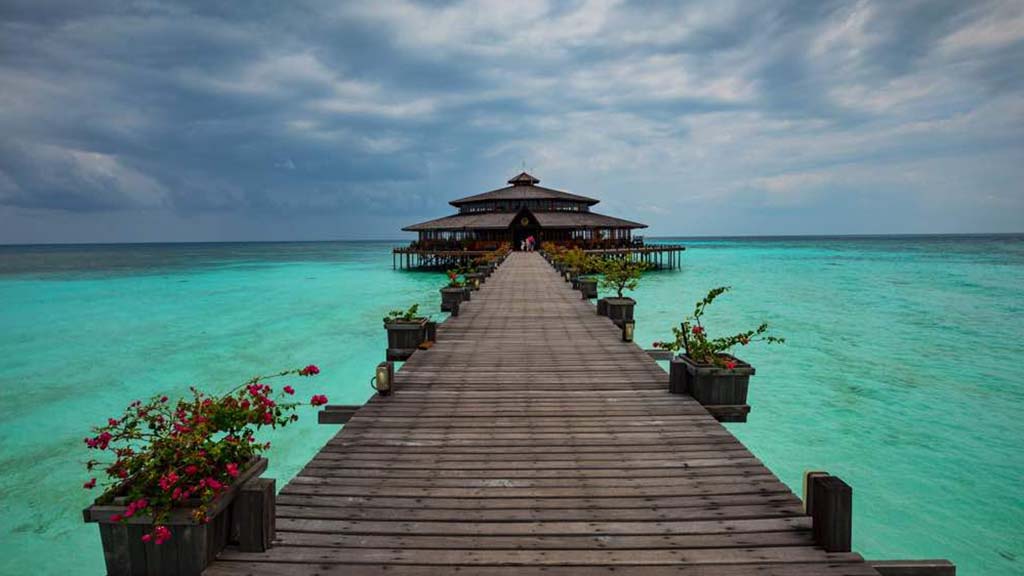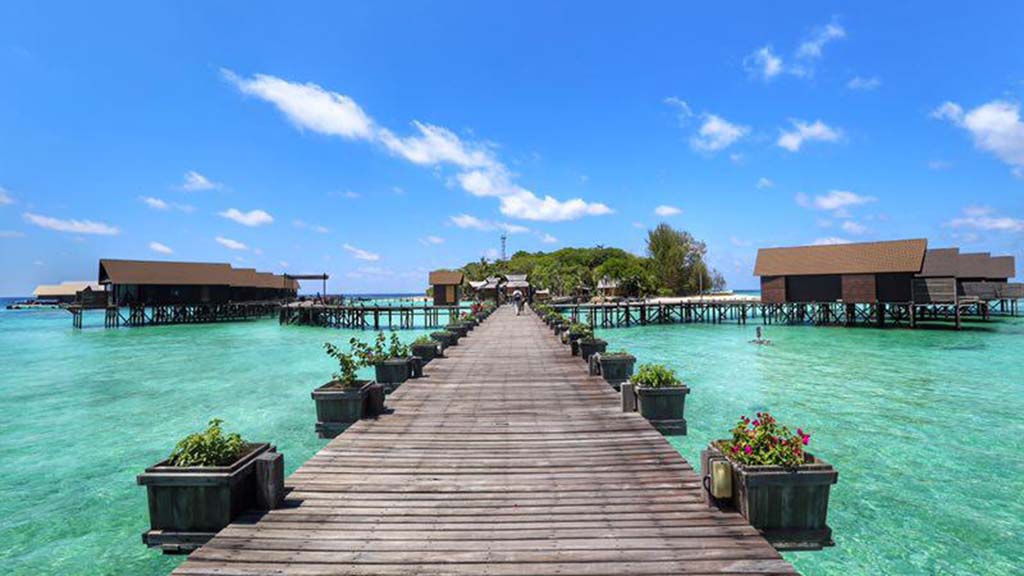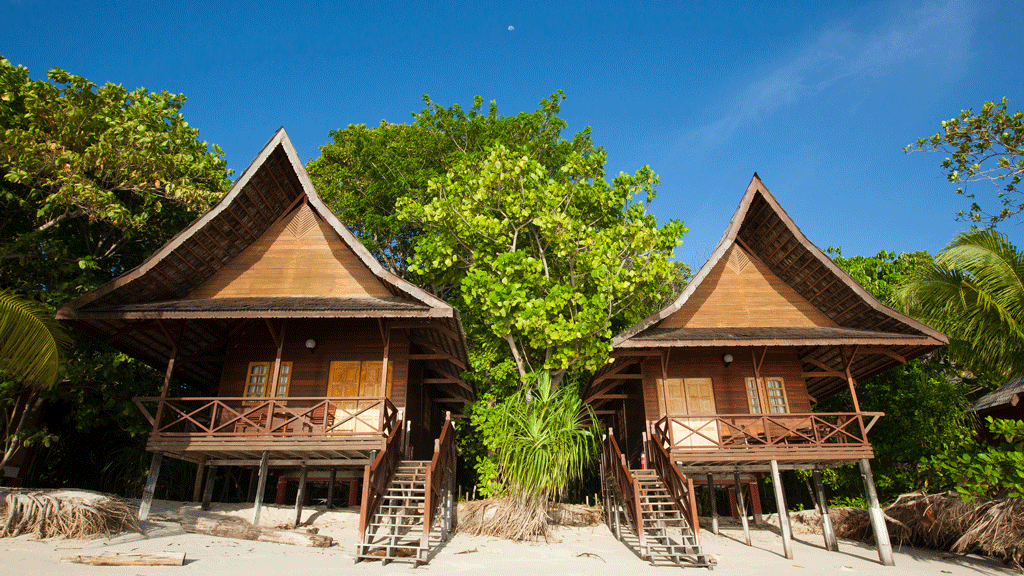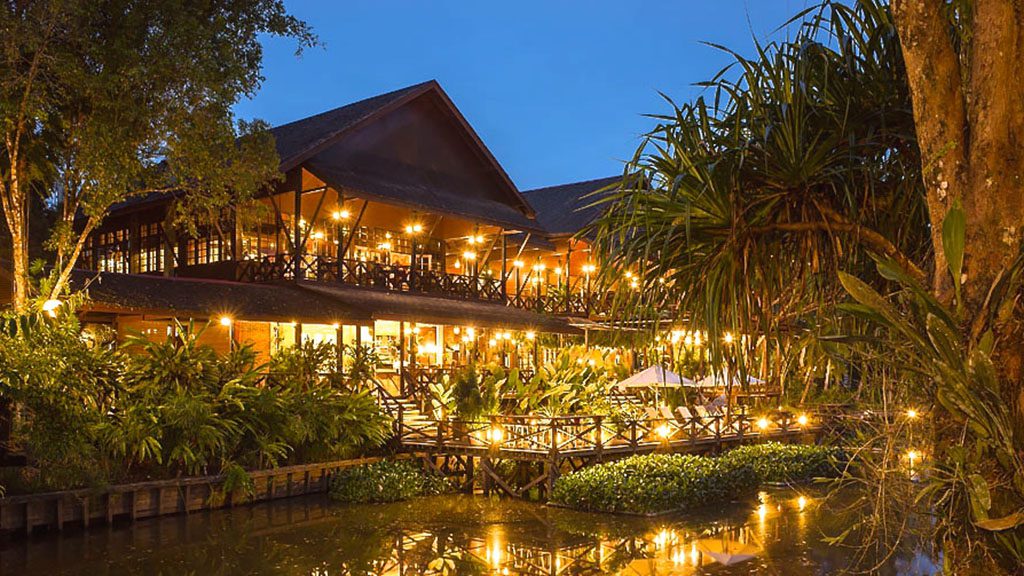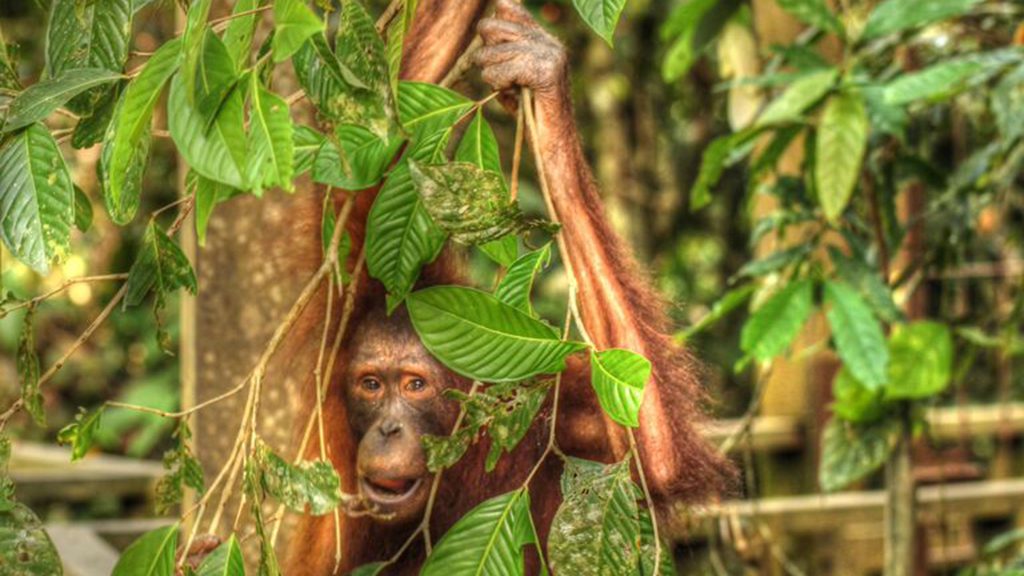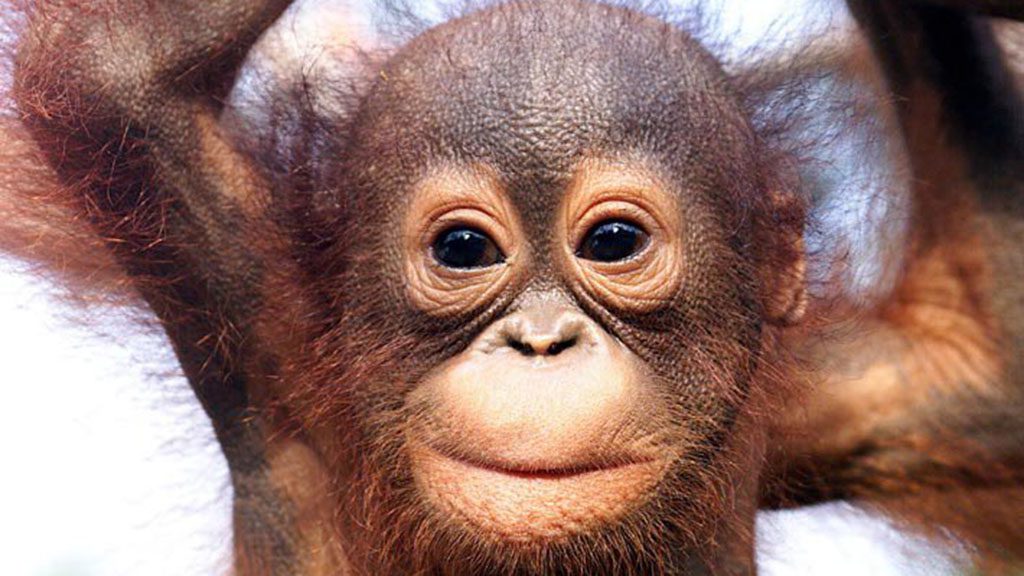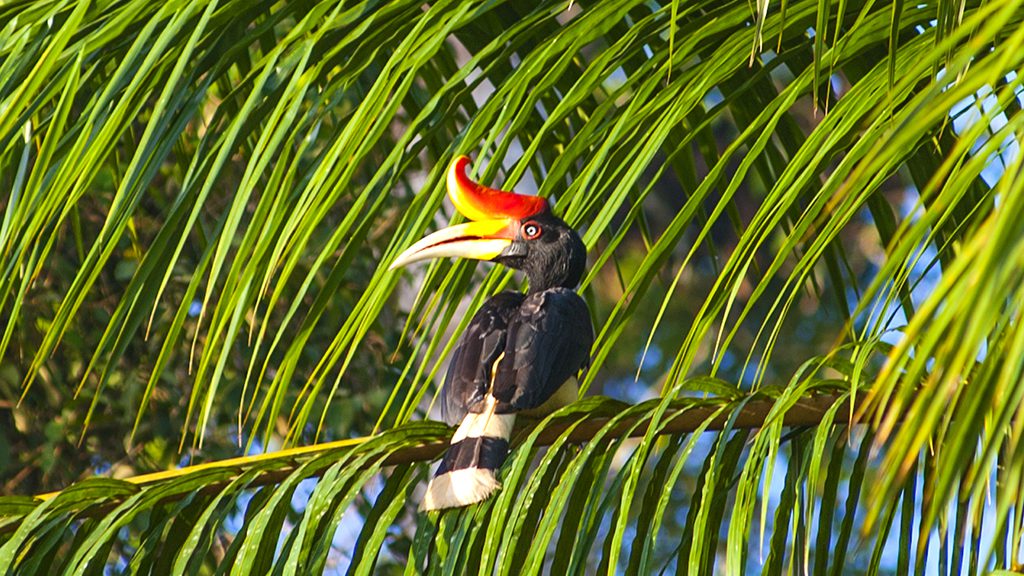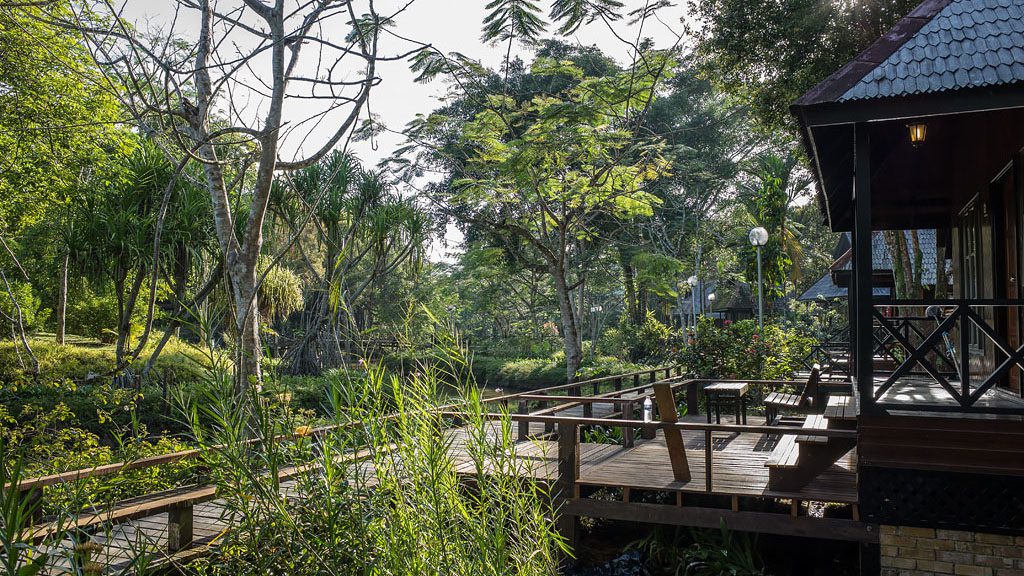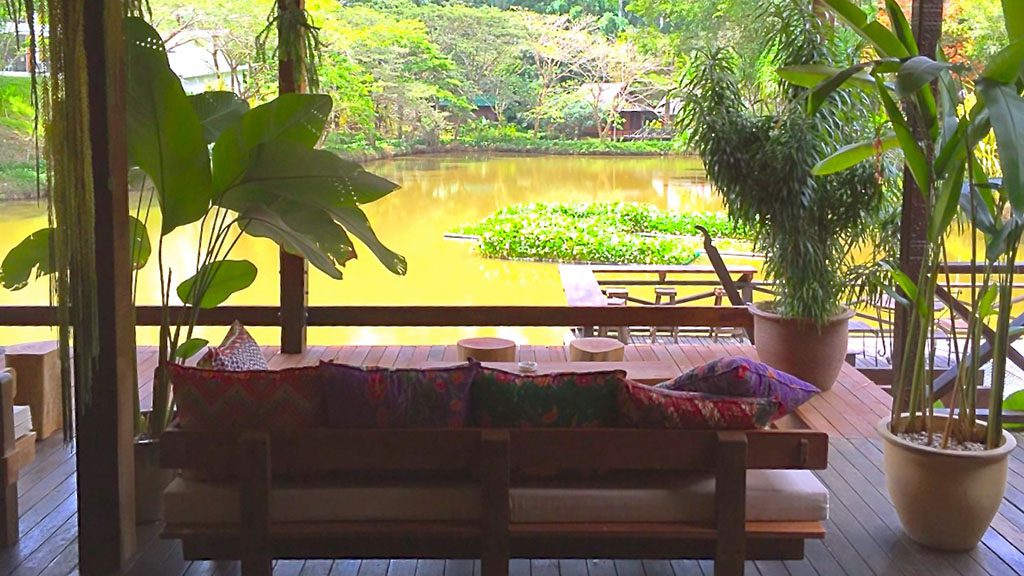 Resort Facilities
An open restaurant with a large veranda is located in the main building. Buffet meals are offered three times per day. The food is varied and delicious, and besides seafood, they serve a large variety of Asian cuisines. In the afternoon's water, tea, coffee and snacks are offered free of charge. The veranda becomes the meeting place for divers in the evenings, watching the sunset over a drink. There is a common room with TV and video, as well as a small library and a small shop for guests. The dive centre is located directly at the jetty with beautiful views of Mt Kinabalu.
Add on … Sepilok Nature Resort
Lankayan sister resort is in the world-famous Kabili-Sepilok Forest Reserve, home of the last wild Orangutans of Northern Borneo. The resort is the ideal starting point for most other wildlife destinations in Sabah such as the fauna rich Kinabatangan River and the surrounding Sukau area. Sepilok Nature Resort also offers the perfect setting for relaxing after a long plane trip, before continuing on a diving holiday to Lankayan, or the ideal way to spend a couple of no-dive days before flying home after a dive trip.
Staying Connected
Internet access is available at the resort's main building which opens daily from 8am to 11pm. There no is mobile (cell) phone coverage on the island or at the resort.
We think…
This is a small dive resort in a superb location. It has a very personal atmosphere and beautiful dive sites.
The small island of Lankayan is located in the Sulu Sea, about 70 km due north of the port city of Sandakan. You can fly to Sandakan from Kuala Lumpur or Kota Kinabalu. From Sandakan, it is 30 minutes by minibus and 90 minutes by speedboat to the island of Lankayan.
Transfers
Note: During peak season (July, August & September) the boat transfer between Sandakan and Lankayan operates daily; at other times the boat transfer to and from Lankayan Island will operate only 3 times per week:
Boat to Lankayan: Mon, Wed, Fri only
Boat to Sandakan: Mon, Wed, Fri only
No boat transfers on Tue, Thu, Sat & Sun!
Depart from Sandakan PSR Jetty – 1000 am (once daily only)
Please book flight that arrives Sandakan before 0900hrs
Depart from LANKAYAN Island to Sandakan PSR Jetty 0700 am (once daily only)
Please book flight that departs Sandakan after 1100hrs
Guests must arrive in Sandakan latest by 9am for transfer to resort on same day. The boat departs at 10am. On departure, guests can book any flight out of Sandakan after 11am. The boat departs the resort at 7am.
The resort offers 25 chalets of which 16 are beach front chalets and 9 are over-water chalets. All chalets are equipped with individual air-conditioners, fan, private bathroom with hot water, a small fridge, fresh water, coffee maker, mosquito nets and its own veranda with ocean views and direct beach access. Power supply in the chalets is 220 & 110V.
Queen Double Room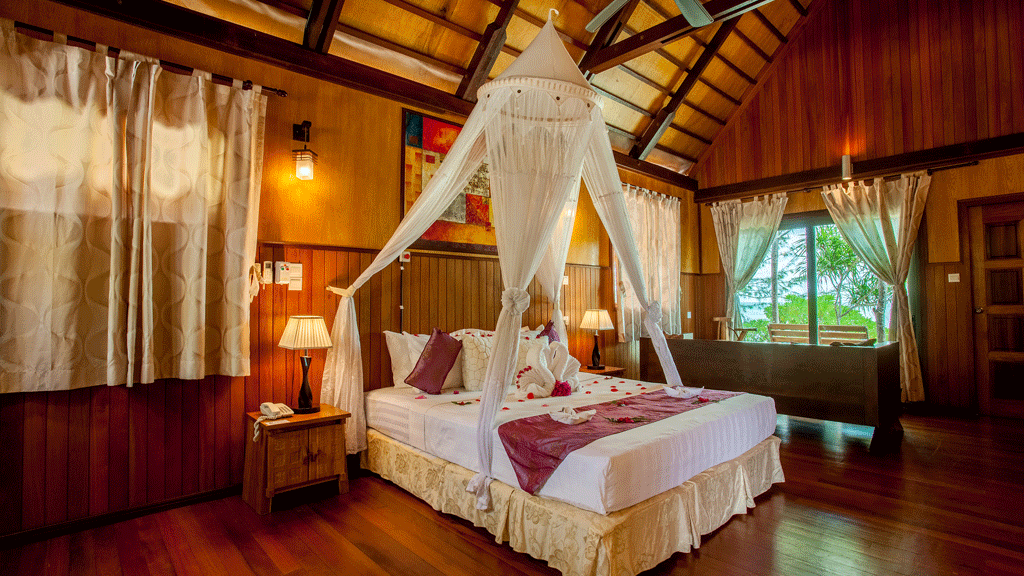 Twin Room configuration
Rooms can also be triple shared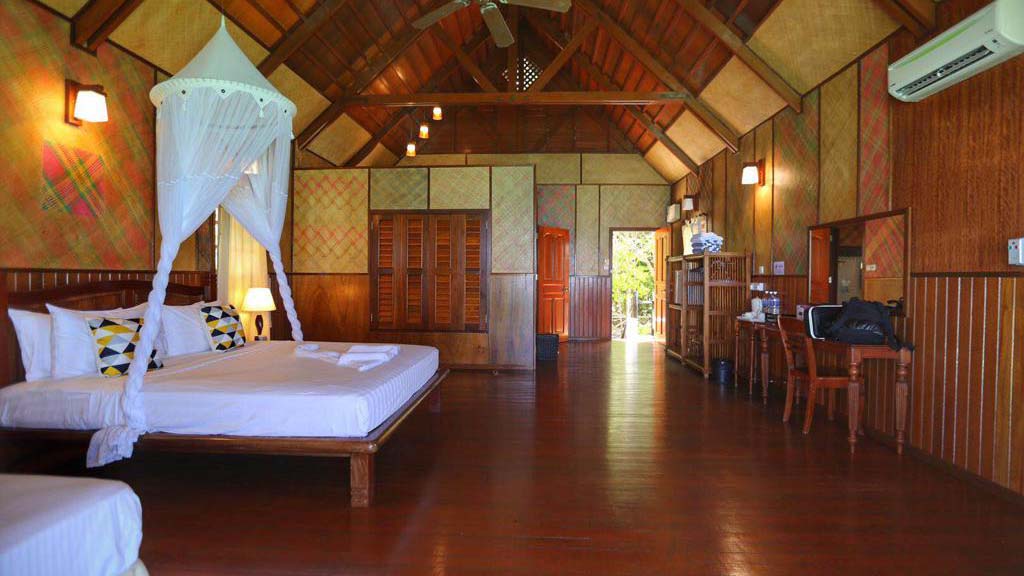 Sepilok Bungalows overlook the river.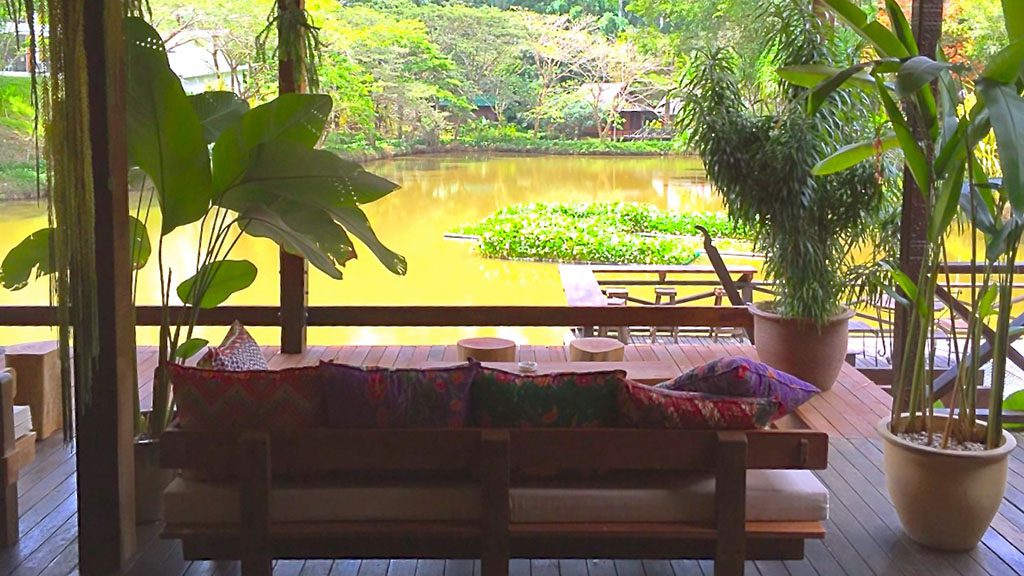 Dive Service
There are three boat dives per day on the surrounding reefs. Dive sites are accessed with fast speed boats in under 10 minutes. The dives are accompanied by Malaysian dive guides, which all have excellent local knowledge. The dive briefing is in English. It is also possible to dive at the house reef in front of the dive centre at any time.
Dive area
The 25 sites are not particularly deep (max. 25 m/82 feet) but provide diverse hard coral marine scapes with large fish and a huge variety of species: huge schools of snappers and jacks, leopard and blacktip sharks, and turtles. The variety in the macro range is also outstanding, with many nudibranchs, ghost pipefish, frogfish, leaf fish, and ribbon eels just waiting for the divers. Whale shark encounters are also possible between March and May.
Lankayan Island is a true Macro world paradise. Among large stretches of beautiful hard and soft corals are multitudes of macro world subjects and juvenile fish. Pelagic also abound here, from large schools of scads, yellow tail barracudas, jacks, and many more. The many schools of medium to large hump head parrotfish are always an exciting encounter. For those more inclined towards the smaller denizens of the reefs, there are numerous juvenile fish, clown anemonefish, decorator and spider crabs, coral shrimps, nudibranchs, prawn gobies, jawfish, ornate ghost pipefish and frogfish.
Divers are sure to appreciate the remaining large stretches of unspoiled lettuce, staghorn and other hard corals as well as the many varieties of soft corals, feather stars, sponges, sea fans etc. There are four wrecks home to abundant of fish large and small. The "Lankayan Wreck" was an ocean going fish poaching vessel appropriately demised in the area of its illegal activities. It is now home to numerous fishes, from small cardinals and yellow pikes to large groupers, cobias and emperors. Look out for the ornate ghost pipefish
Pricing for Lankayan Island Resort
Valid to 31 Dec 2023
AUD
MYR
5 Nights Beach Chalet (Double / Twin Share) with 9 dives
7165
MYR
|
7165
5 Nights Beach Chalet (Single) with 9 dives
9314
MYR
|
9314
5 Nights Water Chalet (Double / Twin Share) with 9 dives
7905
MYR
|
7905
5 Nights Water Chalet (Single) with 9 dives
10276
MYR
|
10276
Add on 2 nights at Sepilok Nature Resort including all meals and return transfers
2 Nights (Double/twin share)
1293
MYR
|
1293
INCLUDED: accommodation as specified, all meals, water, tea, coffee, return transfers from/to Sandakan airport, up to 3 boat dives daily (except on arrival & departure days), unlimited house reef dives (unguided, with dive buddy only), tanks, weights, air fills, conservation fee (SIMCA), Malaysia Government tax. NOT INCLUDED: TTx (Tourism Tax) of MYR 10.00 per room per night - this payable at the resort
The per person pricing above is indicative only: we show 7 night with 10/12 dive packages at high-end and lower-end rooms (singles & doubles) for the purposes of comparison. We can give you a price (and availability) for any combination of nights/dives you wish to undertake, which will include any discounts due to you as part of that package, and any exclusions, or items payable at the resort. Please use the [Enquire Now] tab to give us your exact requirements and we'll give you the best deal we can.
This resort's prices are in Malaysian Ringgit. The AUD prices shown are based on the current exchange rate. The price paid in AUD will be based on the actual exchange rate at the time any payments are made.