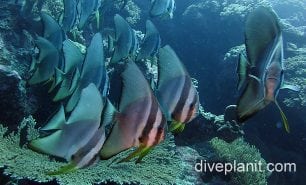 Family
Batfish

(EPHIPPIDAE)

species
Platax orbicularis
size
up to 48cm
locality
Near reefs over sandy substrate
behaviour
Usually in groups
range
Indian and Pacific Oceans
Batfish look a little like pewter plates standing vertically in the water. Silvery, slow moving – quite majestic – unlike any other fish. (And nothing like a fruit bat, cricket bat or any other kind of bat!) Here you can see face on, and it almost has a round face.