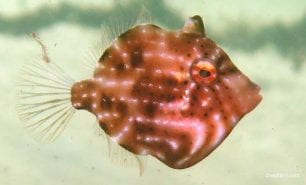 Family
Filefish

(MONACANTHIDAE)

species
Brachaluteres jacksonianus
size
To 9cm
locality
Very sheltered coastal reefs
behaviour
Solitary or in groups
range
Southern Australian temperate coastal waters
Classic leatherjacket shape – just much smaller. Similar slow and awkward swimming style. Can be green, brown or yellow (more juvenile) with rows of pale spots in lines along body and emanating from the eye.