Site Overview
Dive Centres
| | |
| --- | --- |
| Site Type: | Kandu or channel drift dive |
| Depth: | Bottom: 30M |
| Location: | East side of Meemu Atoll |
The Mulah Kandu dive was very different to other reef channels I dived in the Maldives and didn't require the use of a reef hook. We started the Mulah Kandu dive drifting along the outer wall of the atoll, but when we reached the channel we spent more time exploring the many ledges then staring out into the blue water. In the first, I spotted a large map pufferfish, and in other ledges were sweetlips, squirrelfish, crayfish and angelfish.
In the blue were the usual grey reef sharks, but the sandy floor of this channel was more interesting as it was home to a large colony of garden eels. We then explored the channel wall, finding more colourful ledges lined with soft corals and coral heads swarming with fish.
During our slow drift into the lagoon, we were joined by a continuous parade of fish and sharks. Every few minutes a whitetip reef shark would cruise by, but I was more impressed by the schools of snappers, trevally, barracuda and rainbow runners.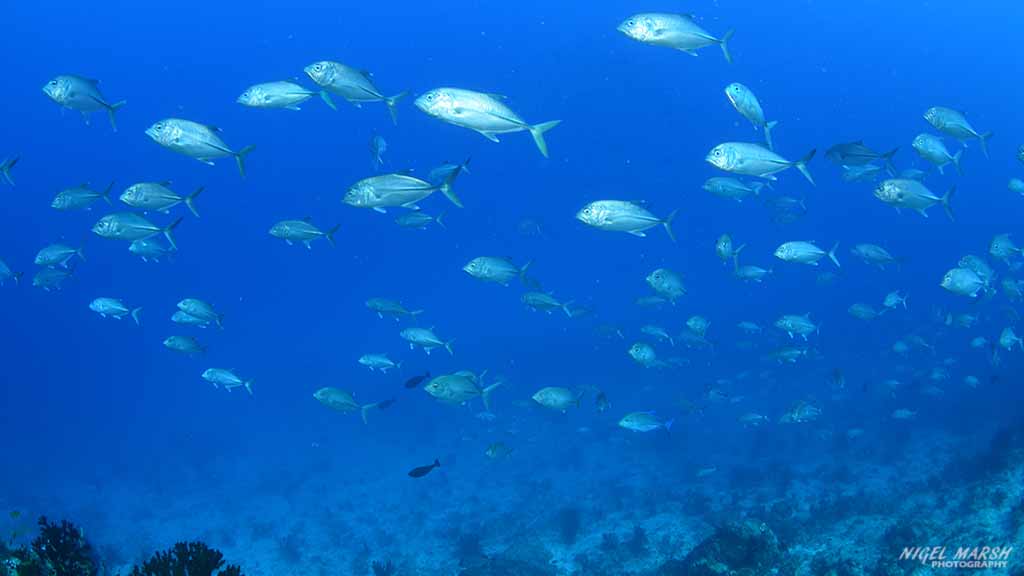 By the end of the dive the current dropped off completely, but there was still plenty to see. A large Maori wrasse made a brief appearance but stayed well away from my camera. The last highlight of this wonderful dive was an encounter with two large rays. The first was a blotched stingray that took flight at the sight of numerous divers, but the Jenkins whipray accompanied by two remoras was a more spectacular sight as it slowly swam across the channel floor.