The Solomon Islands has 992 islands spread across an area the size of France. It is renowned for its rich fish and coral life; its WW2 wrecks and the incredible culture. It has some of the healthiest coral ecosystems and most diverse fish populations of any reef on planet earth. Underwater photographer Mike Scotland shares his latest Solomons' dive adventures with us, from the Russell and Florida Islands, through Honiara to Munda and Gizo.
Taka's fish extravaganza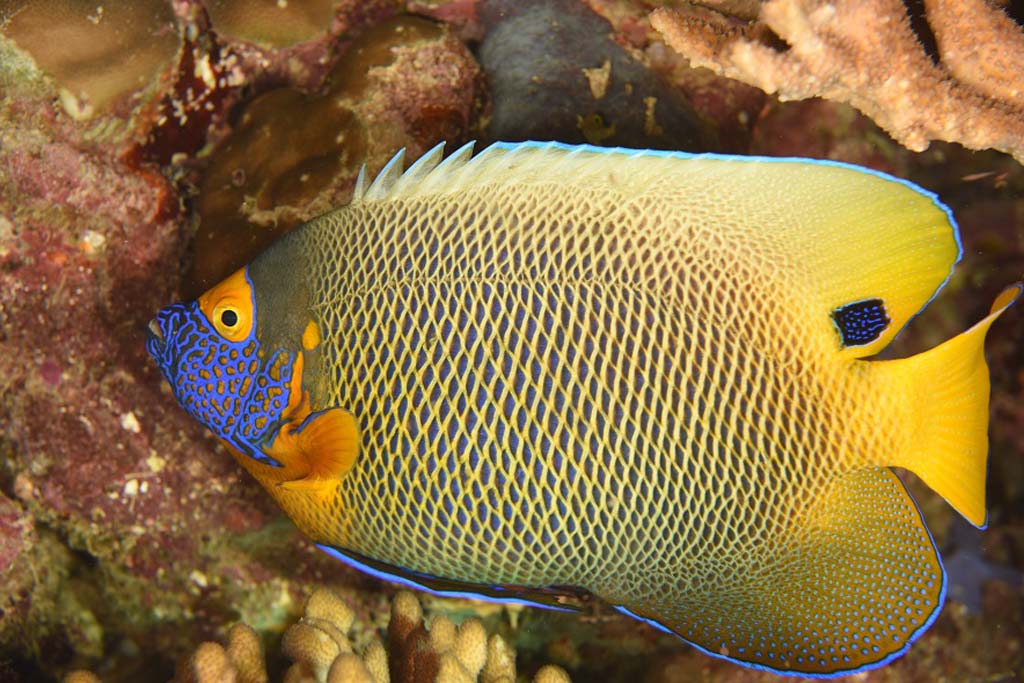 The MV TAKA takes you on an incredible journey of exploration to discover the Solomons' marine wealth. I did the 10-day circuit of Russell Islands, Marovo Lagoon and the Florida Islands.
There can be no better way of cruising the South Pacific than on a luxurious live aboard dive boat, diving up to five dives a day. The on-board chefs produce great, healthy food and every dive site is next to a jungle clad picture postcard perfect tropical island. This is the lifestyle on board Taka that has thrilled divers for 12 years.
The wall diving of the Florida and Russell Islands is renowned and will tantalise big fish watchers, while its small fish life will keep you enthralled, and the night diving is another world entirely.
On one dive, 15 Bump Headed Parrot fish could be heard crunching away at the coral and we followed them slowly for several minutes. They kept moving at the same safe distance of ten metres away from us.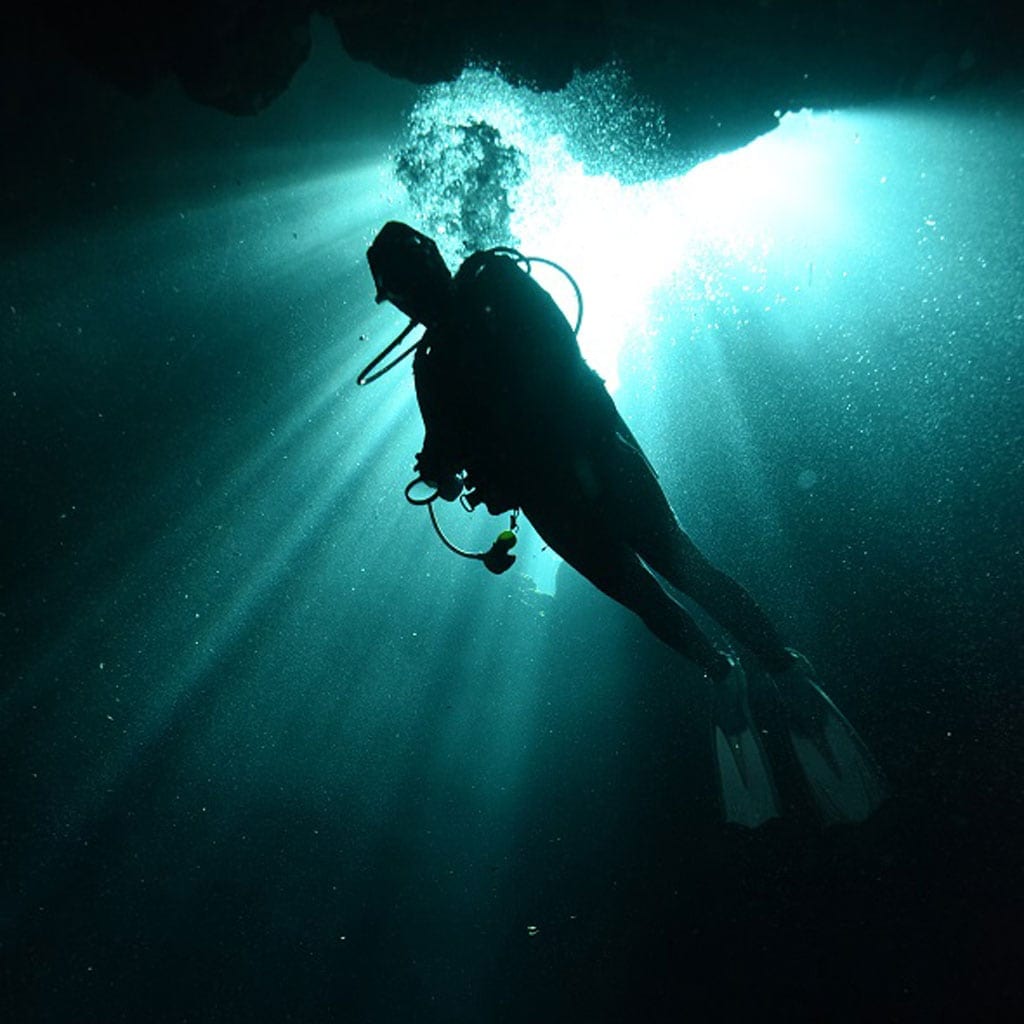 Solomon Islands Light Show
Many islands in the Florida and Russell Islands have cracks; cave slots and tunnels in the coral walls, best dived when the sun is directly overhead. Sunbeams flicker down into the darkness of the cave creating scintillating patterns. They are a photographer's dream.
Tulagi Dive
Back on the mainland, there are a number of WWII wrecks accessible by shore dive, and Tulagi dive is the "go to" dive operator. The great sea battles of Guadalcanal changed the course of WWII in the Pacific, and halted the advance of the Japanese War Machine. Iron Bottom Sound is so named because of over two hundred ships and 690 planes that are sunk there.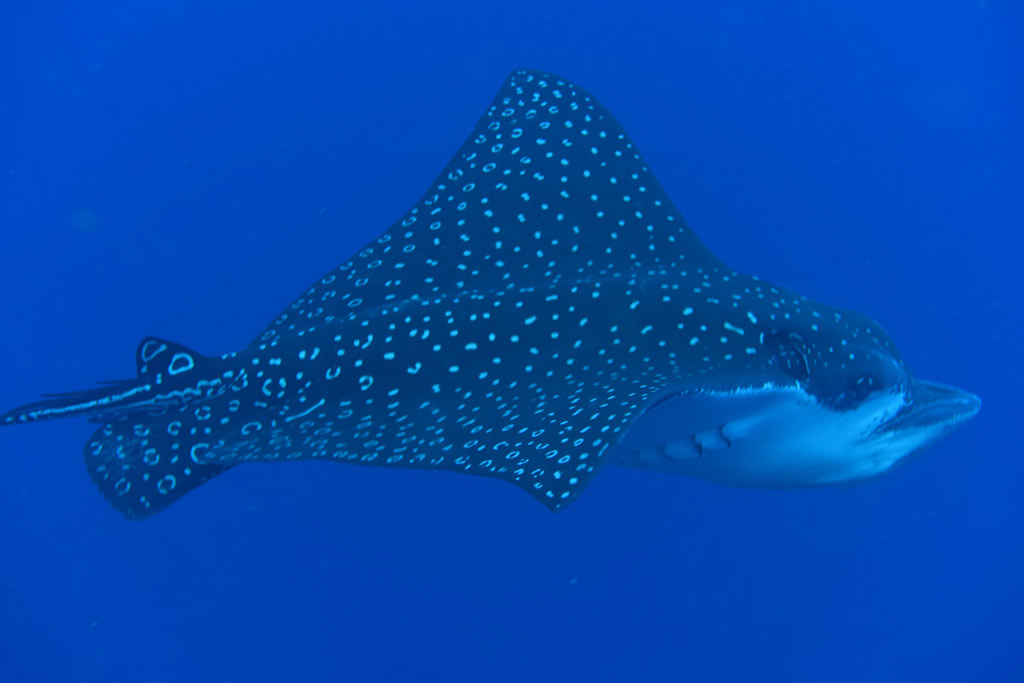 Tulagi Dive is run by an Australian, Neal Yates. He focuses on wreck and technical diving but also does reef and sports diving. His Heavy Metal Diving T Shirt advertises eight Japanese and eight Allied ship, plane and submarine dives. Ten of these dives can be done on air to 40 metres and the others such as the USS John Penn and the USS Aaron Ward are far deeper.
But the wrecks of Japanese transports, Bonegi 1 and Bonegi 2 can be dived from shore, as few metres from the beach. The Bonegi 1 wreck, the Hirokawa Maru is over 150m long and over 50m deep.
The Bonegi 2 is the Kinugawa Maru. Its bow has broken up, and the stern goes down to 43m. We explored the ship's cargo holds and down to the deck area where we found lots of artefacts, before inspecting the chimney stacks, and the drive shaft for the propeller.
The Western Provinces
Over in the Western Provinces, Munda and Gizo both have access to a great many and varied dive sites, from macro shore dives to enormous WWII hulks, shallow plane wrecks and shark aggregation points.
Dive Munda
Belinda Botha runs Dive Munda, an SSI Instructor agency based on the grounds of Agnes Gateway Hotel.
Shark Point
The steep coral wall that leads to Shark Point is a short boat trip from Agnes Gateway Hotel. As we swim along, two Grey Reef sharks make a direct pass at us. Fan Corals and sea caves are dotted along the wall. I spot two golden rabbitfish foraging over the reef, with bright yellow trumpet fish is hitching a ride on their back. At the point, the fish life is hectic. I spot open aggregations of a small, very active cod mating, while schools of midnight snapper and batfish hung lazily in mid water.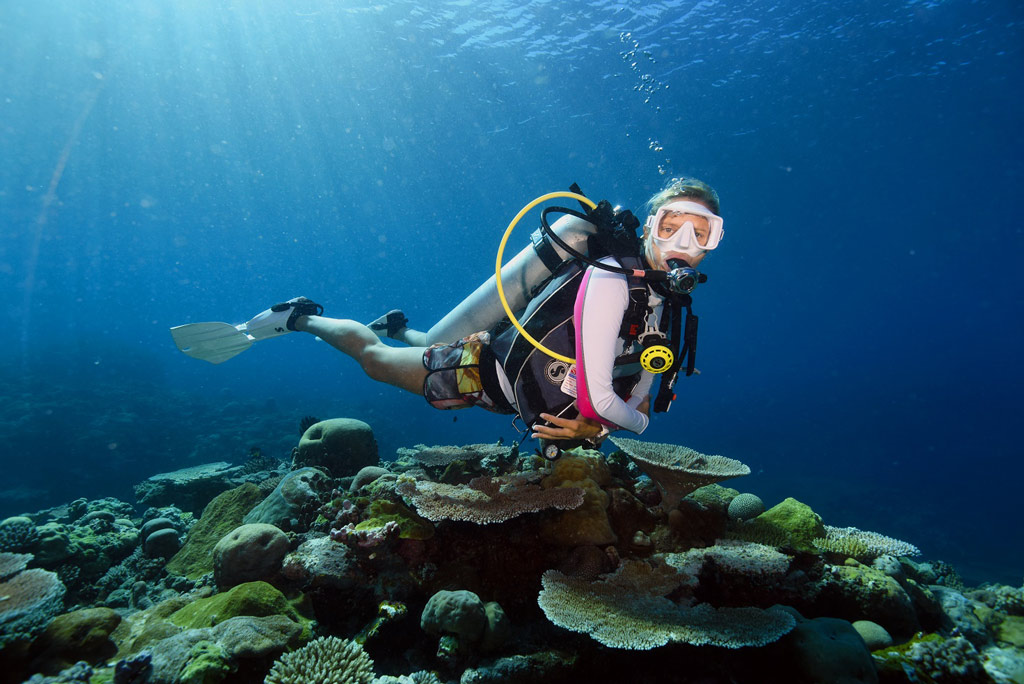 Bell P39 Airocobra
Located near Rendova Island in twenty-seven metres of water, this wreck, discovered in 2011, is close to the PT boat base where a young John F. Kennedy spent a lot of time in 1942. On our dive, we had crystal clear water. A school of sweetlips hung lazily off one wing, watching us as we checked out the cockpit, ammo, guns, propeller and the fuselage.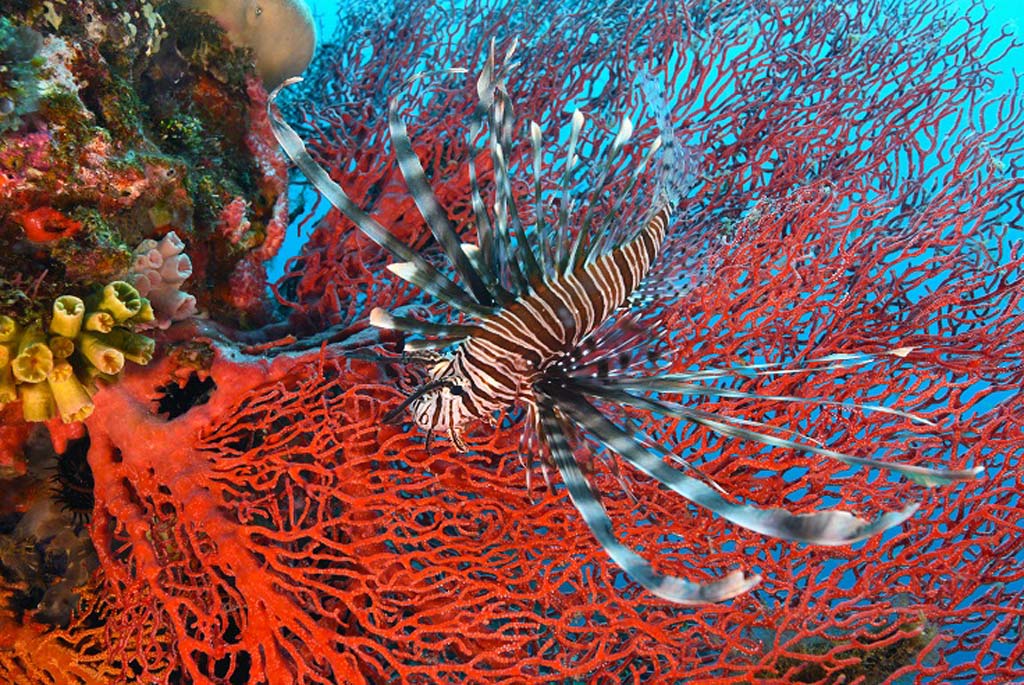 Dive Gizo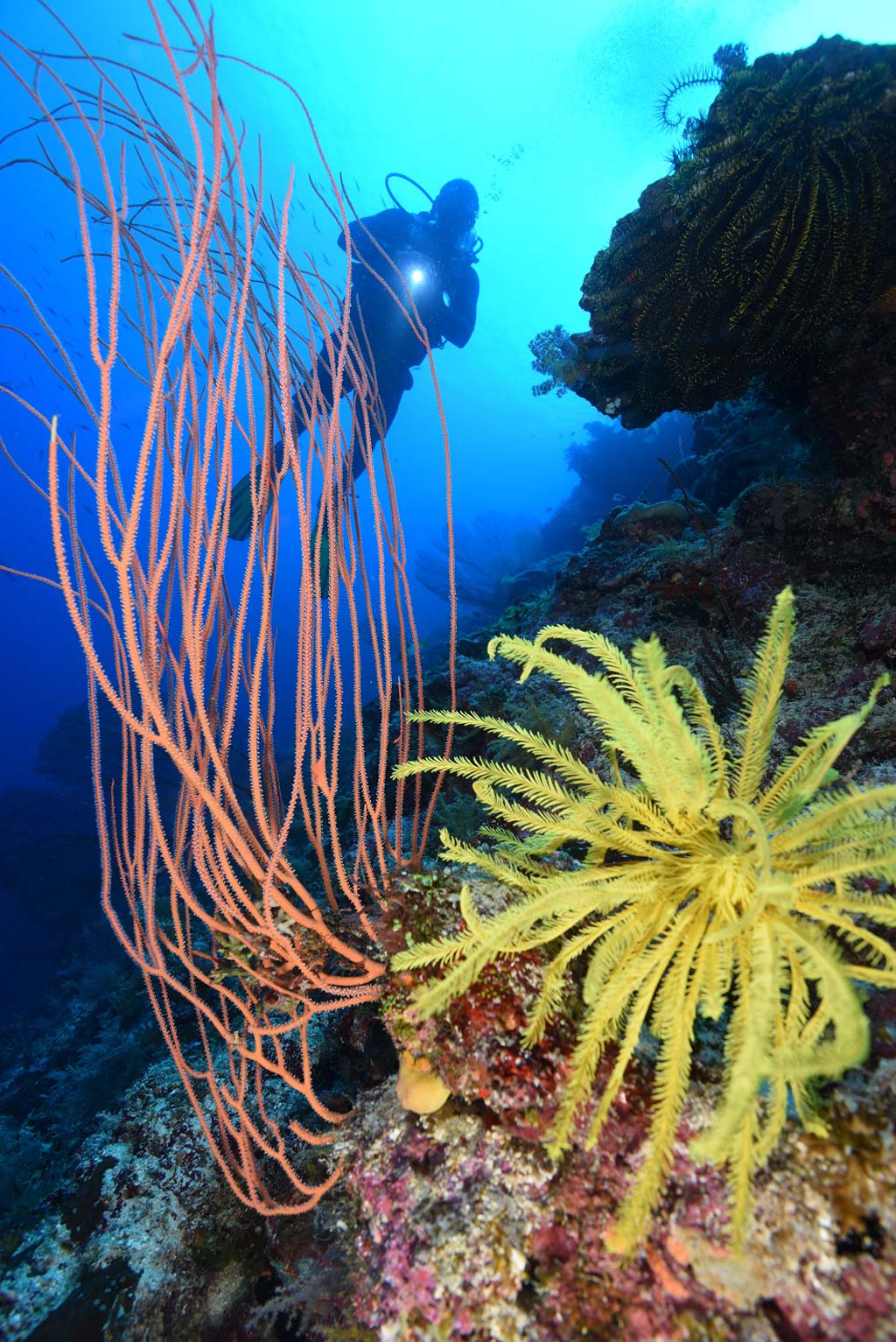 Gizo is a rather spectacular 70-minute flight from Munda, as you fly over scores of coral reefs, shallow blue lagoons and rainforest fringed islands.
We stayed at Fat Boy's Resort, accessed on a large jetty, where the resort's restaurant and bar are located. A 100m walkway leads to my room, sitting on stilts over the water – I could have fished from three sides, with a magnificent view of the enormous volcano on Kolombangara Island. On our first night, one of the guests saw two dugongs, a mother and calf, swim right under the bar.
Dive Sites
Our first dive, with Danny Kennedy's Dive Gizo, was the wreck of the Toa Maru, a Japanese freighter transport ship of 10,042 tonnes, sunk in 1943 by U.S. bombers. The Toa Maru is 140m long, the bow as shallow as 10m and the stern in 37m of water. There are six cargo holds in which you can find an eclectic range of artefacts including saki bottles, ammunition clips, medical supplies, gas masks, a fuel tanker, two Type 95 tanks as well as a motorcycle and sidecar. Some keen wreck divers regard this as one of the best 20 WWII shipwrecks in the world.
Another popular dive site near Gizo is the Grumman Hellcat warplane, 13m wide and 10m long. The robust Hellcats made more American air aces than any other plane. Unconfirmed reports claimed a kill ratio over Japanese Zeros in the Pacific of 19 to one.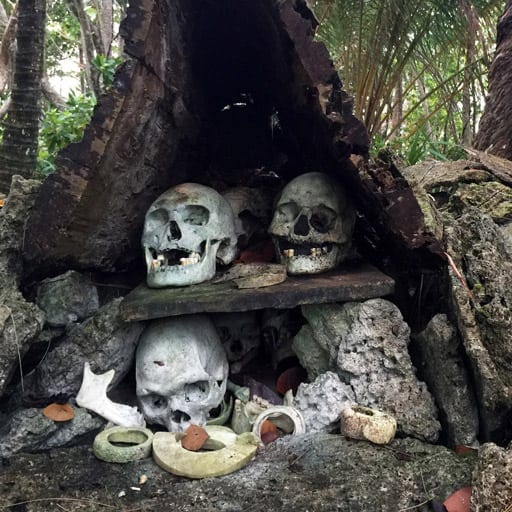 Traditional Culture KASTOM
On top of all amazing diving is the rich cultural heritage of the Solomon Islanders, who are a welcoming friendly people. Stay a few nights at any of the resorts here and you'll likely be entertained by a traditional music and dance performance.
The locals have preserved their rich cultural heritage of strong clan bonds with tribal leaders. The history of headhunting and cannibalism is very much alive in the collective consciousness, and the bond with the ocean as the source of food and life is highlighted in the worship of sharks, crocodiles and dolphins.
Skulls are also a powerful part of the spiritual culture. They represent a direct connection between the living and the spirits of the dead, giving them enormous prestige. A coral altar on Skull Island displays skulls of former chiefs who ruled the Western province for a dozen generations.