What is it about Fish Rock that places it consistently on divers' Top 10 dive destinations in Australia? The cave itself? The grey nurse sharks? Photographer Matt Krumins visited recently and found out for himself.
It's a sleepy town by anyone's measure, five hours' drive north of Sydney on the NSW Mid North Coast, but South West Rocks is a big name in the Australian diving community.
I'm parked up at Horseshoe Bay caravan park, a quaint little family holiday spot overlooking a pristine, quintessential Australian beach. White squeaky sand, clear blue water, enough surf for families to play but not enough for the surf culture elsewhere along the coast. I'd forgive for skimming your finger over this place on a map but, as a diver, would you forgive yourself? Whilst the relaxed vibe around town and the beach is pretty special I'm  only here for one thing, the sharks.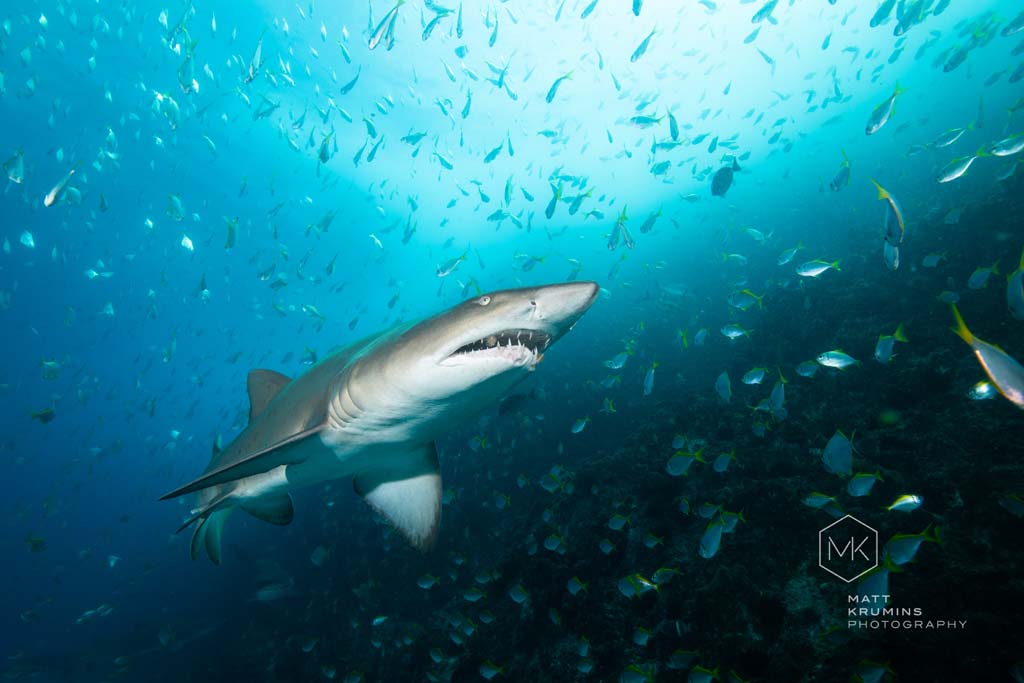 No more than half an hour boat trip from the marina is a tiny unsuspecting island. It blends in perfectly with the surrounding coastline; rocky, jagged, and completely isolated. This is the home of Fish Rock, one of Australia's premier dive sites and home to a large aggregation of the critically endangered Grey Nurse Shark. The island isn't huge but I've been told there is a lot more than meets the eye, a mixture of sharks, rays, turtles and huge schools of fish. The feature everyone raves about though is the cave itself which runs straight through the island starting at 24m and progressing up to around the 12m mark. I've got six dives booked and whilst it seems like overkill for what appears to be a reasonably small site, the wildlife photographer side of me knows that you have to be in it to win it: more time means more opportunities.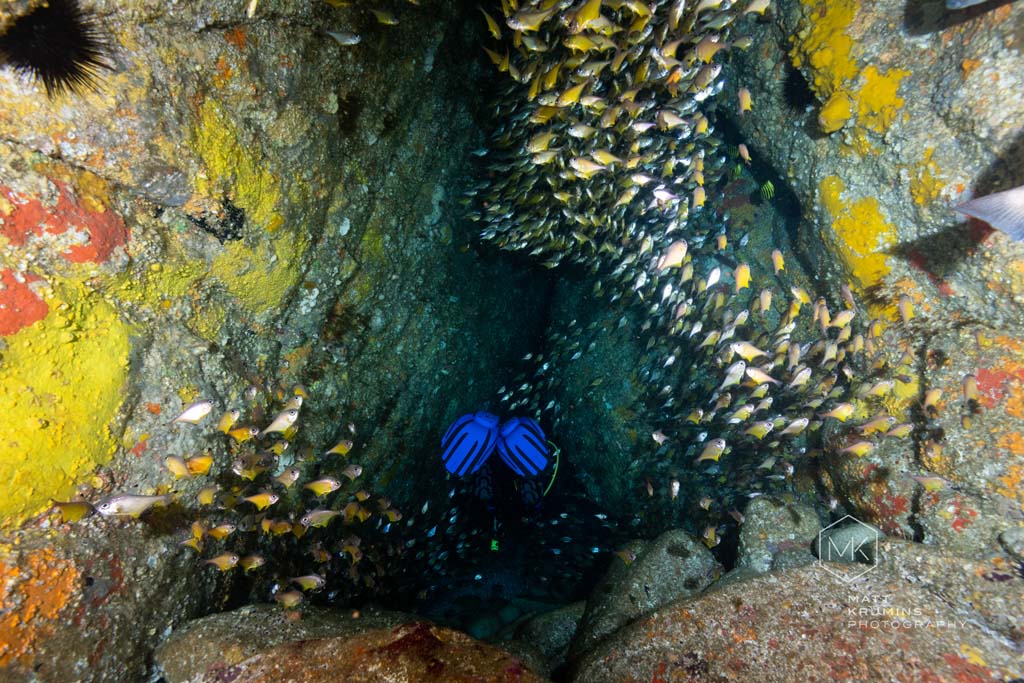 My first dive definitely validates my decision to stick around for 3 days. The cave is substantially narrower, darker and more 'cavey' than expected (definitely not for the claustrophobic or nervous diver). But this isn't a just a cave, it's completely full of life.
From the moment we descend to the entrance we are completely surrounded by sharks, and they're not small either. These gentle giants with their ferocious looking teeth coast up and down the gullies as though they were protecting the cave entrance. At around two metres (six foot) long, only those brave enough to pass will be allowed access to the cave.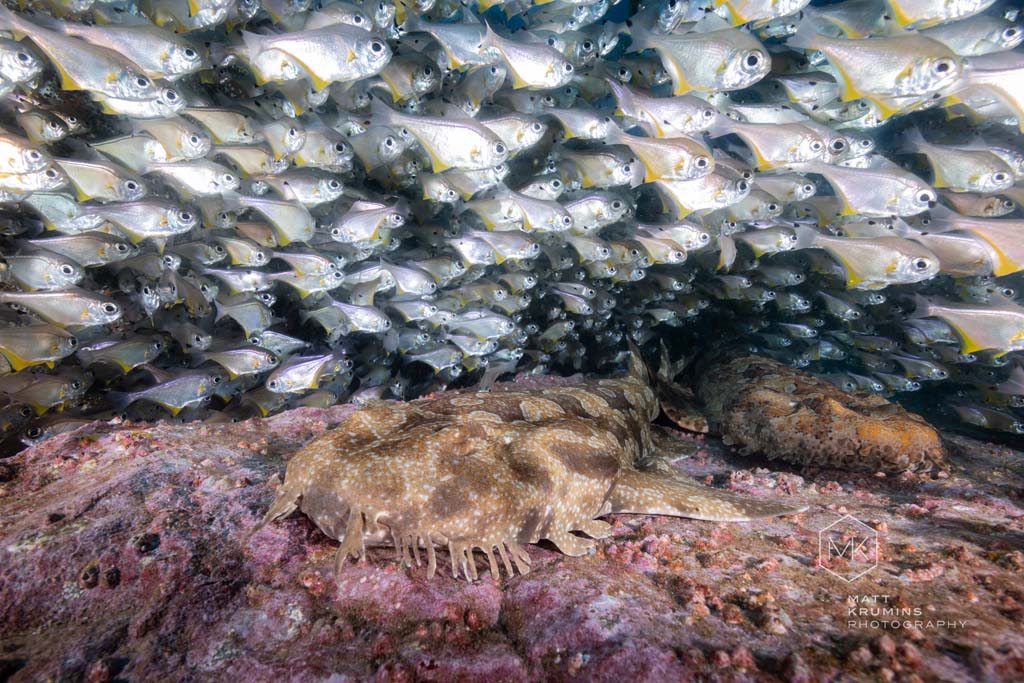 Of course the reality is that whilst they are spectacularly vicious-looking, these sharks pose no actual threat. Once inside the cave we are greeted by thousands of bullseyes (small diamond-shaped fish). We pass crayfish peeking out from crevasses, stingrays and wobbegong sharks blanketing the floor, and fish of all colours, shapes and sizes. As we bend and twist around the cave I have to shuffle my camera sideways to avoid scraping it against the walls and then in the distance the deep blue glow of Fish Rock Cave comes into view.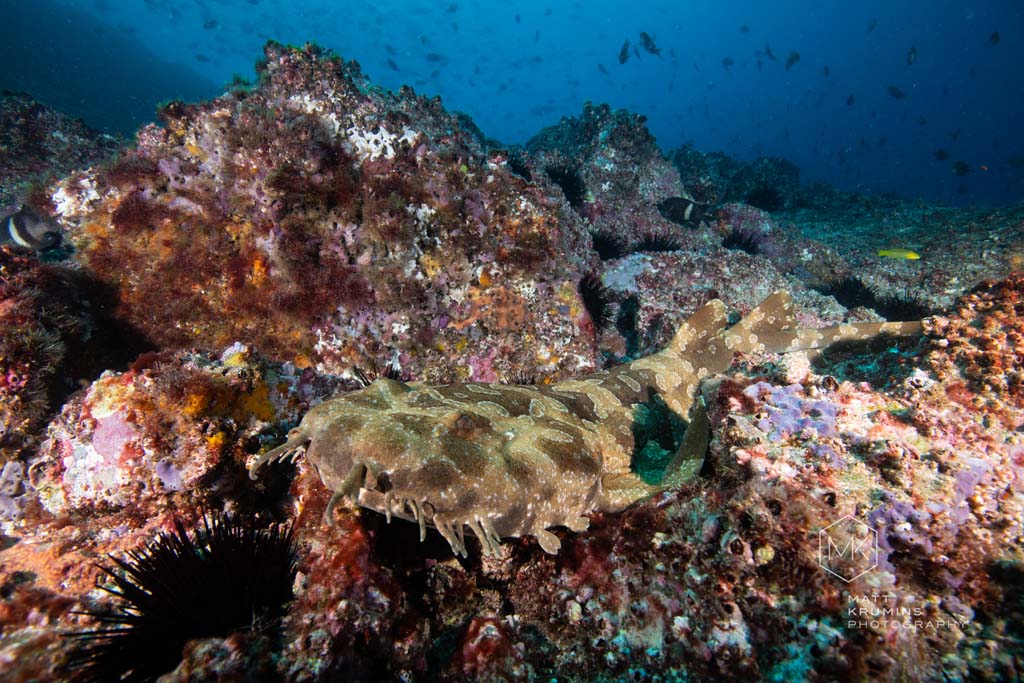 This is the real hero, the wide shallow entrance filled with silhouettes of Grey Nurse Sharks. This is where the need for patience in photography has never been stronger. The battle is real, on one hand there is the urge to swim toward the sharks at the opening of the cave while the sensible part of me insists I stay in the shadows and wait for the sharks to come to me, as instructed by the experienced team at South West Rocks Dive Centre.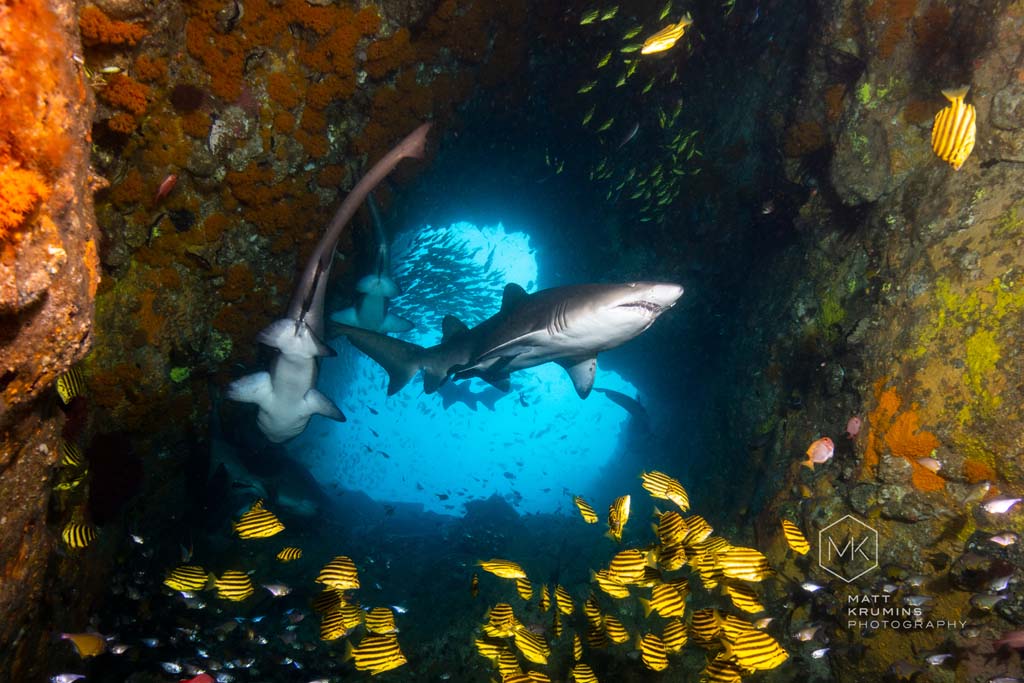 Waiting wins out and I park myself on the rocky bottom, slowing my breath to preserve air and minimise disturbance. It could be a long wait for them to gain confidence but to my surprise, the sharks start to drift in towards me, one by one. I'd love to say they were checking me out but with steel grey eyes glossed over like zombies it's pretty hard to imagine what they are thinking.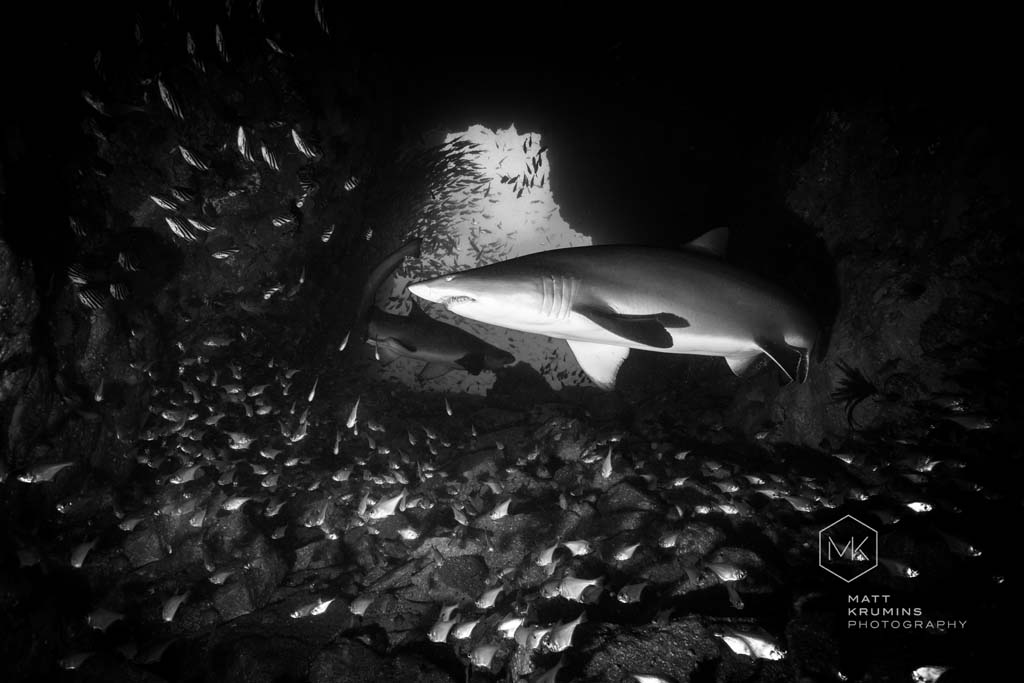 I can see the shot I'm after, it's black and white, the silhouettes of the sharks against dim glow. There is a lot of strategy that goes into photographing a situation like this as it's far too easy to get excited and stop thinking about what you want from the shots.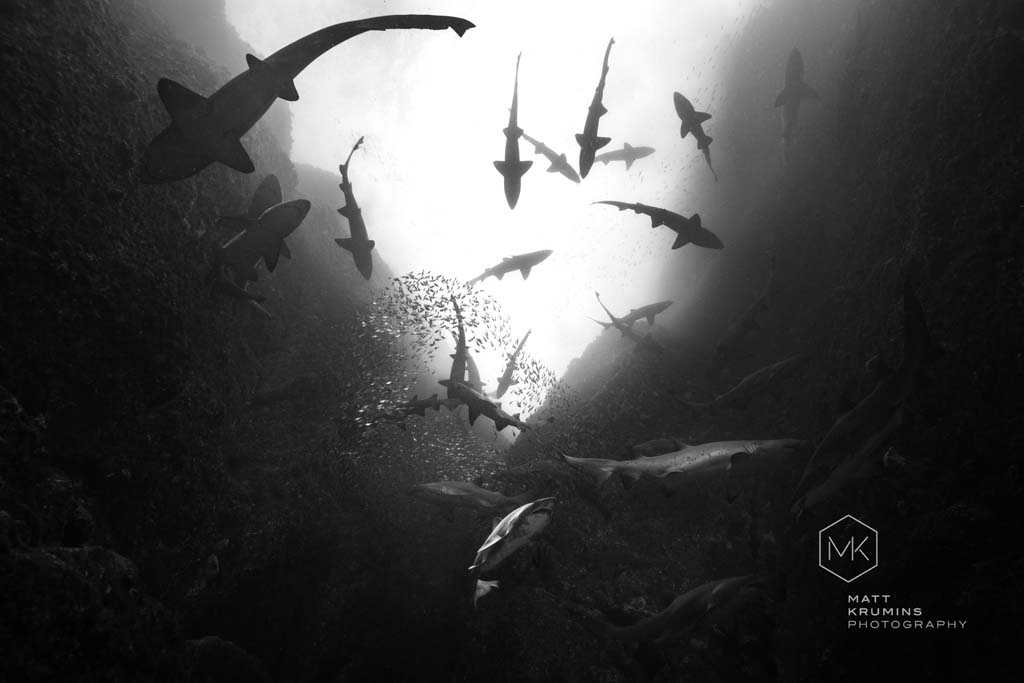 Day after day I have the privilege of getting into the cave ahead of the pack with Nikos my guide giving me an uninterrupted window to go slow and spend time building confidence between me, the camera and the shark. One of the wonderful things about diving with animals like this is that the situation is so unpredictable, how they will move, how they interact, the light, and of course the number of sharks constantly fluctuating dive to dive.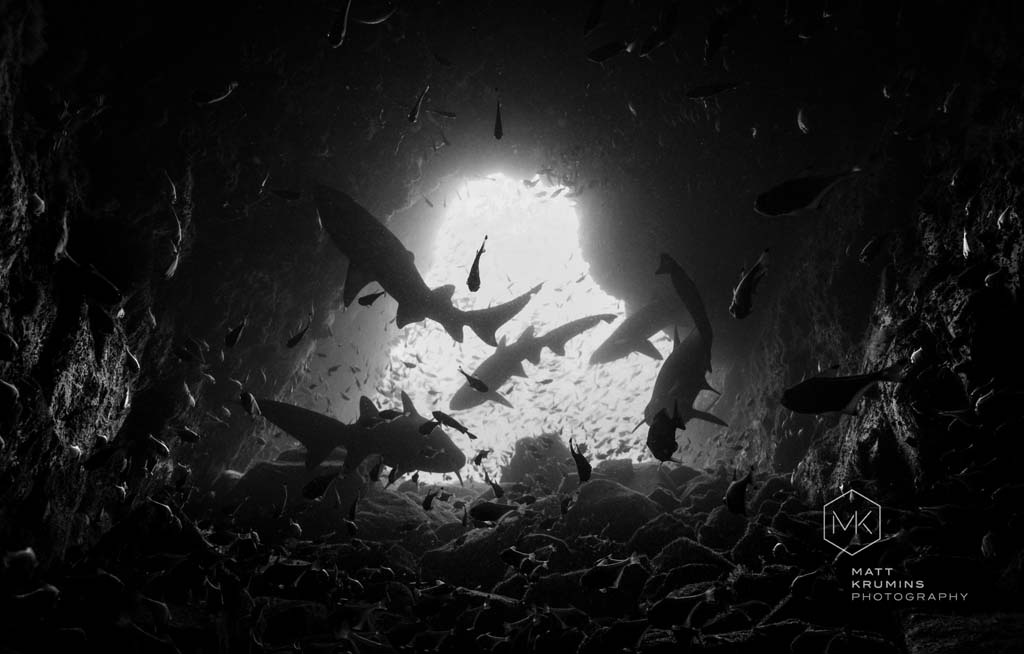 On our surface intervals between dives I had a few great opportunities to chat to Pete, the operator of the dive centre and Grey Nurse shark advocate. He tells me that whilst the grey nurse sharks seem to be in healthy numbers in this area, looks can be deceiving.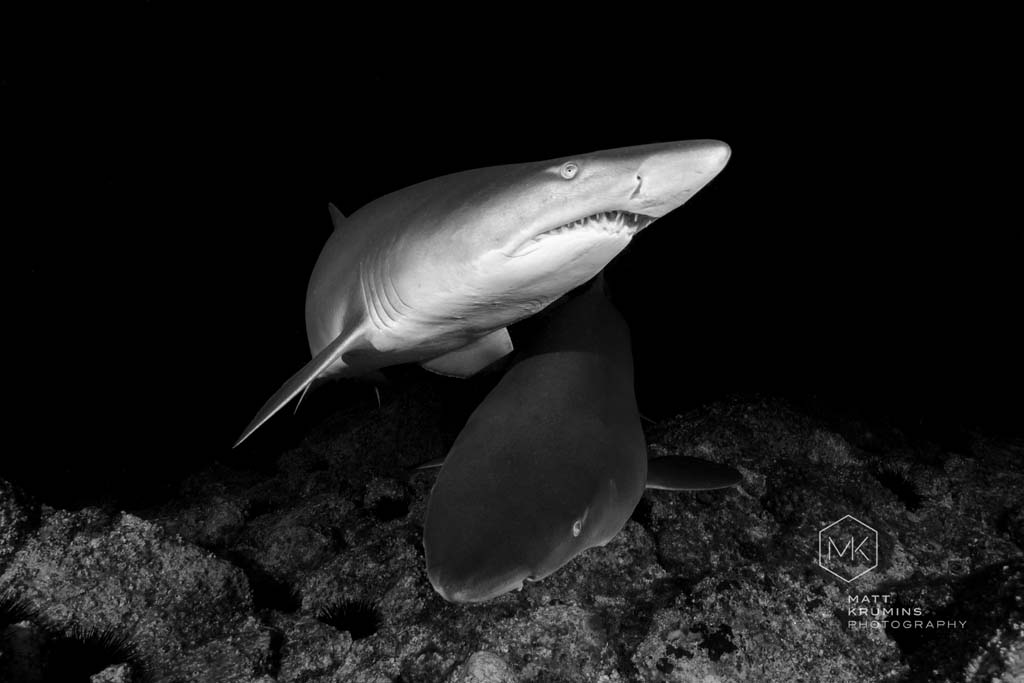 These sharks travel long distances up and down the coast and the population still hasn't recovered from the days, prior to their protection in 1984, thousands were slaughtered. He tells me that when you are lucky enough to find a seemingly healthy aggregation site as I have just experienced you are likely observing a huge portion of the living population, and that's a pretty scary thought.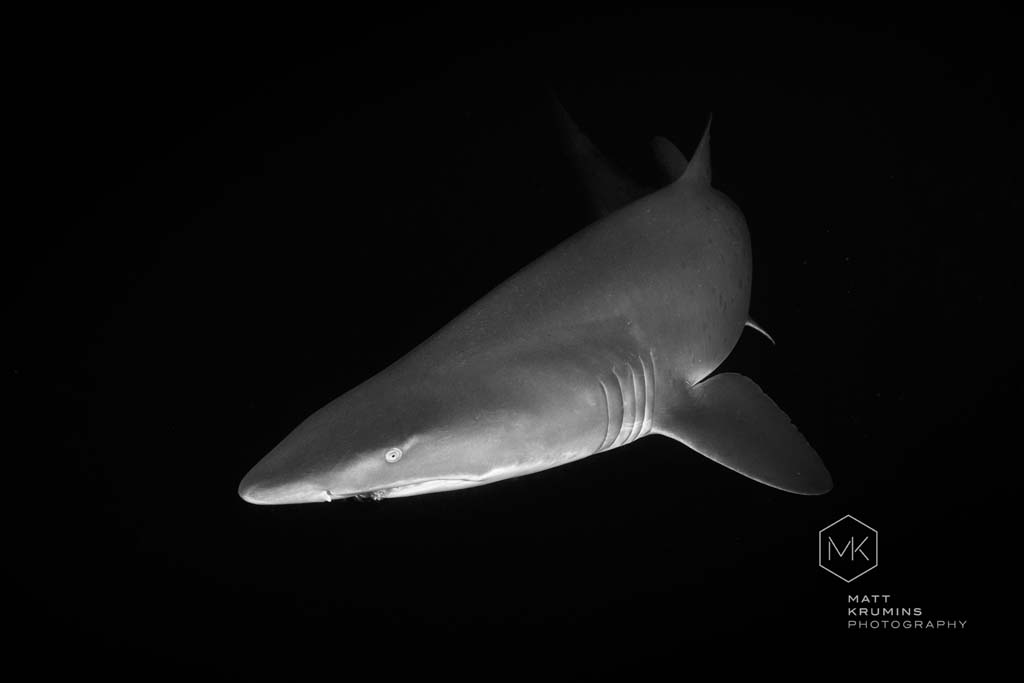 Given the breeding cycle and the current population, there isn't a lot of hope that these animals will be around long term. Thanks to grey nurse shark advocates like the team at South West Rocks Dive Centre though, there is still time to be one of the lucky people who will have a story to tell about diving through an island cave full of sharks.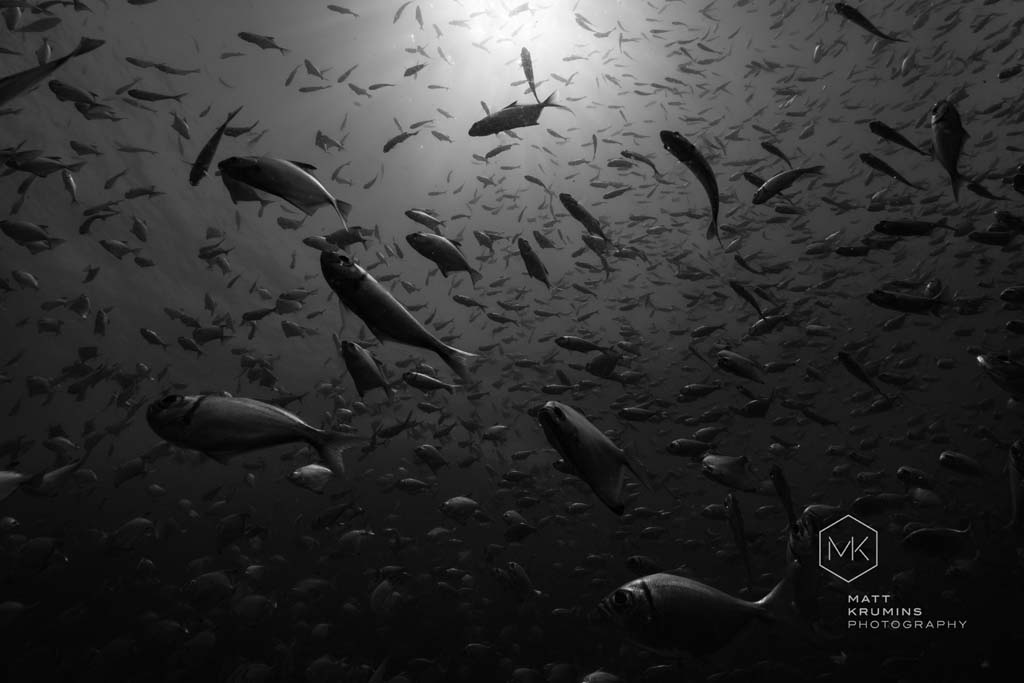 For more of Matt's photos, visit his website: mattkruminsphotography.com.au and follow Matt on Facebook and Instagram: @matt_krumins_gallery