Many adjectives are used to describe Ball's Pyramid: distinctive, mysterious, unique, magical, infamous, mythical … so much so, I was wondering whether diving it was going to be all it was cracked up to be. I was hoping so – because there are not many dive sites I get out of bed at 4am for!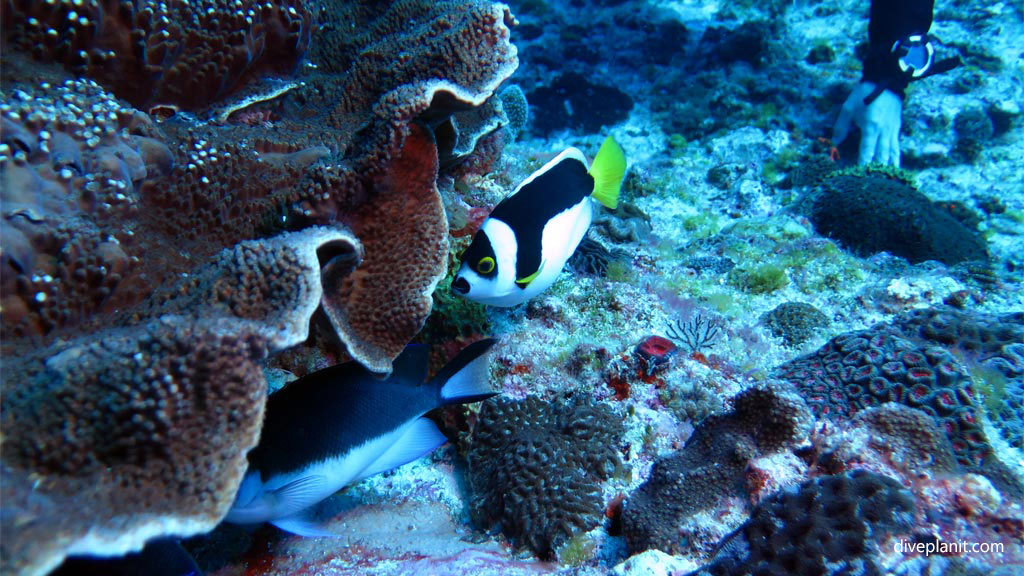 But here we were on day four of our Lord Howe Island Dive Week Trip – we'd all desperately wanted to dive it and so we were loading the Pro Dive boat and heading stealthily out across the lagoon practically in darkness. The sun had not yet shown itself as we rounded the northern tip of Lord Howe Island with Mount Gower towering 800m above us, so it did feel like we were on some kind of special mission as we headed east across the open ocean in dawn's first light.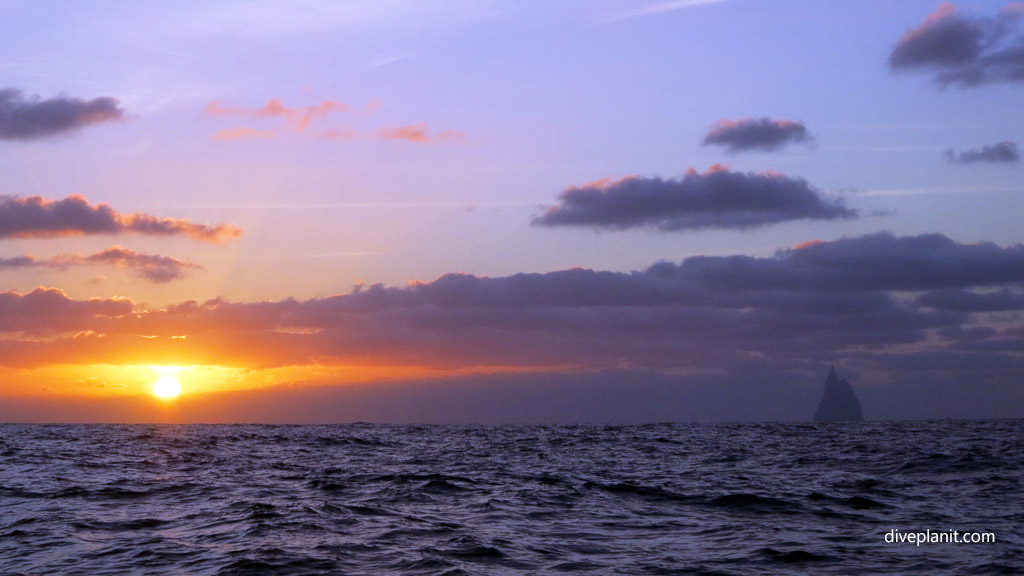 As the sun broke the horizon almost dead ahead, so too did the distinctive outline of Ball's, a tiny pointed triangle of rock about the same shape as an inverted ice cream cone and from this distance about the same size! As the sun continued its inexorable rise out of the ocean illuminating the few clouds on the horizon in tones of deep orca, gold, bright orange and finally yellow, we moved through dawn into day and all the while the tiny cone that was Ball's was growing, though even now it was still not much bigger than a pastry chef's icing bag. It was indeed a magical sight and well worth the 4am start just to experience it.
It's at times like these that my mind drifts back to those original European seafarers who set out in tiny wooden boats, with nothing to power them but the oceans' breezes. Seeing sights like this that no man (certainly no European) had ever seen before. That sense of adventure that drove them must've been addictive and self-fuelling, especially if home was a place like Whitby.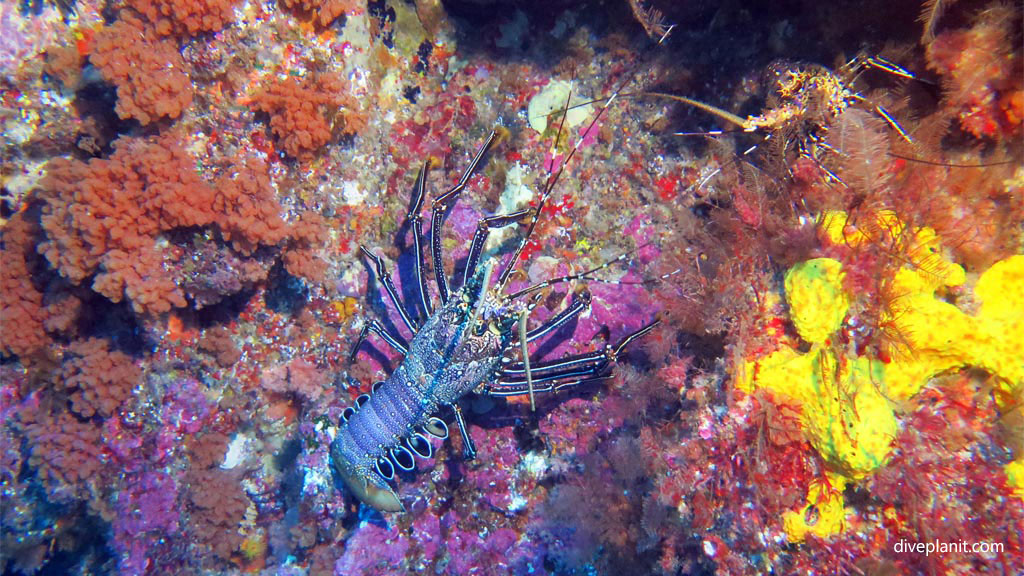 Our reverie was disturbed at this point by the arrival of a pod of dolphins who were wondering whether we wanted to hop in and play for a while. Though it was tempting, we reminded ourselves that we were actually on a dive trip to Ball's Pyramid, which still appeared some way off.
The last 10 minutes of the 50 minute trip was also one of great perspective, but in a different way. As we got closer, this infamous slab of rock got bigger, and Bigger, and BIGGER. Defining the word monolithic, it also defied any attempt to understand how it came to be. Over half a kilometre high, and over a kilometre wide at its base it totally dominated the ocean with its presence. Cast thereby some gigantic, angry mythical god, was the only explanation I could come up with.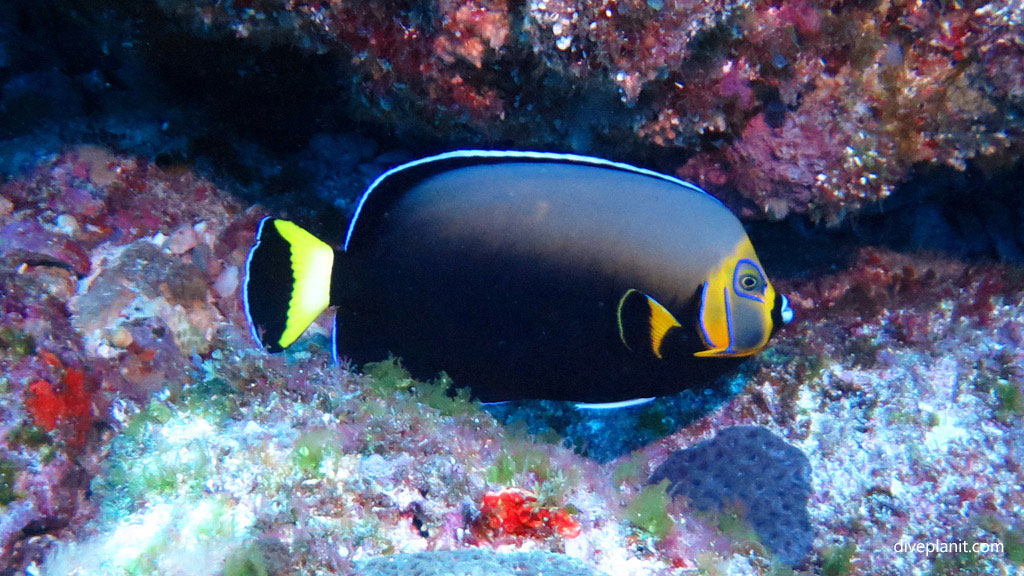 We halted in the lee briefly to gear up before heading the 200m across to Observatory Rock for the first dive. Aaron, our experienced skipper from Pro Dive read the currents accurately and dropped us in as close to the exposed rock as he could, knowing we'd need to stay in the current's shadow for most of the dive. Observatory Rock is one of those dive sites with a big jumble of big rocks where you could be at 8m on the top of them and at 16m in the gullies between them. So much to explore so little time!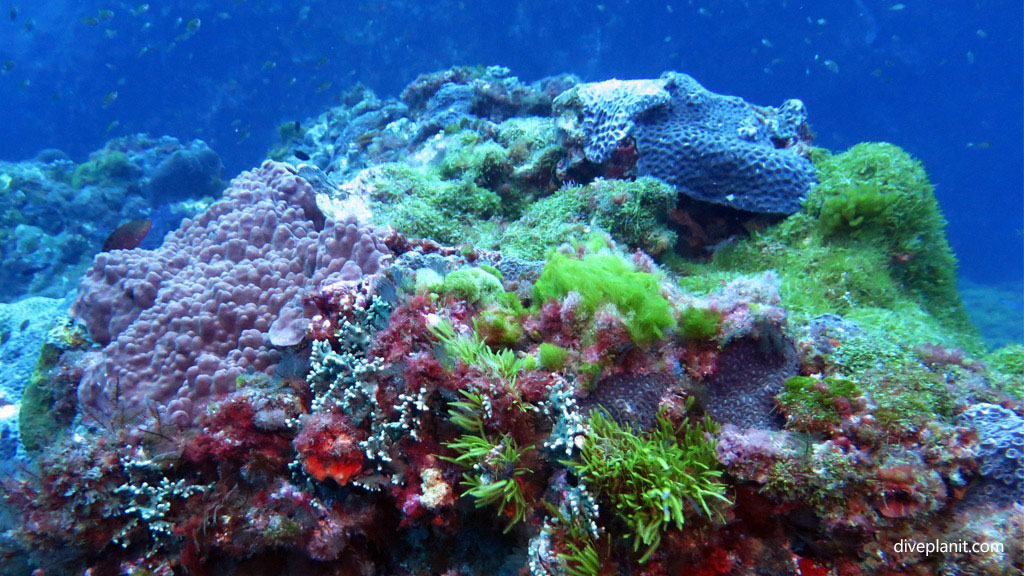 The boulders were covered in growth of one kind or another, in vibrant greens and reds and in every hollow and gully was a new collection of marine life. At first it seemed that these were chance encounters, a school of trevally, then Angelfish and then painted rock lobsters. But it soon became apparent – it wasn't chance at all, the whole place was teeming with life and it was everywhere. The best moment was trying desperately to get a good look at a Conspicuous angel and being surprised by a massive black stingray serenely gliding over the top of the boulder and straight towards me. It was magic.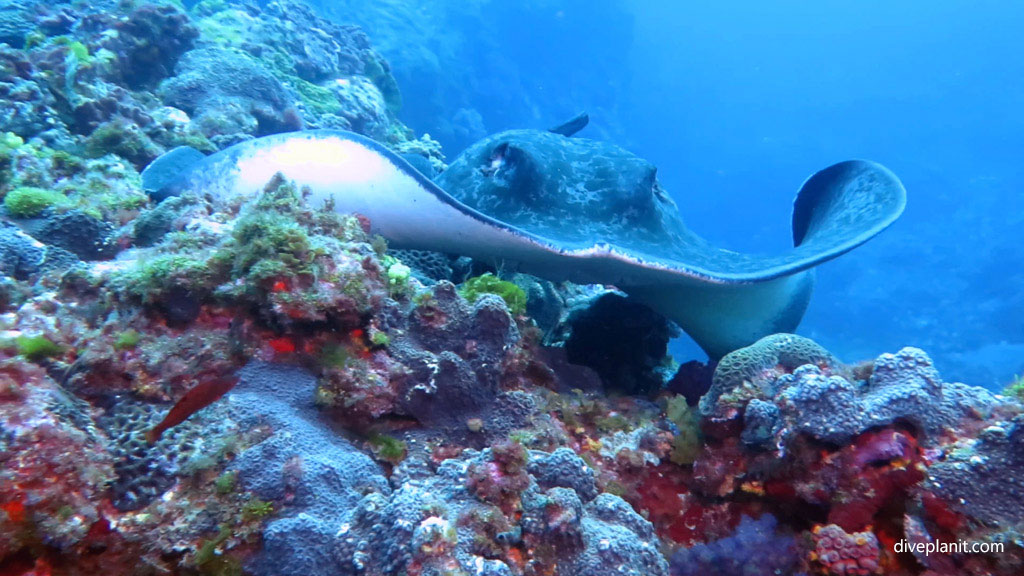 The dive ended in a natural rocky aquarium where one of the dive team had discovered a turtle. Though we could have stayed there until we'd drank our tanks dry we assembled as a well-disciplined team and let the current carry us collectively off the rock and into the open ocean for pickup.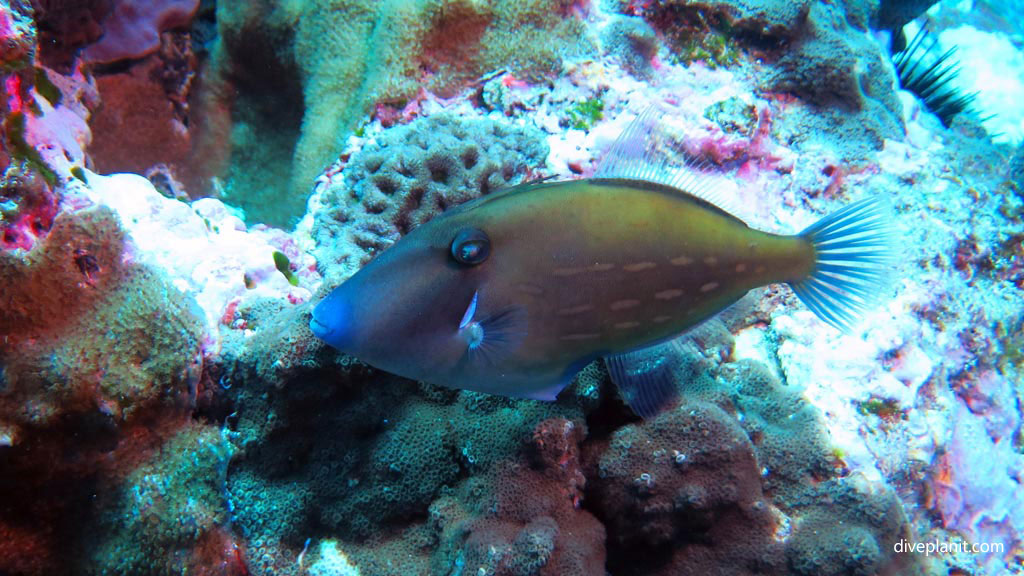 The buzz back on board the boat was electric: the "Did you see the…", and the "What about the…", and "… and the Ray…", and "… the Turtle!" You know you've had a great dive when they just don't shut up about it.
The surface interval was spent sitting in the lee of the, by now, friendly presence of this great slab and I began to wonder who first sailed this way and named this singly unique geological feature, and in honour of whom? It was in fact Lieutenant Henry Lidgbird Ball himself, who reported discovering both the pyramid and Lord Howe Island in 1788 on the same voyage. The island was named after Lord Richard Howe – who was first Lord of the Admiralty at the time. He also named Mt Lidgbird after himself – he probably didn't realise that Gower was higher! (Who named Mt Gower – that's still a mystery to me).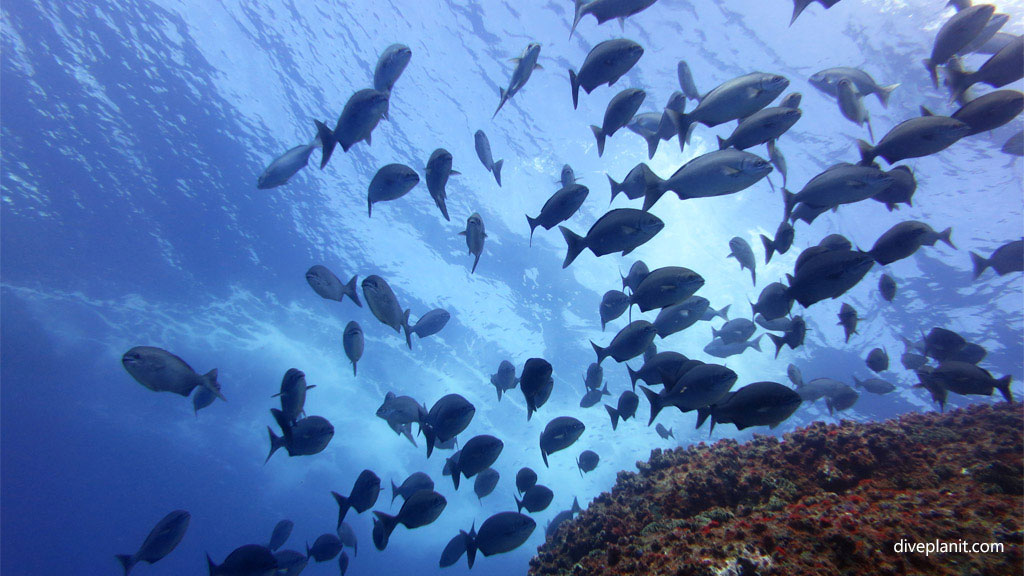 Our second dive was on South East Rock and the entry can only be described as 'surgy': a large flat rock ledge was concentrating the power of the ocean into just 5m of water. The dive group and the large shoal of drummer around us collectively moved 9m in one direction then 11m in the opposite direction for about four times before we could finally drop over the edge of the ledge out of the surge and down into the dive proper.
The terrain of South East Rock was a completely different and characterised, not by boulders, but rather by large, flat, stepped ledges. The viz was excellent and out of the corner of my eye I frequently spied the occasional single finned shape skirting just around the edge of visibility.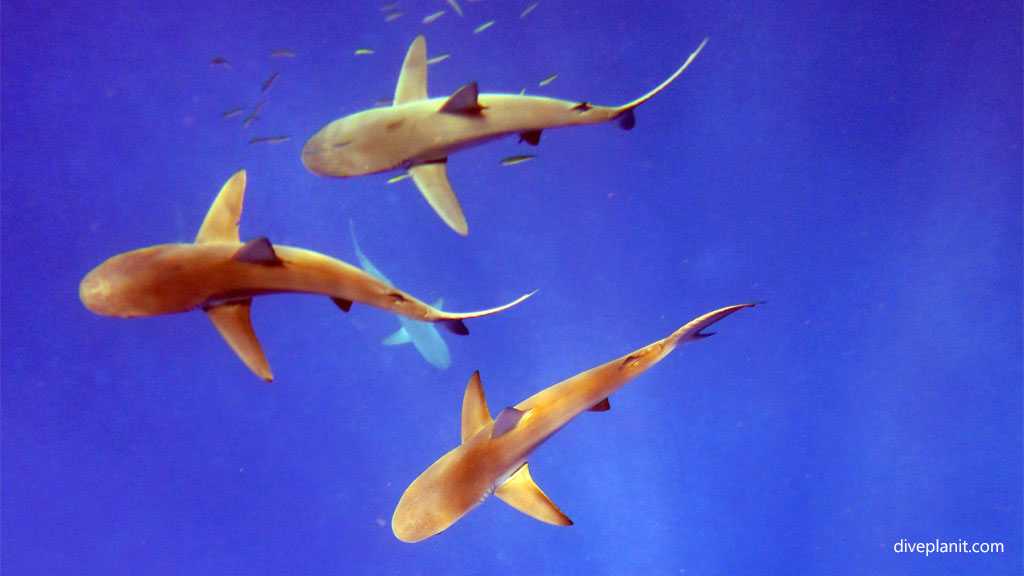 My dive buddies had discovered a large black cod surrounded and indeed almost obscured by his own cloud of baitfish.
Finally I had my first encounter with elusive Ballina Angelfish seemingly jealously guarded by half-banded angels. It was like some young pop celebrity desperate to experience the outside world but being shepherded back inside by zealous minders.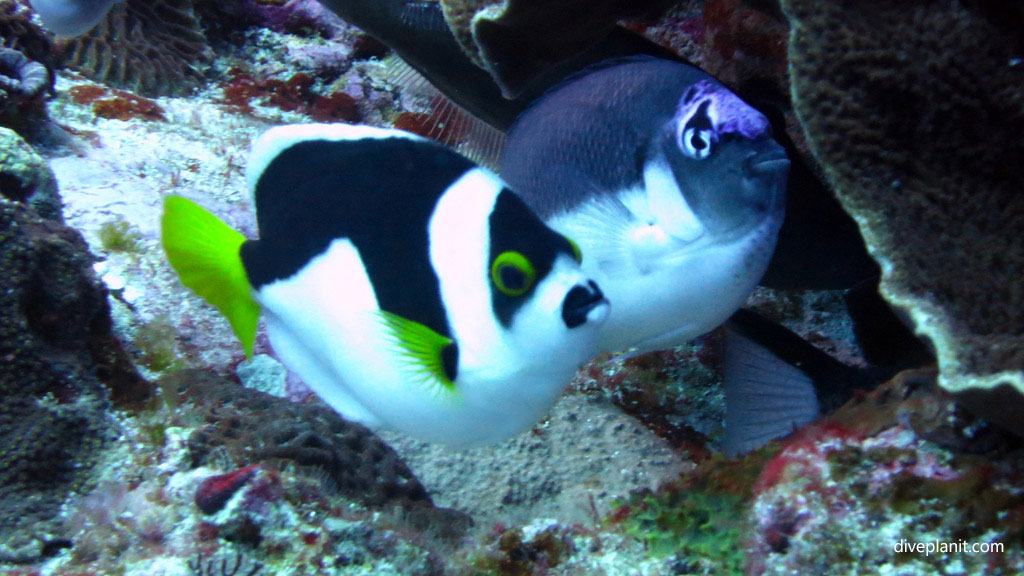 Some of the flatter surfaces were quite bare, but the rocks were adorned similarly with colourful growth and soft and hard corals in reds and greens. Hiding amongst then were a Morse code leatherjacket – all dots and dashes, a girdled Rockcod in his football jersey, and a colourful Clown trigger.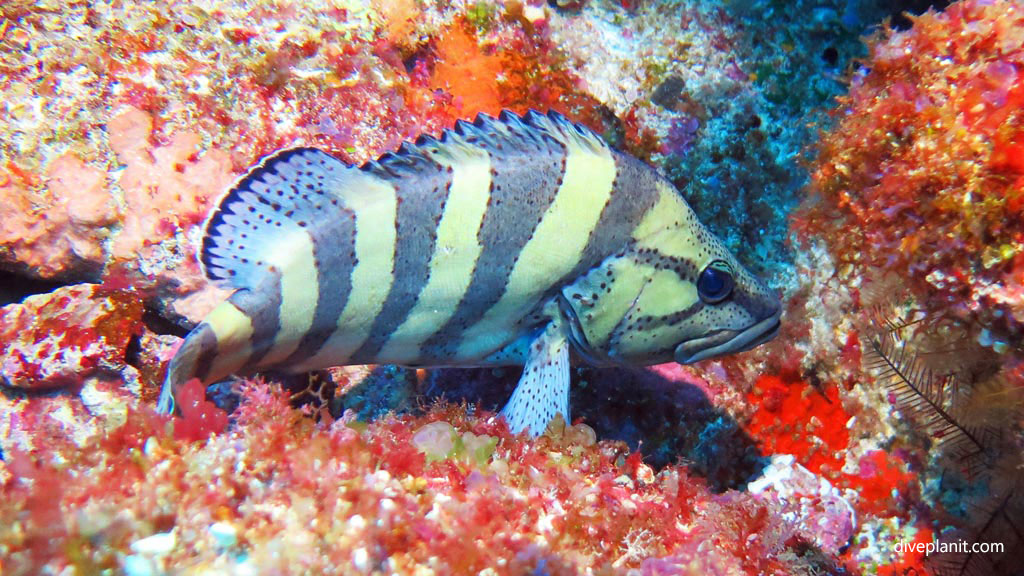 We were drifting slowly off the platform when it became more and more apparent that there were in fact quite a few Galapagos sharks around us. I'd seen one up close on our previous dive – he'd come in close to have a sniff at my camera. Apparently their ampullae of Lorenzini are so sensitive these electroreceptors can pick up the electromagnetic signals given off by the camera's tiny electronics.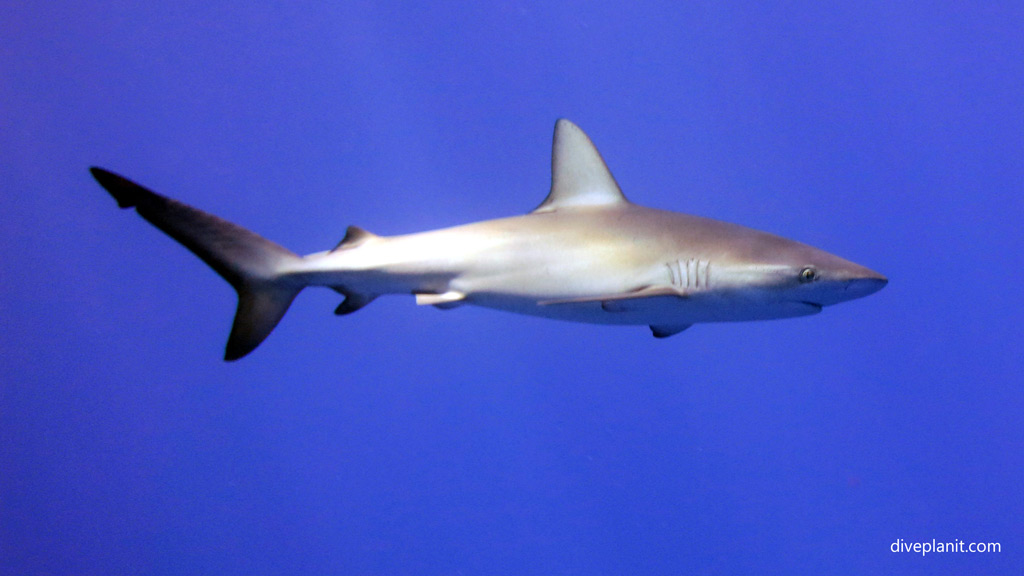 But I'd never seen them in such numbers before.
It was however once again time to call time and we assembled to ascend slowly as a group to the surface. Once free of the seabed and in that liberating three-dimensional space of the deep blue it became apparent that we had some 'serious company' – initially below us, but as we hit 5m – alongside and all around us, and making eye contact. It was one of those experiences that get tattooed onto your memory: there we were sharing the ocean, their ocean, with 60 or 70 Galapagos sharks. The bright dappled sunlight playing on their sleek and powerful bodies, their big eyes clearly locked onto us as they circled gracefully around us.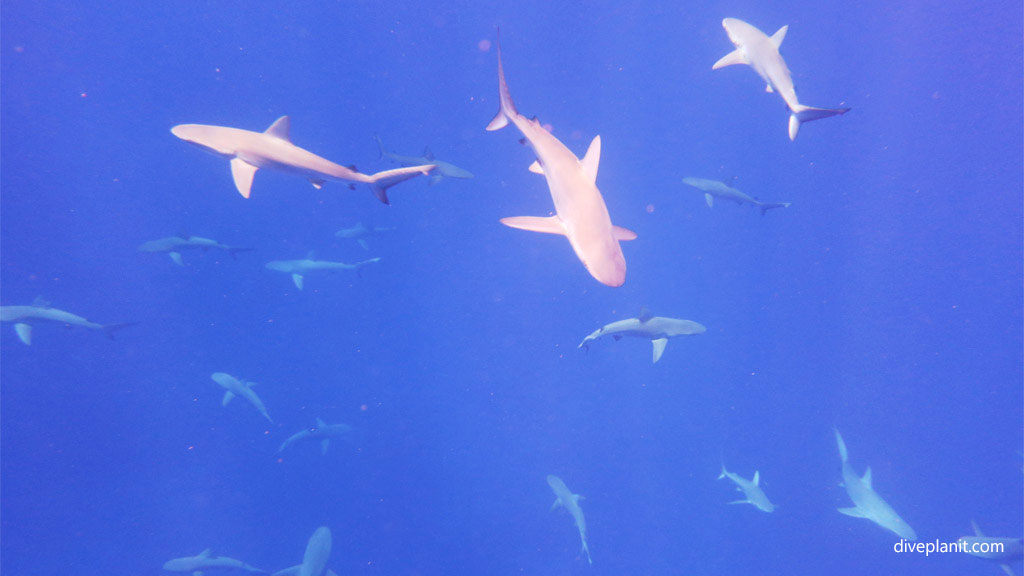 Never before have I felt so much like a visitor in a foreign land, unable to speak the local language and totally ignorant of the expectations of the local culture. I would say we were probably more 'tolerated' than 'welcome' and they all hung around until the very last one of us (for it was me that day) left their watery world.
What a spectacular ending to a day's diving at Ball's Pyramid! So yes Ball's is distinctive, mysterious, unique, magical, infamous and mythical – and that's just the rock itself! Add in all the other adjectives needed to describe the diving too, and you could write your own dictionary.
I'm guessing if you've read this far – you'll want to watch the video of diving Ball's Pyramid too.
If you liked this post, you might like to enter our competition to win a dive holiday on Lord Howe.