Mention the word manta and divers dream of the Maldives, Palau, Raja Ampat or Komodo, however, manta encounters are actually possible at many locations in Australia, including Lady Elliot Island – the Home of the Manta – and Ningaloo Reef.
But some of the best encounters can be had in places you least expect, such as a tiny island off the coast of Coffs Harbour on the NSW Mid North Coast or on 'Straddie', a short drive from Brisbane, one of Australia's largest cities. Here's our pick of the Best 5 Secret Manta Sites.
1. North Stradbroke Island
Situated off North Stradbroke Island, or Straddie, Manta Bommie is a collection of rocky outcrops surrounded by a rugged rocky reef in depths from 3m to 15m. Reef manta rays gather at Manta Bommie in large numbers, with researchers identifying it as the second most important manta gathering site in Australia after Lady Elliot Island.
While manta encounters are never guaranteed, on most dives you will see at least three to six manta rays gliding around the reef or hovering over one of the bommies getting cleaned. But on some magic days, you will see a dozen or more. And they are not the only attraction – in fact, this site is a magnet for sharks and rays. Another summer visitor are leopard sharks.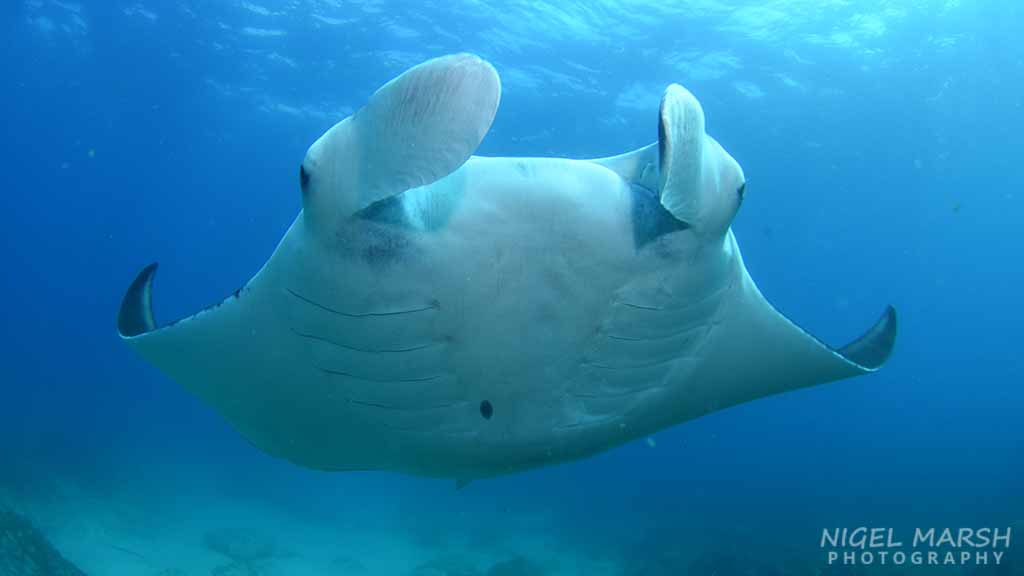 Beyond the rocky reefs are sandy gutters and a vast plain of sand where leopard sharks love to rest. Studies at the site by shark researchers have found that over 500 leopard sharks visit Manta Bommie each year, making it the world's best dive site to see these wonderfully patterned sharks.
Manta rays aggregate at this site from November to May to get cleaned, but feeding is also commonly observed.
2. Wolf Rock
The rocky pinnacle called Wolf Rock is a 45-minute boat ride from Rainbow Beach, just north of the Sunshine Coast – halfway between Noosa and Hervey Bay. There are several different species of sharks and rays consistently seen on the site. Grey nurse, leopard, wobbegong, guitar shark, three species of turtles, eagle and manta rays, pelagic fish (such as barracuda, giant trevally, kingfish, mackerel and cobia), moray eels, nudibranchs, tropical and sub-tropical fish.
According to Wolf Rock Dive Centre manager James Nelson; "I'll never forget one dive when we had about 70 or so grey nurse sharks and four manta rays all mixed in together, with 30m visibility – that was an outstanding dive! The sharks are mostly about three metres long and seeing that many large sharks together in such clear blue water was amazing."
Mantas are typically seen at Wolf Rock during the winter months.
3. Northwest Solitary Island
Solitary Islands Marine Park is a place where the warm waters of the East Australian Current meet cooler waters from the south. They bring together tropical, subtropical and temperate marine life. Many species that aggregate in the marine park are at the northern or southern limit of their range.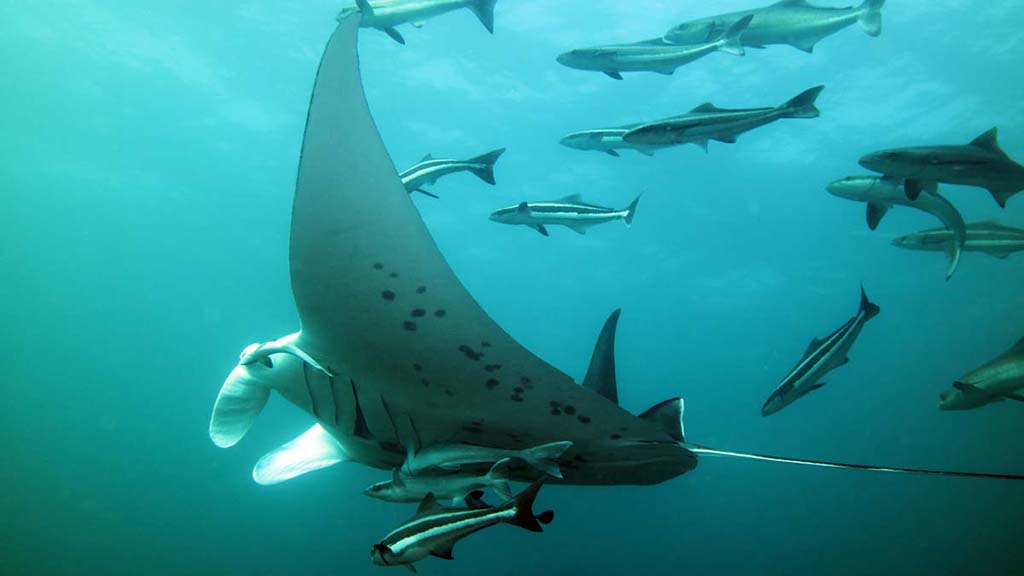 Northwest Solitary Island is one of the closest islands to shore, a 15-minute boat ride from the Coffs Coast seaside hamlet of Mullaway. The dives here consist of rocky fingers and sandy gutters, with a large covering of hard and soft coral. On the island's southeast point at Wrights Reef, E Gutters and Shark Gutters, you'll find large numbers of grey nurse sharks, large cod, jewfish and kingfish, the walls adorned with sea whips and gorgonian fans.
On the northwest, Manta Reef and Snorkelers' Reef are both very easy, shallow dives, with just about every surface covered with vibrant soft and hard corals, which are transformed in the summer months into a manta cleaning station. It's common to see six or seven mantas on a single dive. The closest dive shop is Dive Quest, but it can also be dived with Jetty Dive.
Northwest Solitary island is frequented by mantas between January and June.
4. Cocos Keeling Islands
This remote Australian territory is a 3.5-hour flight from Perth, a picture-perfect circle of coral cays surrounding a turquoise lagoon. Manta Service Station is located near Direction Island, recently voted Australia's most beautiful beach and the surface interval/lunch location on a day's dive trip with Dive Cocos. Your dive guide will likely check it out on the way to lunch, and if the mantas are here, it'll be dive No. 2 for the day.
The site itself is a couple of very pretty large coral outcrops sitting next to each other on the sandy seafloor of the lagoon. Kneeling on the sandy bottom, or in the gap between the two bommies, the mantas will glide in and hover as they're cleaned, so close you could reach out and touch them (don't).
Mantas can be seen year-round at Cocos-Keeling Islands, and if you're lucky you may see another friendly local, Kat the dugong.
5. Julian Rocks
A 10-minute boat ride from celebrity hotspot Byron Bay, Julian Rocks is another summertime manta hotspot. Among the regular species found year-round are wobbegong sharks, eagle rays, cuttlefish, kingfish, trevally, mulloway, and three different species of sea turtle – Loggerhead, Green and Hawksbill.
Grey nurse sharks aggregate here in winter and spring (May to November), and in the warmer months, you can also see manta rays and leopard sharks, with mantas frequently sighted at Hugo's Trench, Needles and Cod Hole.
Mantas frequent Julian Rocks between December and May.