Introduction
Diving the Red Sea is characterized by beautiful, rich coral gardens teaming with tropical fish, interesting historical wrecks and fantastic visibility up to 200m (656 ft). The variety of tropical marine life is amazing and the Red Sea diving conditions are excellent throughout the year.
In the north, there are many dive sites for less experienced divers, whereas in the south, steep coral walls, medium to strong currents and plenty of encounters with sharks and pelagics make these liveaboard cruises more suitable for experienced divers.
The Red Sea's fantastic underwater visibility, likely the best of all tropical oceans, is due to the fact that it is surrounded by deserts with no rivers running into it, which keeps the microalgae concentration very low. Very little rainfall in combination with a high rate of evaporation also contributes to the Red Seas extremely high salinity.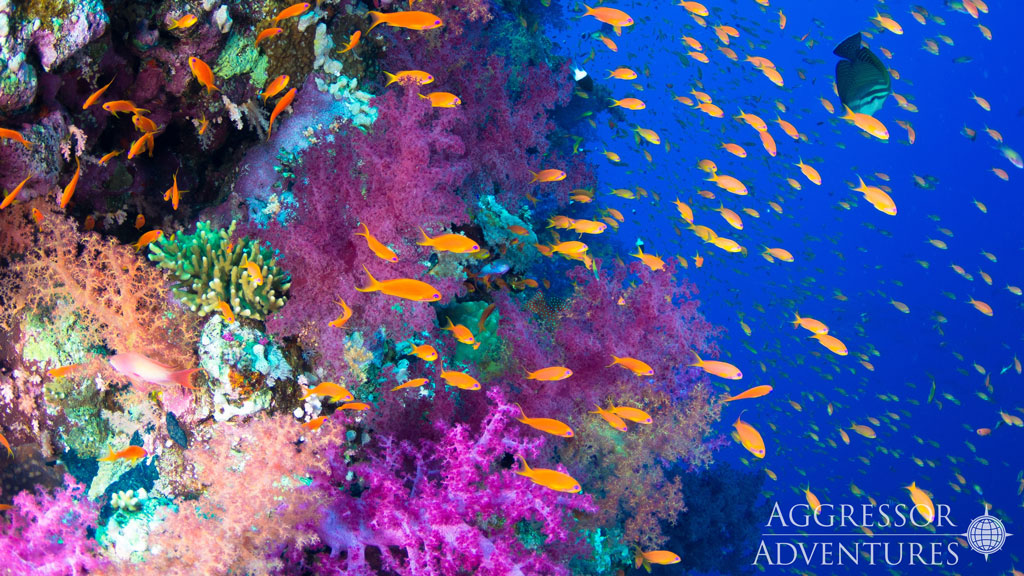 A liveaboard dive trip to the more remote offshore reefs is the best choice for diving the Red Sea. It is the only way to get to the first-class dive sites like the Brother Islands, Elphinstone Reef, Rocky Island, Zabargad, Daedalus, and St. John's reefs in the southern regions of Egypt.
Location
The main point of access to the Liveaboards of the Red Sea is via Hurghada airport. You can expect your trip price to include airport transfers on the start and end days of the trip.
Some of the southern itineraries start or end at Port Ghalib, with a return road transfer or domestic flight back up to Hurghada.
Note that Airport transfer times are:
Hurghada airport (HRG) to Hurghada port around 15 min.
Hurghada airport to Port Ghalib around 3 hrs.
Marsa Alam airport (RMF) to Port Ghalib around 15 min.
There is a huge variety of liveaboards in the Red Sea. We have selected only the most comfortable high-end liveaboards with international passenger profile.
Liveaboards
Dive Sites
The map below shows the two airports which access routes into the Red sea area, Hurghada and Marsa Alam; and most of the noted dive areas, which will appear on the liveaboard itineraries.
Northern Red Sea
North
Abu Nuhas Reef at the south of the Gulf of Suez known as a ship's graveyard for a large number of ships that have come a cropper in this area. Fortunately, many of the wrecks start at 5m and can be dived easily by beginner divers. The wrecks are very scenic, covered in corals and they are fantastic for photography, especially the Carnatic, having sunk in 1869.
Most dive cruises to this area will include about 4 or 5 wreck dives, two highlights being the excellent historic wreck dives of the "Thistlegorm" and the "Rosalie Moller". Both British freighters sunk in WWII by German aircraft and still with plenty of artifacts to be seen in their holds.
Hurghada
Hurghada on Egypt's central east coast was one of the earliest established dive regions and today has the highest density of dive centres anywhere in the world. Hurghada still offers many high-quality dive sites, as many of its reefs are now protected inside marine national park zones with very strict guidelines. There are fixed moorings on all the reefs.
Most dive sites are suitable for beginners, but experienced divers also get their money's worth with steep walls, strong currents and deeper wrecks. The reefs around Hurghada are also famous for frequent dolphin encounters, a delight for divers as well as snorkelers.
Hurghada and Sharm el Sheik are the gateways for liveaboard excursions throughout the Red Sea.
Sharm el Sheikh and Dahab
Sharm el Sheikh is located on the southern tip of Sinai Peninsula where the Strait of Tiran sits between the Gulf of Aqaba and the Red Sea. Famous for more than 50 km of sandy beaches, its numerous dive sites have become world-famous, such as "Shark Reef" in the Ras Mohammed National Park, the WWII wreck "Thistlegorm" or the reefs in the Strait of Tiran. From shallow hard coral gardens to wrecks and exhilarating walls and current dives, there is fantastic variety for beginners and experienced divers alike. Some reefs can easily be reached from the shore, others with day boats.
Dahab within the Gulf of Aqaba is much smaller and quieter than Sharm el Sheikh. Its dive sites are popular for their healthy coral growth, but encounters with large fish or drift dives are rare. Its most famous sites: "Blue Hole" and the "Canyon" are definitely worth a visit.
Central Red Sea
The airport of Marsa Alam with the nearby Port Ghalib provides a gateway for a steadily growing number of deluxe liveaboards operating in the Central and Southern Red Sea. Note that Brothers, Daedalus Reef and Elphinstone are considered advanced dives.
Brothers
The Brother Islands, the tops of two isolated undersea mountains rising from the depth, can be explored while diving the Red Sea about 50 nautical miles off-shore, near the town of Quseir.
The Aida II, an Egyptian supply vessel and the Numidia, a cargo ship, lie on the walls of the Big Brother and can be explored despite the medium to strong currents. It can be a rough journey to get out there, but the quality of the diving and the big fish life makes it worth it.
Daedalus Reef
Daedalus Reef is a big oval reef topped by a lighthouse and its surrounding walls offers some of the most stunning diving in the Red Sea. Thresher sharks, an oceanic species, as well as Whale sharks, are occasionally spotted close to the reef.
Elphinstone
Elphinstone, a truly legendary Red Sea diving reef with sheer walls that plunge steeply into the blue, richly decorated with colourful soft and fan corals.
Southern Red Sea
Fury Shoals
The Fury Shoals are made up of several reefs along the Southwest Red Sea coast, offering amazing scuba diving opportunities with some of the most pristine reefs in Egypt. The hard and soft coral are unspoiled, and along with the colourful reef fish, are a highlight of many dive sites such as the Fury Shoal Garden.
St John's
Further south, St John's is a cluster of small reefs offering some of the most spectacular underwater wildlife vistas in the Red Sea. Habili Ali reef offers giant gorgonians and black corals. The Grey Reef houses silvertip sharks and Hammerhead sharks – at its west side. Habili Gafaar is a mass of soft corals crowded with snappers, butterflyfish and barracudas. To the north, you'll find the St John's cave, an area where shallow cracks open up into small caverns. In Shaab Shaab and Sataya Samadai schools of dolphins are waiting for divers!
Rocky and Zabargad Islands
Rocky and Zabargad Islands lie close together to the south-east of Ras Banas. Rocky's shear walls are covered in a stunning forest of soft and fan corals and rising steeply from depth you can expect pelagic encounters. Zabargad Island is almost the opposite, a shallow reef characterize by colourful hard corals and small fish life.
Local Information
Climate
A note on temperatures. The Red Sea sits in the middle of a desert, and like many deserts, there can be big differences between daytime highs and nighttime lows, and mid-summer and mid-winter temperatures. August is the warmest, February the coldest and the temperatures vary pretty linearly from high to low to high through the intervening months.
In August the water temperature varies between 27.8°C and 29.5°C or 82°F and 85°F; whereas the air temperature varies between 23°C and 36°C or 73°F and 97°F.
In February the water temperature varies between 18.6°C and 20.5°C or 66°F and 69°F; whereas the air temperature varies between 10°C and 20°C or 50°F and 68°F.
All liveaboards are air-conditioned, but if you want to be outside you need to think about the right gear, the right time of year.
Power sockets
Check with each liveaboard, but most have a European style two round pins providing 220V.
Payments Aboard
Most liveaboard accept major credit cards on-board (with 3% service charge); and cash in Euro €, US Dollar $, Egyptian Pound (EGP) and Great British Pound (GBP).
Tipping
Unfortunately, tipping is expected, though not mandated, with the recommended amount being 10% of the trip price which will be divided between the crew and dive guides.
Telecoms
Some boats provide limited free WiFi using 3G. Quality will depend on how many other guests are using it, and proximity of the boat to a 3G mast. Don't expect many signals when you are far from shore at Brothers for example.
Visas
Commonwealth, US and most West EU passport holders can get a 30-day visa on arrival.
On arrival you need to get your Egypt visa before queuing up for immigration. Head to the window with the 'visa on arrival' sign and queue up – the entire process only takes a few minutes.
You present your passport valid for at least 6 months and with at least 2 blank pages and pay the visa on arrival fee. Currently, it costs USD 25. You can pay in USD, EURO or GBP, but not by credit card. You'll be given a sticker – place it on a blank page, and join the immigration queue.
You can also purchase an eVisa in advance for the same price.
Health
Aboard your liveaboard, you should be isolated from most of the health issues that impact locals. If you need to take prescription drugs, take the prescription too. It is also worthwhile packing a small first aid kit with some basics.
Decompression Chambers
There are chambers in Hurghada, Sharm El Sheikh, Dahab and Marsa Alam. Not reason to go pushing any limits though.
Pricing / availability enquiry