Egypt is a country we have longed to visit as we both have a love of history and historical monuments. But we also love diving, so a visit to Egypt wouldn't have been complete without a dip in the Red Sea. And while this dive destination has fabulous coral reefs, the thing that most impressed us was the shipwrecks.
While it is possible to dive many locations in the Red Sea via day boats, we really wanted to experience the best of this area in a short period of time, so booked a week on the liveaboard vessel Emperor Superior. This 37m long vessel is one of the nicest liveaboard boats we have been on, with a wonderful attentive crew, superb food and comfortable en suite cabins.  Emperor Divers operate a number of liveaboard boats (known locally as safari boats) to destinations throughout the Red Sea and for our trip we picked the Famous Five, a journey to the most famous reefs and shipwrecks of the northern Red Sea.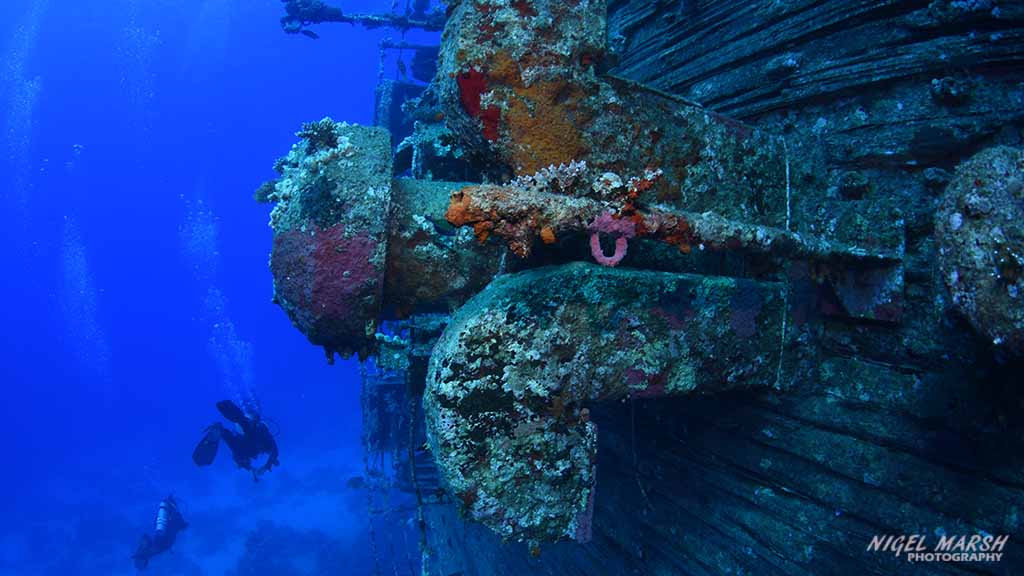 Departing from Hurghada, our checkout dive was on a local reef, a pretty site with a good mix of reef fish and invertebrates. But straight after this we plunged into the wreck diving with two incredible dives on the Salem Express. This 100m long car and passenger ferry sank in 1991 with the tragic loss of 470 people. The wreck today lies on its starboard side in 30m, and completely intact is an amazing dive. Using nitrox gave as a longer bottom time to thoroughly explore this massive shipwreck, and with 40m visibility it was quite a spectacle.
Our next stop was The Brothers, two isolated barren rocky outcrops in the middle of the Red Sea. Rising from deep water these islands attract sharks and big fish, and we saw thresher sharks, hammerhead sharks, reef sharks and a whale shark. Unfortunately they were all camera shy. We also explored two broken up wrecks on Big Brother, the Numidia and the Aida.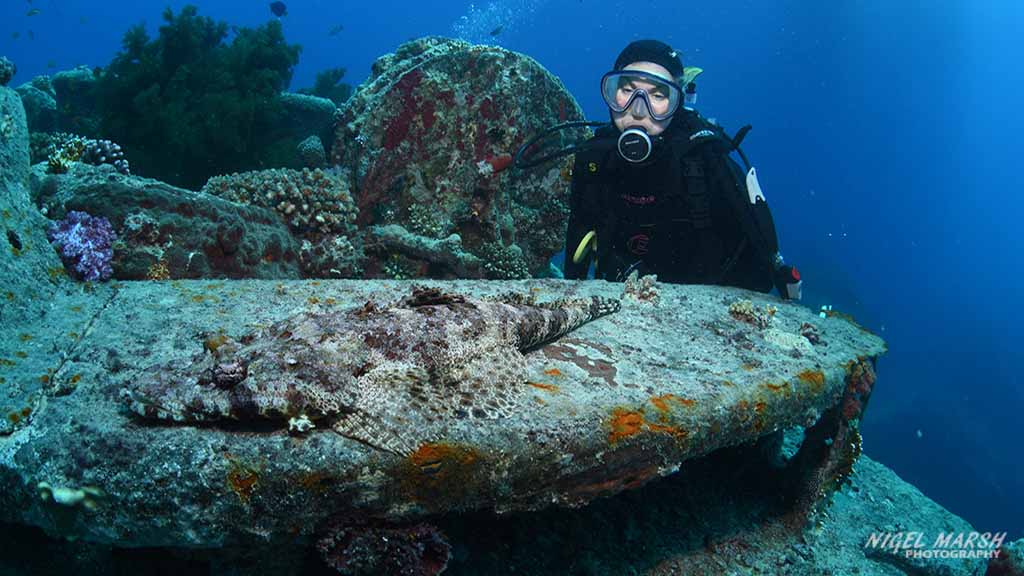 After two days at The Brothers it was time to head north to Ras Muhammed and the famous Shark and Yolonda Reef. These twin reefs have lovely corals and a profusion of fish life. We saw turtles, crocodile fish and swarms of basslets, plus the cargo from the Yolonda shipwreck, a mix of toilets, bath tubs and sinks scattered across the reef.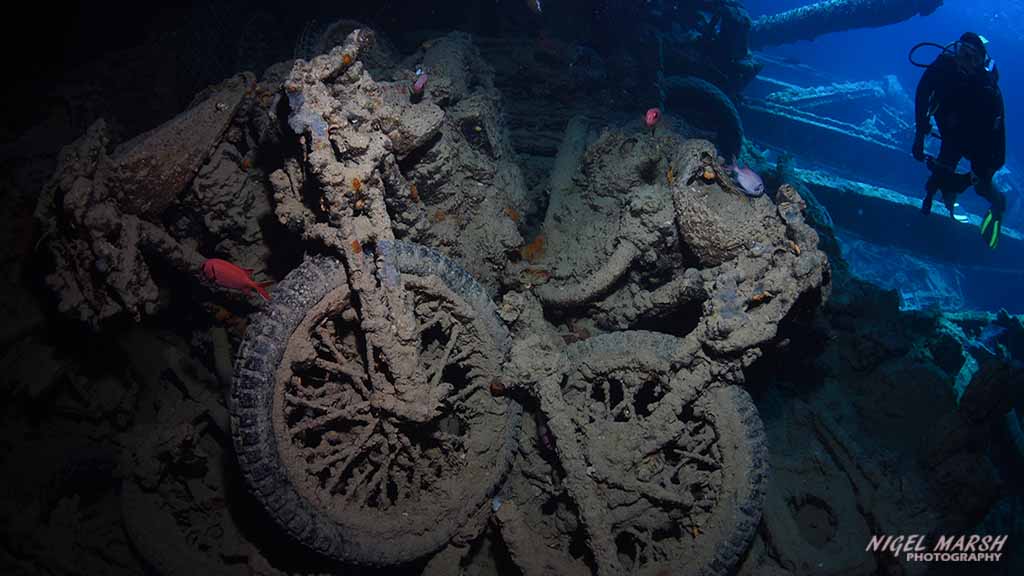 The most famous shipwreck in the Red Sea was our next stop, the legendary SS Thistlegorm. Sunk by German bombers in 1941, this 126m long cargo ship rests in 31m and is still loaded with cargo. We had a ball exploring the holds to see motorbikes, trucks, piles of rifles and other war supplies. We also investigated two locomotive engines resting on the sand beside the wreck, blown off in the attack. We had two brilliant dives on the SS Thistlegorm, enjoying 20m visibility, and also found the wreck home to a great variety of marine life; including batfish, crocodile fish, nudibranchs and moray eels.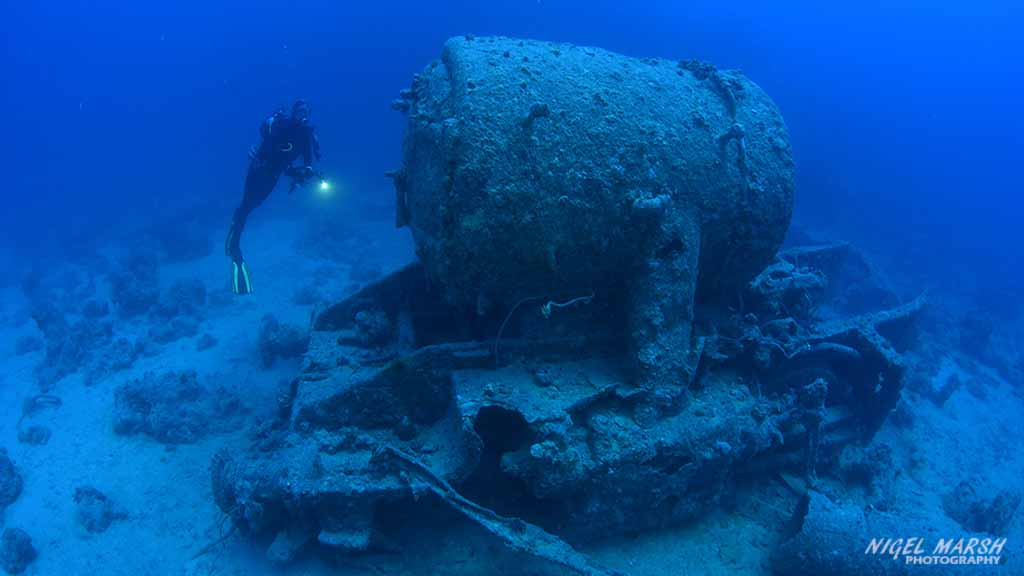 The SS Thistlegorm may have been the highlight of the trip, but over the following days we dived more wonderful wrecks; including another victim of war, the SS Rosalie Moller, a huge broken-up cargo ship, the Giannis D and a historic P&O liner, the Carnatic. These wrecks were also home to a good variety of marine life and are sometimes visited by a friendly pod of bottlenose dolphins.
We may have missed the dolphins on the wrecks, but our last couple of dives were spent at Dolphin House, where we had several close encounters with some very friendly wild dolphins. It was a fabulous way to end an incredible week of diving.
We had a brilliant time diving in the Red Sea and were very impressed with both the reefs and shipwrecks. Egypt has seen a massive turn down in tourism over the last few years due to security concerns in the Middle East. We felt safe the entire time we were in Egypt and found the people to be some of nicest we have met on our travels.
If you liked this post, you might also like Solomon Islands – Wreck Diving for Recreational Divers.